Coffin nails have been on the top of the list for a while now, but not everyone is aware of the fact that they have been in fashion for a lot longer than just a few years. The thing is that this shape has become popular in the early 90's and have been staying on edge ever since. It is true that the name 'coffin' may scare some people away that is why the other name for this shape is – ballerina nails, mostly because the shape is so slender and elegant, but we do not know for sure. Ballerina nails are perfect for those of you who are in love with long nails what is more there is so much room for experimentation that it is hard to pass by simply, not to mention the fact that this shape is pretty durable and this fact can't go unnoticed. Even though this is one of the prettiest forms to shape your long nails in it may be pretty difficult to succeed with if you are just a beginner, but in case you consider yourself skillful enough to shape your nails coffin, we have something in store for you. We decided to talk about some trendy nail designs here with you today. In this fresh compilation, you will find anything you need to treat your nails with on every day and occasion no matter whether you are headed to the office or a fancy party! Dive in!
Luxe Gold Chrome Powder With White Nail Polish
If you can't decide between square or coffin nail shapes, we can assure you that by choosing coffin shape over all the others you will make a wise choice. For example, if you are looking for a great and stylish office look – this white manicure with a gold accent will be just the right option. It is both simple and elegant without being too daring.
Source:
chaunlegend via Instagram
Dream Catcher Accent On Coffin Nails
Adding to your coffin nails glitter would be a nice idea not only when you are going to the party. You can easily create a perfect everyday look with the help of glitter and stylish dream catcher nail art. Just look at the adorable outcome!
Source:
solinsnaglar via Instagram
Sweet Baby Blue Ombre Design With Glitter Accent
There is a false suggestion that super long nails have to look dramatic all the time. However, the reality is quite different, as the perfect example, we provide you with this perfectly gentle blue manicure.
Source:
solinsnaglar via Instagram
Simple Black Nail Polish For Coffins
Sometimes to look bold and daring all you need is a perfectly chosen shape and color. Of course, coffin-shaped nails are not as daring as stilettos but paint them with deep black shade, and the outcome will be close enough. What do you think?
Source:
nailsviibes via Instagram
Rose Gold Accent For Elegant Coffin Nails
Pink coffin nails are not something that anyone would dare opting for. There is nothing wrong with pink shades; it is just they may be too bright for some of us. However there is still a trendy way out – paint your nails with rose gold hue and add some foil to it. Your nails won't look as bright and catchy, but they will still look vibrant and stylish in this elegant hue.
Source:
getbuffednails via Instagram
Amazing Matte Effect On Long Coffins
Painting your coffin nails royal blue is classic. Yet, very often classic may seem boring in times like this we suggest you opt for a fresh upgrade. The thing is that glossy tops are ravishing and required but matte ones seem to keep the mystery, and that is exactly what you need for your long royal blue coffin nails in our opinion.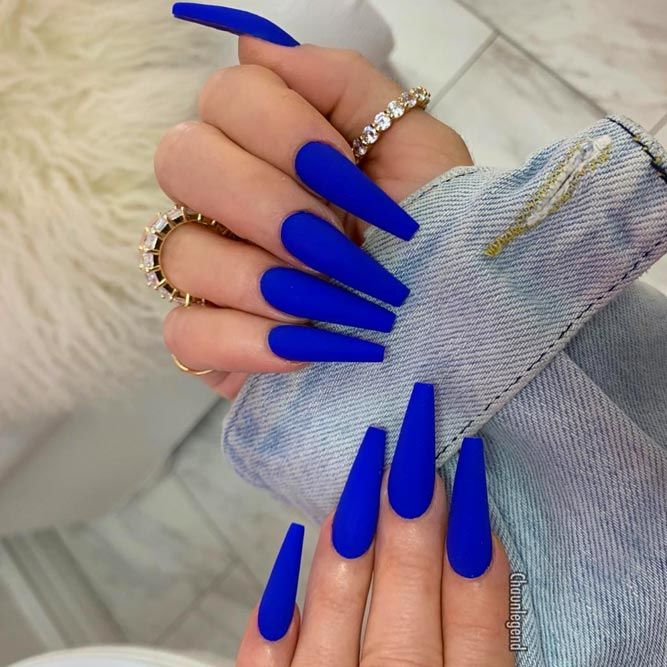 Source:
chaunlegend via Instagram
Beautiful Lilac Nails With Lavender Glitter Accent
Purple shades are on the edge of popularity these days, especially pastel ones. In case you wish to follow up the trends, this lavender manicure with glitter accent is exactly what you have been searching for.
Source:
sarahsnailsecrets via Instagram
3-D Flower Accent Nail Art
When there is a need to stick to neutral shades you can always play around with the pattern. Look at this magnificent neutral-shaded manicure decorated with 3-D flowers and rhinestone patterns to get our point.
Source:
nailsbymztina via Instagram
Chic Royal Blue Coffin Nails With Negative Space
Every lady wants to look like a real queen and for a queen every detail should matter. That is why we suggest you pay attention to this royal blue nail art to add some royal vibe to your look. The negative space addition makes this nail art simply irresistible.
Source:
solinsnaglar via Instagram
Simple Rhinestones Accent On Coffin Nails
Beauty comes in simplicicy, and these matte red coffin nails with diamonds are the best proof of this saying, don't you think?
Source:
solinsnaglar via Instagram
Simple Triangular French Manicure
What should you do if you want to both stand out and keep things simple? The answer is in this picture. There is nothing better to suit coffin-shaped nails than a trendy triangular French nail art. However, what takes this design even further is the opposition of color. The combination of black and gold hues is breath-taking!
Source:
solinsnaglar via Instagram
Rich Burgundy Nails & Rhinestones
Very often we come to a false conclusion that in order to look perfect we need the most complex nail art to be added to our nails. While the reality is quite the opposite. Something as simple as glossy burgundy shade in addition with minimalistic rhinestone pattern can take your look over the edge of beautiful.
Source:
lareinadelasunas via Instagram
Royal Blue Nails With Gold Foil
It is true that blue shades are on the top of most required ones these days, yet apart from choosing the hue, you need to pair it with something properly. We think that the combo of matte blue and gold transfer foil accent is mind-blowing. What is your impression?
Source:
chaunlegend via Instagram
Combo White & Blue Hand Painted Nail Design
Very often, we are faced with the necessity to pick two hues that complete each other so that the nail art comes out simply perfect. We know of many such combinations, but the combos of blue and white shades are magnetic and compelling. What is more, you can always take your manicure even further and involve some hand-painted nail patterns for the greater result.
Source:
vincentnails via Instagram
Fade Ombre Design For Coffin Nails
Keeping your coffin nails short is possible too, so no worries here. Besides, you can always keep your coffin shape elegant and neutral with sweet French fade.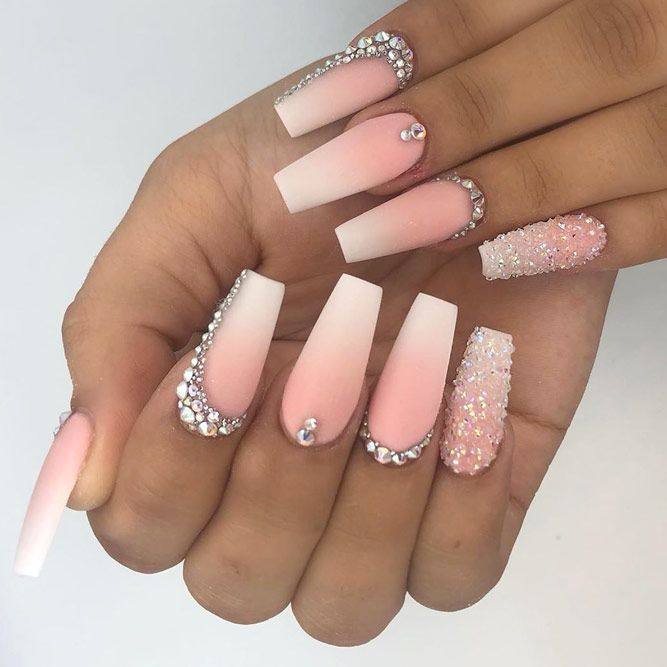 Source:
malishka702_nails via Instagram
Red And Black Hand Painted Mix For Long Coffins
There are color combinations that are timeless, and they go well with each other no matter what. The combo of red and black is exactly the one. However, when regular mix gets a little too simple or too boring for your coffin shape nails, you can easily take your manicure to the next level. Of course, it will take an experienced artist to replicate such an intricate and complex pattern, but the end result will surely be worth it. There is nothing better than the pure satisfaction of enjoying your new nail art, is there?
Source:
misslaladoll via Instagram
Purple Combo For Your Coffin Nails
It happens so very often that it is simply impossible to come up with just one idea for your next manicure. In times like this, you can easily mix and match patterns if you know how to succeed with it. Yet, there is a rule to stick to – you need to experiment within one color range, the hues may be various but it essential not to take it too far and ruin the look. When you look at this purple experimentation, you will notice that lots of techniques are combined together, but none of them seems to be out of place. That is what the art is supposed to look like. If you are as mesmerized by this purple temptation as we are you will surely head to your manicurist with the idea in mind.
Source:
laquenailbar via Instagram
Delicate Matte Pink Color Is Perfect For Coffin Nails
There are shades which seem to be equally suitable for almost any look. This light pink hue is surely one of them. The thing is that with such a nail color, you can head almost anywhere starting from the office and ending with your friend's wedding. The addition of matte top is a perfect way to add some more texture to the look, but when that is not enough, you can easily spice things up with the help of glitter. The champagne-shaded glittery design is a perfect match to a light pink manicure – one look and you will fall in love that is for sure.
Source:
priscilla_nails via Instagram
Elegant White Nails With Rhinestones
It has been already discovered that white is the color of purity and elegance that is why if you are looking for nail art that would suit the description – you have already found it. When white becomes not enough intricate rhinestone patterns come in. You do not have to take a look over the edge with too many of rhinestones, but an accent nail will deal with the task perfectly. Besides it is even difficult to tell whether real or fake the nails look, don't you think? In times when your natural nails leave much to be desired fake white coffin nails will save the day.
Source:
chaunlegend via Instagram
Coffin Nails With Silver Foil
There are times when you want your nails to be simple and luxurious at the same time. Many of you may think that it is impossible since the requests contradict each other – but we say that it is doable and the result is worth the admiration. It is not a secret to anyone that silver and black have been created to match each other like nothing else, that is why this simple nail art is luxurious in its nature. Just a little silver accent and the regular black mani will be dramatically transformed. Such a manicure will save the time and will attract the amazing looks equally. We think that this design is at least worthy of giving it some consideration.
Source:
solinsnaglar via Instagram
Geometric Long Nails Design
We are almost a 100% sure that most of you were not so fond of geometry in school, but these days it is pretty popular especially in the world of nail fashion. The thing is that various geometric patterns are taking over the sphere of nail art. As a matter of fact, there is no wonder why since you can always come up with something that has never been used before and that is the beautiful thing, isn't it. It is true that there are various shades to be played around with, but today we would like to draw your attention to the classic interaction of light and shadow, in other words of black and white. We are certain that this intricate nail art won't leave anyone indifferent.
Source:
vincentnails via Instagram
Gothic Black And Gold Glitter Ombre Nail Art
You do not need to be a gothic chic to fall in love with this mani. The thing is that the combination of glitter and black color is simple in the core, but it never looks dull or boring, besides there is always some room for the experimentation. For example, you can include different types of top coats into your manicure, or you can go even further and mix glitter into the stylish ombre and finish the look off with the addition of nude-shaded accent nails, besides the order can be changed according to your liking.
Source:
solinsnaglar via Instagram
Sweet Glitter Gradient Nail Design With Rhinestones
It is true that some nail shapes look in certain shades a lot better than the others. Of course, we are not trying to limit your area of experimentation with color, in no case! Yet, it looks like pink and neutral shades are extremely lovely-looking with coffin shape. What is more, when nude pink gets too obvious, and you can introduce some glitter gradient in, and when it is still not enough – intricate rhinestone patterns will add special gentle charm to the look. Such a manicure will suit any special occasion; there is clearly no doubt about it!
Source:
laquenailbar via Instagram
Matte Coffin Nails With Green Marble Stone Effect
There are shades which are created to make a statement and green is surely one of those shades. Of course, it takes courage to sport such a shade, but once you go that way, there is no going back. That is why, if you are dreaming about standing out in the crowd you better grow your nails out, shape them coffin and paint them matte green. One more thing, there are still trends to follow that is why we suggest you add a stylish accent to you matte green manicure, marble stone effect will suit the goal perfectly, it is so stylish and unique at the same time that it is difficult to describe!
Source:
laquenailbar via Instagram
Girlish Flowers On Coffin Nails
Every woman deserves to look perfect no matter what. Moreover, we happen to know how important every detail is for the creation of a beautiful image. That is why we suggest to your attention something perfectly feminine and gorgeous. One look at this girly nail art will make you fall for it because it is breathtakingly fancy and unique. The interaction of matte black and pearly white is completed with floral patterns so tasteful that they look almost real. In addition, rhinestone patterns and glitter make this manicure worthy a queen, and that is exactly why you deserve it – for you are a queen!
Source:
nailsbymztina via Instagram
Elegant Monogrammed Coffin Nails
Pink hues are gentle and lady-like. That is why if you are in need of a cute and sleek manicure idea to pull off, this may be just the end of your search!
Source:
getbuffednails via Instagram
Black And White Coffins With Floral Motives
The combination of black and white is surely a classic one. However, the addition of an abstract floral pattern is that one thing that makes this design trendy and unique.
Source:
perfect10customnails via Instagram
Flames Nail Art
Flames nails are something you need if you like to stand out in the crowd. Such a manicure addition is simple and contrasting, but it is easy to notice. If that is what you are looking for – give this pattern a chance!
Source:
chaunlegend via Instagram
Matte Cappuccino And Gold Glitter Nail Art
Coffee lover will surely fall in love with this cappuccino-shaded manicure for coffin nails. There are many designs intertwined in this design, but none looks out of place, wouldn't you agree?
Source:
solinsnaglar via Instagram
Sparkly Glitter French Tips
French tips are classic, but no one said that you couldn't experiment a little. That is why these plum tips with glitter addition can win the heart of any fashion addict!
Source:
solinsnaglar via Instagram
Baby Pink Nails With Crystals Accented Finger
Those of you who are in love with jewelry will surely appreciate this baby pink mani with crystal accent finger. Such a manicure will help you stand out anywhere you go!
Source:
botanicnails via Instagram
Minimalistic Floral Nail Art
Flowers define femininity, but not every lady likes to take things too far when it comes to her manicure. That is why if you need something gentle but do not wish to take it over the edge this neutral nail design with minimalistic floral addition will suit you well.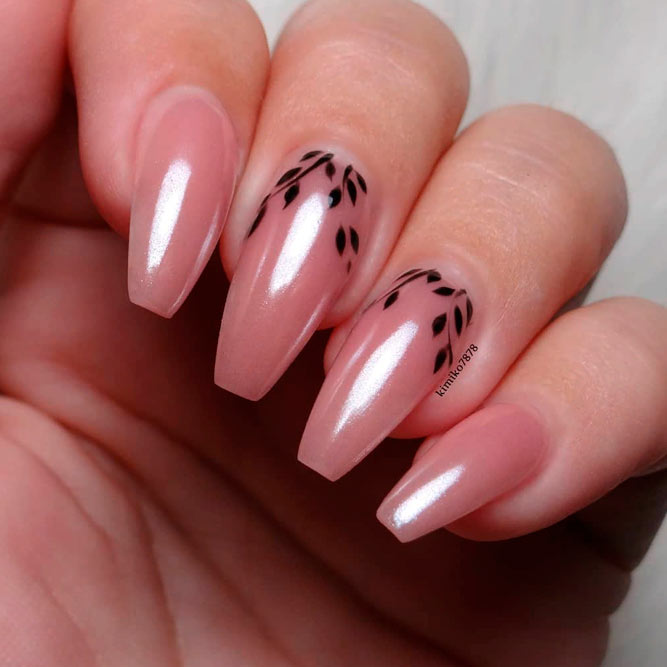 Source:
kimiko7878 via Instagram
Cute Mandala Nail Design
Mandala patterns are everywhere these days, and the nail art is surely not an exception. That is why if you are looking for something cute and trendy then this mandala nail design is what you should opt for!
Source:
nails_glambykiss via Instagram
Pink Net Pattern
Pink is the classic trend that is why you are bound to celebrate it with your ballerina-shaped nails! A stylish net stamping and some glitter will take the design to the completely new level of stunning. See for yourself!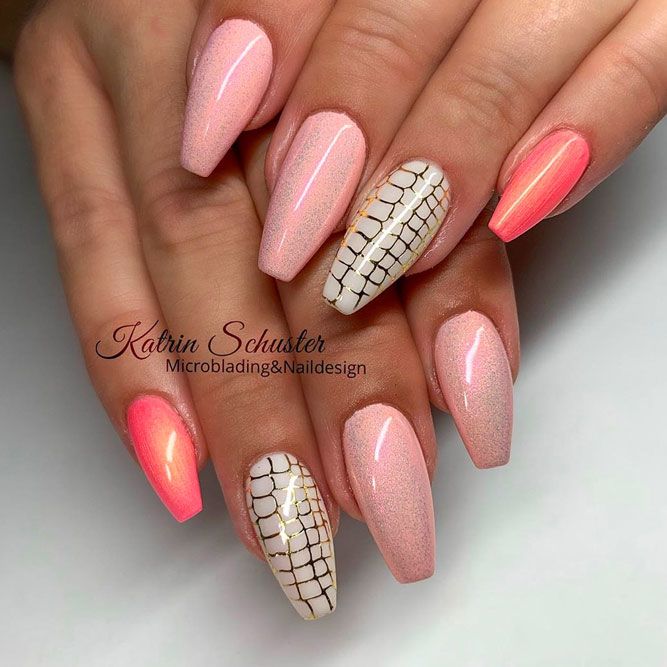 Source:
nailsbykatrins via Instagram
Fab Crocodiles Nail Design
If you are a fantasy fan then this nude pink nail design with a fab crocodiles is precisely what you need!
Source:
nagelfuchs via Instagram
In case you like these nail designs, do not forget to share them and come back any time you need a fresh and stylish idea for your next mani.
Main photo by Getbuffednails