Fall nail art should in no case be underestimated since it offers a lot of interesting ideas to experiment with. No matter which shades and styles you prefer more, there is always something special for you personally, and today we are going to prove it!
Taupe Color With Gold Glitter And Fallen Leaves
Taupe shades are many, and all of them suit fall just like bread and butter. That is why if you are looking for some unusual manicure idea to replicate this dark taupe one with glitter accent nail and leafy pattern may be precisely what you need.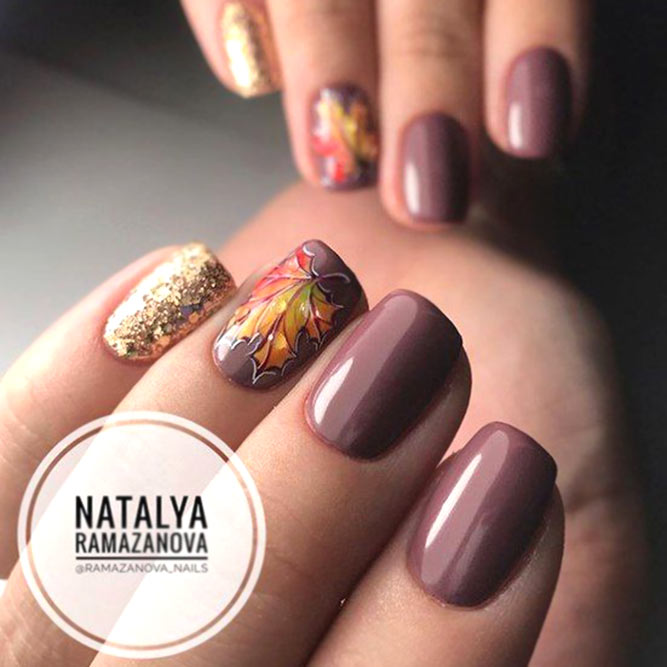 Source:
ramazanova_nails via Instagram
Cold Shaded Nails With Bronze Leaves
There are many fall nail art designs available these days, but most of us are looking for something unique and exquisite. That is why we suggest to your attention this cold gray nail design with bronze leaves and glittery ombre to stand out from the crowd.
Source:
aveline.danielle via Instagram
Classic Red Mani With Striped Accent
Red nails are always on the edge of popularity, and there is no wonder why since red hues introduce those notes of style and strength into your look. However, if you are seeking ways to add some modern touch to your classic manicure, striped accent together with negative space may be just what you are looking for!
Source:
vizzg_nail via Instagram
Beautiful Mani With Glitter Accent
There are times when too much glitter makes your manicure look out of place. Well, one look at this gorgeous design will ensure you that this is not the case!
Source:
nailsbyeffi via Instagram
Elegant Black Nails With Autumn Accent
Black hues are certainly universal and not always they look as bold as you may have expected them to. The thing is that a properly chosen accent can change a lot. For example, this unique 3-D fall branch pattern takes the design to the completely new level of elegant.
Source:
pavlishina_nails via Instagram
Amazing Chrome Nails
It seems that chrome design will never seize to surprise even the most devoted manicure fans. The thing is that this example shows how this green nails looks good.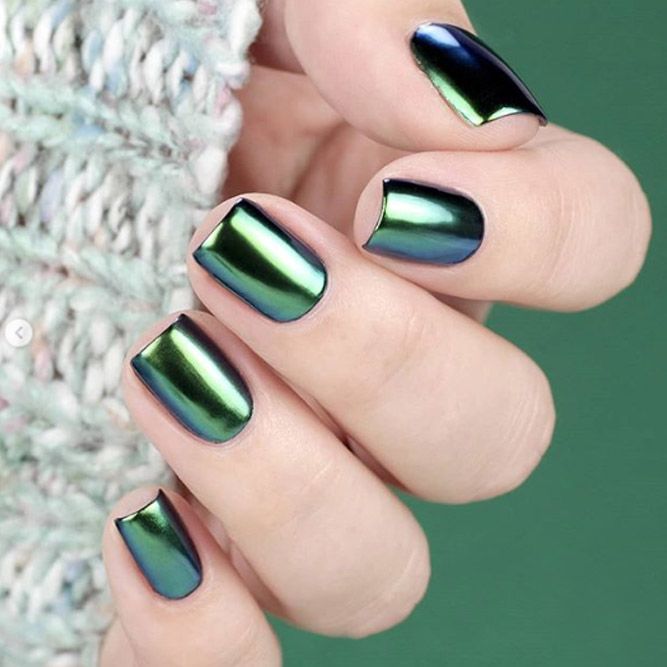 Source:
frischlackiert via Instagram
Purple And Bronze Glitter Design
Purple hues are very popular nowadays. However when sheer purple is a little too dull for you, it is time to introduce some glitter in. You do not need to go over the edge with it, just a bit of bronze added to the tip will spice things up!
Source:
hannahroxit via Instagram
Winning Combo Of Maroon & Black With Gold Accent
The combination of maroon and black is always a winning one no matter the season outside. However, when it is autumn out there, you should add some matte finish to your nails and introduce some gold accents too. There you go!
Source:
gabbysnailart via Instagram
Nude Manicure With Black And Gold Strips
There is a lot more to neutral manicure than you can imagine. The thing is that in order to take things to the new level you do not need to opt for some over the edge intricate pattern. Very often all you need is quite simple – just a few black and gold glitter stripes change this manicure completely, wouldn't you agree?
Source:
elinasnailart via Instagram
Deep Green And Neutral Nail Art Combination
There are times when all of us need something new to experiment with. In times like these, especially when it is autumn outside, we suggest you try the combo of deep green and neutral nail art with a matte finish, the result may surprise you!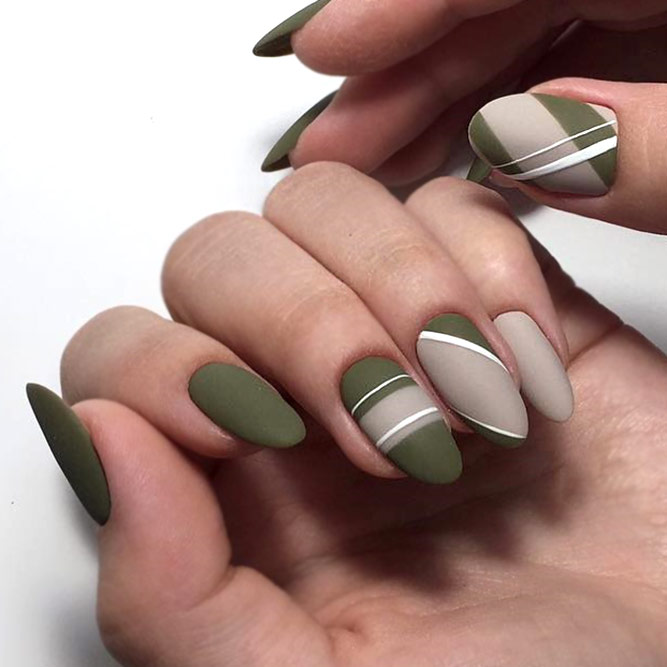 Source:
nailsmade via Instagram
Autumnish Metallic Nail Art
The beauty of metallic hues is that they are extremely versatile and can easily fit in any season. Since autumn is the season of pumpkins and holidays this spicy metallic manicure is there for you to win the day!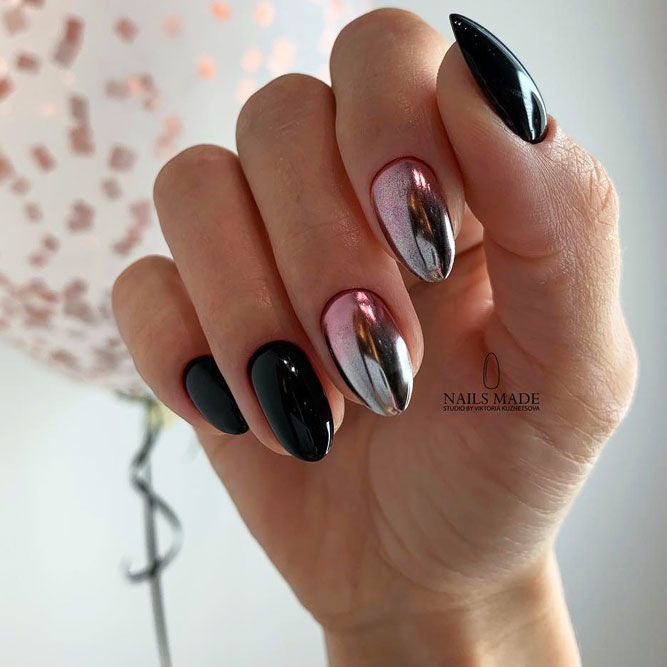 Source:
nailsmade via Instagram
The Intricate Combo Of Gold And Black Accents For Your Nude Nails
Very often it seems that black and gold were created to complete each other and we can't but agree that this match looks marvelous together. However, you should not forget that these great shades can be easily introduced into your manicure as an additional elements or accents!
Source:
gabbysnailart via Instagram
Brown Nails With Leopard Print Accent
Brown hues are totally suitable for fall nail art, and you should not be afraid to experiment with them. What is more, you can easily spice things up with the addition of a trendy leopard prin accent and some nude emphasis.
Source:
nailditbyalyssa via Instagram
Pastel Blue Nails With Black Strip
Pastel colors are beauty always, and there are so many ways to experiment with it! For example, this sweet blue nails with this simple black stripes will surely make your nail stand out!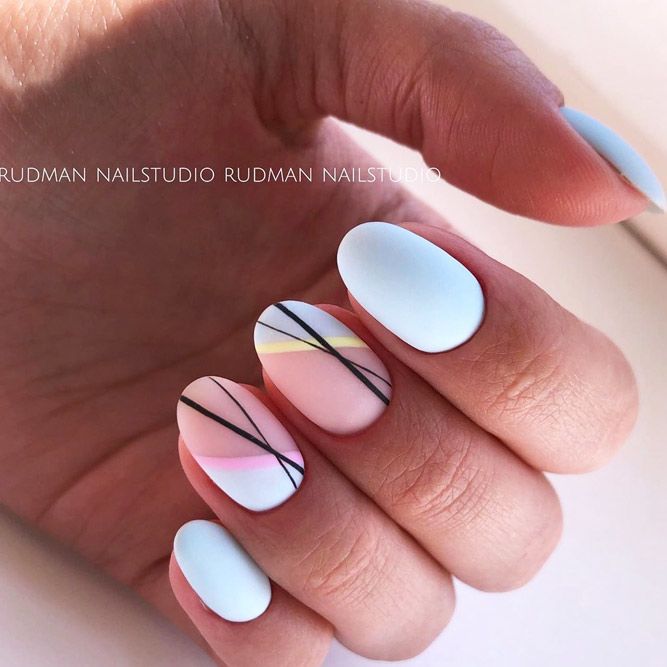 Source:
rudman_nailstudio_nsk via Instagram
Two-Toned Manicure With Simple Accent
Black and orange are not only the trendiest hues nowadays, but they also fit in the definition of flawless fall nail art perfectly. Just the mix of these two with matte coating and some white striped accent will make a masterpiece out of your manicure.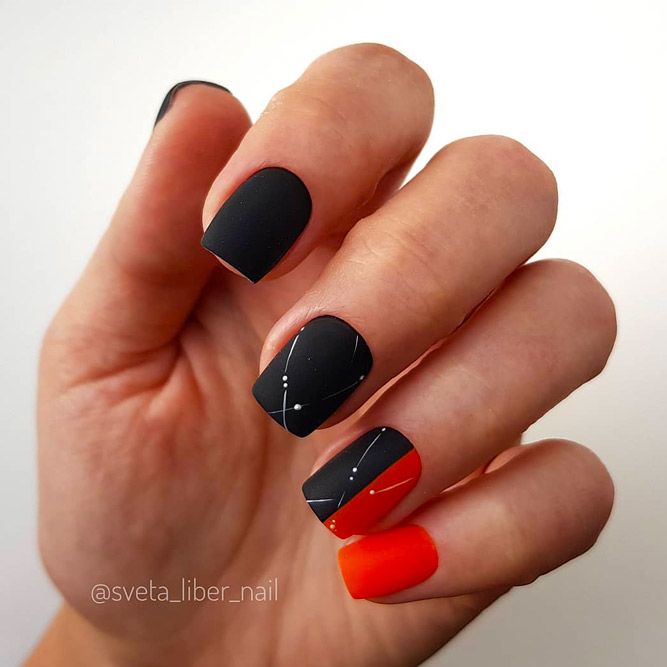 Source:
sveta_liber_nail via Instagram
Geometric Nail Design For Autumn
Geometric patterns are all in these days that is why when the season hits you should not worry – you can still play with the idea around. Contrasting black and light orange manicure with geometric patterns addition will be on top!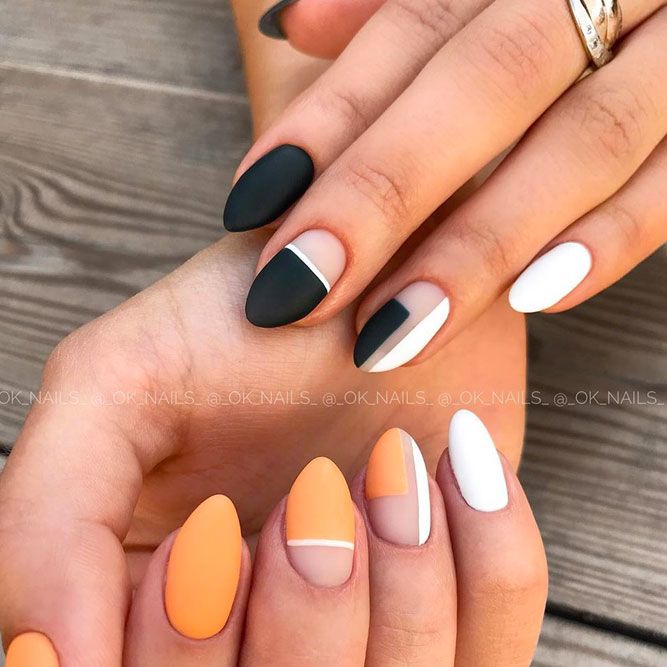 Source:
_ok_nails_ via Instagram
Feline Design Nails With Gold Glitter
The animalistic print is very required no matter the season outside. However this season it is all about the feline prints. Of course, now all the women are ready to introduce these prints into their clothes, but they can surely add some animal print accent to the manicure. As you can see the composition looks simply fantastic!
Source:
sensationails4u via Instagram
Fall Manicure With Leafy Accent
Nude manicure is trendy these days, and there is no wonder why since you can easily wear it on an everyday basis as well as when a special occasion occurs. Besides, there are lots of ideas to pull off with nude shades. For example, the addition of leafy patterns will make your nails look super stylish and seasonal.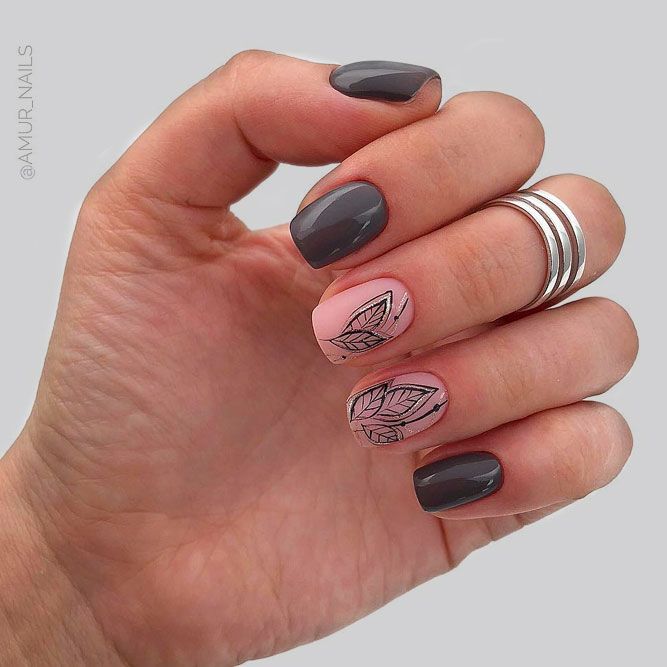 Source:
amur_nails via Instagram
Grey Shade With Leafy Stamping
Gray is the one of popular color for fall season, and you can easily spice things up with leafy stamping on top. The result is merely breath-taking.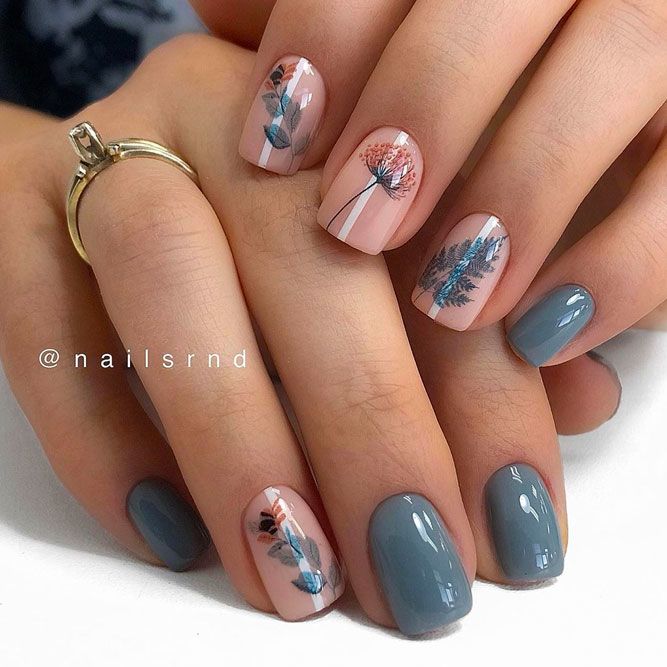 Source:
nailsrnd via Instagram
Dark Plum Nail Art Designs
If you are looking for some fall nail art designs in darker shades, we have something special up our sleeve. The thing is that matte deep purple base combined with abstract drawing nail art accent suit the season perfectly.
Source:
marina_serova_ via Instagram
Dark Vine Colored Nails With Burberry Style Accents
Wine red nails are the perfect symbol of autumn. Yet, we think when solid wine base gets a little too dull it is time to experiment. Adding plaited accents to your dark red manicure is the best way out. See for yourself!
Source:
nailsbydaniellet via Instagram
Shimmering Manicure With Animal Art Accent
Metallic nails are on the edge of glory, and if think gold metallic nails we suggest you experiment with the drawing accent. A little mouse on the pumpkin will fit in the season like nothing else besides such a manicure will surely stand out.
Source:
narmai via Instagram
Fall Glitter Ombre Nail Design
Those of you who like to experiment with their manicure and are not afraid of bold suggestions will surely appreciate this gold glitter ombre nail design.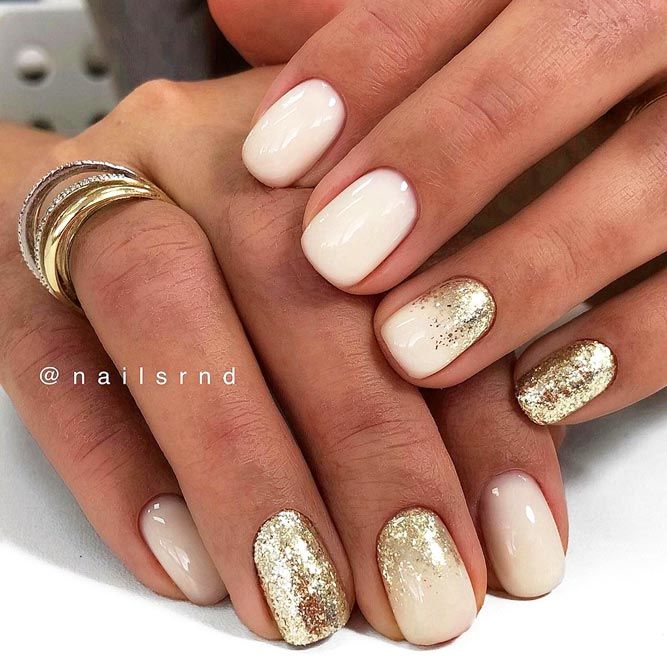 Source:
nailsrnd via Instagram
Awesome Glitter Designs
Nude nail art can be easily taken to the entirely new level with gold glitter. Besides, the gold glitter accent nail also adds a unique charm to the design.
Source:
svetlana_stanovaya via Instagram
Fall Nail Art Designs With Leaves
Fall nail art designs with leaves will work for ladies who are in love with fall and wish to show it off so that everyone sees it.
Source:
amur_nails via Instagram
Beautiful Foxy Nails
To paint a fox or any other animal on nails is the task for real artists. Such an intricate design may require the assistance of a professional manicurist, keep that in mind.
Source:
maslak_kamila via Instagram
Royalty Burgundy Nails
Burgundy shades seem to be created by fall itself that is why adding them to your manicure is always a good idea.
Source:
nailsmade via Instagram
Delicate Matte Nails With Knitted Pattern
If you prefer to wear nude nails, we have a good idea for you. Choose a corresponding nude shade for your skin tone and complete your manicure with a matte finish. Adding a knitted pattern will be more than superfluous.
Source:
nailsbycambria via Instagram
Simple Glitter Accent Nail Designs With Trendy Matte Maroon
Marron is definitely one of the best shades that fit the fall perfectly. However, a sparkly accent is exactly what you need to take your autumnish mani to the whole new level of stylish.
Source:
nail_sunny via Instagram
Animal Nail Art For Cute Fall Manicure
What do you do when the fall hits? Right, go mushrooming. Think about animals you can meet in the woods and depict them on your nails. Creative and fun!
Source:
amur_nails via Instagram
Simple Fall Nail Art For Everyday
If you dont like bright colors, defficult designs – simple patterns are always in trend. Watch and learn!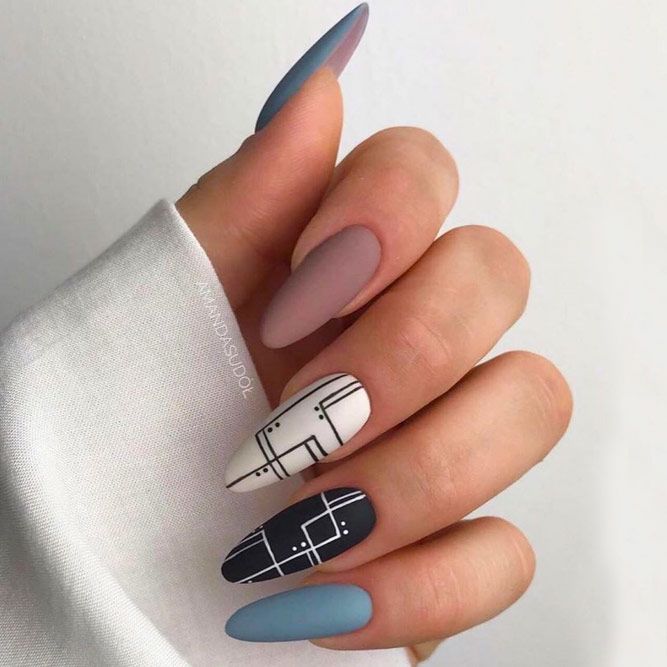 Source:
supakova_nails via Instagram
Knitted Nails To Warm Up You In Cool Fall Day
3D knitted pattern is on top of the popularity when cold season comes. Pick this design next time you go to your nail artist. Knitted nail design look gorgeous in grey shades that is for sure.
Source:
marina_serova_ via Instagram
Royal Green And Chevron Design
Royal blue is on the edge of popularity these days, and when summer ends, and autumn takes its reign, it is going to become the most requested shade for nail art. What is more, we have a ready-made suggestion to decorate your nails with since there is barely anything better than the mixture of royal blue and geomerty accent!
Source:
_ok_nails_ via Instagram
Striped Nail Design To Salute The Autumn
Stripes are always trendy no matter the season outside. What you need to suit striped manicure to autumn is a correct choice of hues. As it turns out, we have a great idea in mind. Enjoy!
Source:
nailsmade via Instagram
Simple Yet Beautiful Designs For Autumn Nails
Minimalistic patterns are on the edge these days. When autumn strikes we suggest you paint your nails grey and upgrade them with a little bit of silver glitter and some minimalistic black lined pattern.
Source:
marina_serova_ via Instagram
Fall nail art deserves special attention especially when the season hits. However, you need to keep it in mind that there are still trends to follow. That is why we suggest to your attention this fresh compilation which will help you kill two birds with one stone!
Main photo by Nailsmade