Animal print nails have been in fashion for a while now. However, there are some most common patterns while there are some that are somehow left out. Zebra print nails are pretty much underestimated even though the zebra pattern is no worse than cheetah to leopard one. To make sure that zebras aren't feeling left out when it comes to nail art we are going to present to your attention a completion of pretty and exquisite zebra print nail art ideas and will even show you how you can succeed with the result!
ADVERTISEMENT ‧ CONTINUE READING BELOW
Step By Step Tutorial: How To Paint Zebra Print On Your Nails
Apply a base coat.
Apply a white base coat.
With the help of a thin striping brush and black nail polish add thin lines to your nail.
Apply matter top coat to protect your new nail design.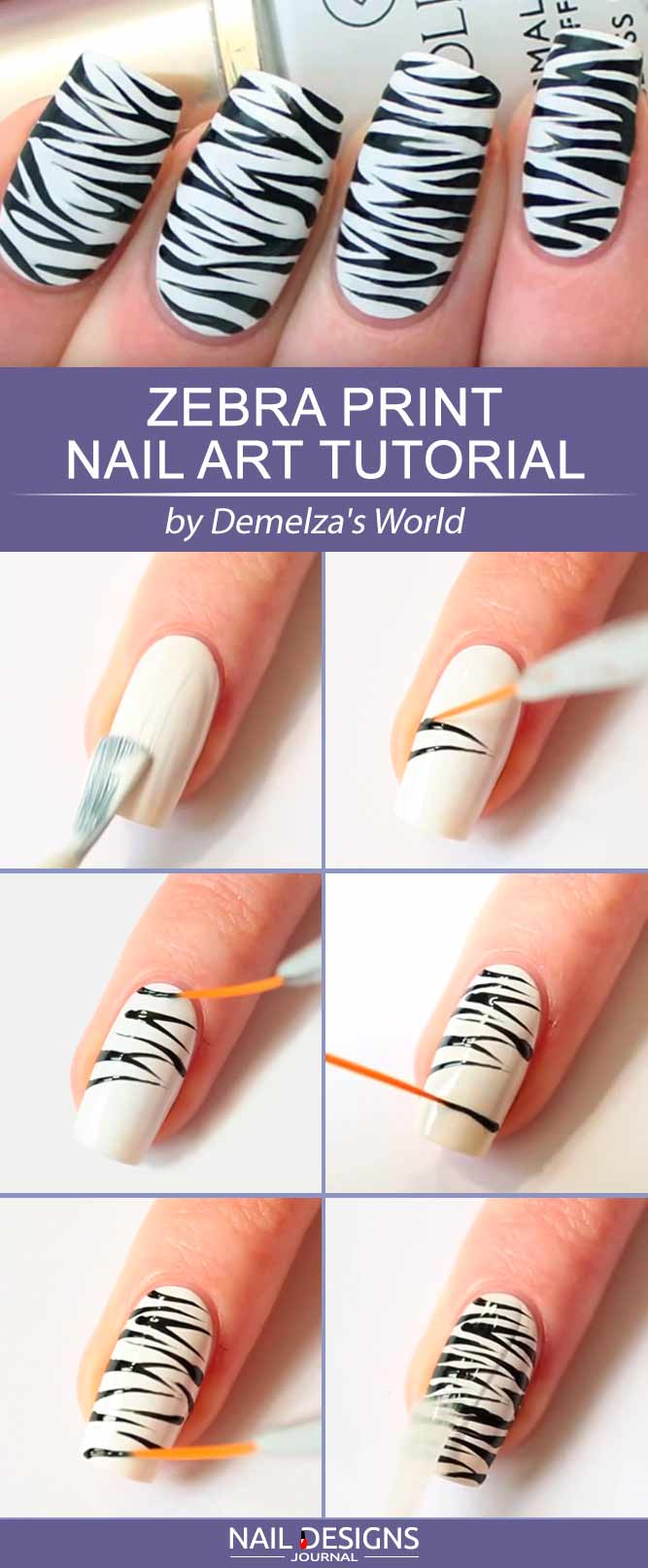 Source:
Demelza's World via Youtube
ADVERTISEMENT ‧ CONTINUE READING BELOW
Zebra Nail Art Designs Using Glitter
Nail art designs are all different, and that is the most beautiful thing about the nail art. Which means that you can mix and match many things with no worries. For example, purple nails go well perfectly with glittery zebra nail art.
Source:
aboutallandnothing via Instagram
Classical Black And White Zebra Print Nails
Black and white color combo is the most classic one. That is why if you decide to stick to the basics there is nothing better than matching good old hues and transforming them into a masterpiece.
Source:
laublm via Instagram
ADVERTISEMENT ‧ CONTINUE READING BELOW
Dazzling Neon Green With Zebra Pattern
Zebra nails can be pulled off not only in usual shades. When you look for some uniqueness then we have a perfect idea in mind. Neon green zebra pattern is exactly what you need to look stylish and out of the ordinary.

Source: nailart_bygracie via Instagram
Vertical Zebra Stripes For Stunning Manicure
Zebra nail design can be extremely versatile not to mention easy. All you need to do is to paint your nails white and navy blue then add some uneve lines to the white base. Voila!
Source:
lnailsn via Instagram
ADVERTISEMENT ‧ CONTINUE READING BELOW
Colorful Idea For Zebra Print Nail Art
Summer is the time for creativity and brightness. To kill two birds with one stone, you are going to need to mix and match bright shades in fabulous zebra print. There you go!

Source: sohotrightnail via Instagram
Mesmerizing Combination Of Pastel Ombre And Animal Print
When it comes to short nails, it may be pretty difficult at times to come up with something trendy and extraordinary at the same time. However, we managed to find the exact design to suit the purpose. Colorful ombre with zebra pattern to it may be just what you are looking for.

Source: ooohshinies via Instagram
Rock Contrasting Colors With Zebra Nail Design
In case you are felling skillful enough, you can depict not only the pattern but also the full zebra on your nails. The contrasting shades are always the best ones to play around with!

Source: mdollasnails via Instagram
ADVERTISEMENT ‧ CONTINUE READING BELOW
Amazing Blue Stripes On Purple Nails
Zebra stripes are always of the same shading, but that does not mean that you can't experiment when it comes to your manicure. Blue stripes on purple base look genuine and special, what do you think?

Source: lusterlacquer via Instagram
Pink Zebra Print Nails For Really Bold Ladies
Pink zebra print nails look bold and stylish. That is why if you are not afraid of attention then this is the nail design you are bound to try out at least once!

Source: lori_nails via Instagram
Lovely Zebra Print Nails Using Chrome Powder
Zebra print nails can look especially lovely and cute not to mention trendy. Paint your nails pale grey and add some chrome powder to a stamping palette with zebra pattern. Act exactly like you do stamping using nail polish. Definitely, you will achieve the mesmerizing effect.
Source:
la_avenail via Instagram
ADVERTISEMENT ‧ CONTINUE READING BELOW
Animal Print Accents On Flawlessly White Base
White is the color of elegance and purity, but sometimes it is not enough to achieve the goal. In times like these, we suggest you add some zebra accent to you flawless white base. If you spice the things up with black zebra stripes, you will surely look perfect and sassy no matter where you go.
Source:
anastasiaufficiale via Instagram
Sweet Peach Zebra Print Nail Art
Among all the nail polish colors peach one is the most majestic in its versatility and ability to adjust. Paint your nails peach and upgrade the look with trendy zebra pattern and you will have no rivals!
Source:
lieve91 via Instagram
Gorgeous Combination Of Matte Black Nails And Gloss Zebra Stripes
Black nail art is pretty bold and daring most of the time. To ease out the dashing expression we suggest, you add to your matte black some glossy zebra pattern; the effect will surely be breath-taking!
Source:
morenil_nailart_moni via Instagram
ADVERTISEMENT ‧ CONTINUE READING BELOW
Matte Zebra Stripes In Classical Colors
Sticking to the classics is never a bad thing. However, even the most usual black and white nail art can be upgraded in the cutest way possible. What we have in mind is the matte coating of zebra pattern adorned with sweet pink roses.

Source: ladyandthe_stamp via Instagram
Zebra Print Acrylic Nails For Glamorous Look
Zebra print acrylic nails leave you a lot of room to experiment with, that is why you shouldn't waste the opportunity. Bright pink nails accented with zebra print and glitter base coat look gorgeous in their brightness and as well as in boldness.

Source: lori_nails via Instagram
Cute & Easy: Zebra Print With Stamping
We know that not everyone is equally skillful when it comes to drawing that is why we are suggesting you a perfect way out. The thing is that stamping is very popular these days that is why if you think that your painting skills leave much to be desired, just use the appropriate stamping set to come out with the zebra nail art!

Source: sneezer_callie via Instagram
ADVERTISEMENT ‧ CONTINUE READING BELOW
Stunning Idea: Hot Orange With Black Zebra Stripes
In case you are not afraid of bold suggestions then you will surely appreciate this idea. The mixture of bright orange and zebra pattern is anything but neutral. Use this manicure idea to your advantage when you are in need of a bright accent to your look.

Source: palooozanails via Instagram
Marvelous Chrome Zebra Print
If such an exotic design has caught your attention, then this interpretation of such a print will become your favorite for sure. A gorgeous chrome color that changes when you tilt your hand will become a beautiful addition to the whole nail design. A great choice for women who are not afraid to stand out.
Source:
murka_vk_nails via Instagram
Combination Of Animal Prints For Sassy Manicure
Do you consider yourself a woman who is not afraid to experiment? Then this print is all about you! Mix two of the most popular animal prints on your nails and we promise you that it won`t get unnoticed!

Source: cdbnails143 via Instagram
ADVERTISEMENT ‧ CONTINUE READING BELOW
Fabulous Peachy Zebra Nails
A lot of people prefer mixing different designs with the plain colorful nails. We believe it is a great idea! Especially if you want to have an extraordinary design but don`t want to catch too much attention. Add a zebra print to two of your nails and mix it with a peachy nail color. Doesn`t it look gorgeous?
Source:
amur_nails via Instagram
Sweet Soft Pink Nails Decorated With Zebra Print
If you are looking for colors that will go well with a zebra print then we have an idea for you. Try applying it to a soft pink nail polish. A combination of an elegancy with some wildness will make it look super different and interesting. Are you up for it?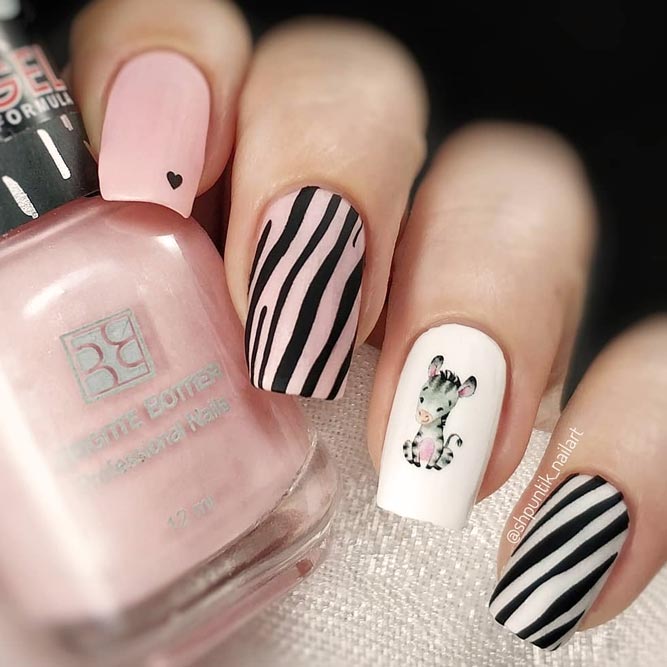 Source:
shpuntik_nailart via Instagram
Neon Yellow Animal Nails
Some great ideas for summer include a zebra print. This one is for sure one of it. Bright and colorful it will bring out your character and confidence. Mix a neon yellow color with some zebra print and you will be bringing sunshine even to the grayest places.

Source: sensationails4u via Instagram
ADVERTISEMENT ‧ CONTINUE READING BELOW
Sparkly Beige Zebra Nails For Cute Mani
No one can deny the fact that sometimes even the lovers of the most basic nail colors prefer to bring in something interesting for a change. There are so many ideas how to do that beautifully and this one is for sure in this list. A zebra print on top of the beige color will make your nails look magnificent so try it as soon as possible.
Source:
bepinselt via Instagram
We hope these ideas come to your liking and you will share them with your friends! Do not forget to check for updates!
Main photo by Murka_vk_nails
ADVERTISEMENT ‧ CONTINUE READING BELOW