Stiletto nails have been on the top for a while now, and they seem not to go anywhere any time soon. The thing is that this may not be the most practical shape but certainly the edgiest and the most daring. There is no wonder why Rhianna and Nicki Minaj are head over heels about this shape. There is so much room for the experimentation, not to mention the ways you can express yourself properly through the nail art. Taking all that into consideration, we have come to the conclusion that such a fancy shape should not be limited to the celebrity world only, and we have gathered here all the sexiest and trendiest ideas you can easily pull off with your stiletto shape, either at home or at the salon, altogether with some other interesting information concerning the matter. Feel free to dive in!
Stiletto Nails What Are They?
Stilettos nails are somehow resembling almond nail shapes, but they are a lot edgier than that. The thing is that this shape is all about the length and the sharpness that is why it may seem like it is not for everyday wear. However, with the speed that modern nail art develops, there are lots of ways to ensure that your long nails are strong enough to get through the daily routines and that is what makes this shape even more appealing. It should also be mentioned that the variety of stiletto nail designs is growing with every day since such nails are a great canvas for any beginning or experienced and talented nail artist. That is something that we are going to treat you with right now – a fair share of marvelous stiletto nails designs to get inspired with and to make your life brighter than ever!
Source:
fiina_naillounge via Instagram
Summer Bright Nails With Black Accent
Those of you who are open to experimentation will surely fall in love with the idea of experimenting with the mix of shades. The combo of pastel colors and black matte accent is undoubtedly stunning!
Source:
amyduclosnails via Instagram
White Color It The Best For Elegant Stiletto Nails
Sometimes white nail polish is underestimated. However, if your nails are extra-long and extra sharp and you do not want any other definition added, white nail color comes in more than handy. What is more, neutral hues are pretty popular at the time.
Source:
vincentnails via Instagram
Bright Marble Art
Of course, we can't leave out short stiletto nails. When you choose the length, you need to come up with the perfect nail design that will correspond with it. That is why this is the best you can get with your short stilettos – beautiful, elegant and bright at the same time marble nail art.
Source:
helennails_yeg via Instagram
Popular In 2019 – Sweet Coral Nails
Coral shades are on the edge of popularity these days that is why introducing them into your manicure would be a nice idea. When it comes to coral hue sit seems like there is nothing much to be added, what do you think?
Source:
nailsby_dylan via Instagram
Classic Design With Black Color
What is the best way to kill all possible birds with just one stone? The answer is simple – combine stilettos with glossy black. The outcome will be equally simple and easy but elegant and daring at the same time. Sometimes being humble is the best way to speak up your mind! Besides, you can easily pull off this look on your own in the safety of your own home.
Source:
hongnhungnails via Instagram
Unreal Galaxy Art For Stiletto Nails
Space themes are taking over the world of nail art that is why stiletto nails could not stay behind for too long. Just imagine the number of new galaxies you can discover with such a vast canvas to experiment on!
Source:
nailsby_dylan via Instagram
Matte Effect – Perfect For A Dark Color
Matte black stiletto nails deserve a special place in this list. The thing is that even sheer black mani looks gorgeous in its simplicity but when you combine the matte effect with gold accent – the style and charm just overloads. That is why if you are looking for something to be suitable for everything and still mesmerizing at the same time – this is exactly what you need!
Source:
vincentnails via Instagram
Elegant Matte And Marble Nail Design
Pastel shades look especial elegant and gentle with a matte coating. However, when the mixture of matte pastel hues is not enough, it is time to introduce some marble stone pattern in!
Source:
sarahsnailsecrets via Instagram
Turquoise Stiletto Nails
Sometimes going all in is a great idea and this nail art is the best proof of the opinion, the thing is that the combination of the bold turquoise base with tribal patterns, marble stone design, and rhinestone addition is genuinely amazing!
Source:
helennails_yeg via Instagram
Gold Foil Nails
Luxurious nails are that one thing that will complement your outlook when there is an important occasion ahead. That is why we suggest you introduce some gold into your mani. Be it glitter or gold transfer foil or even both – the result will be astonishing!
Source:
sarahsnailsecrets via Instagram
Bling Glitter French Tips
Very often, it is considered that the French tip is the definition of elegance and class which is pretty reserved and strict. However, we are going to prove you that a French tip can look both elegant and catchy. Just one look at these glittery bling tips will prove to outpoint!
Source:
solinsnaglar via Instagram
Mandala Stiletto Nails
Mandala patterns are always intricate and gentle looking. While mandala body art may not be your cup of tea, you can easily introduce them into your nail art, the outcome will be magnificent.
Source:
polishedinportland via Instagram
Gold Glitter Design Just Like Rihanna's
It is true that long nails can be both easy and difficult to deal with. When you are running out of time but still wish to make your long nails look magnificent – there is a way out. The Queen Ri-Ri has mastered the art for a while now that is why she is so fond of glittery gold nails. That is why if you are looking for a simple way to upgrade your long claws – use this idea to your advantage!
Source:
nailsbysueuna via Instagram
Rich Chanel Art
There are brands to follow, and if you are nothing else but a devoted Chanel fan, you will surely appreciate this gorgeous and luxurious nail art idea. This is that perfect case when there is nothing missing, and the outcome is breath-taking.
Source:
elhamkhayyam.nail via Instagram
Glitter Gradient Art
When you think of a gradient, it may seem to be a little too used up already, and you wish for something new. Wait until you see this glitter gradient upgrade, it is surely anything but used up and boring. Besides, it looks like it deals with the length well no matter what. What do you think?
Source:
laquenailbar via Instagram
Unreal Bold Olive Color Design
When you think about olive shades you can't really say that they are either bold or bright, they are something closer to being neutral, at least we think about them in this way. However, when you know what to combine your olive-shaded manicure with, you may reach as dramatic effect as you can see possibly dream off, and this olive 3-D nail art is the proper example for that!
Source:
nailedbynell via Instagram
Geometric Design For Stiletto Nails
Those of you who are ready to spend countless hours waiting for their nails to be done will definitely be interested in something as special and exceptional as this geometric design. The thing is that everything in this manicure seems perfect starting from the pastel shades and ending with the precise geometric lines. Fabulous!
Source:
vincentnails via Instagram
Simple Neutral Colors
There are nail shapes, which are gorgeous on their own, and stilettos are exactly the ones. That is why the best way to emphasize your gorgeous shape is to add some neutral coloring to it. Nude stiletto nails are fantastic-looking even if there is nothing else added.
Source:
laquenailbar via Instagram
Lovely Flower Art
All the girls love flowers that is the fact that is why floral nail art is thriving. Besides when there is a desire to add some summery touch to your nails the best way would be to introduce some flowers to your nail art. The combination of teal base color, sparkles and flowers express your infinite summer mood, what can better than that?
Source:
helennails_yeg via Instagram
Wear Rhinestones For The Sexy Lady
When you decide to play around with rhinestones, it is important not to take it too far so that your nail art does not look too vulgar. The nude base intertwined with white lacy patterns are what you need in such a case. See for yourself!
Source:
nailsbysueuna via Instagram
Classic Red Stiletto Nails
Red stiletto nails designs are the definition of class and elegance; there is nothing much to be added.
Source:
nailsbyquetel via Instagram
Gorgeous Glitter
Grey shades are trendy nowadays, but when mere grey is not your cup of tea, that is the high time you play around with some glitter. The combination of neutral shades and glitter are always the spicy ones.
Source:
solinsnaglar via Instagram
Holographic Effect
There are some people who can hardly make up their mind son what shade to choose this time, and that is why the holographic effect was introduced into the nail world. The thing is that depending on the lighting your nails will always look different. Try it out!
Source:
laquenailbar via Instagram
Sexy Red Metallic Nails
Red stiletto nails with rhinestones are the definition of perfection and festive look. What is more, if you add some more metallic red to the design you will make your manicure look futuristic and quite other-worldly. Are you ready for something as dramatic and charming as this nail art design? What are you waiting for!
Source:
laquenailbar via Instagram
3D And Textured Stiletto Nail Designs
In order to accentuate one of the most fierce nail shapes, go for a 3D design. With this shape you have a ton of space to show it off. These ideas are so creative and artistic. Moreover, a great choice for your prom night!
Source:
perfect10customnails via Instagram
Marble Stiletto Nails
Marble designs are extremely trendy these days, but it would be even better if you combine marble nail art with a stiletto shape. Not to mention the list of possible upgrades that are available. The choice is yours, but one thing we are sure of – your nails will always look elegant and trendy with this design involved!
Source:
fiina_naillounge via Instagram
Cute Stiletto Nails With Matte Accents
If you are a passionate lover of a matte finish, have a look at these matte and cute stiletto nails. Combine matte with other types of designs, such as glitter, shimmer or floral design. We also love this geometric design on a transparent base.
Source:
solinsnaglar via Instagram
Classy Black French Look
Classic French nail art is something that most of you wear on a daily basis to the office. Yet, there are times you wish there were something else out there aside from the regular French tip option. That is when the black French nail design comes in knocking at your door. What is more, the combo of stilettos and black French tips is simply a killer one!
Source:
naillounge via Instagram
Gold & Black Combo Design
Black stiletto nails with glitter look great, but they will look even better if you add some gold to the design. This is the perfect idea how you can play around with such vast canvas as stilettos can supply you with.
Source:
getbuffednails via Instagram
Egyptian Art For Stiletto Nails
This is the way a real nail art masterpiece looks like. Of course, it would take time, mastery and effort to achieve such an outcome, but it would certainly be worth it. Just look at all the precision and details, simple mind-blowing and gorgeous!
Source:
pampernailgallery via Instagram
Different Ways How To Do Stiletto Nails
It goes without saying that stiletto nails can be designed in many intricate ways and we have provided you with a great share of the examples to replicate. However, what about the ways you can actually get this shape done? There are at least four different ways to do stilettos, and we will discuss all of them right now! Some of the ways can be done on your own, but some require professional help, keep that in mind.
Shaping
If you have long natural nails, all you need to turn them into stilettos is a good filer and a little bit of your time.
Start by adding an angle to each side of your nails.
Make sure that you round up the tip a little.
When you achieve the desired tip sharpness – you are done.
As simple as that!
Source:
getbuffednails via Instagram
Fake Nails
The easiest way to pull off a fake nail look is to get yourself some press-ons and carry on with your manicure.
First of all, you need to trim down your natural nails and file them a little to add some texture for press-ons to hold better.
After that, you find the perfect shape size for each nail and glue them over your natural nails.
If you need some shape change, just use your filer.  That is it.
Basically, using the press-on nails is the easiest and the safest way of pulling off stiletto shape. What is more, the nail polish will last a lot longer when applied over the press-on. Besides, you can change your nail art as often as you like since most press-on sets come in with a great number of pieces to use.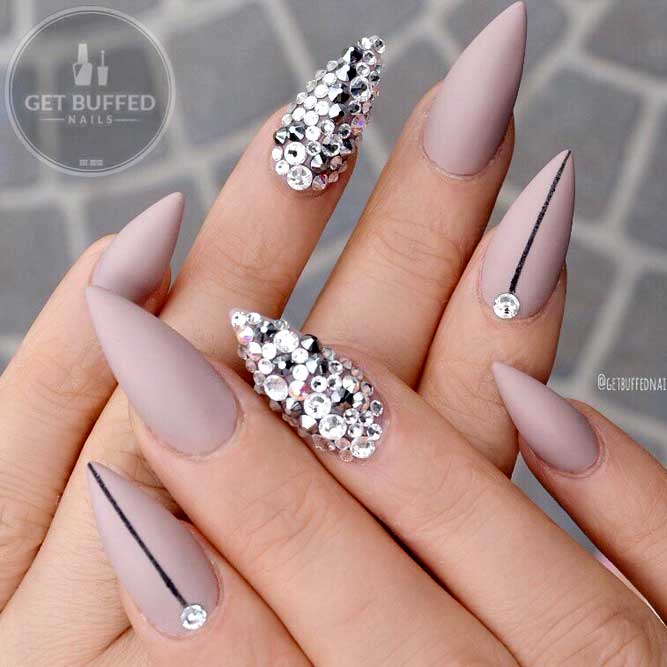 Source:
getbuffednails via Instagram
Acrylic Stilettos
It is true that acrylic stilettos are long-lasting and great to look at, but it takes real time and effort to master the technique if you are just the beginner to the nail art world. Yet, you can easily purchase a starter kit at any drug store and start your experimentation, or you can pay a visit to a trusted salon since they do that there too. No matter which way you prefer, you should be aware of the fact that no matter how fancy acrylic stiletto nails look, they still can inflict some damage on your natural nail.
Source:
getbuffednails via Instagram
Gel Stilettos
Another way to get a perfect stiletto shape is to have some gel shaping done to your fingernails. The thing with gel shaping is that you better let a professional do it for you rather than do it on your own at home since apart the pricey gear there is a fair share amount of practice required to get the job done well.
Source:
fiina_naillounge via Instagram
There you go, now you know four ways how to do your stilettos!
Who Should Wear This Form Of Nails?
To tell you the truth anyone can pull his shape off all you need to think about is whether it is going to suit your lifestyle. For example, if you are an office worker and spend a lot of time typing, then you better keep it in mind that this shape will make typing pretty painful and close to impossible. Other than that, there are no restrictions. If you want to express yourself and look like a real celebrity – why not!
Source:
amyduclosnails via Instagram
Best Tips For Wearing Stiletto Nails
Keep your nails always clean to prevent any infection from spreading.
Do not use your fingers to apply makeup so that all the excess product does not get under the nails and doesn't ruin the manicure.
In order to avoid unnecessary scratches, round the tips of your stilettos.
Overall – if you choose stiletto nails you better be careful since looking gorgeous may come at a price!
Source:
nailedbynell via Instagram
Main photo by helennails_yeg