Are you searching for a couple of easy nail designs that you could totally do on your own at home? You've come to the right place. We have plenty of them. If you try them by yourself, you will save so much money. Going to the nail salons can sometimes be a pretty costly affair. Doing your nails on your own with our ideas and tutorials will cost you almost nothing, plus, you will look chic.
A lot of girls think they have butter fingers to replicate these cute nails designs. And that is a huge mistake. Even a total newbie can cope with it. We will show you how.
Have you ever imagined that these nail designs can be done in only three steps? They are very easy peasy and totaly life changing. We have compiled a list of them. Just take nail polish colors you prefer and start!
Nail Art with Polka Dots & Bows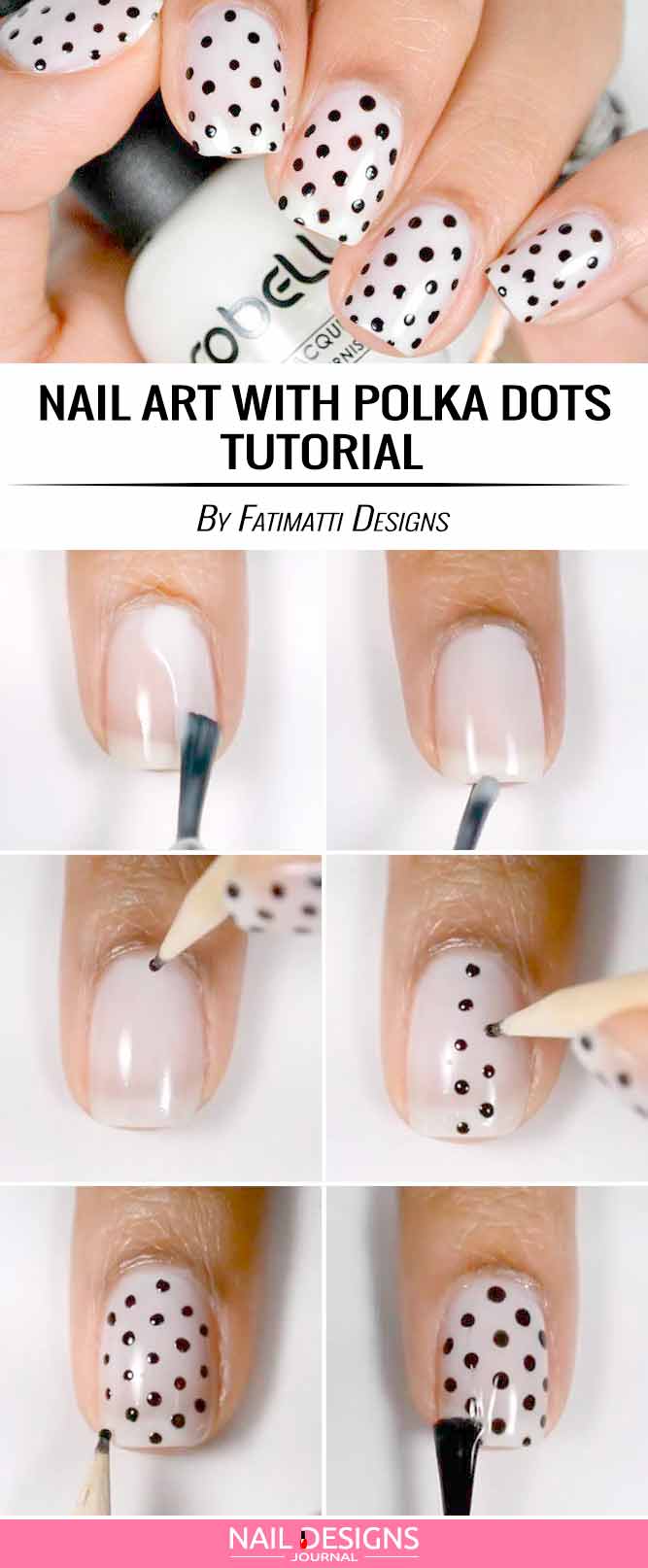 Polka dots nails are super cute, adorable and feminine. Moreover, they are probably the easiest to start with. First thing you need to do is to choose a light nude shade for the base, something like pale pink. For the next step, you need to grab a toothpick or something sharp and a black nail polish, and make polka dots.
Marble Nail Art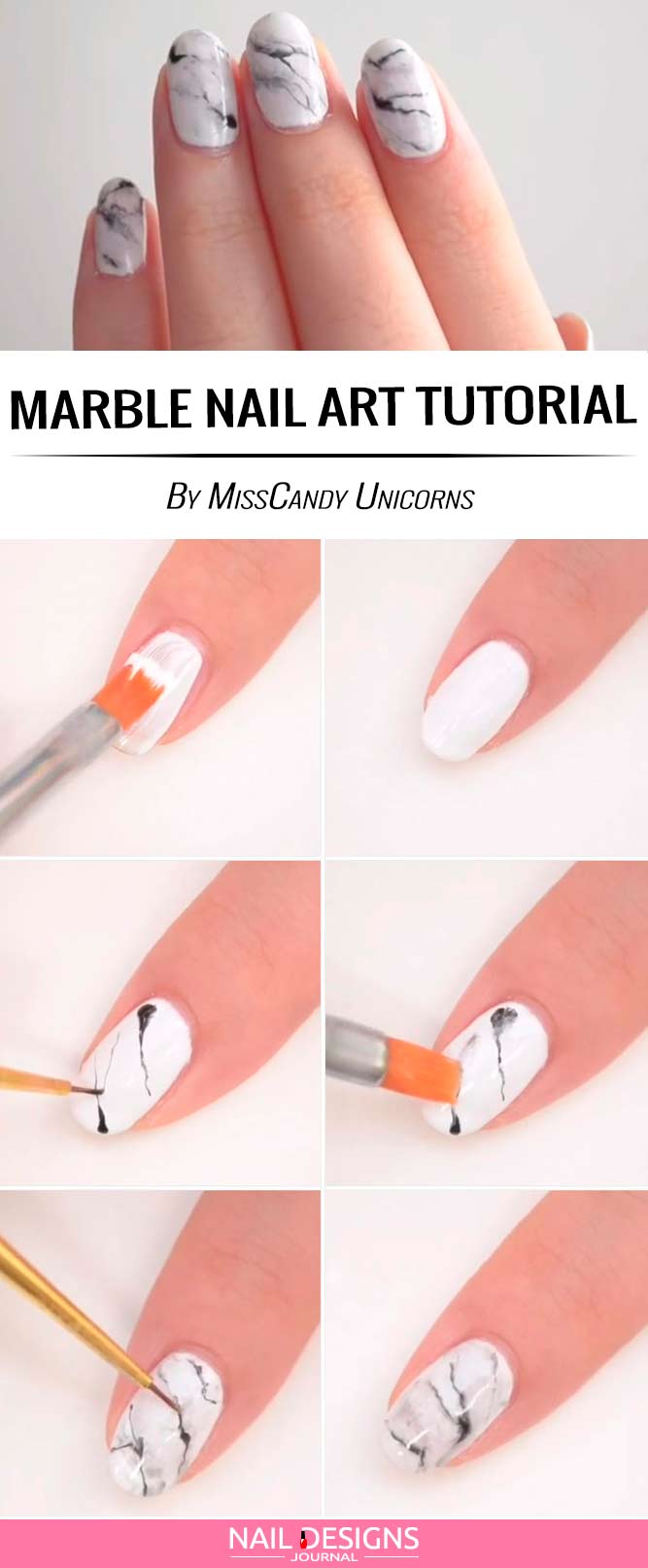 Marble is everywhere right now, starting from phone cases and ending with jewelry. And tail art is not an exception. It is a nice option for a night out or some formal event. For this effect, you will need two contrasting nail polishes. Apply the first coat of light color and wait. Once it is dry, apply the second coat. For the second step, you will need a toothpick or something sharp. With the help of it, you should apply the contrasting color while the previous is still wet. And the last step is swirling together two colors.
Floral Nail Art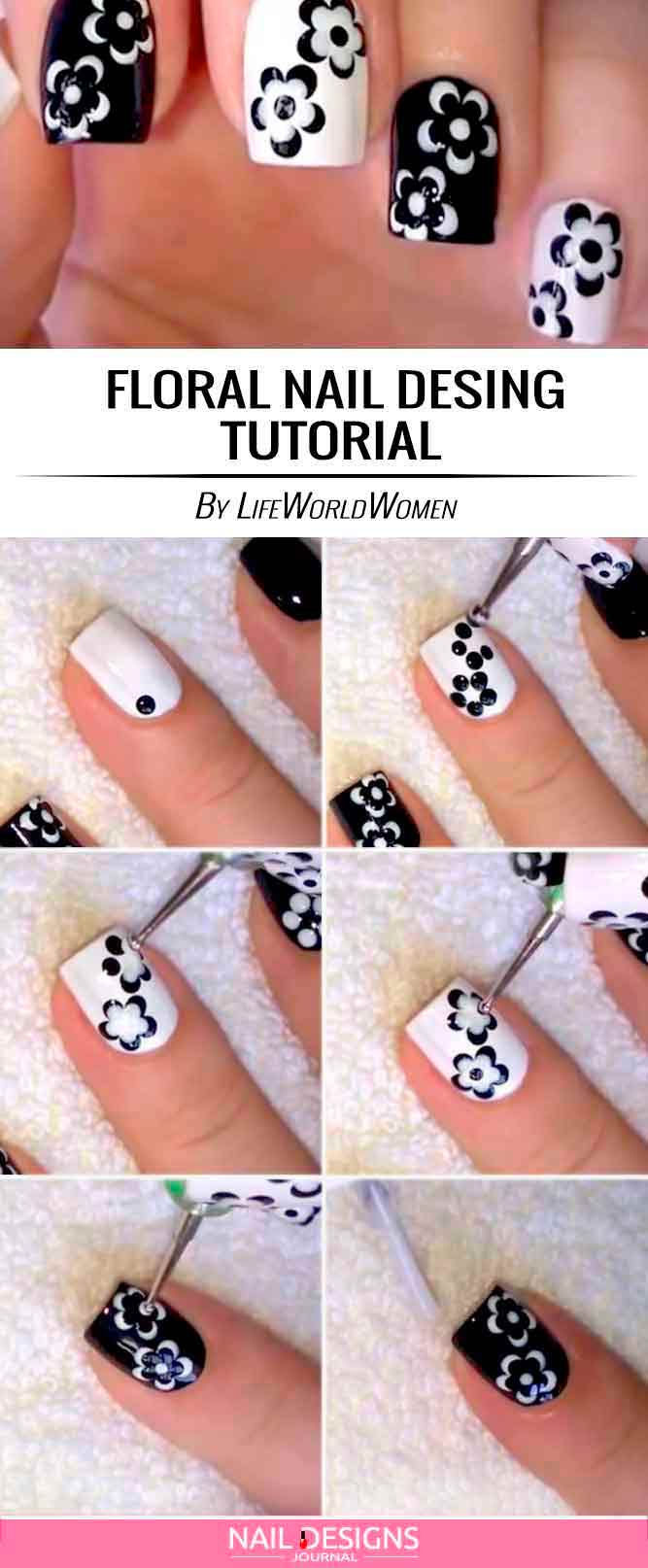 Floral nails work nicely for summer and look girly. Firstly, you will need to apply one coat of a base color and let it dry. In order to create flowers, you will need a pin. Start doting flowers with five petals. You may fit one or two flowers on one nail. Don't forget to put a dot in the middle of the flower once it is completely dry.
Color Block Nails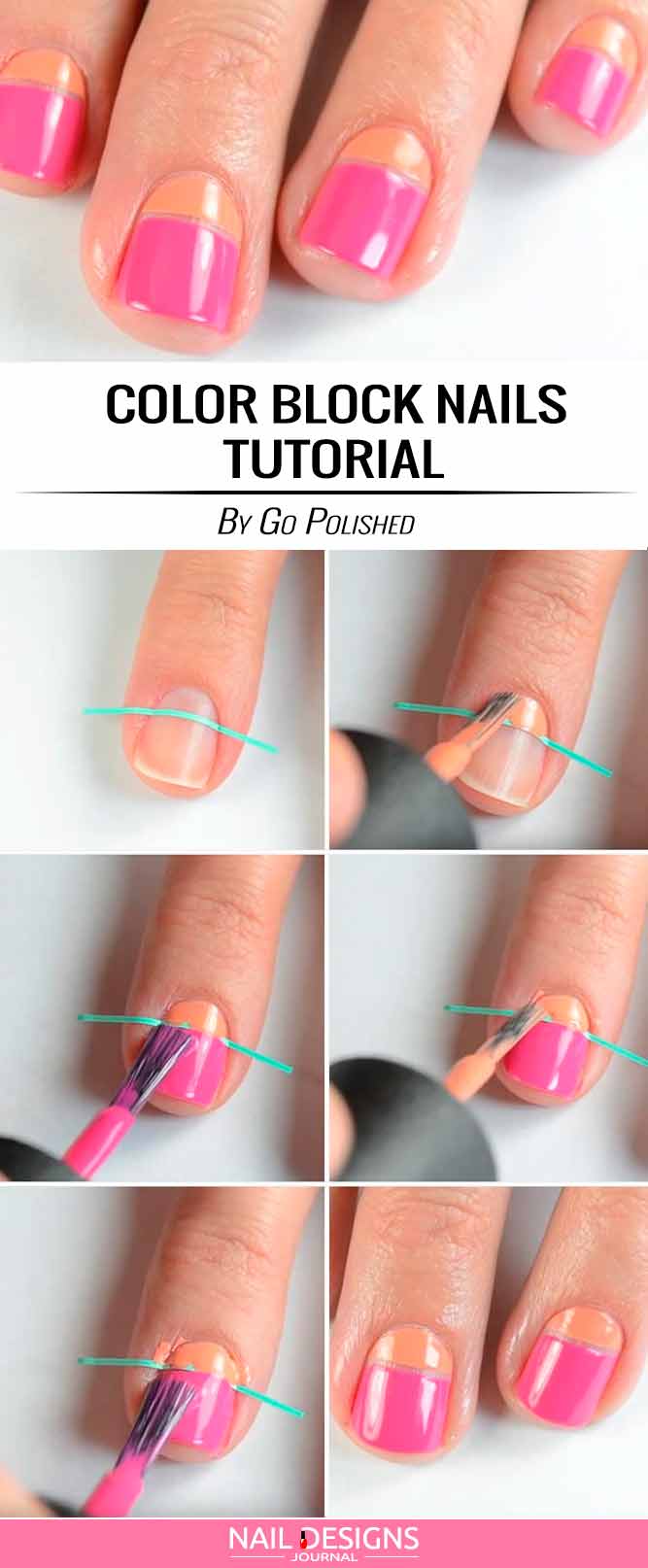 A color block nail design is really fun. For this effect, you may pick two contrasting colors or two shades of one color. Firstly, stick stripes of a tape to every nail. Secondly, paint two nails with the colors you have chosen and let them dry. Lastly, take off the tape slowly.
Elegant Reverse French Mani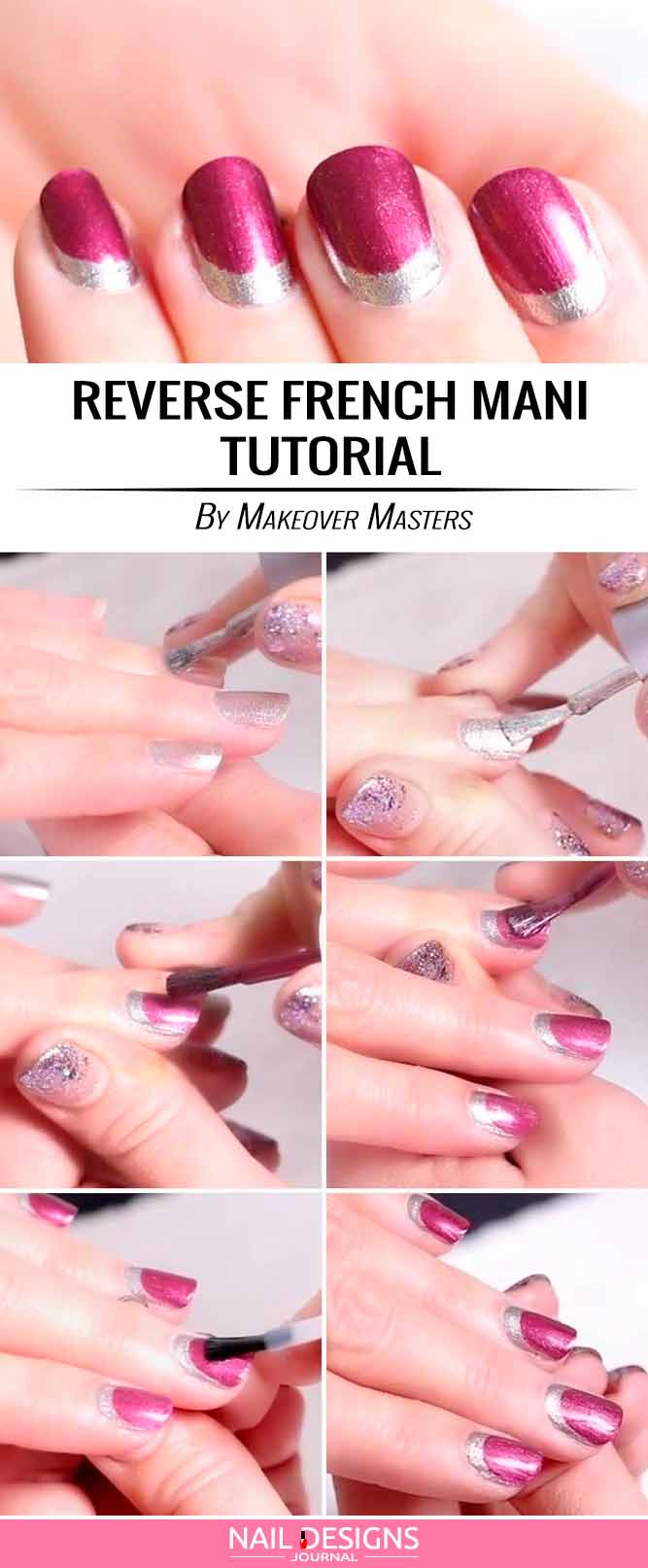 Reverse French nails are super elegant, feminine, and you can create them at home. Choose a shimmering metallic nail polish for the base, apply two coats of it and wait till it dries completely. For the top, you will need a darker color. Step aside a little bit from the cuticles and follow the shape of the nails. As an optional step, add one coat of the base shade on the top.
Easy Paint Splatter Nail Art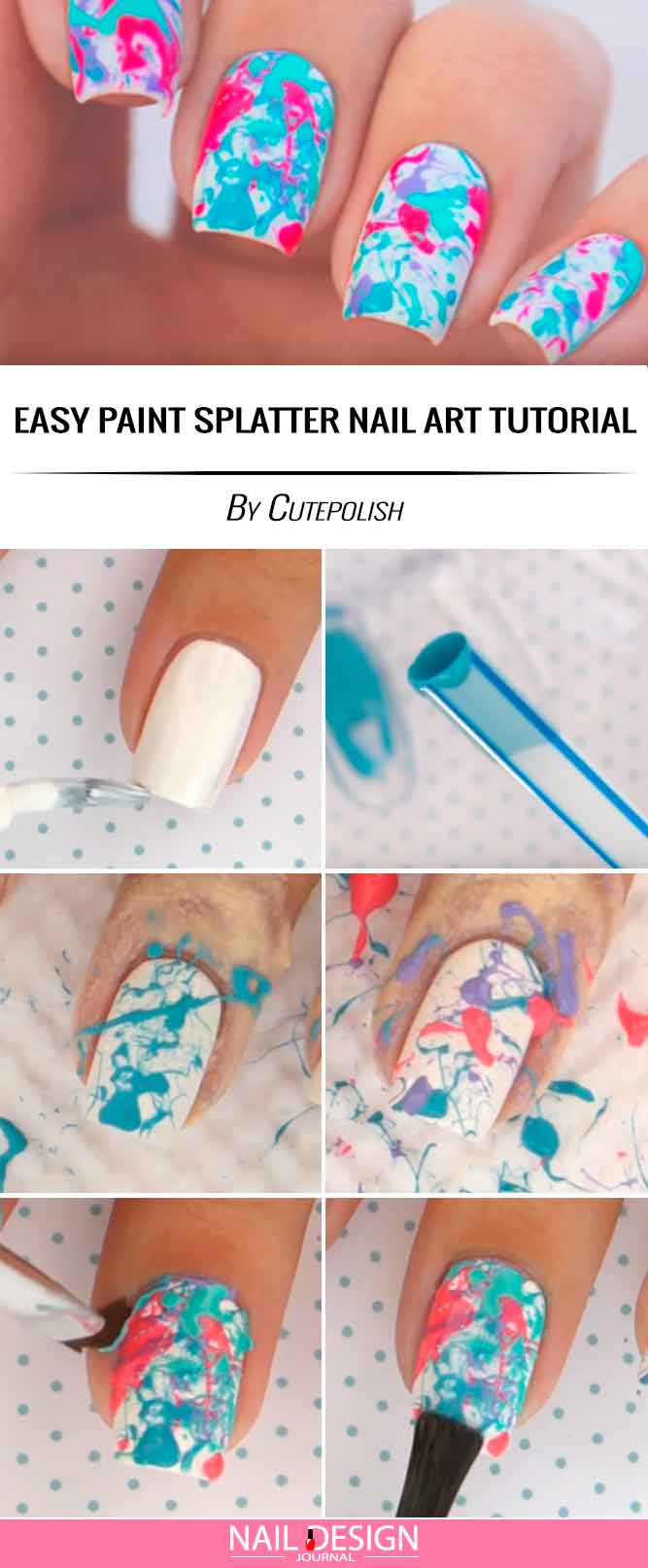 Splatter nail art looks super creative. The first thing you need to do is to cover all nails with a bright or nude base color. A white color will be perfect. Wait till it dries completely. For the next step, you will need a straw. Dab it into another bright color of your choice and blow in it. The color will splatter through your nails, creating a unique ornament. You may repeat this step adding more colors.
Ombre Nail Art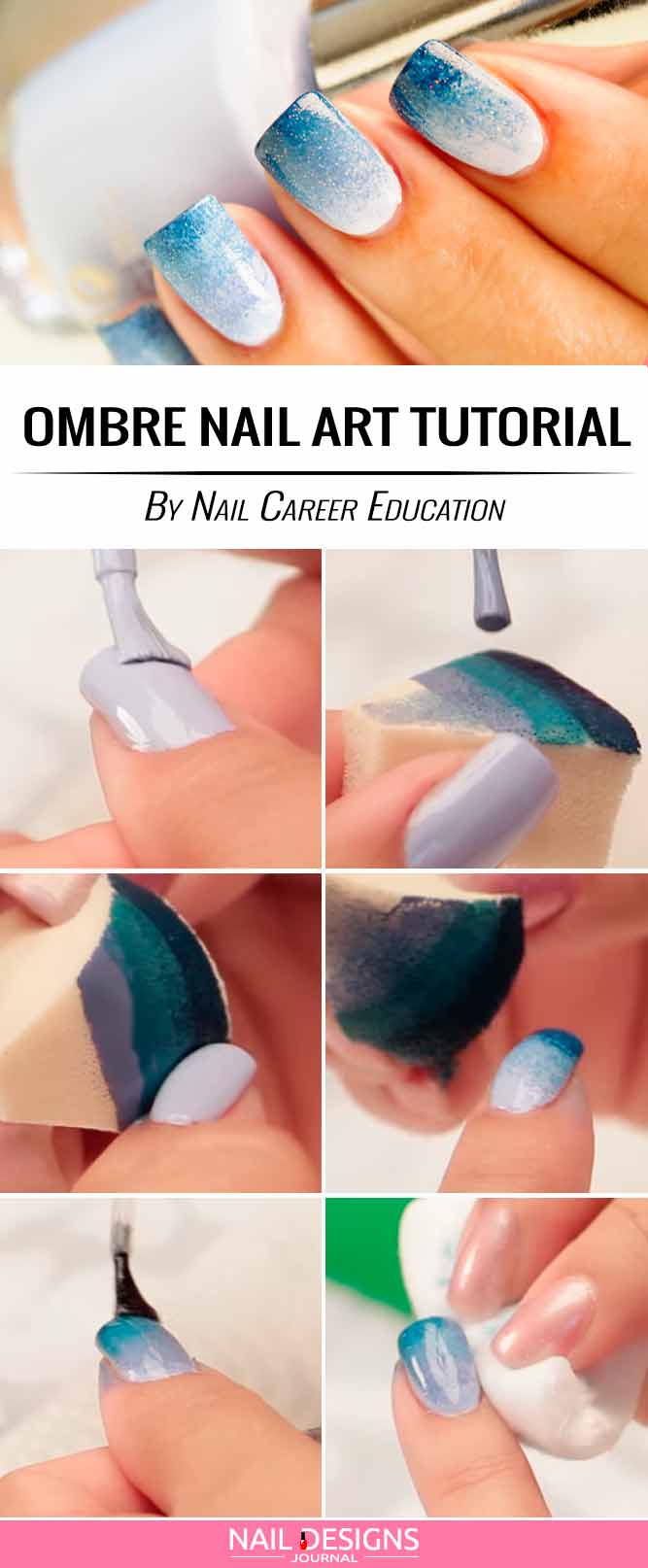 Ombre nails seem super complicated at first sight. Our tutorial will help you to pull it off. Choose a neutral shade for the base and let it air dry. For the actual ombre, you will need a sponge. Now select a gradient of three colors and paint three stripes on the sponge. Press it lightly to your nail, and cute ombre nails are ready.
Blue Nail Tips for Bold Summer Look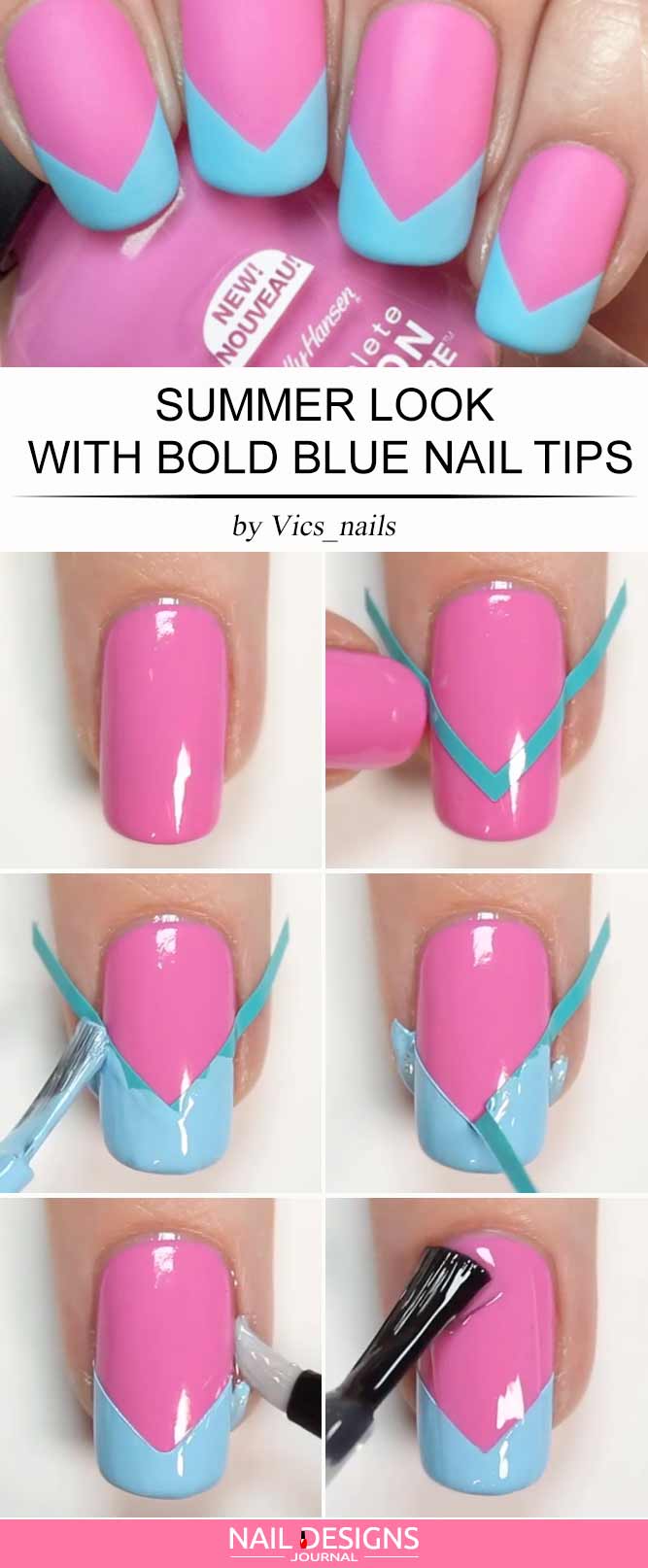 Tropical Flowers Nail Art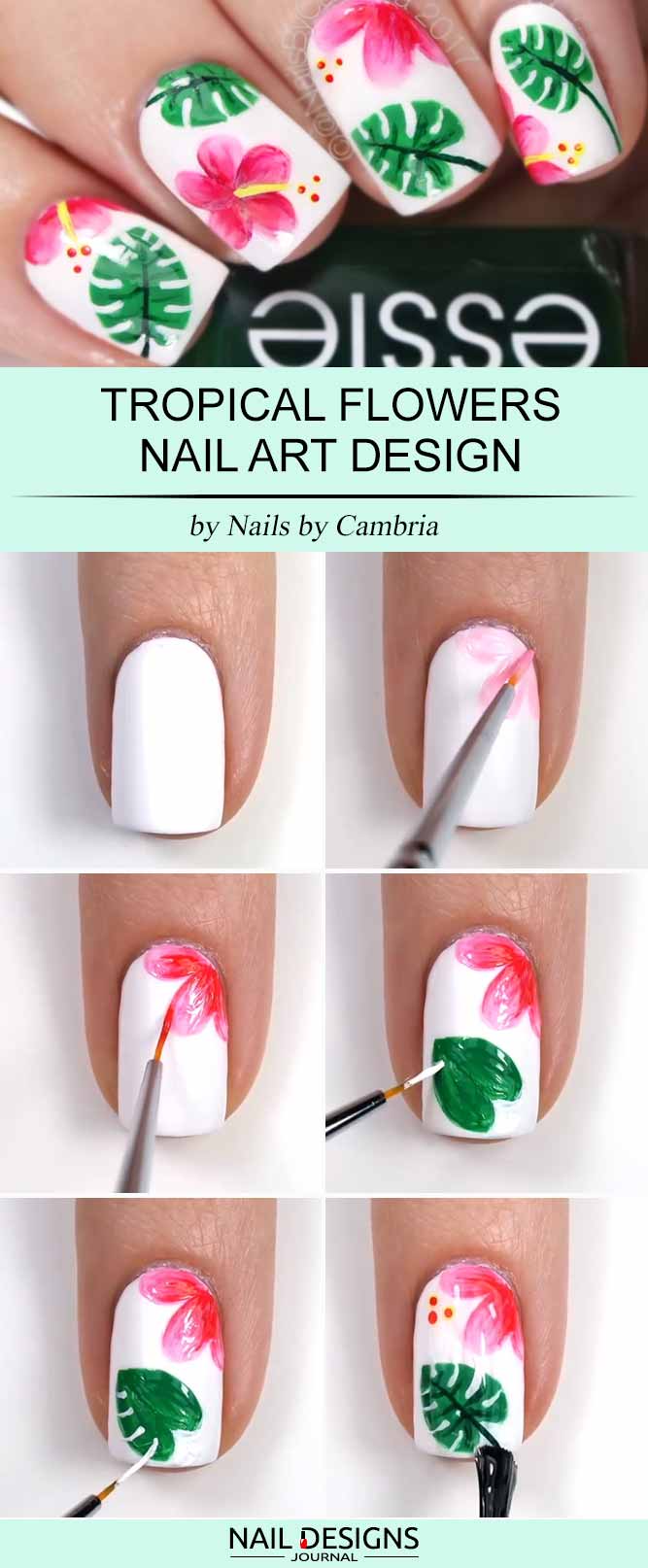 Here you are. A list of easy nail art ideas. Try a wider range of colors and remember to apply a coat on the top for protection.
Main photo from the Nail Edit Blog