Purple nails are definitely a modern trend. There is no wonder why, in fact. The thing is that purple is a color of confidence and elegance and many ladies are more than eager to sport it. What is more, there are too many shades of purple and depending on which ones you prefer better you can create your own image. It goes without saying that darker shades are calm and charming while lighter ones are more fun and girly. No matter which ones you prefer best – we have it covered here for you. Only the freshest and trendiest ideas for purple-shaded manicure are gathered here!
ADVERTISEMENT ‧ CONTINUE READING BELOW
Lovely Purple Nails With Glitter Accent
Among all the nail colors purple nails with glitter carry that special vibe that grants your look that gentle touch of magic. You do not need to go over the edge with glitter though, only an accent nail is more than enough. What is more, you can always mix and match, the more the shades are involved the more intricate your nail art will look.

Source: natdhanails via Instagram

Source: leslies.gelnails via Instagram
ADVERTISEMENT ‧ CONTINUE READING BELOW
Luxury Matte Purple & Sparkly Rhinestones
Wearing your coffin nail matte is another popular trend but if you wish to look like no one else, we have a couple of suggestions for you. Purple nails with rhinestones are majestic-looking besides if you look for an unusual shade, then you should definitely try dusty amethyst one. Try it out and you will not regret!

Source: veronicas_nail_art via Instagram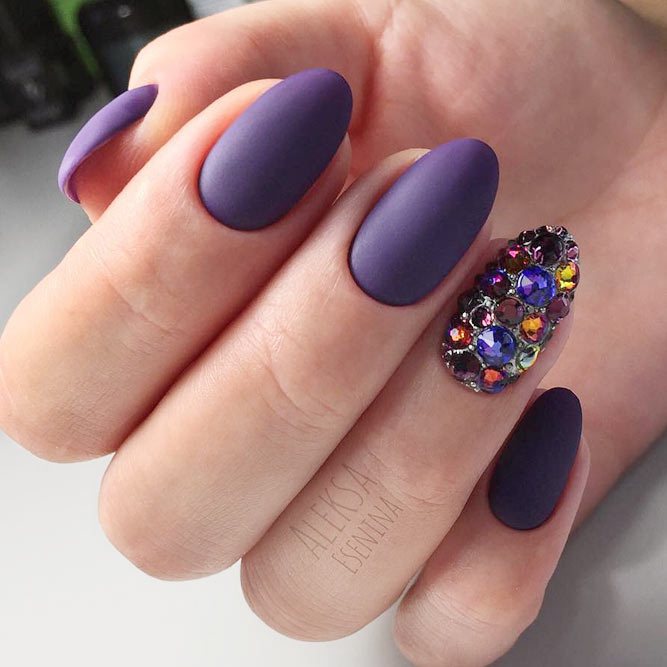 Source:
aleksa.nail.art via Instagram
Dazzling Purple Nails With Foil Design
When it comes to the manicure with foil the list of options is close to being unlimited. Yet, purple and black nail art looks exquisite when some foil is involved. It looks both stylish and strict, that is the combination many ladies seek.

Source: tipsnflickss via Instagram
ADVERTISEMENT ‧ CONTINUE READING BELOW
Triangular And Chic
Triangular designs have an amazing ability to make your nails look longer. That is why if you are looking for purple nail art for short nails you should definitely consider at least one of these triangular designs.

Source: so_nailicious via Instagram
Purple Gradient Designs
Ombre techniques seem not to want to go out of fashion. That is why new upgrades appear every day. You can easily take your purple nails to the next level with the help of a stylish gradient. In case matte or glossy purple nail designs are not your cup of tea, you can always add a little bit of sparkle to your purple mani!

Source: so_nailicious via Instagram
ADVERTISEMENT ‧ CONTINUE READING BELOW
Charming Marble Effect And Purple Nail Colors
Marble nail designs have taken over the world of nail fashion. That is why it is a pretty good idea to kill two birds with one stone and combine a purple nail design with marble art. What do you think? Take a pick!

Source: glitterfingersss via Instagram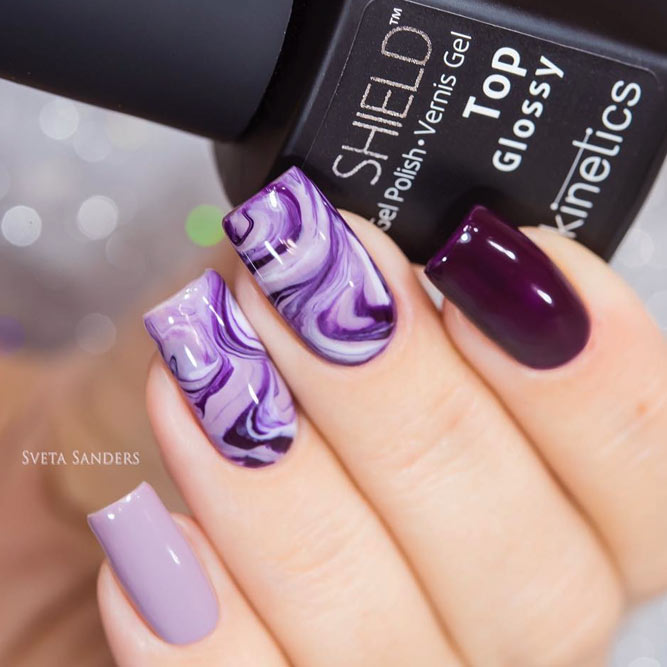 Source:
sveta_sanders via Instagram
Bold Chrome In Purple Shades
No matter light purple nail designs or dark ones, all will look gorgeous and quite bold if you add some chrome effect to them. Purple nail designs are gorgeous in their versatility; it seems there is nothing you can't pull off with this shade!

Source: tenlittlecanvases via Instagram

Source: margaritasnailz via Instagram
Purple Nails With Geometric Pattern
Geometric patterns are a really popular trend in clothing and accessories. So, we picked up the ideas of the most fashionable designs for your nails, which will complement your image.

Source: little_zzi via Instagram

Source: kt_tk1 via Instagram
ADVERTISEMENT ‧ CONTINUE READING BELOW
Purple Floral Art
We think that floral art is always feminine and tender. With calm and gentle serene shades or a vivid combination of purple and blue you'll make your manicure excellent.

Source: christabellnails via Instagram
In case you like these nail designs, do not forget to share them and come back any time you need a fresh and stylish idea for your next mani.
Main photo by svetlana_stanovaya
ADVERTISEMENT ‧ CONTINUE READING BELOW