Don't you just love a French manicure? They have been around for decades, and they will never go out of favor! And the best part is that they work for any and every occasion.
Whether you are looking for fancy nails or creative nail designs, we have just the look for you! We have gathered some of the most sleek and stylish looks for French mani that range from elegant to sassy!
You can try any of these cute nail designs for French mani on your own or ask your nail stylist to duplicate them for you. Either way, you'll be the envy of all your gal pals with your stylish and trendy French mani inspired nail art!
How To Make A French Manicure On Natural Nails?
French manicure is one of the most popular and required designs at all the nail salons all over the world. However, not every one of you already knows that this marvelous design can be easily recreated at home. The thing is that even the beginner at the nail art can succeed with the design easily. To prove you our point we are going to list all the necessary steps, here we go:
Trim and shape your nails first.
Put on a base coat (it can be either nude base or pale pink).
Apply nail guides for the tip; you can easily use the regular scorch tape in case you do not have store-bought guides at your disposal.
Paint the tip with white polish.
Remove the tape.
Apply a top coat.
Voila! A homemade French manicure on natural nails is ready!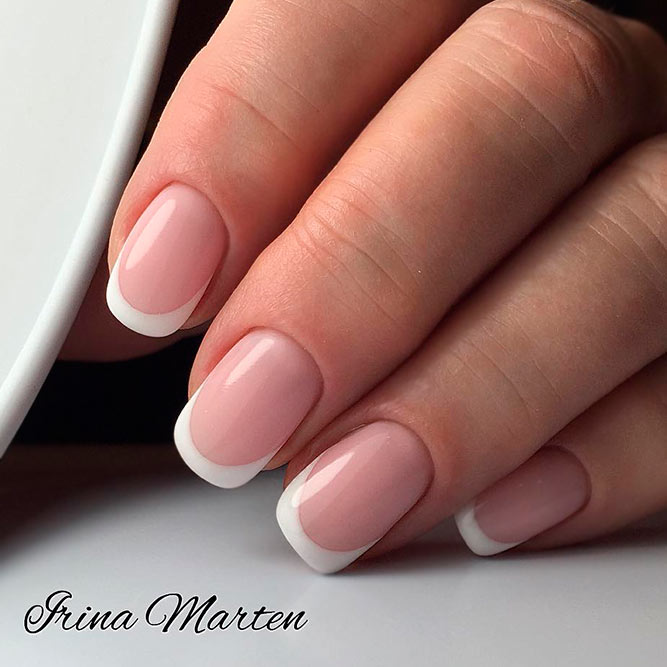 Source:
nails_irinamarten via Instagram
Classical French Tip Nails
Those of you who are never about breaking the rules will surely appreciate this reserved and elegant classic French tip idea. You can experiment with the length of your nails as well, as you can see long nails look perfect and neat with the addition of French manicure.
Source:
galichaiaolga via Instagram
French Mani With Floral Print
The best way to spice up a regular French tip on short nails is to add some simple but lovely patterns. The thing is that the addition of contrasting floral pattern is a great idea.
Source:
just1nail via Instagram
Sweet French Mani With Flower Shaped Glitters
Not all of us are proved artists, and sometimes it may be difficult to succeed with the creation of some fancy painted pattern. That is when the flower shaped glitters come in more than handy. Just add a line of these to your regular French tip, and you will come up with perfect and unique-looking nail art!
Source:
ane_li via Instagram
Classical French Manicure With Rhinestones Accents
French tip nail designs are a lot more versatile than it may seem from the first glance. Sometimes all you need to do to take your manicure to the whole new level is to add a proper accent. Adding some intricate rhinestone patterns to a ring finger is great possible way out.
Source:
sarahsnailsecrets via Instagram
Trendy Aero Brush Design
French mani has evolved so much that you can do it even in blacks. Dark-black tips look so dangerous on a glossy transparent-black base.
Source:
nail_sunny via Instagram
So Beautiful Minimalistic Style
Pick your favorite shade of nude and just break it with a thin white stripe. This manicure is for the real ladies.
Source:
oksana_oblap via Instagram
V-shaped Black Tips for Your Incredible Look
Pick a nude base you like, for instance, peach nude, and then add V-shaped black tips. This is an ultra-modern take on the French mani and we really love it!
Source:
Bulaevanails via Instagram
Bright Pink and Blue French Nails
French manicure nail polish colors are a lot more than just white. When the summer hits and you feel like your life needs some more color – bright-shaded French tips come in more than useful!
Source:
didoline via Instagram
Sparkly Glitter French Tips
In case you feel adventurous enough you can always experiment with some unique patterns added to the classy French mani. French tip nail designs with glitter always look special and festive!
Source:
crystal_nails_official via Instagram
Elegant Thin French Mani
French tip nail designs for summer should involve some bright hues. However, if going over the edge with bright colors is not your cup of tea you can always opt for a minimalistic design. A thin pink line will go well with the neutral base, especially if your nails are quite short.
Source:
nailsbyjema via Instagram
Animal Nail Tips For More Attractive Look
Many women are obsessed with animalistic prints, and there is no wonder why – there is nothing more beautiful than the creation of nature. However, we suggest you take your obsession to the new level and spice up your French tip with some artsy animal print!
Source:
jewsie__nails via Instagram
Chic Matte French Manicure
Sometimes it is nice to combine the trend with classics. This combo of the matte top coat and French manicure is the best representative of the idea. You can go even further and introduce some rhinestones in.
Source:
galichaiaolga via Instagram
Heart Nail Tips For Lovely Mani
It is not only the color you can experiment with when it comes to French tips. The thing is that you can also get creative with the shape of your tip as well. For example, this heart-shaped burgundy French manicure can save the day!
Source:
_hannahweir_ via Instagram
Fresh Nail Art With French Tips
When there are no restrictions or dress code, you can get as creative as you like. This watermelon French mani is one of the possible options you can get charmed by.
Source:
christabellnails via Instagram
Cute French Fade For Perfect Mani
In case you are wondering how to do a French manicure without guide strips, the answer is simple – opt for an ombre. The truth is that even though ombre has been in for a while now, it does not seem to stop trending.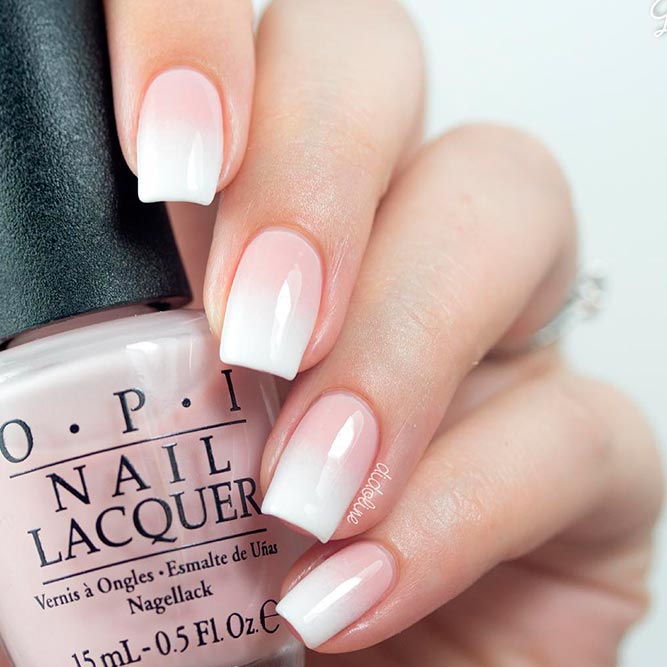 Source:
didoline via Instagram
Stylish Alternative: Blocked-Off Nails
Abstract nails art is on the edge of popularity these days, and the area of French manicure is not the exception. That is why if you are dying to try something new out – opt for a blocked-off French tip and you will be on the top of stylish.
Source:
lenareitz via Instagram
Trendy Revers French Nails
Source:
lenareitz via Instagram
When traditioned becomes a little too boring – it is time to break away from it. A nice-shaded reverse French tip is exactly what we have in mind!
Main photo by Sarahsnailsecrets