Don't you just love a French manicure? They have been around for decades, and they will never go out of favor! And the best part is that they work for any and every occasion.
Whether you are looking for fancy nails or creative nail designs, we have just the look for you! We have gathered some of the most sleek and stylish looks for French mani that range from elegant to sassy!
You can try any of these cute nail designs for French mani on your own or ask your nail stylist to duplicate them for you. Either way, you'll be the envy of all your gal pals with your stylish and trendy French mani inspired nail art!
How To Make A French Manicure On Natural Nails?
French manicure is one of the most popular and required designs at all the nail salons all over the world. However, not every one of you already knows that this marvelous design can be easily recreated at home. The thing is that even the beginner at the nail art can succeed with the design easily. To prove you our point we are going to list all the necessary steps, here we go:
Trim and shape your nails first.
Put on a base coat (it can be either nude base or pale pink).
Apply nail guides for the tip; you can easily use the regular scorch tape in case you do not have store-bought guides at your disposal.
Paint the tip with white polish.
Remove the tape.
Apply a top coat.
Voila! A homemade French manicure on natural nails is ready!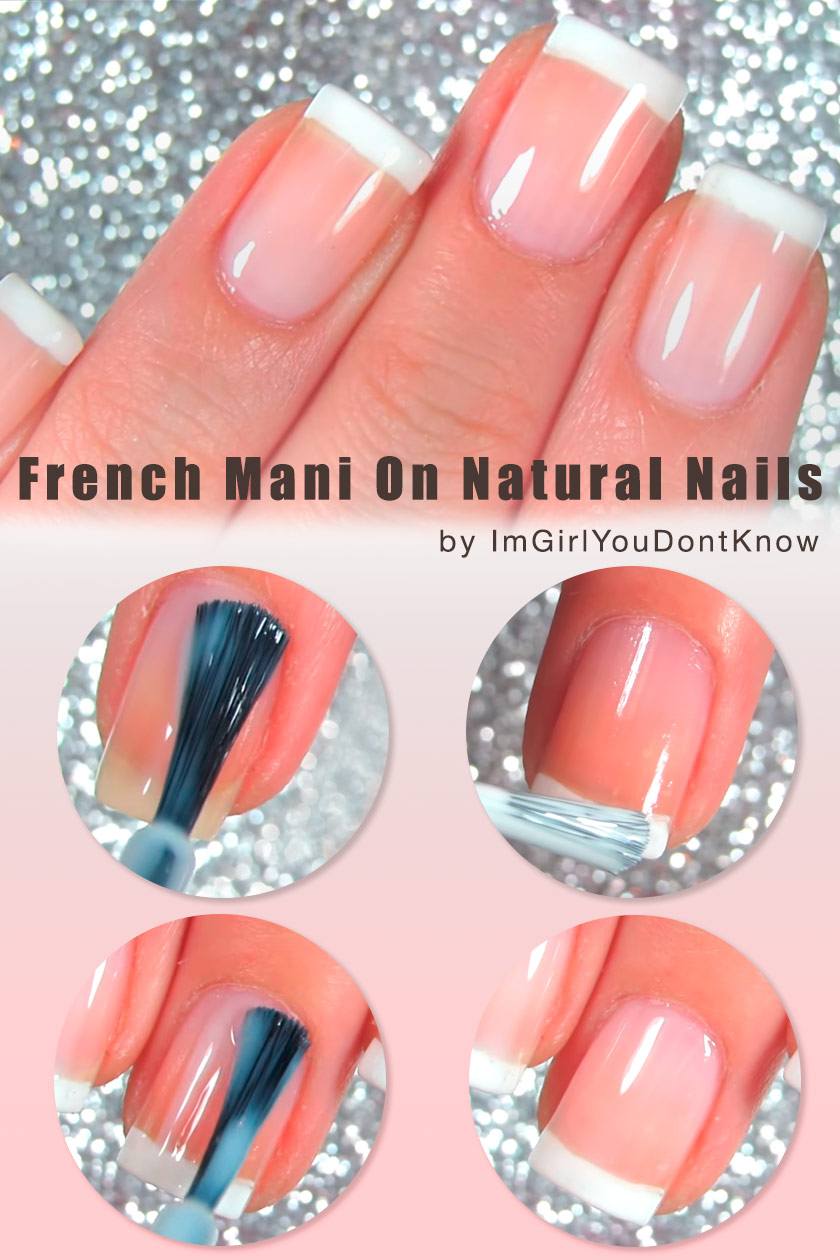 Source:
ImGirlYouDontKnow via Youtube
Classical French Tip Nails
Those of you who are never about breaking the rules will surely appreciate this reserved and elegant classic French tip idea. You can experiment with the length of your nails as well, as you can see long nails look perfect and neat with the addition of French manicure.
Source:
galichaiaolga via Instagram
V-shaped Tips for Your Incredible Look
French manicure designs change at the speed of light, and there is no wonder why. As the new nail shapes appear so must the French tip adjust. That is why if you are a fan of coffin nails this V-shaped tip is precisely what you need to try out!
Source:
nailsbymztina via Instagram
Elegant Thin French Mani
It is true that minimalistic nail art is all the rage these days. That is why the best way to kill two birds with one stone is to combine your gentle thin French manicure with a lovely mandala pattern accent.
Source:
nailartemarilia via Instagram
Heart Nail Tips For Lovely Mani
Those who are romantic at heart must look for the nail designs to represent their inner world. In times like these, heart-shaped French tip fits like nothing else. Such a nail art will always look charming and elegant.
Source:
kreationsbykiki via Instagram
The French Line
There are genuinely many French manicure ideas appearing recently. However, when you are in need of something unusual but not too extraordinary – French line is that perfect accent your nails need. Besides, such a mani will literary take you a few minutes to succeed with.
Source:
thehangedit via Instagram
French Mani With Foil Stripes
Striping tape is one of those manicure products that can spice up any nail art idea. For instance, when you combine a gold striping tape with a French tip – the experimentation will result in magnificent classy-looking manicure.
Source:
emilinaildesign via Instagram
Gentle Lace Nails Tips
Many women seek that super gentle and feminine nail design that will fit in everyday lifestyle. Worry not, we have found it for you! This beautiful lace French tip will melt the hearts of anyone who looks at your nails.
Source:
emilinaildesign via Instagram
Double Lines French Nails
Nude French manicure nails deserve special attention because they are combined with a bold black and not only. Anything from a double line to rhinestone accent pattern looks exquisite and extraordinary, wouldn't you agree?
Source:
tati.oliveira.unhas via Instagram
Trendy Reverse French Nails
Some people prefer reverse French manicure to all the other designs. In case you are one of those, you will surely appreciate this stylish manicure idea. The combo of matte black and metallic silver looks exquisite and simply fabulous together!
Source:
lackfein via Instagram
Stylish Alternative: Blocked-Off Nails
Abstract nails art is on the edge of popularity these days, and the area of French manicure is not the exception. That is why if you are dying to try something new out – opt for a blocked-off French tip and you will be on the top of stylish.
Source:
lenareitz via Instagram
Cute French Fade For Perfect Mani
In case you are wondering how to do a French manicure without guide strips, the answer is simple – opt for an ombre. The truth is that even though ombre has been in for a while now, it does not seem to stop trending.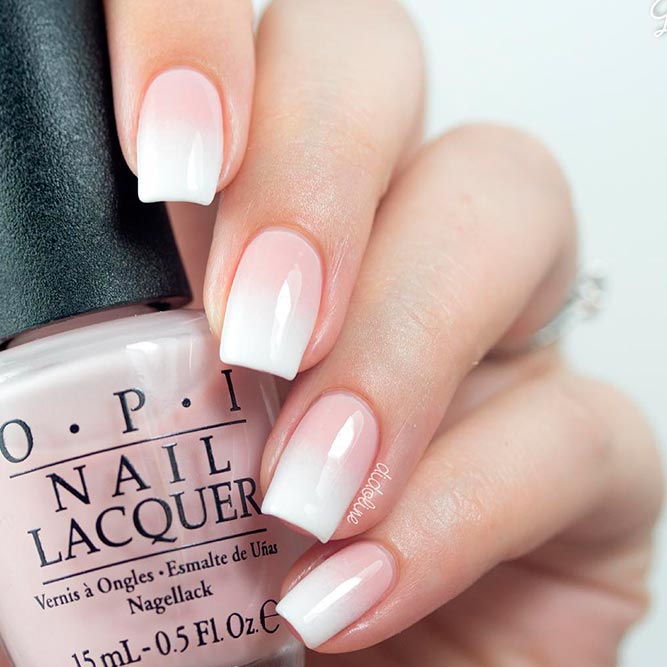 Source:
didoline via Instagram
A French Tip And Half-moon Combo
There are times when you are in need of super creative but at the same time reserved manicure. This is precisely the design you can get inspired with! The classic combo of French tip and half-moon patterns, contrasting shades and nude base. Just perfect!
Source:
jessicawashick via Instagram
Sparkly Glitter French Tips
French tip manicure can also be bold and daring if you know what hues to play around with. Besides, the nail shape matters too. For example, matte burgundy hues and ballerina shape look gorgeous together, but glittery French tip is what makes this nail art stand out!
Source:
solinsnaglar via Instagram
Proven Classics: French Nails And Rhinestones
Those of you who do not want to opt for anything but classics, rest assured there is something for you, too! What we have in mind is a bold addition of a burgundy rhinestone pattern to your pure classy French.
Source:
allure_nail_studio via Instagram
Contrasting Combo Nail Art
A French manicure can be extremely bright at times – all you need is a proper idea to experiment with. Pale grey base and toxic yellow tip complete each other perfectly and result in stylish and bright-looking nail art!
Source:
jessicawashick via Instagram
Classic French Tips With Ombre Effect
To tell the truth, ombre has been in for quite a while in fashion, and it seems that the technique is not going anywhere. On the contrary, it blends in with other styles, and we can't say that it is a bad influence. This mixture of ombre and classic French look ravishing together.
Source:
cassmariebeauty via Instagram
Wild Animal Nail Art
If we are honest – not everyone is equally fond of animal prints. However, some ladies prefer them to all the other patterns. If you are one of them, then we have something special in mind. This gentle animal print French tip can fit in any lifestyle easily.
Source:
nailartemarilia via Instagram
Sweet French With Bow
Cute manicure ideas are many, but not all of them possess that necessary share of reserved vibe. This French nail art with a cute bow and tiny heart accents is both sweet and elegant, so you do not need to worry whether it is appropriate to pull it off.
Source:
nailartemarilia via Instagram
Gradient French Tips
Pastel hues are very popular and required these days. Yet, in case you can't decide which shade to opt for – we can suggest you try out the gradient. What is more, French tip combined with such a gradient looks just lovely.
Source:
hannahroxit via Instagram
Abstract French Nail Art
Contrasting and abstract nail art is undoubtedly not for everyone. However, when you look at this French tip masterpiece, the opinions begin to vary. The combination looks so exclusive and elegant that it is difficult to take the eyes off!
Source:
modnailru via Instagram
French manicure is very popular due to its reserved look and classic vibe. However, there is much more to this design that you can imagine. When you have a look at this compilation, you will surely find something special for yourself!
Main photo by nailartemarilia