Black nails art is super classy and totally sexy. Whether you opt for a classy black and white nail art design or some bold colors like black and gold or black and red, you'll be in style!
Black easy nail designs are timeless! You can paint your nails shiny black and add some bold color for a French tip. Or you can add gemstones so that your nails sparkle in the sunlight!
From cute nails to all kinds of fun color combos, we have created a gallery of our favorites just for you!
Check out these totally awesome ideas for black nail designs! Remember to pin your faves for future inspiration!
Rainbow on Black Nails
Apply a sparkly rainbow flakes as a base. Add a top coat and then paint diagonal stripes using a matte black nail polish.
Source:
narmai via Instagram
Leather and Lace
Here is a slightly edgy take on the traditional French mani. Paint your nails nude with thick black tips. Then use a nail stamp to add black lace to the base coat for a look that's stunning yet seductive.
Source:
sassyshelly129 via Instagram
Moonlight Magic
These half moons that look almost hidden behind dark clouds on a matte black base are dark and edgy for those who prefer a more dramatic vibe.
Source:
karengnails via Instagram
Beads & Lace
This look is pure class with a clear base and black lace designs, but we love the silver beads that make this look extra chic and sophisticated.
Source:
crystal_nails_official via Instagram
Gold & Black Geometric Combination
First, apply a metallic gold base on your nails. Using stencils and black polish, create different geometric designs for each nail. Enjoy your simple and elegant manicure!
Source:
ilaeti via Instagram
Black Ruffian Nails
This modern nails are chic and elegant with a black base and rose gold reverse french manicure. This combination looks fabulous and feminine!
Source:
ilaeti via Instagram
Black with Gold Stripes
Paint your nails shiny black and then use thin nail tape to make metallic gold stripes at the tips for a sleek and sexy mod of French manicure.
Source:
the_nail_lounge_miramar via Instagram
Tribal Polka Dots
On a matte black base, paint tribal polka dots in a circle, starting with one in the middle and forming circles of polka dots around that until you reach the ends of your nails. These pretty matte shades of blue, silver, and pink give a totally tribal vibe that is hip and trendy.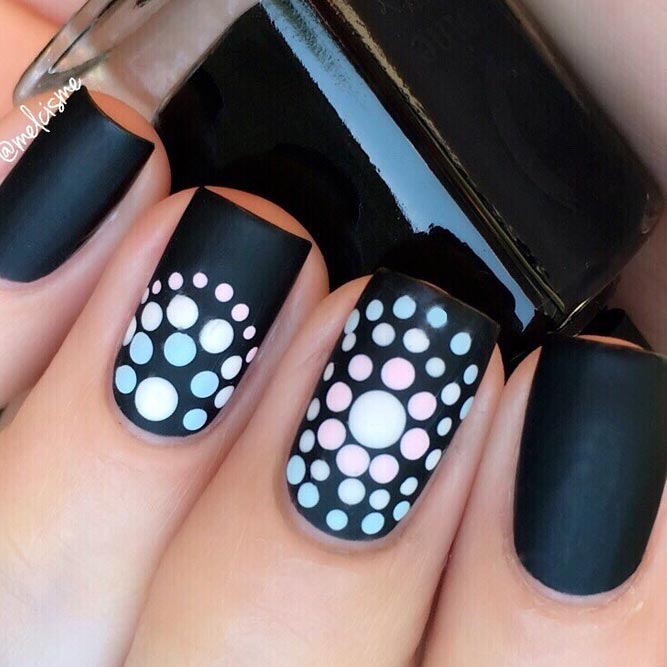 Source:
melcisme via Instagram
Ombre with Accents
This nude to black semitransparent ombre is super elegant on its own, but outline hearts on 2 fingers with glittery black nail polish for a totally gorgeous look.
Source:
allure_nail_studio via Instagram
Watercolor Waves
We love this black and white watercolor effect that is easily duplicated by swirling the two colors together!
Source:
nail_muse via Instagram
Shiny Nails
Here is another take on the French mani with shiny black tips and glistening white and black rhinestones for an accent nail. You will definitely catch everyone's eyes with this chic and stylish look!
Source:
aleksa.nail.art via Instagram
Pink and Black Floral Nails
We think these pretty red flowers on a shiny black base are totally girly and fun for a chic look!
Source:
lackfein via Instagram
Ghostbusters
If you love all things haunted, why not paint white ghosts on your nails? Use a black nail polish as a base and create a blue glitter ombre effect. Then add a matte top coat, paint some spooky ghosts and scare the pants off everyone you meet!
Source:
nailsbyjema via Instagram
Black and Holo Chevron Nails
Chevron nails are great in every color combination, but we think this black and holographic chevron pattern is extra stunning!
Source:
snowglobenails via Instagram
Purple Diva
Purple Diva: We think these dark purple sparkly nails with a shiny black tip are absolutely gorgeous!
Source:
madamluck via Instagram
Black and Rose Gold Tribal Art
Tribal nails are tres chic this season, but these black and rose gold tribal nail art designs are over the top chic!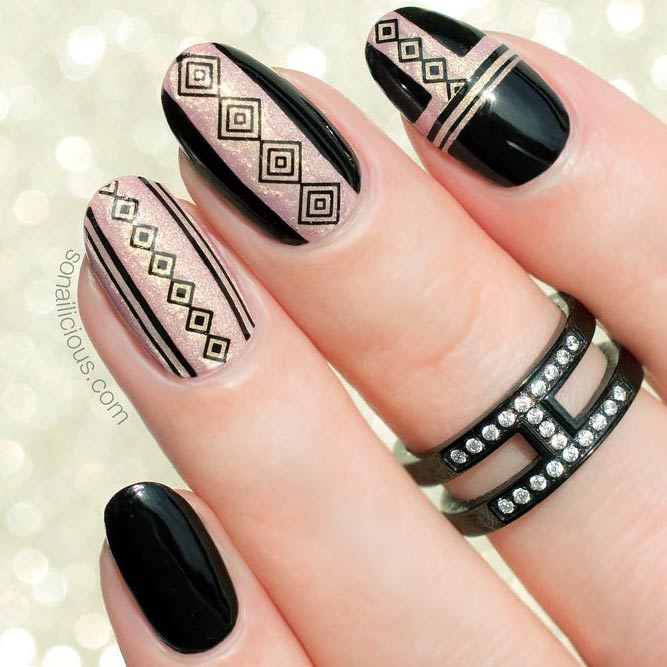 Source:
so_nailicious via Instagram
Spooky Spider Webs
If you love Halloween, you'll flip for these black nails with thin white spider webs! If you want, you can even paint a spider on your accent finger!
Source:
lieve91 via Instagram
Copper Tips
These pretty shiny copper tips were done with a lace nail stamp. Use a shiny black base and then apply a clear top coat so that your nails are sleek and shiny!
Source:
thesammersaurus via Instagram
Black to White Ombre Fade
You can pull off this ombre look by painting matte black, gray, and white polish on a sponge and then dabbing it onto your nails.
Source:
chalkboardnails via Instagram
Mosaic Nails
This look is totally classy with its black, white, and gray mosaic tiles. Use a black nail art pen to make the mosaic tiles and then fill them in with alternating shades of gray, white, and black to complete the mosaic effect.
Source:
lieve91 via Instagram
Black Octopus Nails
Paint white as the base color and then paint the body and legs of an octopus across 3-4 of your nails for a 3-D effect. You can do a tribal octopus if you want to give it a bit of an artsy vibe.
Source:
nailsbyly via Instagram
Cute Heart-Shaped Negative Space
In case you are looking for simple nail designs for short nails then this is exactly what you need. A combination of nude negative space and black nail polish looks great and contrastingly.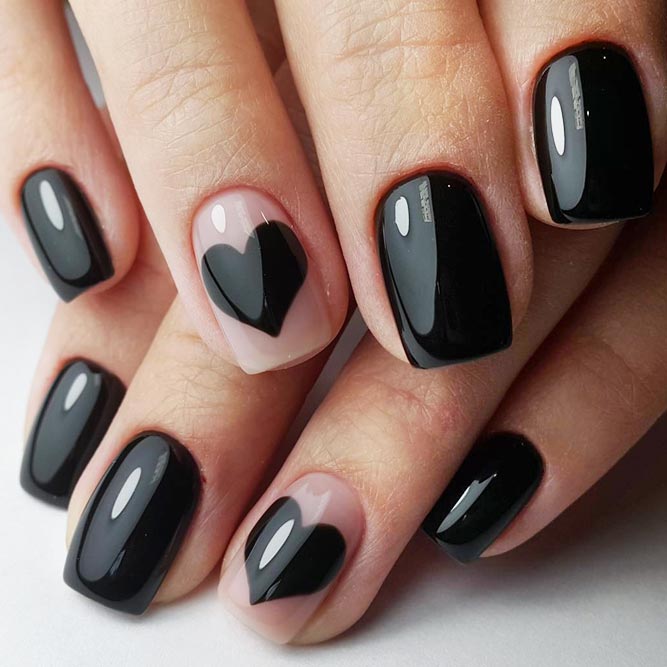 Source:
natalimyname via Instagram
Gorgeous Matte Laced Nails
Let your natural nail shine through a dramatic black lace for a sexy look. Complete this design with matte top coat and add some black rhinestones. You're ready to break men's hearts!
Source:
alinahoyonailartist via Instagram
Strict Lines
Geometric design suitable for an everyday look. Combine a dusty pink and black colors and no one can tear eyes away from you!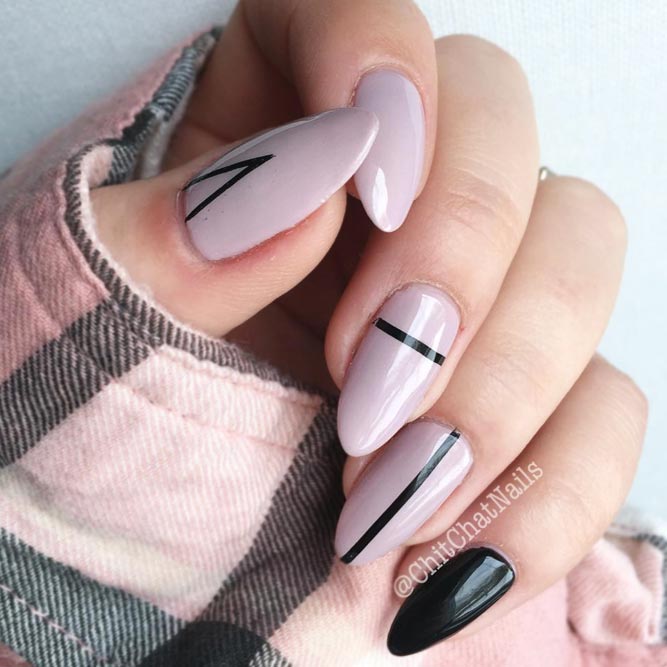 Source:
chitchatnails via Instagram
Awesome Black & Silver Nail Design
Black nails with shiny silver glitter are always a win-win combination. Paint a tiny triangle on your accent nail for an extra chic look.
Source:
vikaweiss_nails via Instagram
Black Pearl Nails
Pearl chrome powder adds some magical glow to simple black nails. Look how gorgeous and luxury they shine!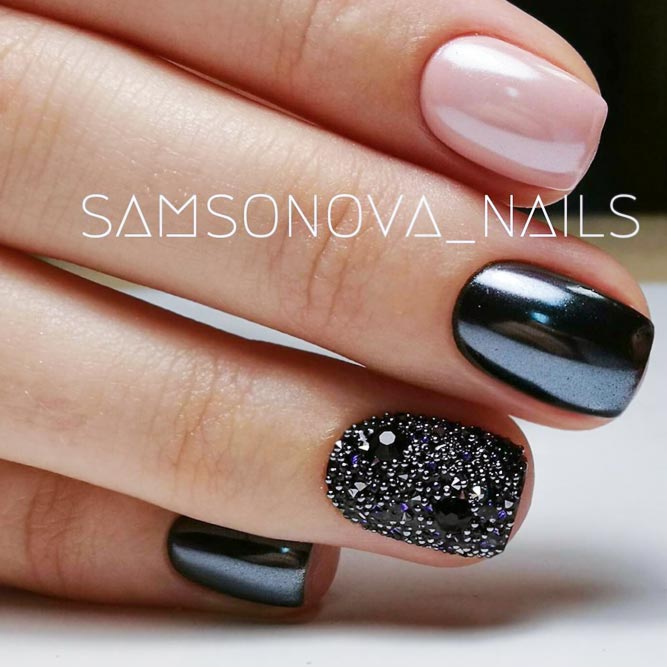 Source:
samsonova_nails via Instagram
Fantastic Marble Nail Art
Marble nail art does not need a presentation. Nails with marble stone effect look amazing in any color. But this black marble design with tiny gold foil pieces melted our hearts.
Source:
buddhasnails via Instagram
So, there you go, 27 totally hip ideas for black nails art! Which one do you love best? We love them all!
Main photo by Karengnails