The world of nail art is complex and surprising, what is more, it changes constantly, and that is great too since you can always pull off something different with your manicure. These days when pastel and nudes have taken over the world, some bolder shades remain in darkness. That is why we consider it our primary goal to introduce to you the magic of emerald green nails. The thing is that emerald is the hue of jewels, and that is what makes it so magnificent and powerful. To prove our point we invite you to have a closer look at this perfectly emerald green nail art compilation!
Combo Gold Foil Accent And Emerald Marble Nails
Among all the nail colors emerald green color is one of those profoundly sophisticated colors, that vibrates with prosperity and well-being. When you introduce it into your manicure, it may seem complete with just this shade, but it is also great to know that there are other ways to take the beauty to the next level. Just look at this marble nail art with the addition of emerald green and gold foil accent. It is so gorgeous that it would easily suit the same-shaded prom dress, with no doubt!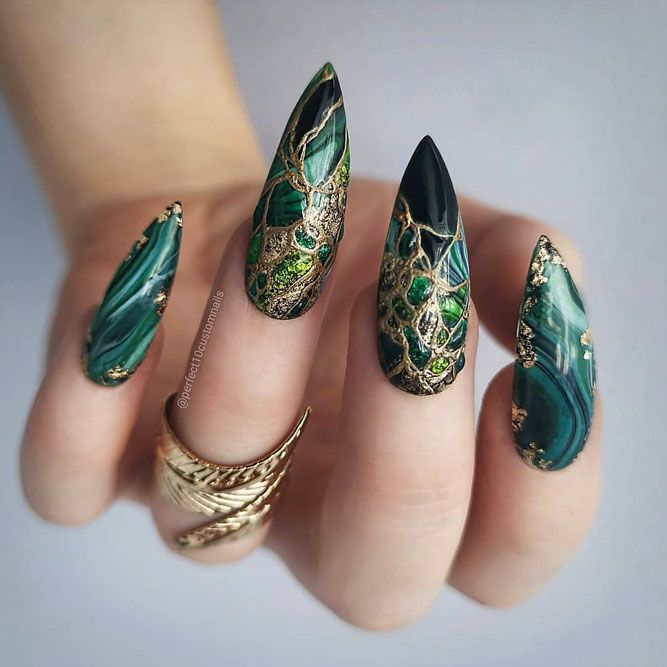 Source:
perfect10customnails via Instagram
Marble Effect With Rich Emerald Color
Emerald green shades are so perfect in their core that they rarely need any addition to take the manicure to the next level. But in this case, the accent marble nail completes the look perfectly as well as the matte top. Luxurious and straightforward at the same time, isn't it?
Source:
fiina_naillounge via Instagram
Beautiful Glitter Accent
Very often, we consider the accent nail bound to be of some entirely different shade or to involve some intricate pattern to carry out the task. With this nail design is it clear that green glitter and sweet paslet blue nail polish go hand-in-hand and look perfect together. It seems that there is not even a detail to be added, it is gorgeous!
Source:
laquenailbar via Instagram
Emerald Cat Eye Design
Emerald green nail polish with cat-eye effect seems to be mesmerizing to the point when it is hard to take the eyes off. It looks like melted jewels on your fingernails, don't you think?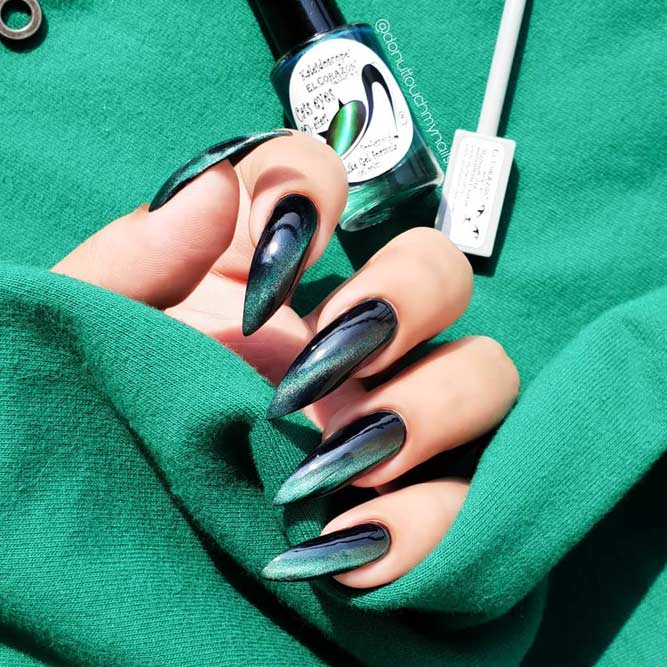 Source:
donuttouchmynails via Instagram
Matte Emerald Green Nails
For all the lowers of matte effect we suggest a new idea to add to your to-try list. The combination of matte and metallic sheen is what adds this manicure that unique magnetism and charm so that it would suit your green dress like nothing else!
Source:
laquenailbar via Instagram
Amazing Emerald Green Nails With Rhinestones
It seems that this dark emerald green manicure contains some dark mystery within. The addition of lovely and gently flowers intensify the effect. The addition of rhinestone patterns take this manicure to some other-worldly realm of beauty, that is for sure.
Source:
manicure_maniak via Instagram
Gold & Emerald Nail Design
This is the nail art worthy a queen. The interaction of green hues and gold glitter are fascinating. That is why if you are about to wear a fancy black and gold dress for the upcoming occasion we suggest you pay attention to this design since it may be that one missing a detail of your flawless look.
Source:
nailedbynell via Instagram
Sweet Mermaid Design With Emerald Green
It is true that green colors are extraordinarily versatile that is why there is almost nothing you wouldn't be able to pull off with them. For example, this fantastic mermaid nail art looks exceptional with the addition of emerald hues. When the reality gets a little bit boring, it is time to invite some fantasy in.
Source:
shannasnailadventures via Instagram
Unusual Dandelion Accent With Emerald Green Color
Emerald green nails fit in the summery mood as well. Just look at this lovely dandelion nail art in green hues. It is sunny and magnetic at the same time. One thing is for sure; such a manicure will never be considered dull and boring. Try it out!
Source:
laquenailbar via Instagram
Stamping Emerald Green Nails Design
It is always fun to mix the different shades of colors that is why we suggest to your attention something worth your admiration. Just look at this lovely combination of sparkly green and white in a breath-taking stamping piece of nail art!
Source:
debspolishcorner via Instagram
Bright Combo Emerald & Yellow
Even though the emerald color is considered to be mysterious, it can be involved in bright themes as well. The combination of yellow and green seem to be created for each other, and the end result, this perfectly sweet and bright, summer nail art is just too cute to get past it.
Source:
kt_tk1 via Instagram
Simple Design With Green Glitter Nail Polish
Of course, not every one of you is that into intricate pail patterns, but that does not mean that you should leave emerald hues out. The solid sparkly emerald manicure looks as gorgeous as all the other ideas with the only difference that it is a lot easier to succeed with such a look.
Source:
debspolishcorner via Instagram
Unreal Emerald Green Nails Art
There are times when you wish to achieve something out of the ordinary when heading to your nail artist. This is the perfect example to convince your nail professional to create. If there is a possibility to recreate such a masterpiece – why not?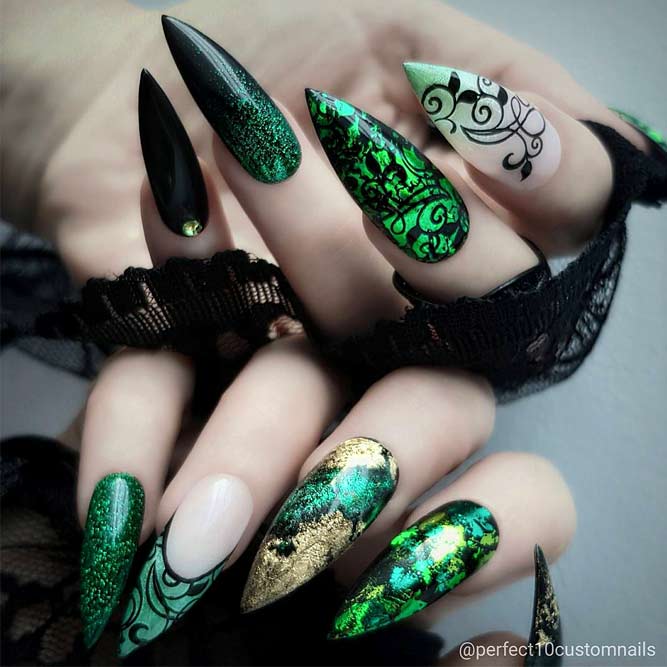 Source:
perfect10customnails via Instagram
Geometric Design For Emerald Nails
These days almost all the nail art is about the trendy geometric patterns. However, this intricate emerald green nail art is slightly different. The thing is that apart from the magnificent geometric design there are many more details to get amazed with.
Source:
nailnetwork via Instagram
Gradient Emerald Green Nails Design
Emerald green nails are not always about the depth of color, and this tasteful ombre is the best example to support the point.
Source:
debspolishcorner via Instagram
Beauty Vintage Nails Design
You will surely appreciate these emerald green nails with this magic vintage design.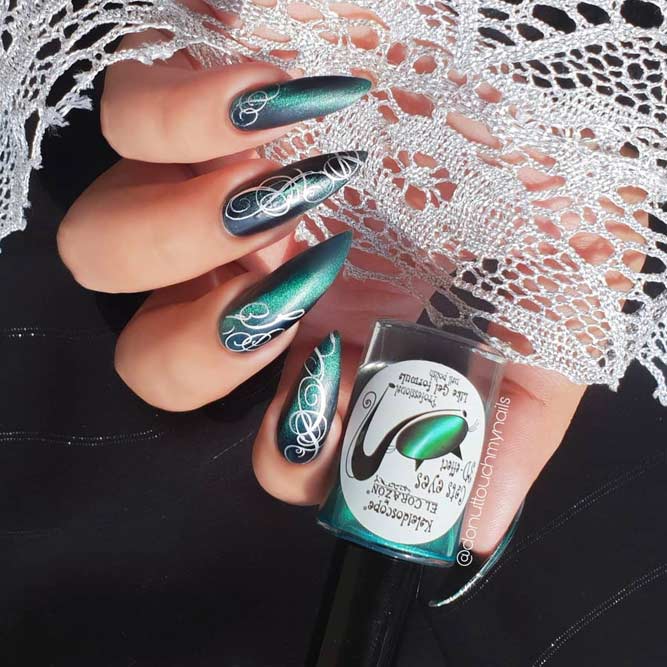 Source:
donuttouchmynails via Instagram
Different Nail Designs Together
It is never a bad idea to combine a couple of styles together as long as the shades are matching. The case with these emerald nail designs is the perfect example of that.
Source:
galichaiaolga via Instagram
Minimalistic Emerald Green Nails Accent
When there is a green dress to match with your nails, you should be careful as for not to go too far with the color. We think that this minimalistic green nail art is the suitable option.
Source:
bellaznailz via Instagram
Triangular Emerald Green French Tip Design
Even something as classy as French tip can be taken to the whole new level with the properly picked nail art. This gorges emerald green nail art deserves the special attention that is for sure.
Source:
solinsnaglar via Instagram
Beautiful Emerald Butterfly Nail Design
There is nothing girlier than some butterflies added to your manicure.
Source:
manicure_maniak via Instagram
Emerald Green Nails With Velvet Scrolls
Sometimes the more intricate is the design, the better. The case with this velvet emerald green nail art is exactly the best representative of the point. Nothing seems out of place despite the fact that there is a fair share of details involved.
Source:
fiina_naillounge via Instagram
Chrome Emerald Accent On Your Nails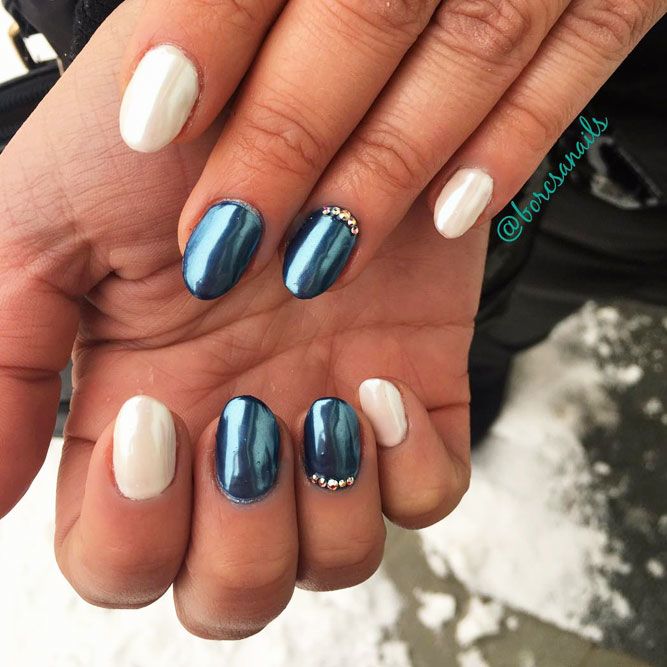 Source:
borcsanails via Instagram
Matte Nail Design With Leaves
Source:
manicure_maniak via Instagram
Beautiful Sticker Nail Art With Emerald Green and Yellow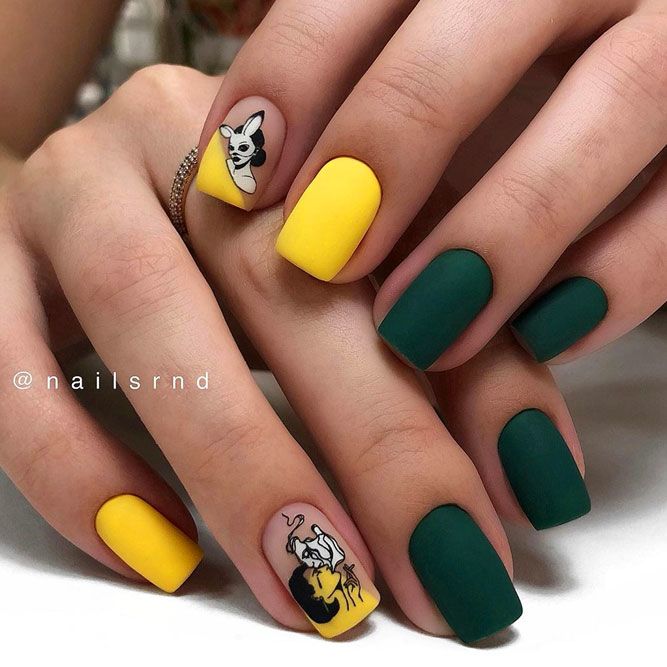 Source:
nailsrnd via Instagram
Emerald Full Hand Ombre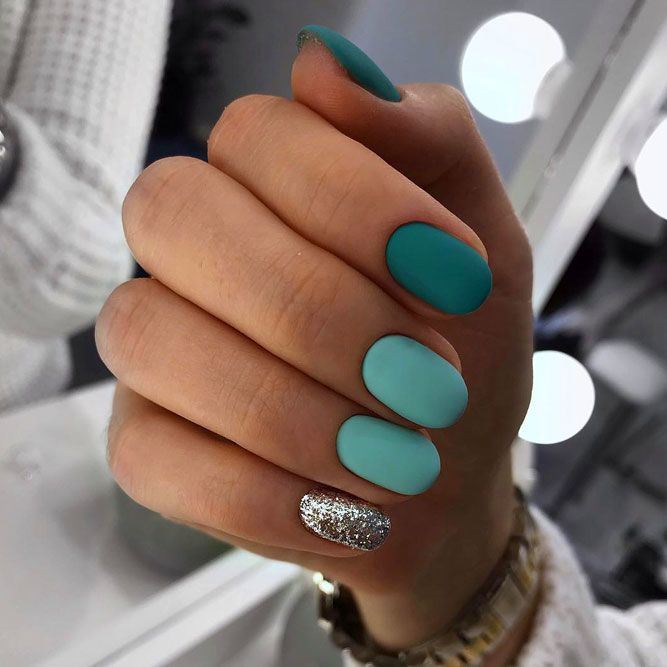 Source:
nogtiinminsk via Instagram
In case you like these nail designs, do not forget to share them and come back any time you need a fresh and stylish idea for your next mani.
Main photo by Fiina_naillounge