Mermaid nails are for creative people and those who have boundless imagination. Have you ever dreamt of becoming a mermaid? Now you will have such an opportunity. You can make some mermaid inspired nail art designs. Just use your creativity, and everything will be excellent! And our collection will give you some pretty hints.
Glitter Mermaid Nails Art Ideas
Nail art ideas with glitter polish will make your manicure extremely bright. Use these brilliant nail art ideas and don't restrict your imagination!
Beautiful Rhinestone Mermaid Nail Art Designs
Cool nail designs may vary from season to season and from one trend to another. With these nail designs, you will always be in the center of attention, believe me! Everybody will be mesmerized with these beautiful rhinestone mermaid nail art designs.
Cool Mermaid Stiletto Nails Design
If you have stiletto nails, these cool mermaid ideas are exactly for you! This nail shape looks so elegant and sophisticated with mermaid designs and gorgeous bright crystals.
Best Mermaid Square Nails Design
As well as on stiletto nails, mermaid design looks extremely beautiful on square nails. Aquamarine, turquoise, pearl white, and yellow are the most-commonly used colors for this nail design.
Pretty Nail Art with Seashells
Just have a look at this pretty nail art with seashells! It reminds me of sunny days at the seaside. If you try these lovely variants on your nails, you won't regret.
Nice Mermaid Nails
With this mermaid manicure, you will be completely ready for the coming summer and fun activities.
Lovely Mermaid Nails Ideas
With these lovely nail art ideas, you are sure to add stars to the beauty of your hands. Scales, fins, and tail of a mermaid will give you a great opportunity to experiment.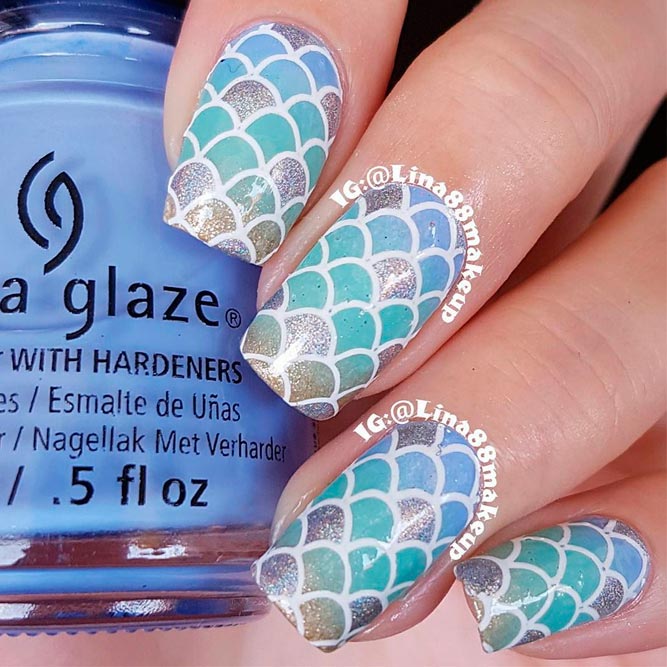 Main photo by Urbannailart