Nail art designs are these small but important things that make you look special and unique. Even though nail art is not something entirely new, the range of techniques and ideas we have access to today is simply mesmerizing. You can decorate your nails any way you like and no one will judge you, since there are no set boundaries when it comes to your taste. At the same time, most women like to keep up with the trends, so we couldn't but introduce to you the trendiest types of nail art that are popular these days. We hope you enjoy and learn about some fresh ideas and designs to pull off while working on your next mani!
ADVERTISEMENT ‧ CONTINUE READING BELOW
French Manicure – Classic Elegant Nail Art Designs
Among all of the nails art ideas, French manicure is considered to be the classic one. The thing is that usually French mani is the combo of some light base, let's say transparent or nude pink, and a white horizontal line over the tip. These days French tips can be of different shapes and shades, as well as the base. And we will have a closer look at them a little bit later.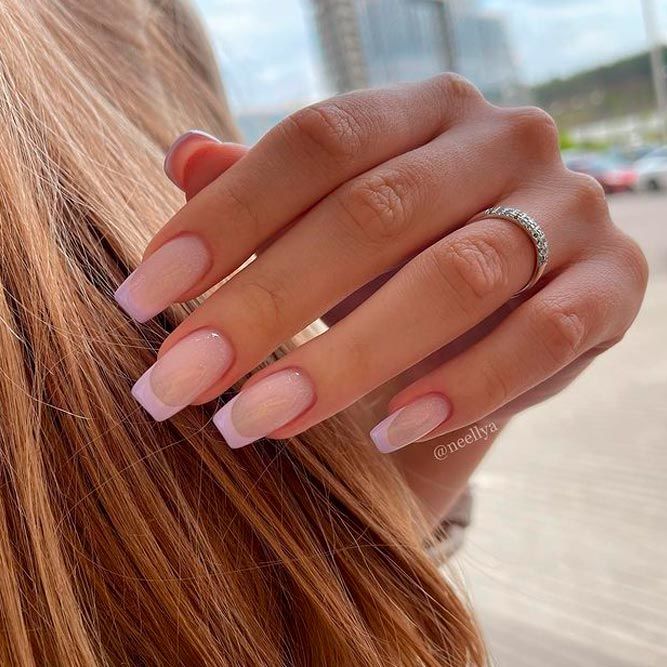 Source:
neellya via Instagram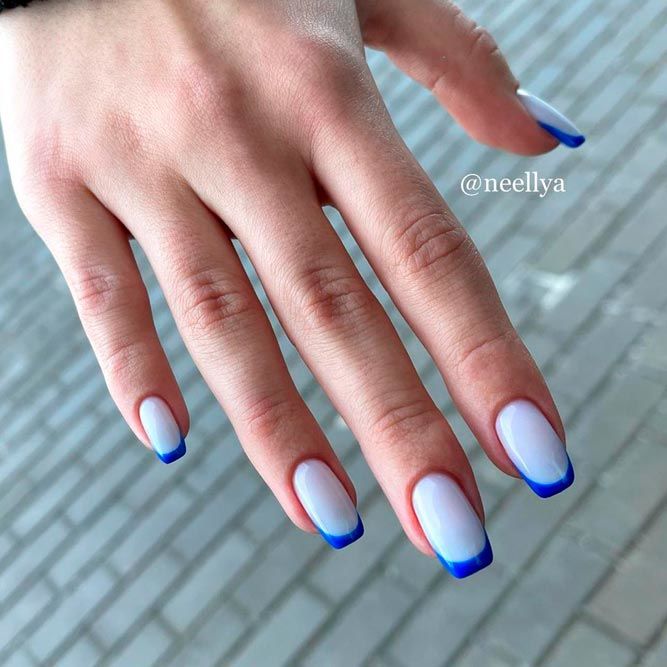 Source:
neellya via Instagram
ADVERTISEMENT ‧ CONTINUE READING BELOW
Vintage Half-Moon Nail Art Designs
Half-moon manicure or, in other words, reversed French, is pretty popular these days, so why do we call it vintage? The thing is that this type of French was extremely popular during 1930's, ladies all over the world were painting their fingernails any shade of тгву and leaving out a half-moon shape transparent. Of course, you can follow the tradition these days and stick to the same colors, but you can as well opt for anything that you like, including sparkles and some hues bolder than red.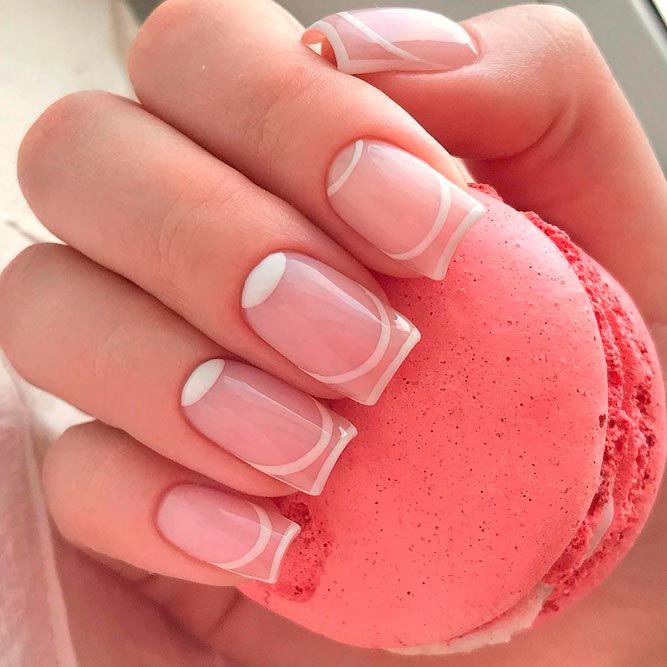 Source:
valeriyanail via Instagram
Sweet Ruffian Nail Art Designs
The thing about trends is that they tend to repeat. A ruffian design has become popular pretty recently and ladies all over the globe are still mesmerized with it. Once again, the form is connected with a moon, but this time – the crescent one. As for the shades, you can opt for your favorites without any fear. And then you can add anything that suits you most, from the palest to the boldest hues. You can easily use French tip manuals or other stickers to get the design. Also, you can simply apply your first base as usual and then apply the second base coat over it, but a few millimeters up, so that first coat is visible.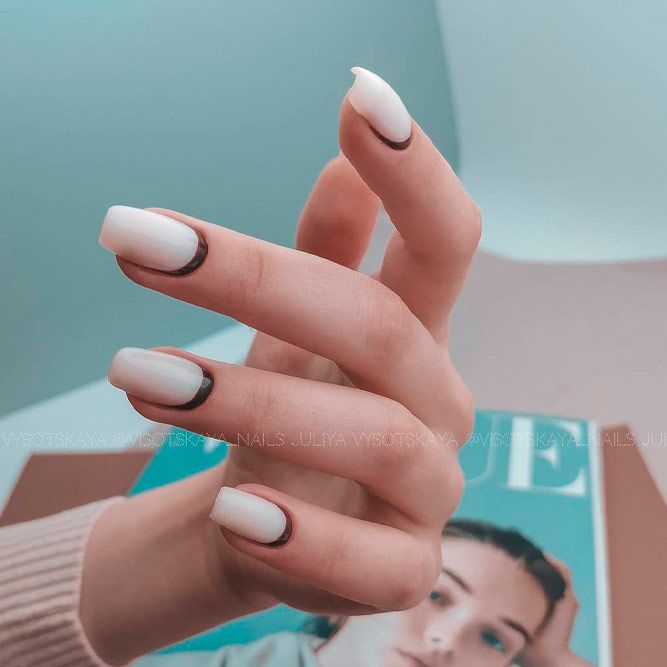 Source:
visotskaya_nails via Instagram
ADVERTISEMENT ‧ CONTINUE READING BELOW
Creative Nail Art Ideas – Double French Tips
When good old French becomes boring, you can always spice it up. What we have in mind is double French. It has been conquering the fashion world for a while now and more and more ladies give in to it. There is no wonder why, since instead of using classic shades, you can experiment with the color without any loss of elegance.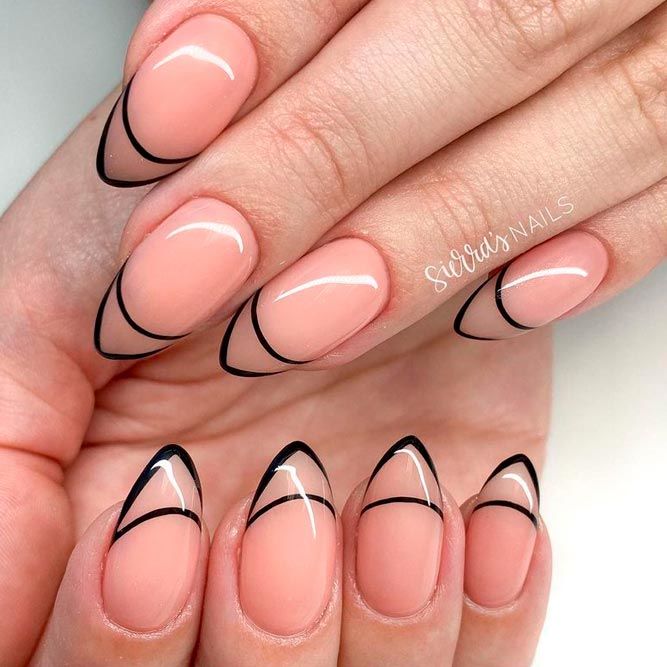 Source:
sierrasnails_ via Instagram
Trendy Idea – Framed Nails
Framed nails are that cute nail art that anyone can pull off. Of course, there are no fancy patterns to replicate, but sometimes you do not really need them. No matter what color combinations you prefer, framed nails look both elegant and trendy with either pastel or bold shades. Sometimes the best way is to combine two contrasting colors; there is no way your stylish manicure will go unnoticed.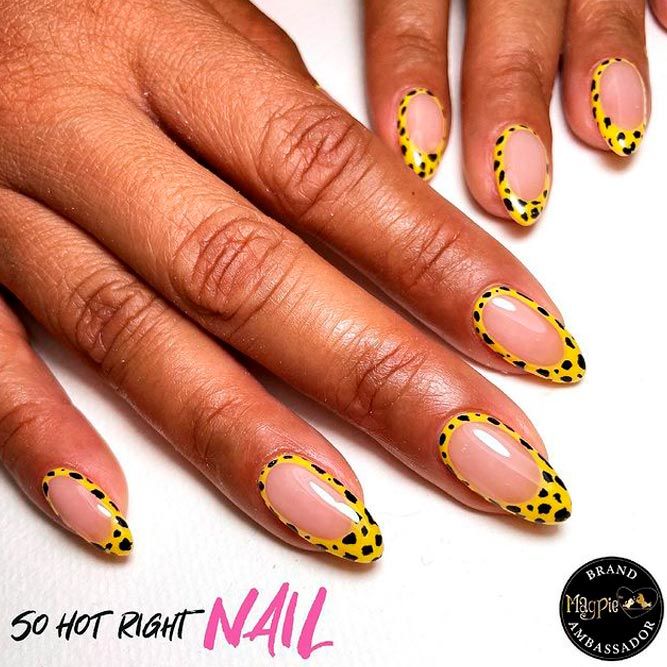 Source:
sohotrightnail via Instagram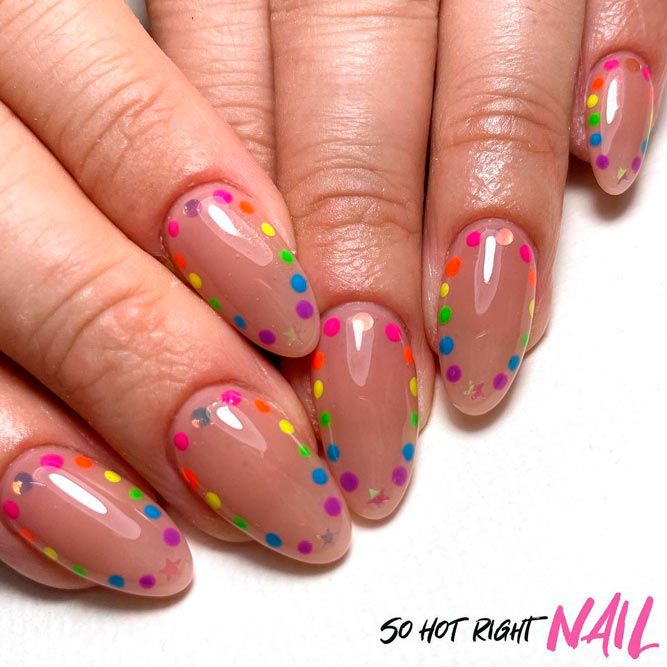 Source:
sohotrightnail via Instagram
ADVERTISEMENT ‧ CONTINUE READING BELOW
Stylish Matte Nail Art Designs
When there is a strong desire to combine something edgy with class, you should definitely opt for French nail art designs, or an upgraded version of them. The thing is that diagonal French tips look totally out of the ordinary but still remain classy enough to pull off at some official event. The number of shades you can try out is limitless, same goes with a base color. If there is a strict occasion ahead, you can give in to pastel and nude shades with just a bit of contrast. And if you are invited to the party, there is no need to limit your imagination. Additional advantage of diagonal French tips is that they visually make your fingernails look slimmer, and we can't say it is a bad thing.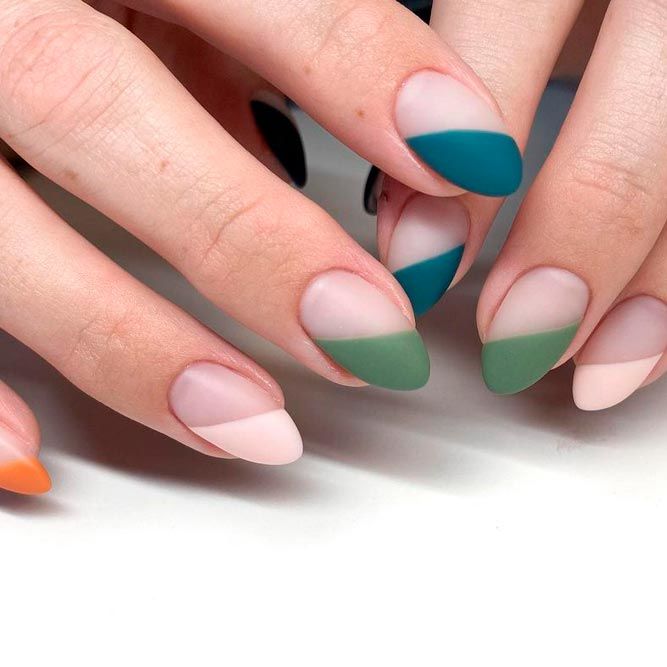 Source:
sierrasnails_ via Instagram
Double Reflection Nails
Another cool nail art is double reflection. If symmetry is what you seek, there is nothing better than this intriguing combo of classy French and ruffian. Besides, if you are a fan of oval or rounded nails, you should definitely try this design at least once. Combine contrasting shades and shape to achieve such perfect symmetry that everyone will fall victim to this stunning simple and beautiful nail art.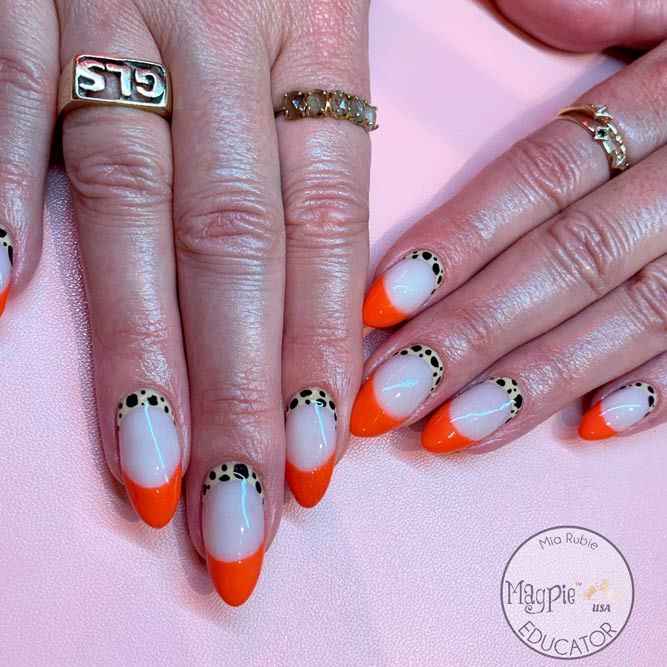 Source:
superflynails via Instagram
Simple & Spectacular Geometric Nail Art
These days, nail art ideas are more versatile than ever, but one design remains timeless. A geometric nail design is that special and timeless mani that can suit any occasion. What is more, the number of designs is limitless, and there is not a single person who would fail to replicate at least some of them. The versatility of shades and patterns is also impressive. That is why in case you have never tried anything like that – it is high time to!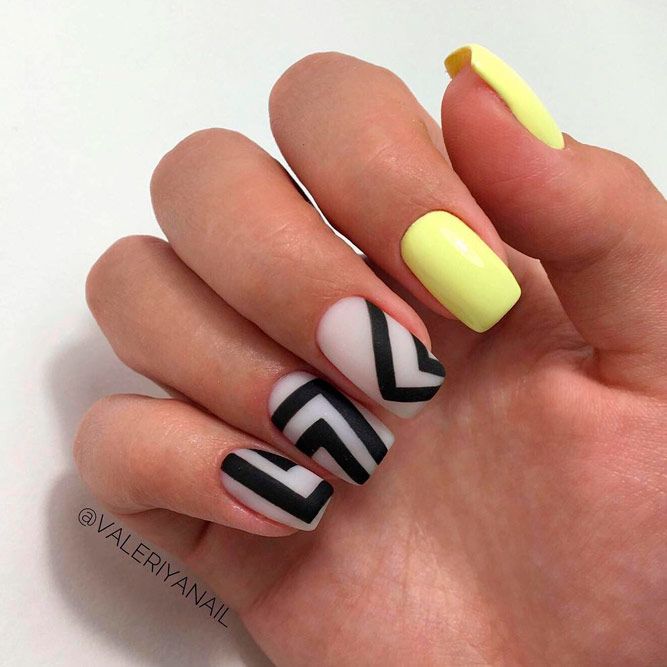 Source:
valeriyanail via Instagram
ADVERTISEMENT ‧ CONTINUE READING BELOW
Minimalistic Negative Space Nail Art Designs
A minimalistic negative space nails art design will suit those of you who do not like to spend a lot of time on your nail art designs. Besides, negative space nails are perfect for those who are not fans of all possible glitter and gem mani. Just a few simple geometric figures, and your nails are ready. Time-consuming is totally not about minimalistic negative space nails.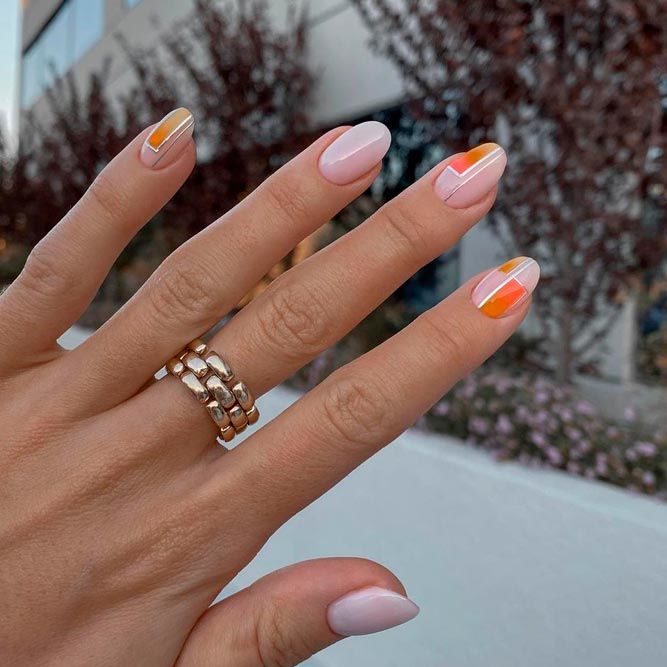 Source:
profi_nails via Instagram
Checker – Cute Nail Art
Checkered nail patterns are for those who like simplicity and contrasting colors. Usually checkered nail art involves black and white shades, but you can experiment with any shades that flatter you. What is more, you can use checkered patters as solid nail art or as an intricate addition, or a combination with something else. Use your imagination altogether with trendy ideas to come up with something completely unique.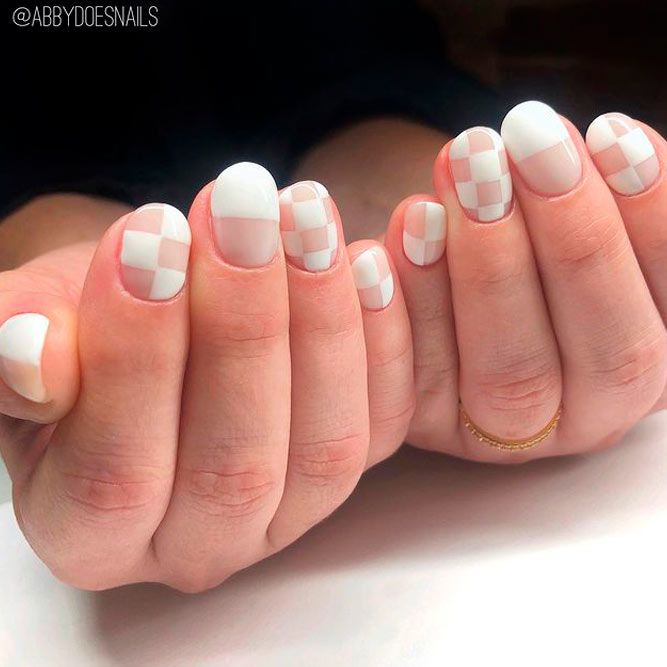 Source:
abbydoesnails via Instagram
Nail Art With Metallic Stripes
Strict lines will suit those who like to stay simple or is running out of time. Just a couple of lines, straight or crossed, is the whole concept of this nail art. Usually, ladies opt for thin lines over a contrast base. But these days, you can pull off anything that comes to your mind as easily as replicating the set patterns. The choice is yours, we just supply you with stylish ideas to at least consider.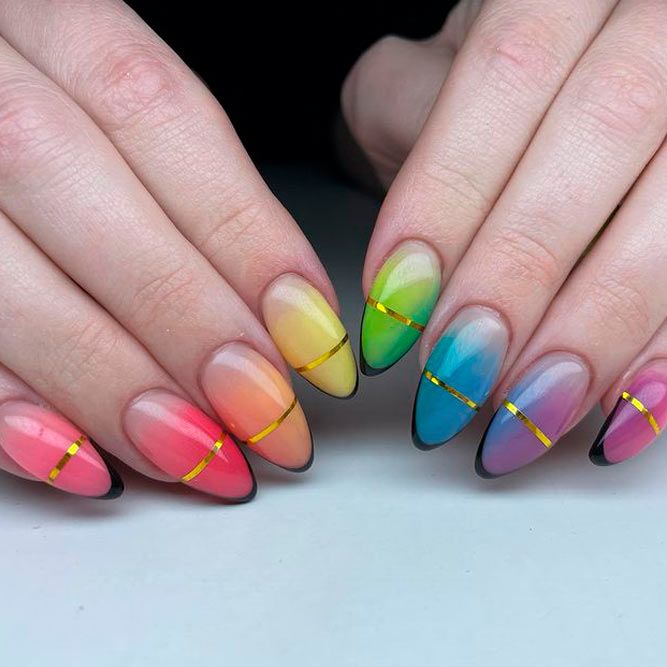 Source:
sweetandsavvynails via Instagram
ADVERTISEMENT ‧ CONTINUE READING BELOW
Abstract Nail Art Design
If limitations and boundaries are not for you, then an abstract nail art design is totally your cup of tea. Abstraction has no definite shape or shade, and that is why it is so unique and always different-looking. What is more, it is a lot easier to finish your abstract nails design than any other that is out there.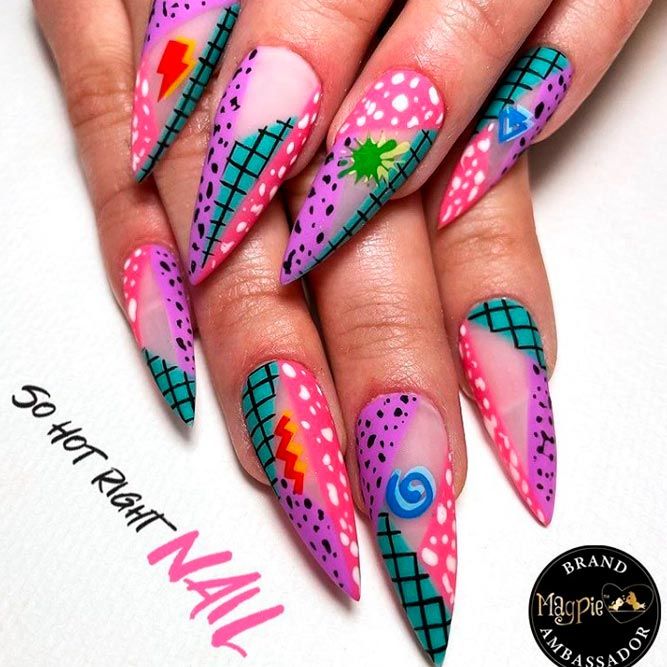 Source:
sohotrightnail via Instagram
The Hottest Trend – Stone Marble Nail Art
Ladies all over the world are obsessed with marble nail art these days. But when you think about it a little longer, you come to understanding that marble patterns are nothing other than another example of abstract art. It is easier than easy to pull off a marble nail design. All that is required is two different shades of nail polish, or just a base coat and a sharpie. The whole concept of these nail art designs is that you should succeed in the creation of a smeared pattern. Usually you should either dissolve your contrasting lines with water, or create your patterns combining two shades of fresh nail polish. When a sheer marble pattern is not enough, you can introduce some glitter into, the effect will be breath-taking. Black and white shades are mostly used for marble design creation, but you can always go even further and combine shades that haven't been tried out yet.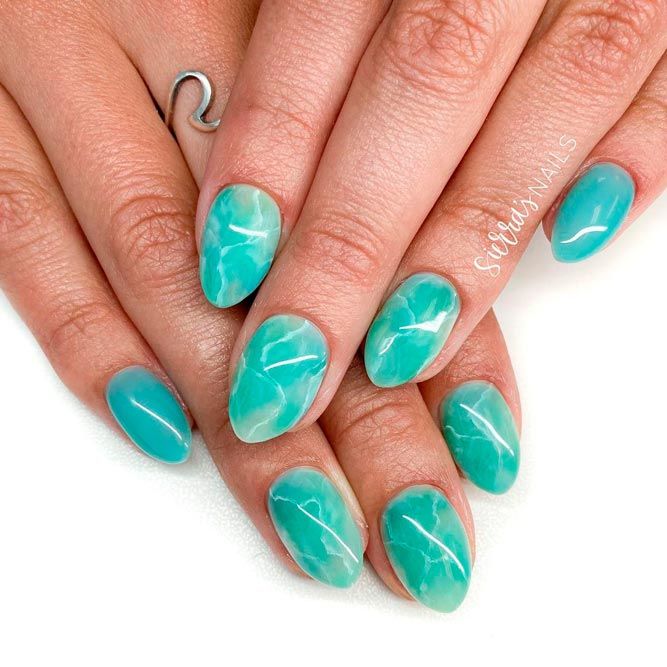 Source:
sierrasnails_ via Instagram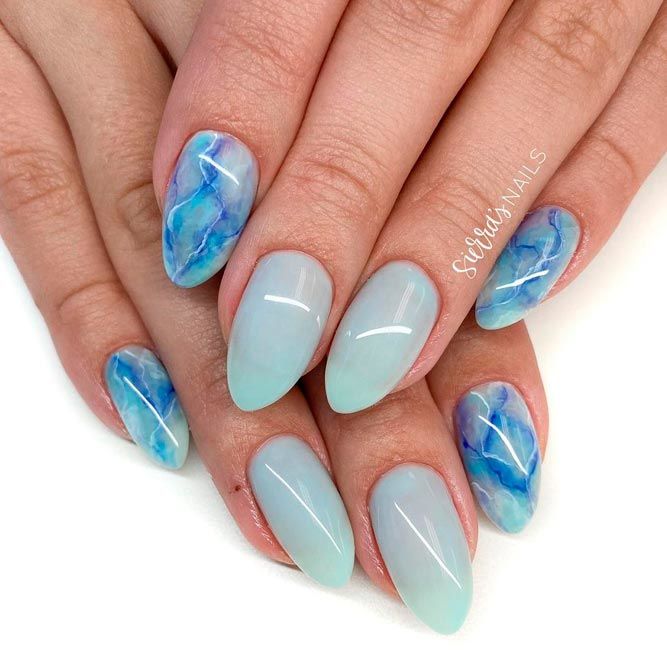 Source:
sierrasnails_ via Instagram
Watercolor Nail Art Designs
Among abstract art nails, watercolor ones are pretty common, too. The thing is that you create this art using your favorite nail polish shades and water. Besides, the way colors interact in water is up to you too. There is a huge number of patters you can create while working with water./p>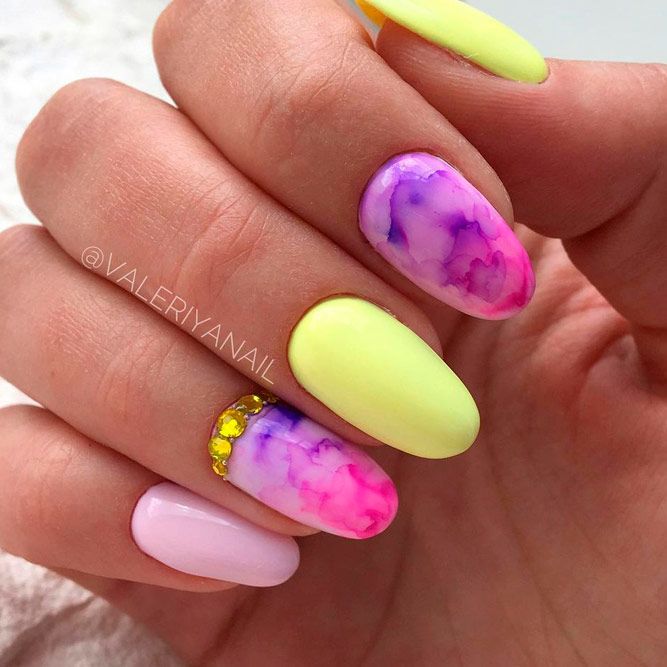 Source:
valeriyanail via Instagram
ADVERTISEMENT ‧ CONTINUE READING BELOW
Cool Nail Art: Splatter Effect
In case you are a fan of bright and unusual nail color combos, then splatter nails are what you need. Yet, you should bear in mind that the creation of this nail art may be a little messy and time consuming, unless you decide to involve only two contrasting shades. Except for all described above, splatter nails are very easy to do, since all you need is to evenly cover your nails with a base and then you can get as messy and as creative as you like. Splash all the shades you want over your nails and you will come up with some nail art designs no one pulled off before you. Once again, just before you start, you should make sure that all the surface of your fingers and the rest of your body is secured so that it does not get stained. You can either use liquid latex or simple tape to save your fingers from getting stained.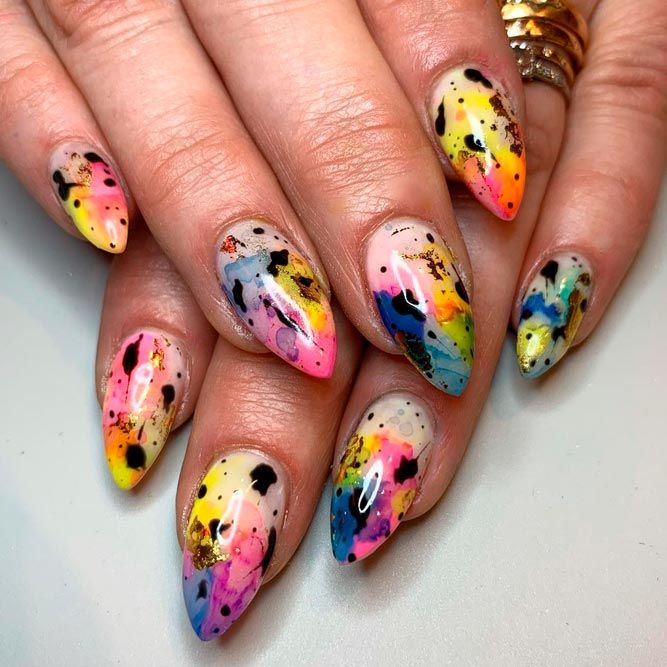 Source:
superflynails via Instagram
Sparkly Ombre Nail Art Designs
Nowadays ombre manicure is on the top of manicure industry. Is it worth saying that ombre nails in nude shades with sparkly glitter are a perfect manicure for everyday wear?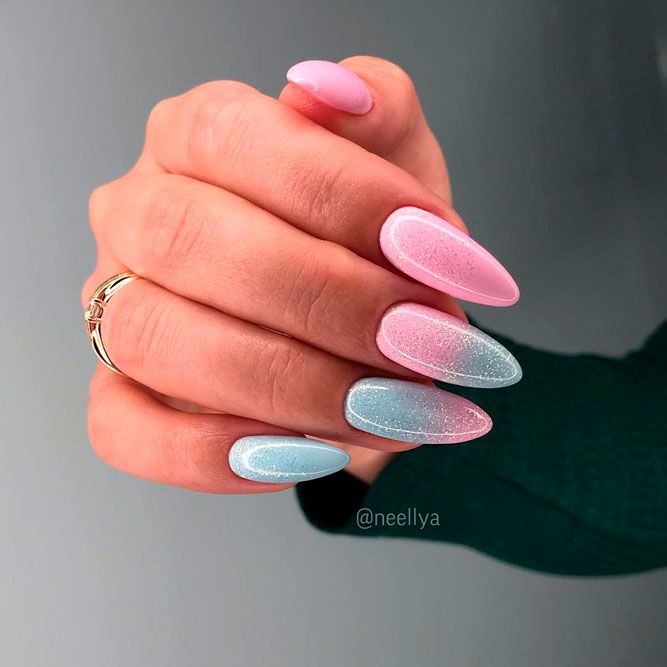 Source:
neellya via Instagram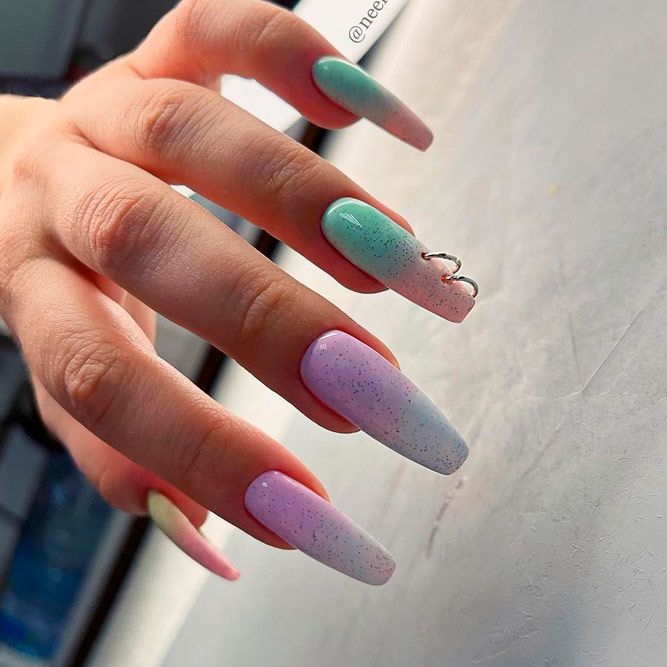 Source:
neellya via Instagram
Mysterious Galaxy Nail Art
Galaxy nail designs are alluring to the eye and a great addition to almost any look. All you need are several shades of nail polishes, some glitter, and a little bit of patience. It's time to be an expert in galaxy nail design!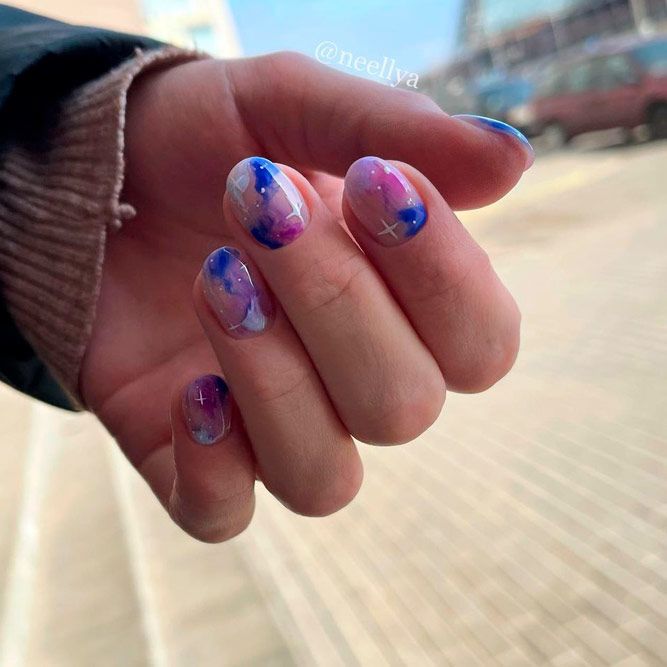 Source:
neellya via Instagram
Following the trends has never been easier! Do not miss your chance! All the best ideas and looks are gathered on our website!
ADVERTISEMENT ‧ CONTINUE READING BELOW