The beauty of DIY nails is that they do not have to be super complex to look cute and unique. Besides, can you imagine that soothing feeling of satisfaction when your mani becomes the source of admiration? To get you there, we have prepared some stunningly easy and trendy tutorials. Fear not to stand out!
Cute Easy Nail Designs for a Romantic Date
Cute easy nail designs are always simple. Start with the protective base and follow with the nude-shaded nail polish you like. Now with the help of white nail polish and a sponge create a French-like ombre. Add up a bit of glitter to one of your nails and finish with the star-shaped stud placed on the middle finger. Apply the top coat and it is done. Have you ever imagined something as elegant to be as simple?

Source:
Tribulons – Nail art via Youtube
One of The Most Beautiful and Simple Nail Tutorials
Really, you'll see that it's one of the simplest nail tutorials. To start, you will need to choose three nail polish colors, in our case, these are white, black, and glittery pink. Cover your fingernails with a pink base first. With the white polish make some easy strokes in different directions. Repeat the procedure with the black nail polish. If needed, you can add up some more white nail polish. If not, simply coat your nails with top and – voila!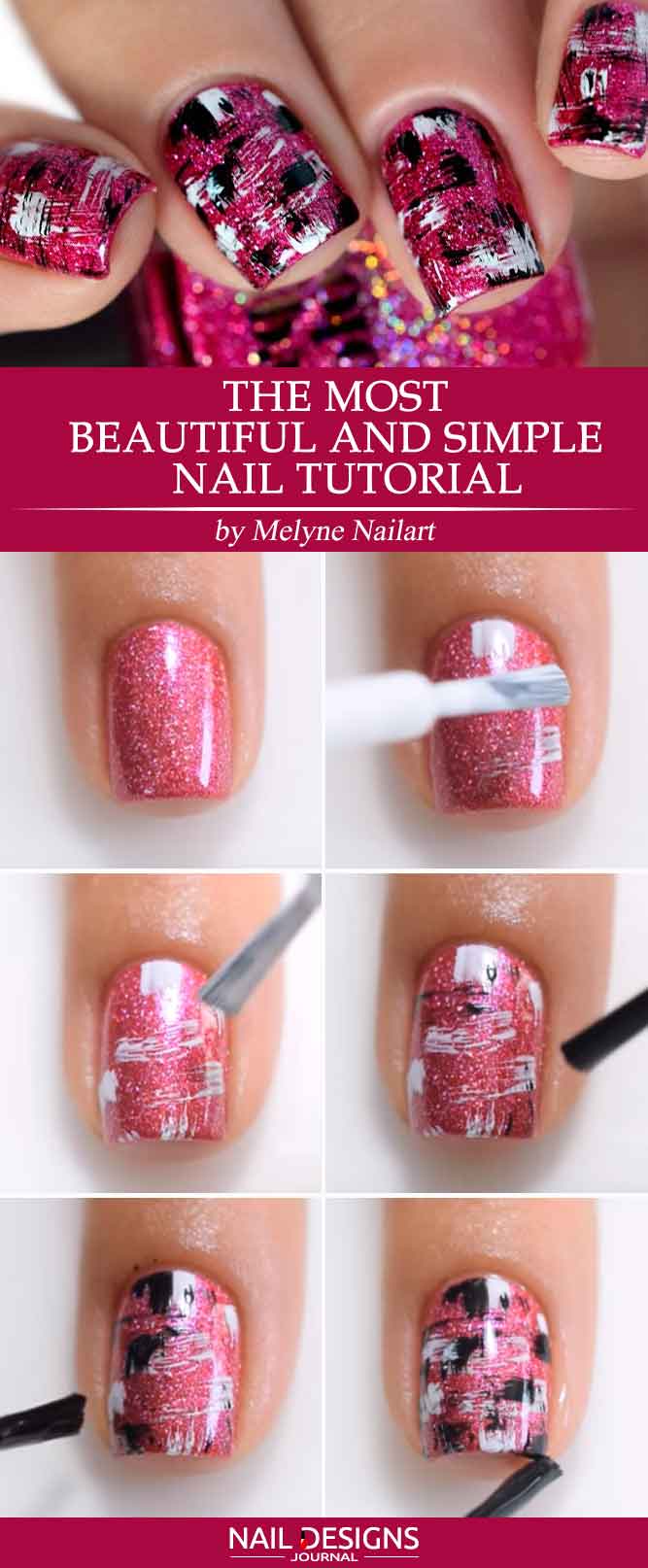 Source:
Melyne Nailart via Youtube
Magical Sky – Easy Nail Art
Galaxy nail art is a real thing right now. And today we will learn how to do it at home. And we start with the base protection and peach-shaded nail polish. Now apply the blue, pink, and nude nail polish to the sponge in order to create the galaxy-like transition. You can repeat the procedure until you get the desired look. Clean up the mess if any and cover your nails with top coat. Yep, as simple as that!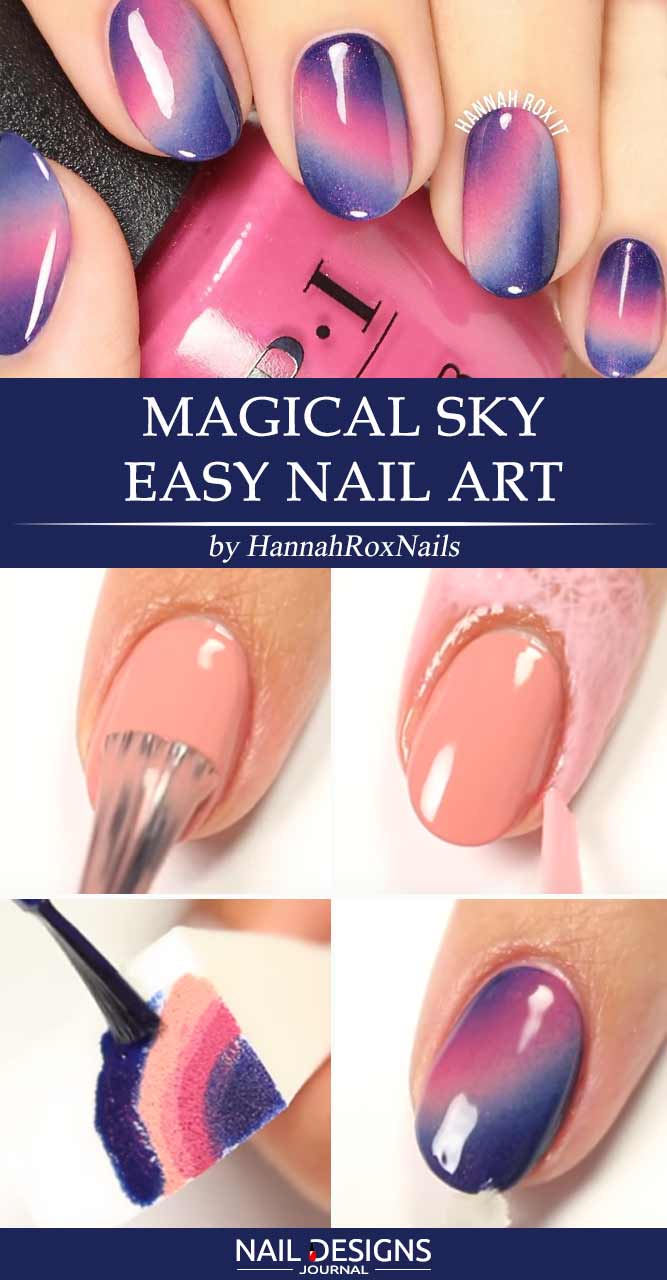 Source:
HannahRoxNails via Youtube
Easy Water Marble Floral Nail Art
First, you need to start with the base coat to protect your nails. After that, you need to apply a coat of white so that your nail art turns out to be even brighter. Do not forget about the liquid latex to protect your cuticles. Take a glass of room-temperature water and start dropping various-shaded – sparkle silver, green and white – drops into the water until you get the desired intensity. After that, you need to take your dotting tool and to create the pattern you would like to apply to your nails. Slowly dip your nail into the water, clean up all the messes on the surface and slowly pull your finger out. Remove liquid latex and apply a top coat – done!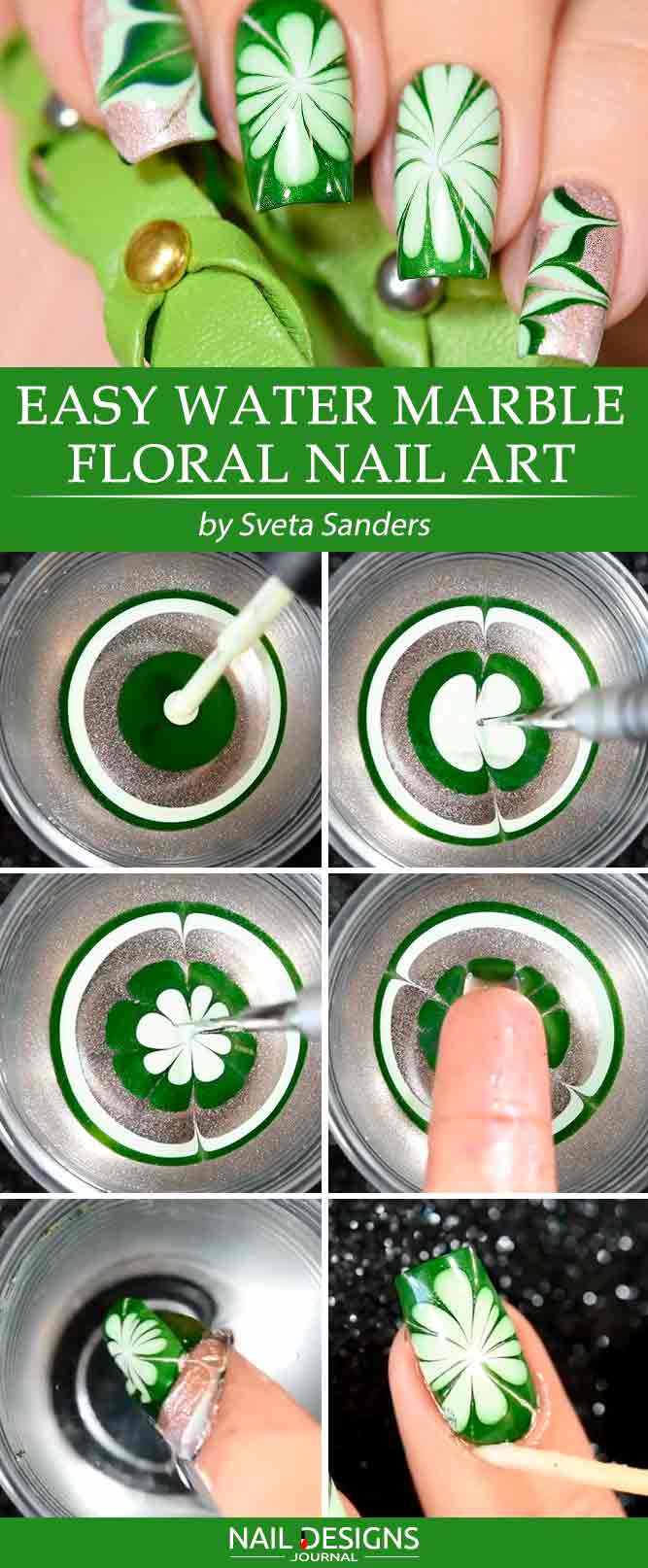 Source:
sveta_sanders via Instagram
Colorful Flowers – Nail Tutorial Step-by-Step
Those who like flowers and everything that is connected with them would totally appreciate this baby blue flowery DIY nails design. To begin, use your favorite baby blue nail polish as a base. Mix bright-colored acrylic paint so that you can create this stunning floral pattern. You can go for any color you like and create your very own special pattern. Outline the flowers with white and add up yellow centers. Finish off the design with the top coat. Done!

Source:
Olga Levchuk via Youtube
Black and Pink Gorgeous Nail Ideas
Black and pink go perfectly well together, so why not combine them in one stunning DIY nails design? Start with the black base coat, let it dry and go for a wide horizontal line on your middle finger. Add up some pink-colored cubes to the line and, after they dry out, separate them with the black vertical line. Cover your nails with foil glue and, when it is ready, apply pink nail foil to complete the design. When it's done, go for the top coat.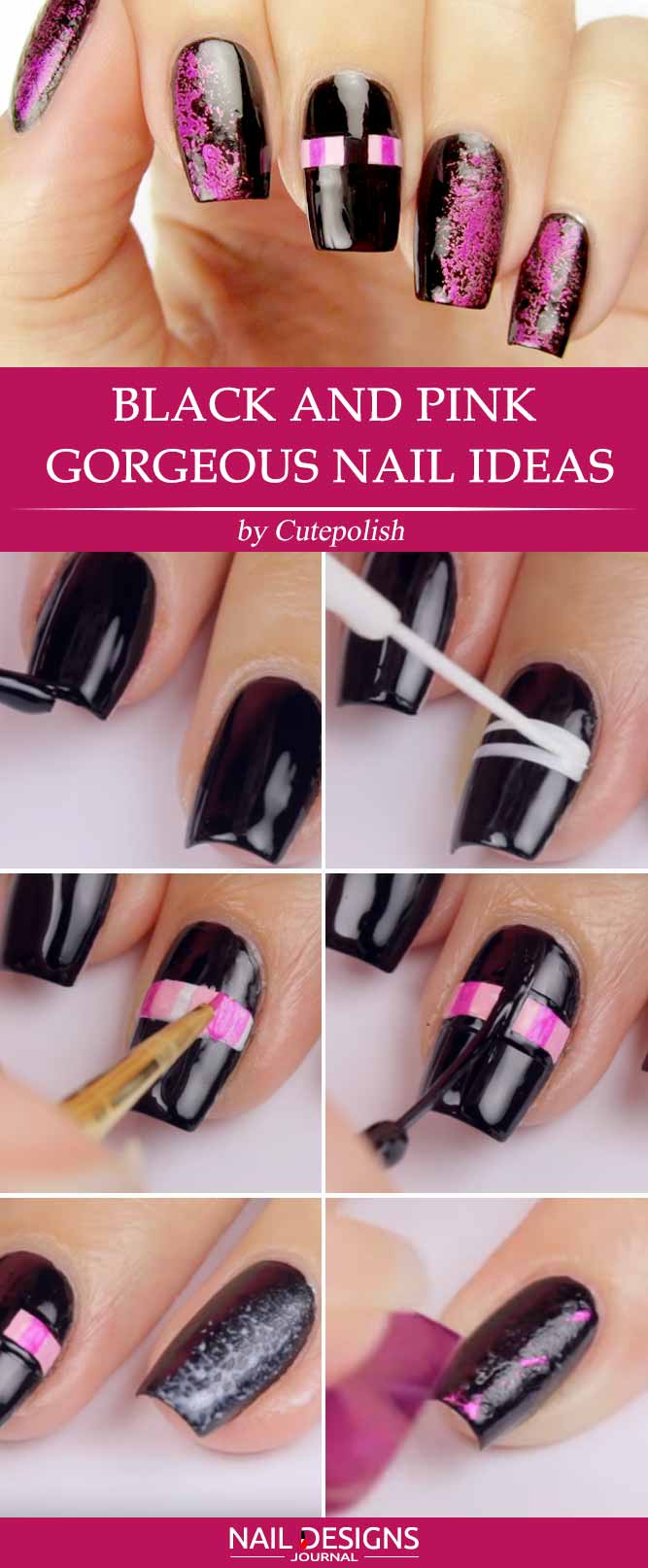 Source:
Cutepolish via Youtube
Easy Cat Nail Art
This nail art is designed specifically for those who adore those awesome creatures named cats. Start with the white base color. When it dries out, pick the cat stickers you like the most and place them onto your finger nails. To make your kitties stand out, create a brown background. Add up a black outline as well as few stray black lines, and your design is ready.

Source:
Tribulons – Nail art via Youtube
Wide French Tip with Polka Dots
Tired of regular French nail art? We have something fresher for you. This wide French design is already different-colored. Instead of a usual white shade, go for purple shades and cover the half of your nail with it. Once the index and little fingers are covered with light purple and others with dark purple nail polish, it is time for using a small dotting tool. Add light purple dots to the darker base and vice versa. To finish this design, use a tiny brush or a toothpick to create a sparkly gold underline. It looks majestic, don't you think?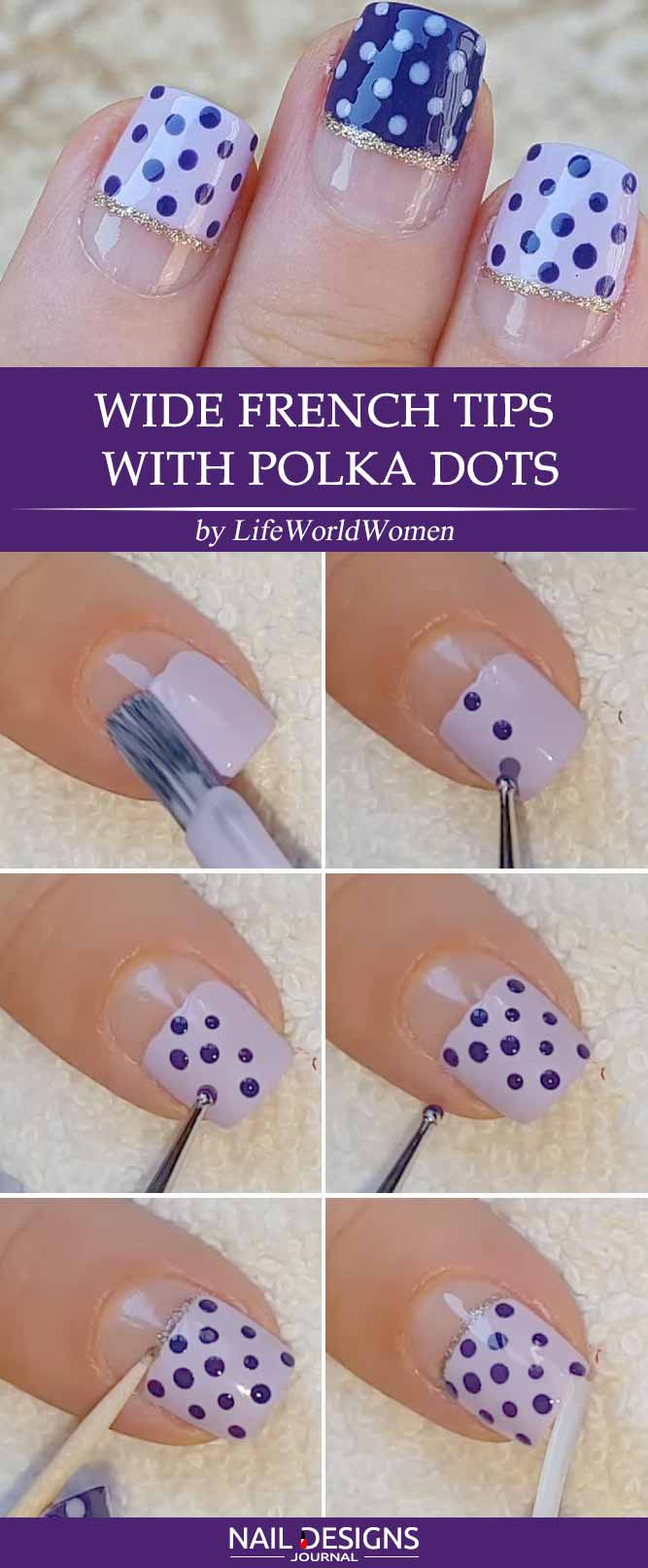 Source:
LifeWorldWomen via Youtube
Easy Nail Design without Any Specific Tools
Sometimes to create something beautiful, you may not require some special tools. Steel-colored glittery nail polish is the perfect base for something as unique as this design. With the help of scotch tape create the triangular shapes on your nails and fill them in with gold glitter nail polish. Add up the top coat and your gorgeous mani is ready!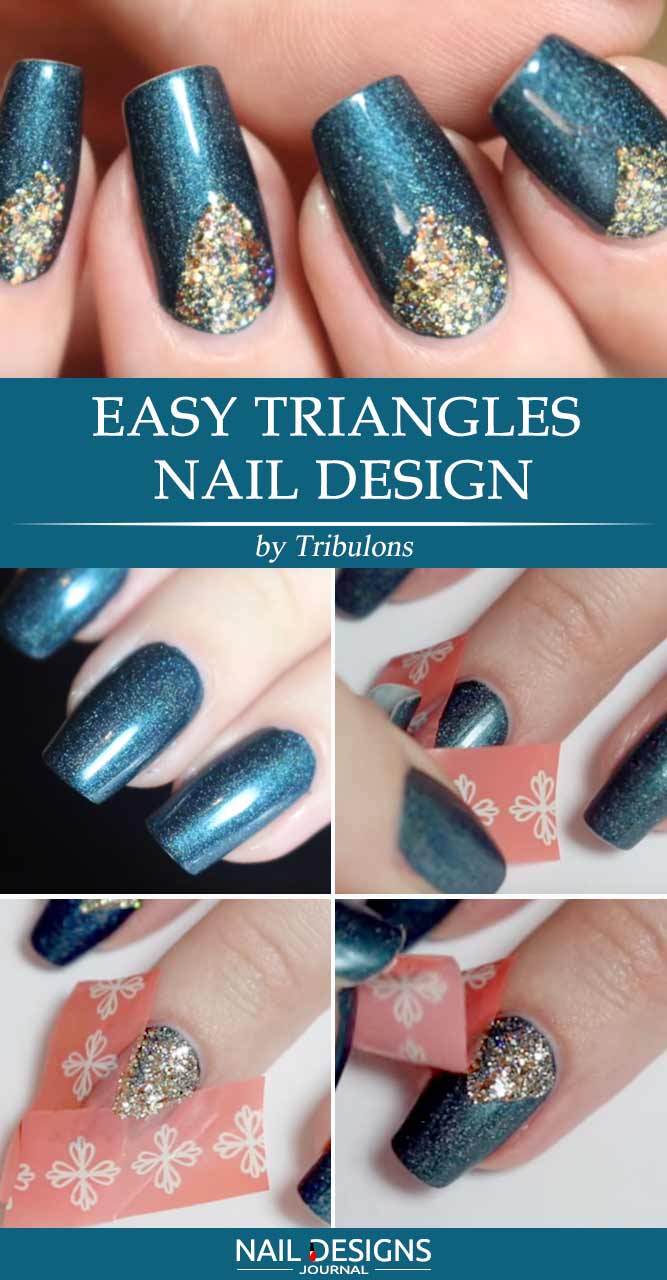 Source:
Tribulons – Nail art via Youtube
Quick Dotticure Nail Art To Do At Home
For this amazing dotted manicure, you need to start off with the base coat to protect your nails and then apply two coat of light yellow nail polish. When you are done with that, you need to add three bigger dots of burgundy shade to various parts of your nail. After that, you need to take a smaller dotting tool and add tiny burgundy-shaded dots around the big ones. Now, take a middle-sized dotting tool and add a yellow dot to the center of each burgundy one. Repeat the procedure with the darker shade of yellow and a smaller dotting tool. Add some dustier green-shaded dots to fill in the empty spaces on your nail. Apply a top coat.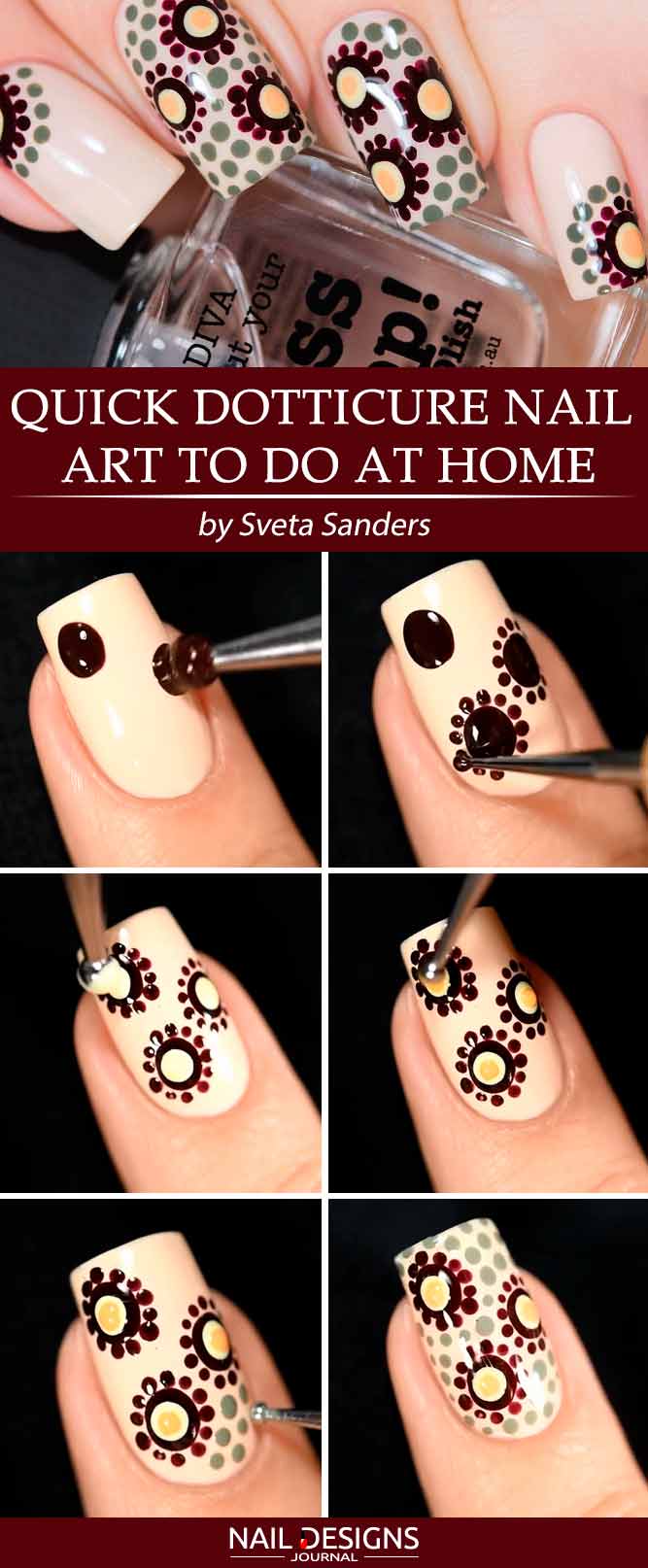 Source:
sveta_sanders via Instagram
Main photo by Sveta_sanders