Black acrylic nails will make you a dangerous femme fatale. Acrylic nails look beautiful and cute. Nowadays they are all the rage. The main reason for that is that they can cover damaged nails and make weak nails stronger. Acrylic has lots of benefits in comparison to the real nails. Check out the following nail designs that have been collected for your inspiration.
ADVERTISEMENT ‧ CONTINUE READING BELOW
ADVERTISEMENT ‧ CONTINUE READING BELOW
Black and Gold Acrylic Nails
Black and gold nails look chic and dangerous. Crystals make them even more glamorous than they are. We love these cool nail designs because they have a simple and sophisticated elegance. The gold color contrasts beautifully with the black color. They look as if they have been created for each other. Try to copy these gorgeous nail design variants and you won't regret.
Trendy Matte Black Acrylic Nails Ideas
Black nail designs with a matte finish look extremely elegant on long coffin nails. Glitter polish adds some glamour to the nail art. As it is perfect for parties and even work events, this is a sure winner for all occasions. For those who have long nails, it is the perfect strategy. Go and embrace the acrylic nail trends collected here.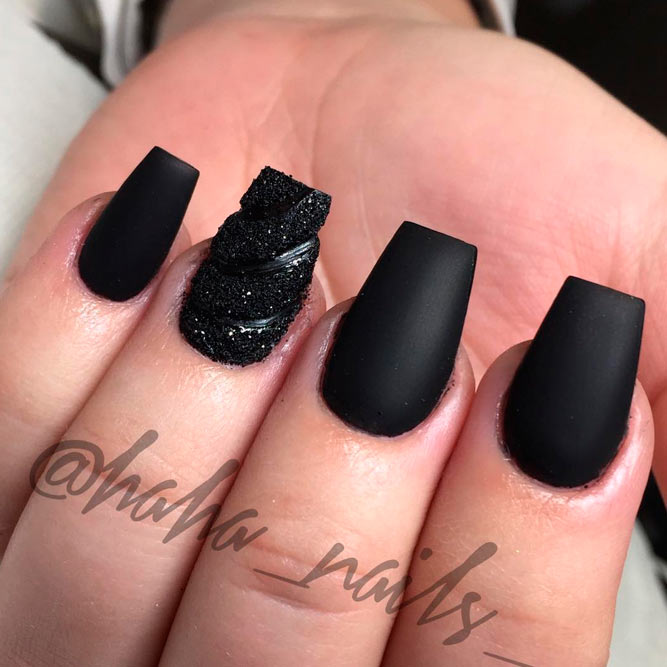 ADVERTISEMENT ‧ CONTINUE READING BELOW
Gorgeous Glitter Accents for Black Nails
Gorgeous glitter accents for black nails will make you look like the queen of a party. For those who prefer glitter polish, it is a perfect way of adding some oomph to the acrylic nail art. If you want to look stylish at any event, these nail art ideas are your perfect pick.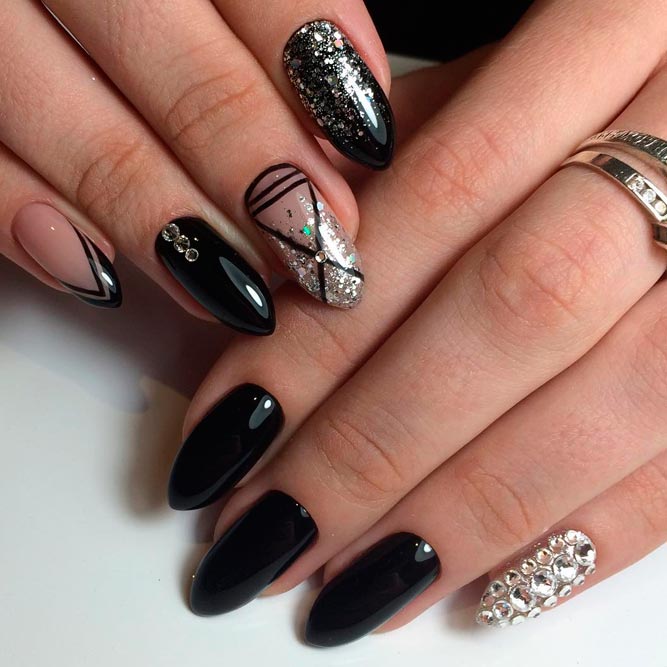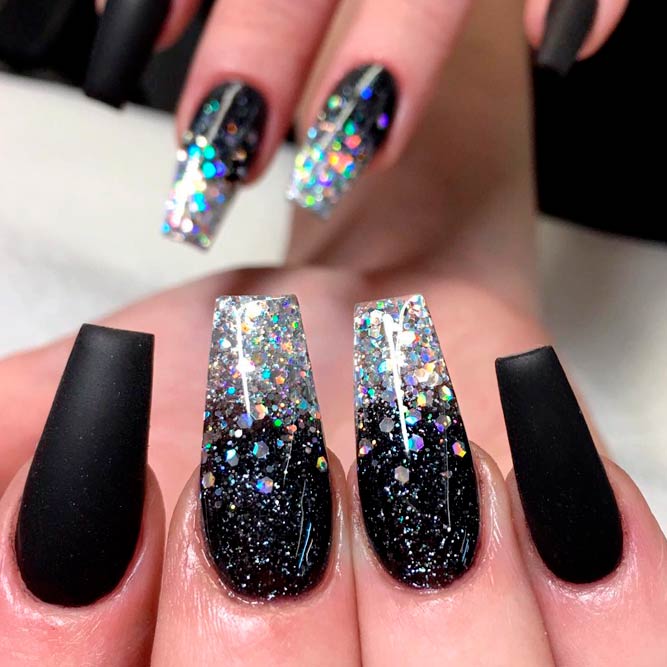 Designs for Oval Acrylic Nails
If you don't like very long nails, these oval acrylic nail designs are for you. Stars, crystals and nude accent nails make these designs fantastic. An oval nail shape is ideal for those who want to look classic.
Fabulous Black Ideas for Pointed Nails
Fabulous black ideas for pointed nails are your perfect pick, if you wish to stand out from the herd. The best part about the nail design in these pictures is that it is a perfect blend of nude, silver glitter and white. Crystals make these nail art designs look even more glamorous.
Shiny Black Acrylic Nails Worth Trying
If you prefer to be in the center of attention, these shiny black nails are worth trying. It will be perfect if you choose some shining accessories to match these brilliant nail designs.
ADVERTISEMENT ‧ CONTINUE READING BELOW
Creative Acrylic Nails Designs
These creative acrylic nails designs are perfect for some special occasions. Hope they will be an inspiration for your creativity.
Main photo by Nailsby_may
ADVERTISEMENT ‧ CONTINUE READING BELOW