Matte nails designs are quite popular. Why so? Well, it's because women like a gorgeous and at the same time universal manicure. Complete your bank of ideas with our matte nail designs and you'll always be on the top. Get prepared for your stylish manicures!
ADVERTISEMENT ‧ CONTINUE READING BELOW
Royal Blue Matte Nails With Rhinestones
Matte nails are all in these days, and there is no wonder why since the matte top usually grants the manicure that pretty velvet touch. However, matte blue nails deserve special attention, especially when combined with royal rhinestone accents.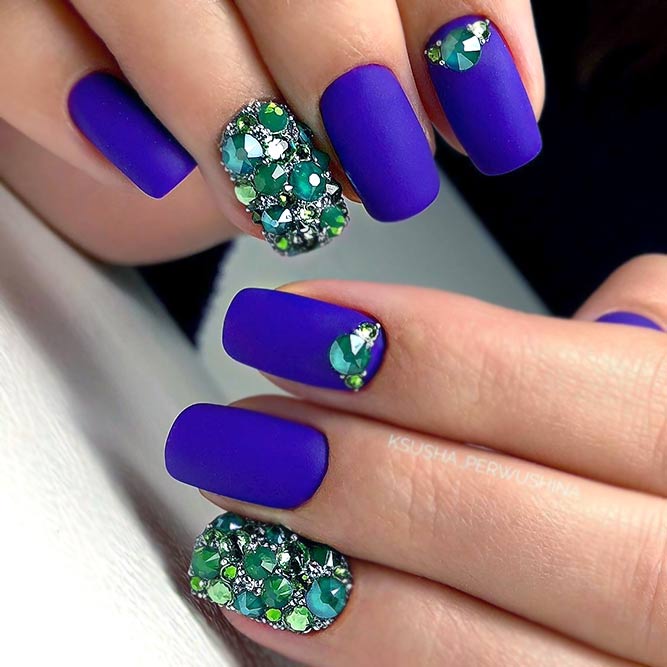 Source:
ksusha_perwushina via Instagram
Elegant Nude Nails With Vertical Stripes
Nude matte nails are very required these days. When you think about it for a while, you will come to the conclusion that there is a simple explanation for this phenomenon. The thing is that such a manicure will always look elegant and fit for any occasion.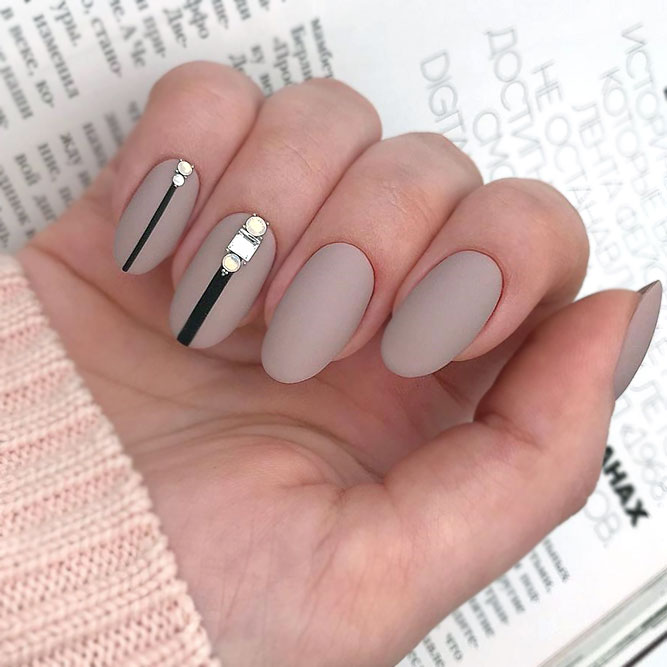 Source:
amur_nails via Instagram
Gorgeous Feline Accent Matte Nails
If you are looking for a nail design that is both very stylish and feminine, then there will be nothing better to suggest rather than the mixture of burgundy and black spiced up with a feline accent.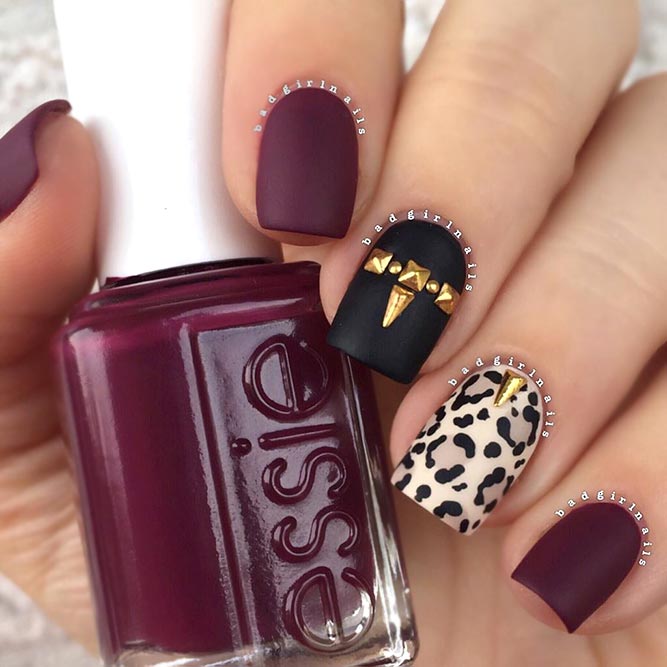 Source:
badgirlnails via Instagram
Peachy Nude Matte Nails With Rhinestone Accent
Accent nail is a truly popular technique these days. Even a pure nude nail art will be taken to the entirely new level with the introduction of such a luxurious element!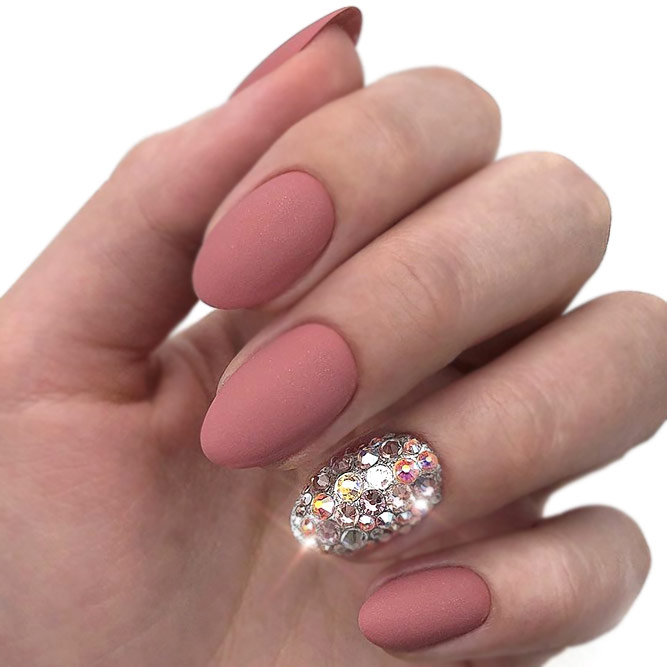 Source:
amur_nails via Instagram
Matte Green Nails With Floral Pattern And Glitter Accent
If you appreciate darker shades above all, then this exquisite manicure idea will surely come to your taste. The thing is that green nails with a matte top coat look beyond intricate and elegant, but the introduction of rhinestone flower and a smooth glitter accent nail takes things even further. See for yourself!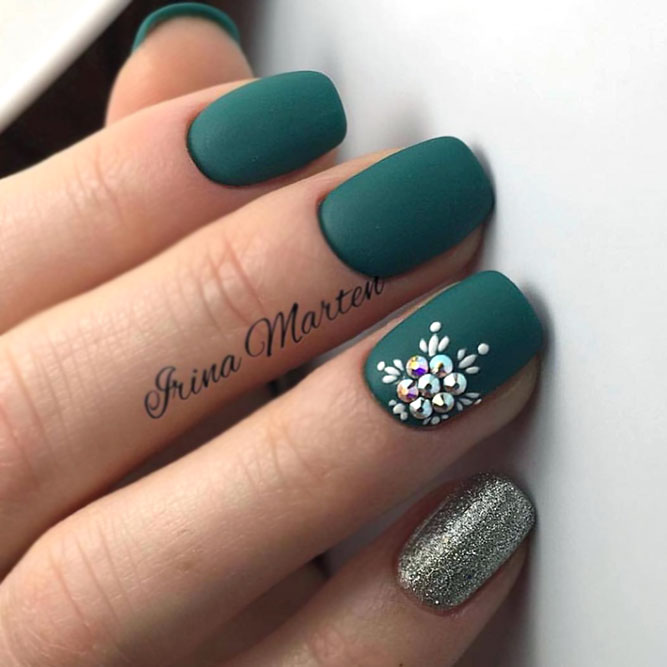 Source:
nails_irinamarten via Instagram
Neutral Nails With Bright Geometry
Pale matte pink nails look very gentle and feminine. However, when you are open to bright experimentation – we have an idea in mind. The truth is that bright geometric pattern introduced into this nude nail art makes things so vivid and spicy that it is hard to resist!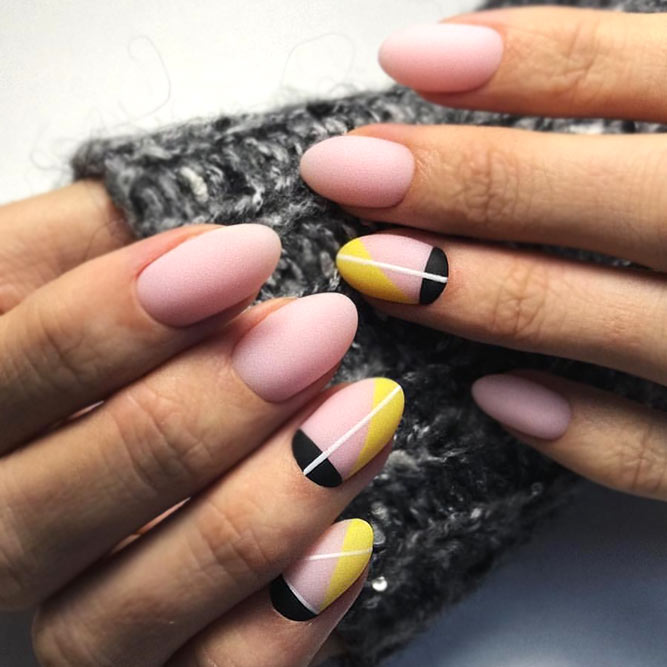 Source:
ld.nail via Instagram
Lacy Design For Your Perfectly Matte Nails
Very often, the introduction of negative space into the design is already enough. However, if you are willing to take things to the next level of intricate the addition of laced pattern is precisely what you need.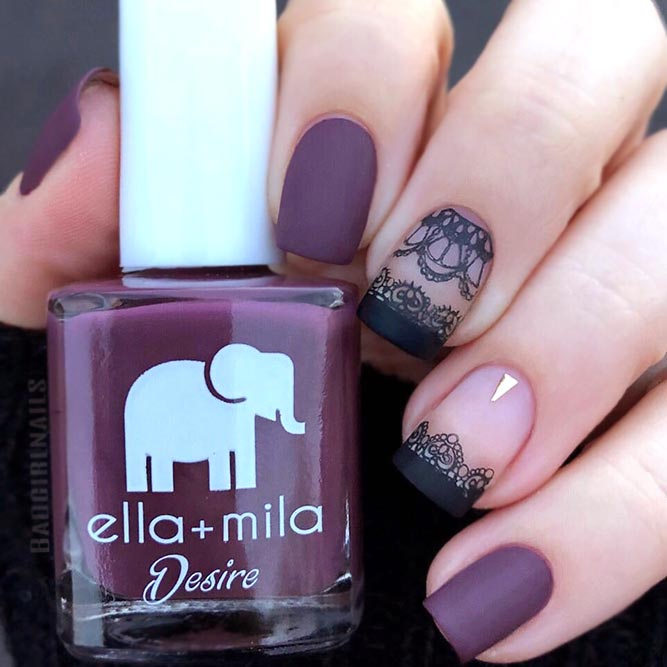 Source:
badgirlnails via Instagram
Two-Tone Brown Matte Nails With Starry Design
Sometimes it is said that brown shades look dull and you can't actually experiment with them much. We are here to prove this point wrong. The thing is that two-tone brown matte nails with the addition of sparkly star design look anything but dull!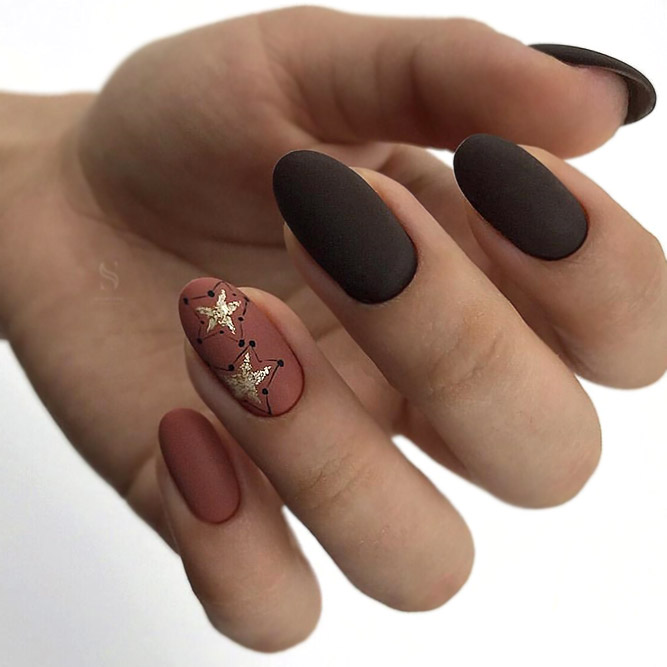 Source:
sovetova_nails via Instagram
Purple Nail Art With Silver Ruffian Accent
There are times when you do not need to take thing far to make your nails look exquisite and trendy. All you need is a popular purple shade, a little ruffian accent, and a matte top coat. There you go!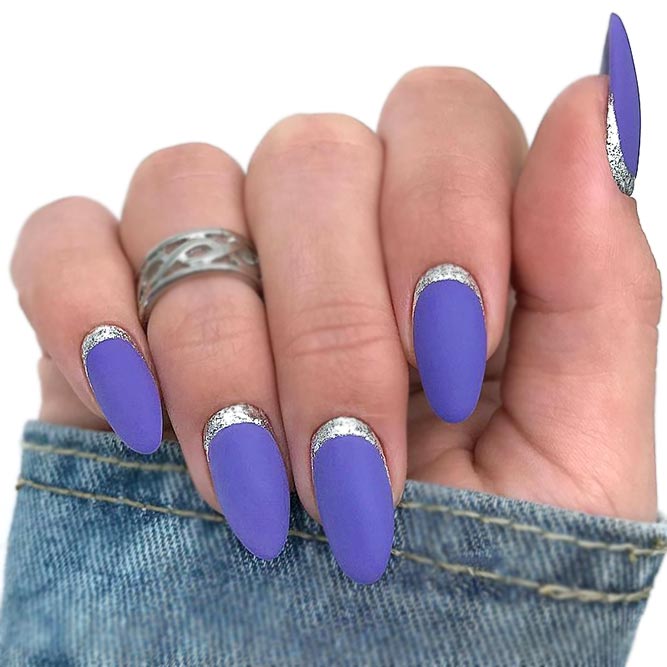 Source:
amur_nails via Instagram
Contrasting Nails With Glitter
Some say that there are hues that are just incompatible with each other. We say all you need to know is a proper way of mixing them. This unique and quite contrasting manicure is the best proof to the point, don't you think?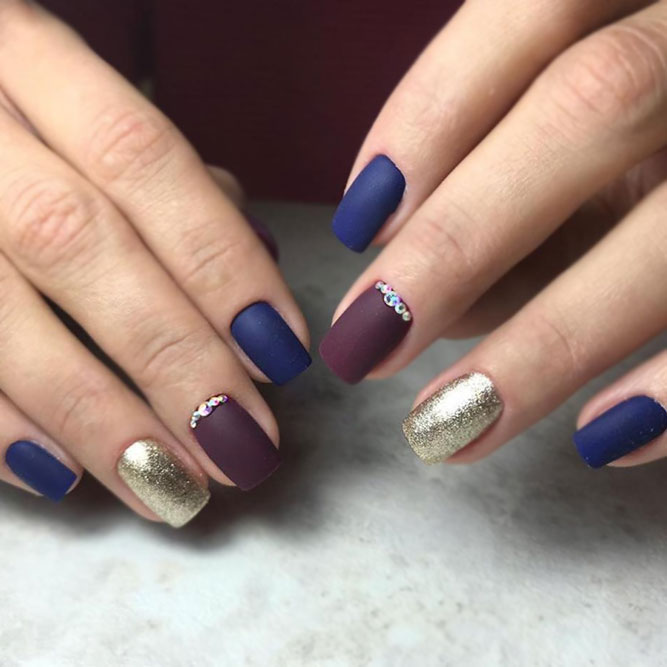 Source:
vnailstudio via Instagram
Minimalistic Black Matte Design Nails
It is easy to say that matte black nails are always edgy and daring. Yet, we know that you can create a perfect minimalistic nail design with the addition of black.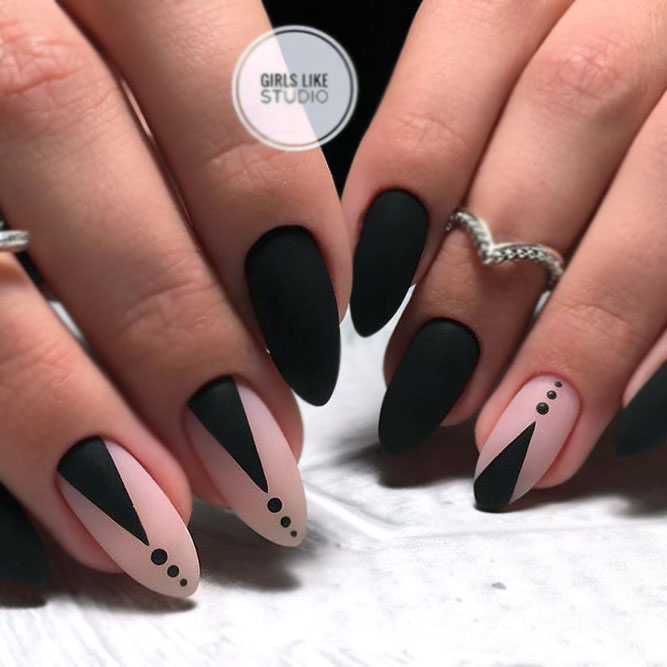 Source:
girls_like_studio via Instagram
Pale Dusty Rose Matte Nails With Gentle Rose Accent
Dusty rose hues are rocking the nail fashion like nothing else nowadays. In fact there is nothing to be surprised with since this pale manicure with sweet stamping rose pattern proves the point perfectly!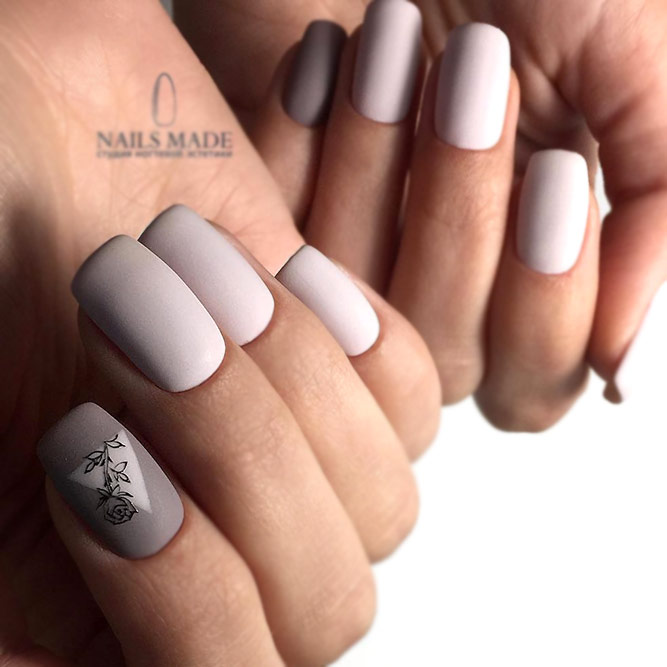 Source:
nailsmade via Instagram
Black & Red Nails Design With Stripes Accent
Those of you who are in love with classics but still are willing to experiment with your manicure a little – you have come to the right place. Matte red nails in combination with black and white couldn't look classier, however, the glitter and stripes grant this manicure that necessary modern vibe.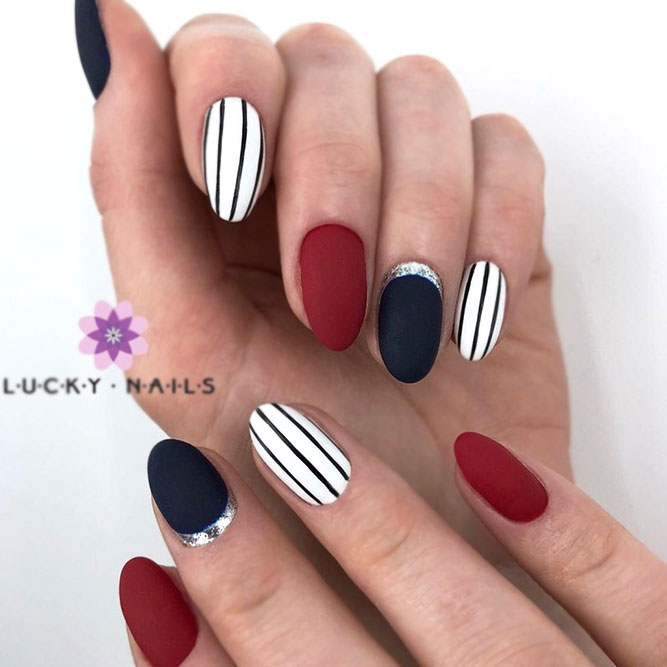 Source:
lucky_nails_nsk via Instagram
Lilac Nail Art With Nude Accent
There is something special and magnetic about pastel shades. For example, this lilac manicure with the addition of nude accents and a hint of rhinestones looks gorgeous in its gentleness!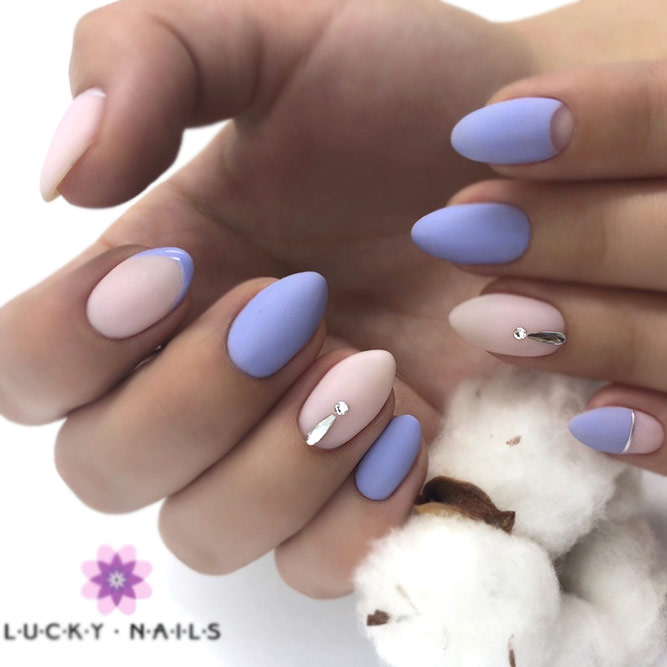 Source:
lucky_nails_nsk via Instagram
Dark And Light Combo With Gold Foil Accent On Matte Nails
The matching of dark and light shades in one design is always a winning option. What is more, there is nothing that the addition of a transfer foil wouldn't fix.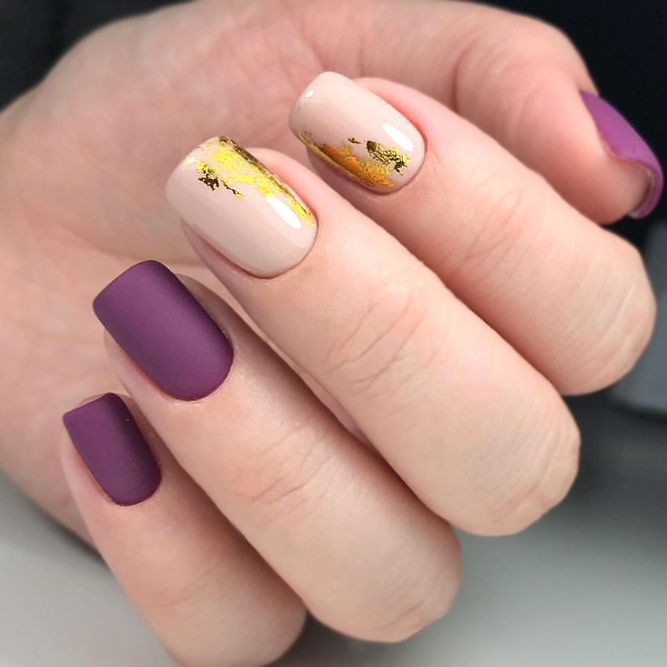 Source:
alina_lu_nail via Instagram
Pretty In Pink Nails Design
Pink is the girliest color there is. That is why if you are looking for something beyond belief cute and fancy this matte pink nail art idea with the addition of a gem accent is exactly what you need!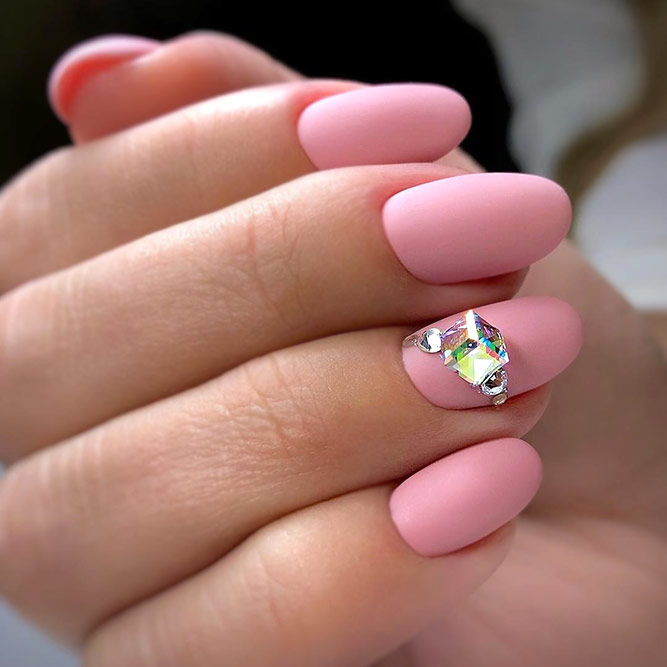 Source:
ksusha_perwushina via Instagram
Grey On Your Nails Is Not So Boring As It Seems
Who says that grey nail polish is dull? Today you have so many possibilities to spice up even the simplest manicure that you will never get bored.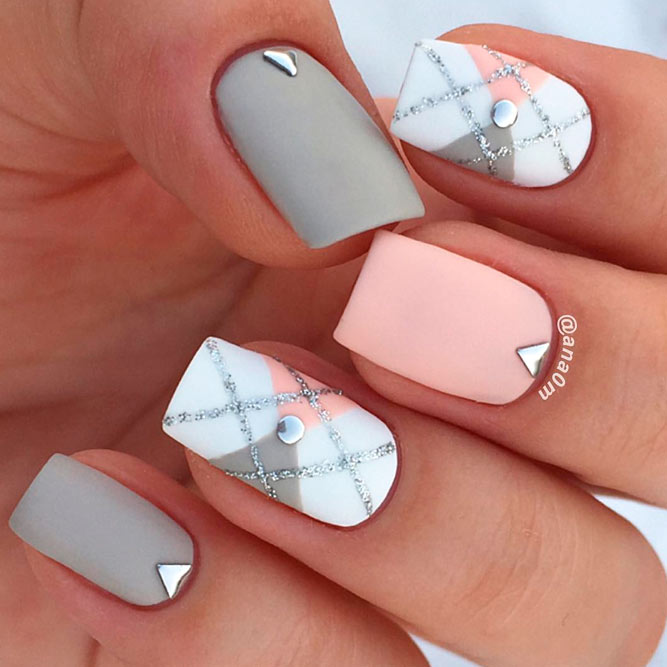 Source:
ana0m via Instagram
Deep Blue Matte Nails Look Fabulous
Is there a wild party ahead? Then manicure in blue is definitely what you need. Cool, unexpected, and super trendy!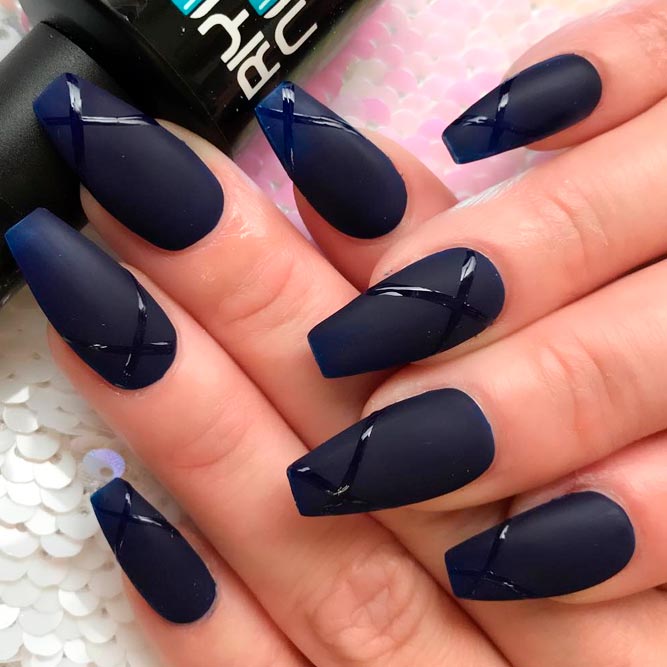 Source:
riyathai87 via Instagram
Royal Burgundy Matte Nails
Burgundy nail polish is so self-sufficient that you can wear it without adding any oddities. But to glam it up, you can opt for few rhinestones.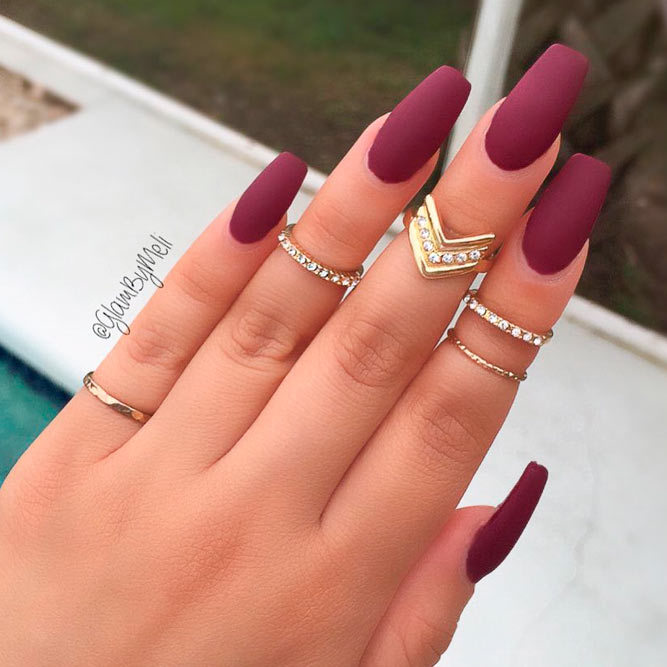 Source:
glambymeli via Instagram
Black Matte Nails Is Always In Trend
The black base is a good canvas for experiments. Complement your black matte nails with our incredible design ideas for an extra stunning look. Make your days stylish!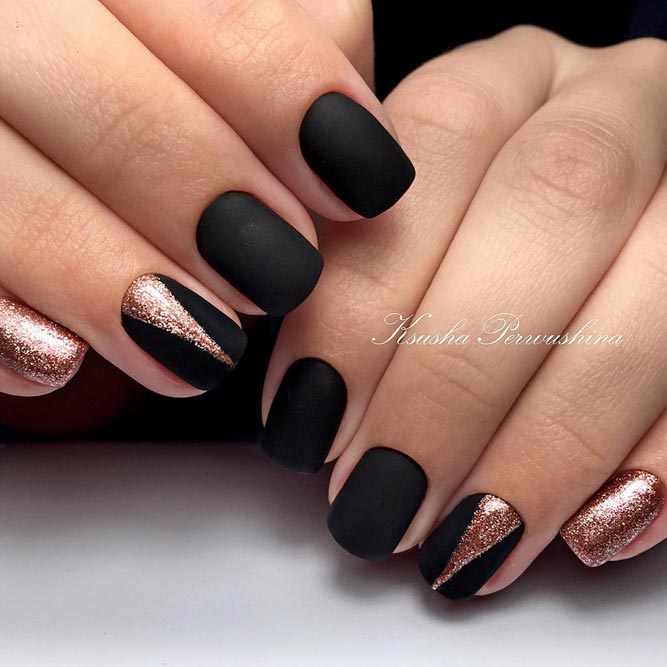 Source:
ksusha_perwushina via Instagram
Matte nails are on the edge of glory these days, and there is no wonder why. If you browse through out compilation, you will definitely find a nice matte design that will suit you personally like nothing else in this world!
Main photo by La_avenail
ADVERTISEMENT ‧ CONTINUE READING BELOW