Matte nails designs are quite popular. Why so? Well, it's because women like a gorgeous and at the same time universal manicure. Complete your bank of ideas with our matte nail designs and you'll always be on the top. Get prepared for your stylish manicures!
Matte Marble Design In Royal Green Shades
It is time to take the marble stone nail art to the next level. Try experimenting with bolder shades like these royal green hues and add some matte finish to take the idea to the whole new level of fantastic!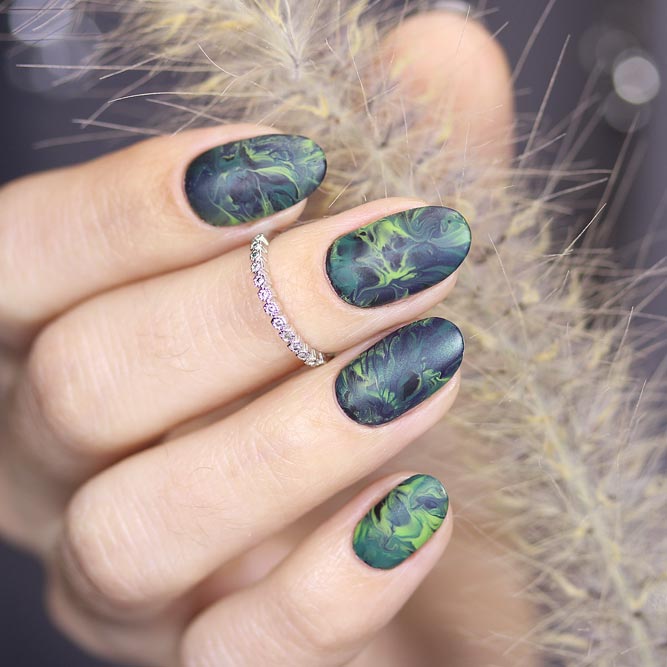 Source:
la_avenail via Instagram
Top Elegant Idea: Nude Matte Manicure With Tiny Rhinestones
Matte nails are trendy and look exquisite no matter what you pair it with. For example, if you are looking for a stylish neutral manicure, this gorgeous idea will certainly suit the search. Elegant nude matte nails adorned with tinny rhinestones look reserved and fabulous at the same time.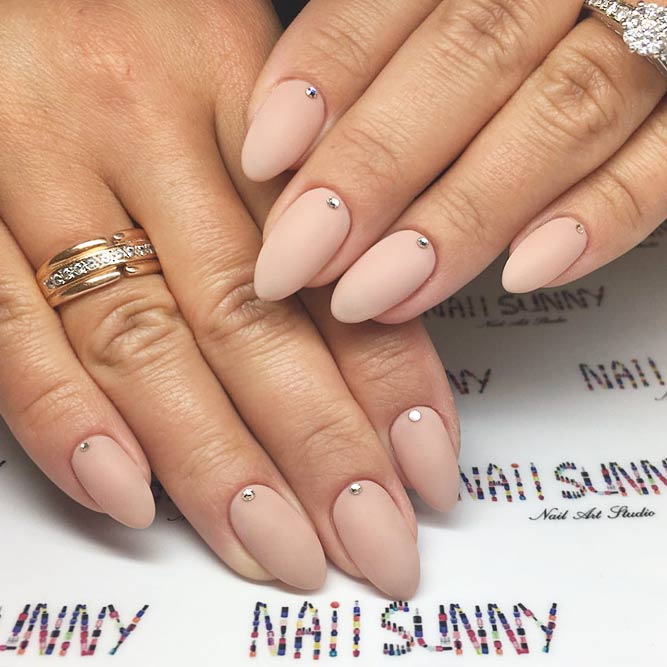 Source:
nail_sunny via Instagram
Tender White Daisies On Nude Matte Color
Cute 3-D nail designs are what you need to look both stylish and feminine. Something as tender as white daisies on neutral matte base can't but make everyone fall in love with your manicure!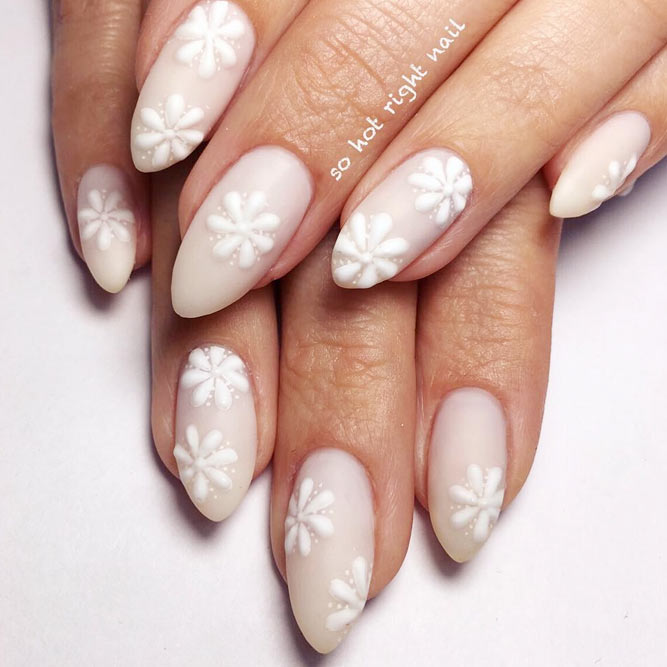 Source:
sohotrightnail via Instagram
Matte Finish In A Combination With Beige Base And Sequins
Beige is another great base color for reserved mani that you can easily pull off no matter where you go. To add some spice to you strict manicure, we suggest adding sequins in addition to matte top coat.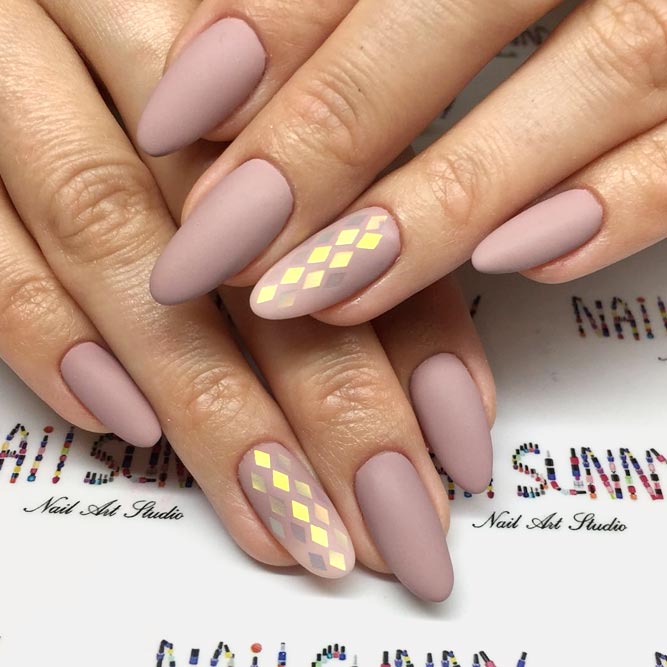 Source:
nail_sunny via Instagram
Enjoy Summer: Matte Top Coat For A Palm Manicure In Pink Shades
Stating the obvious but all you need to do to make your nails look perfectly matte is to apply matte topcoat on. Bright nail designs look as gorgeous with the matte top on as all the others, besides palm trees are what you need to express this hot summer vibe!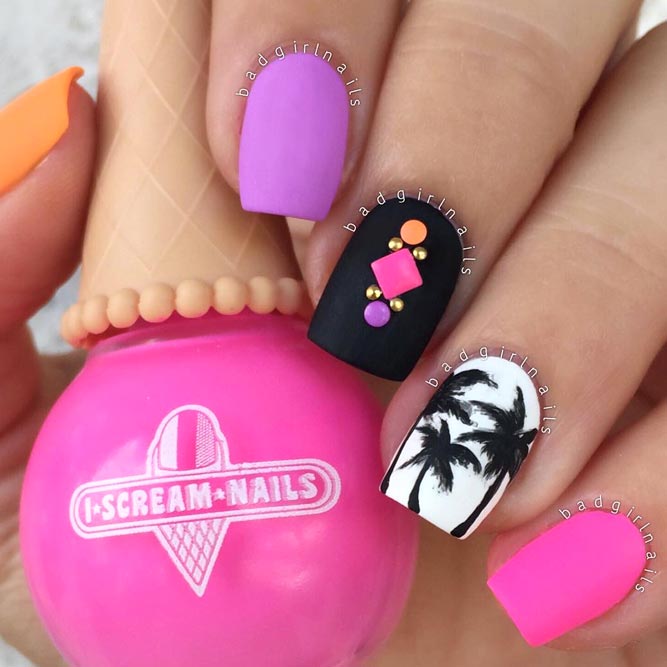 Source:
badgirlnails via Instagram
Impressive White Marble Coffin Nails To Copy In 2018
In case you want to kill two birds with one stone, you have to combine all the trendiest ideas in one look. The combo of white coffin nails with marble pattern and the matte finish is exactly what we have in mind. Simply breath-taking!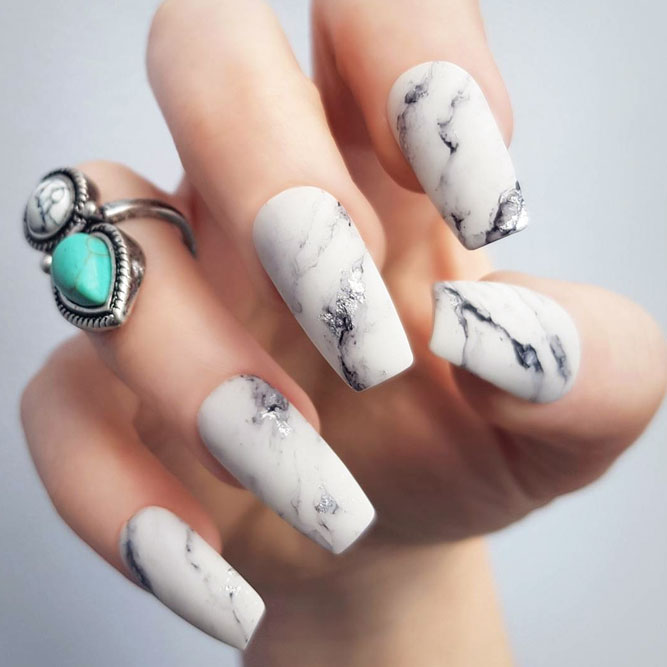 Source:
perfect10customnails via Instagram
Chic Fuchsia Nails With Swarovski Crystals
Fuchsia is the marvels shade, and it would be a shame if you couldn't pull it off with your manicure. To avoid that we suggest a mesmerizing idea of matte fuchsia nails combined with luxurious Swarovski crystals pattern.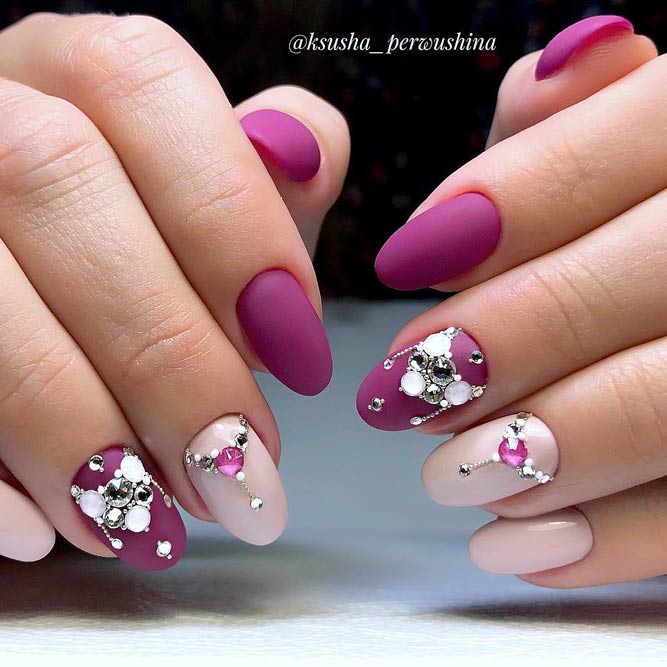 Source:
ksusha_perwushina via Instagram
Nude & Black: Cool Negative Space Matte Nails
Matte black nails do not necessarily need to be all bold and daring to be noticeable. Trendy minimalistic nail design with some negative space to it with the matte top on looks just perfect!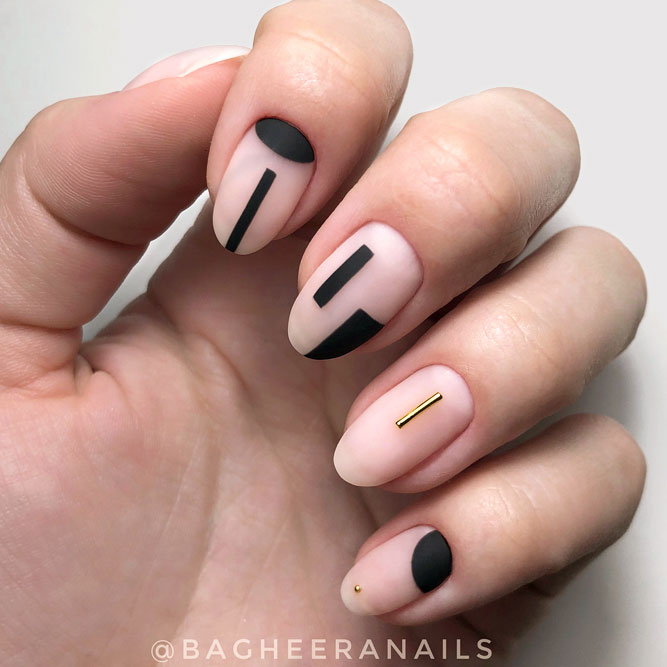 Source:
bagheeranails via Instagram
Hot Red With Matte Finish and Rhinestones Accent
Red is classy, but it is high time you learn how to make it sassy as well. Matte color always looks unique no matter the color, but in this case, it looks extravagant and mind-blowing, especially with that elegant rhinestone pattern addition.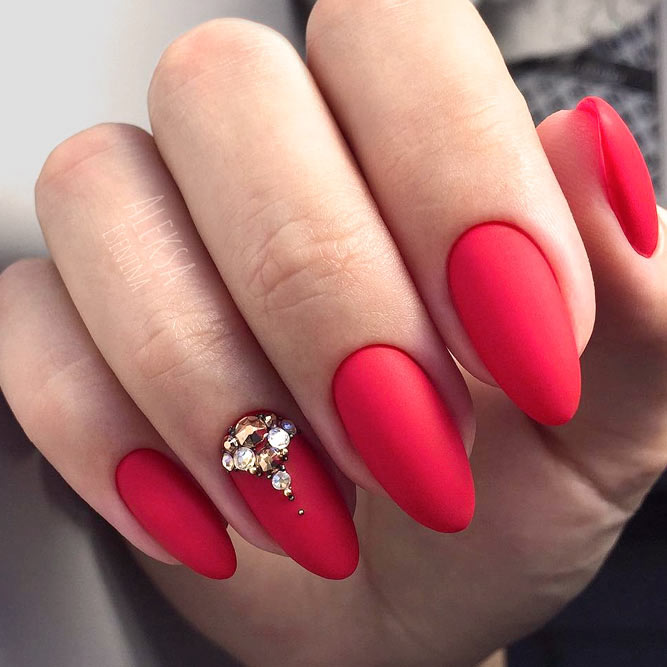 Source:
aleksa.nail.art via Instagram
Add To Matte Black Nails Some Gold Shine
When it comes to short nails, it seems that there is barely anything to help you make a statement with your manicure – we think otherwise. Applying matte finish to your nails is a step closer to make your nails look irresistible, but some gold sequin accent takes the idea to the next level, straight away!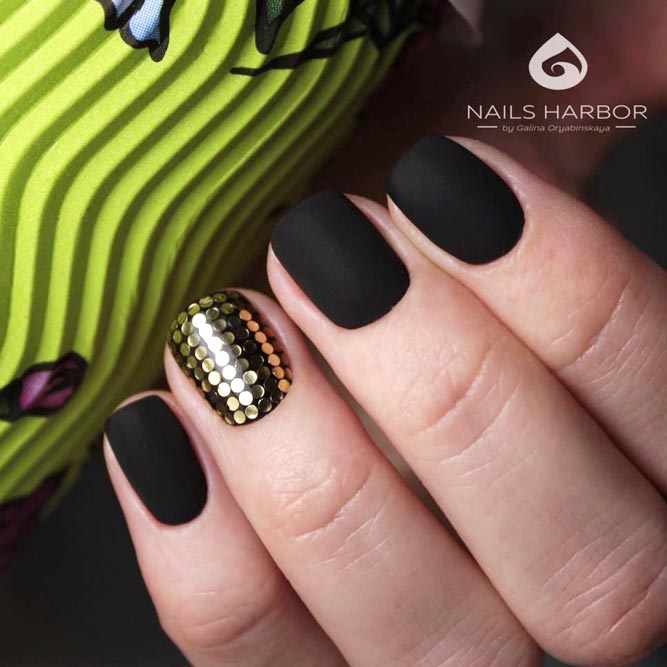 Source:
nails_harbor via Instagram
Fun Yellow Pineapples For Summer Manicure
Matte nails can look perfectly summery if you know which shades to take advantage of. We say that matte yellow nails look great with that juicy pineapple design added. Would you dare to try this idea out?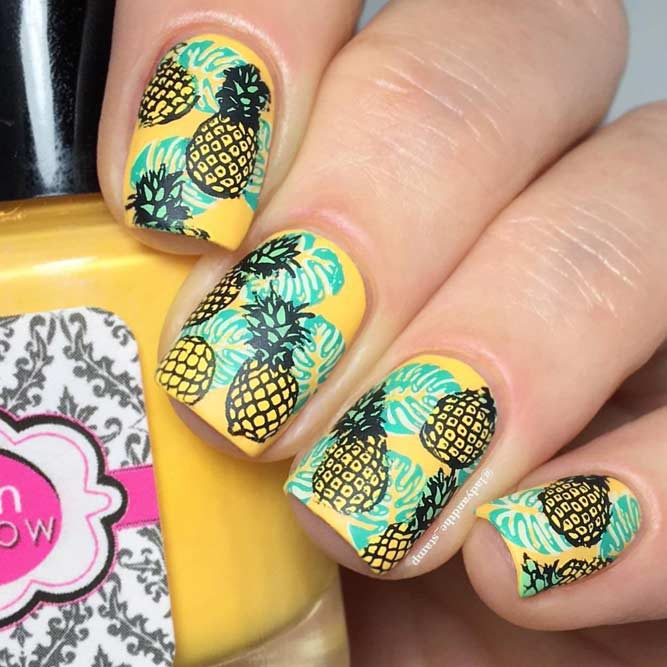 Source:
ladyandthe_stamp via Instagram
Mix Of Pastel Matte Shades And Black Strict Geometry
There are many things trending in the realm of nail fashion these days, and there is rarely a chance to combine them all properly. However, we managed to find something that will suit the goal just perfectly. Pastel shades, geometric patterns, nude hues and matte top – you get the point, right?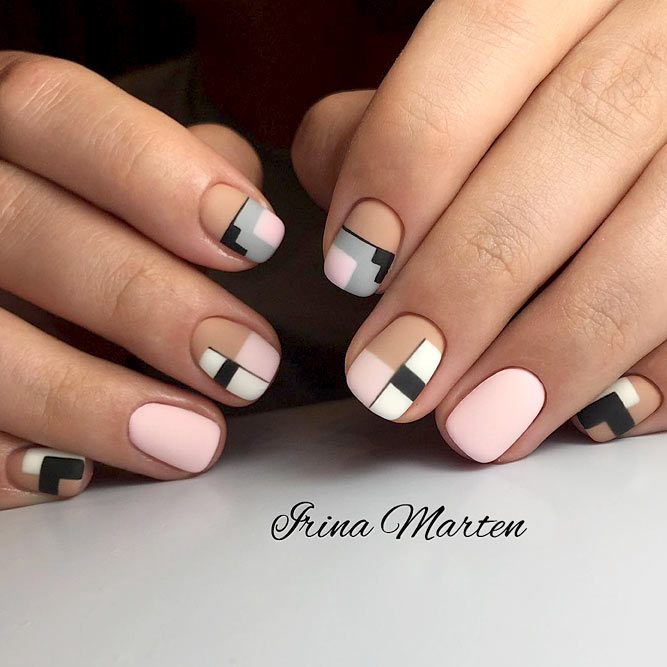 Source:
nails_irinamarten via Instagram
Stunning Combination Of Bright Purple And Delicate Rhinestones Accents
Bright nails do not have to be too screamy or daring; you can always dim the brightness with perfectly chosen top coat and shading as well. The mix of purple and pink may look over the edge sometimes, but this idea is certainly not one of those times. The elegant rhinestone pattern adds exquisite charm to this manicure too.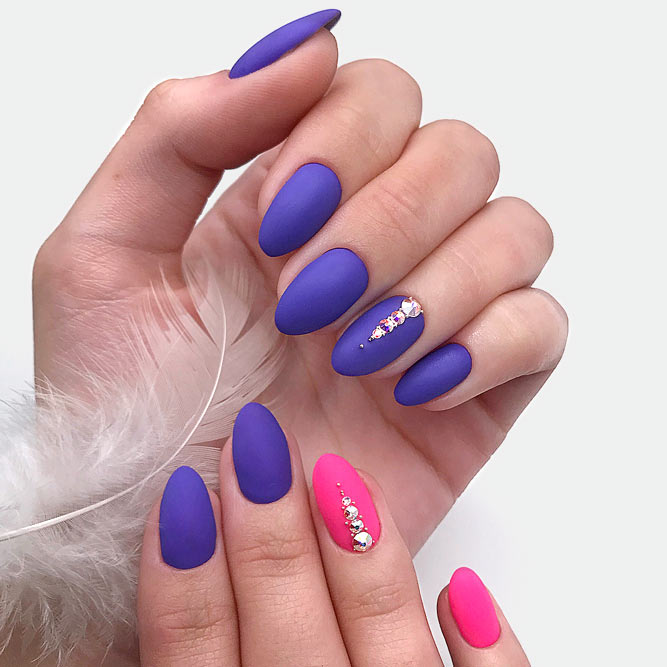 Source:
amur_nails via Instagram
Neon Matte Nails With Tribal Pattern For A Free Spirits
Summer is the time you set yourself loose and the best way to emphasize that is via your manicure. The combo of bright shades and tribal patterns accented with black and finished with the matte top are exactly the one that you may be looking for!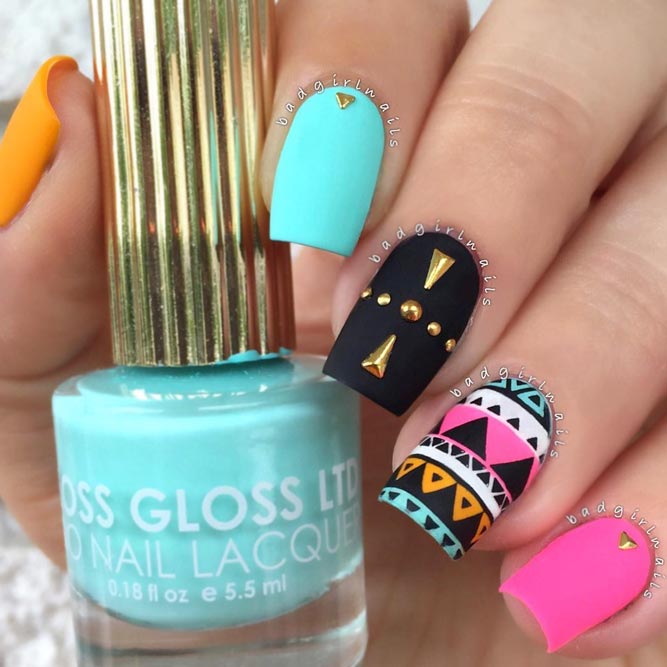 Source:
badgirlnails via Instagram
Minimalist Design Using Matte Nail Polish In Natural Shades
Keeping things simple is never a bad idea. Natural beige nails with a simple pattern and matte top coat are just the example you need. In case you are worried that matte tops make our nails somehow less durable than the ones coated with glossy top – stop, they are both equally durable.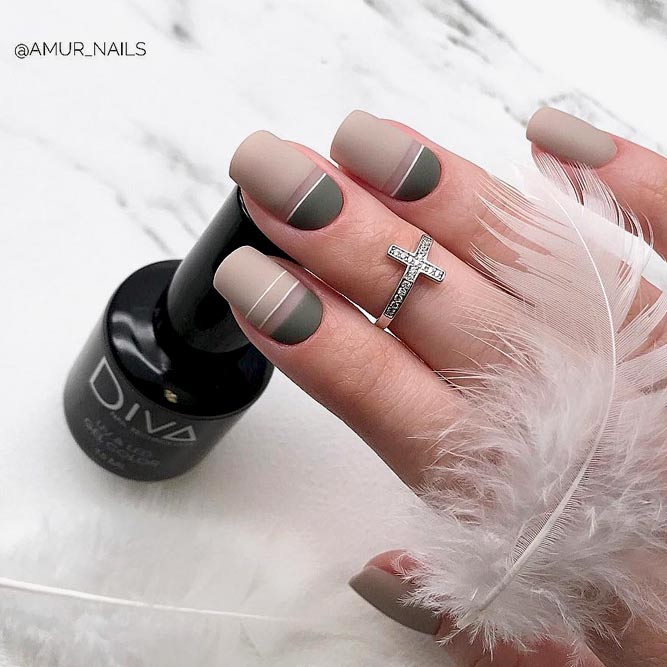 Source:
amur_nails via Instagram
Unusual Nail Art: Gray Newspaper & Colorful Origami Stamping
When it comes to your manicure, you should never set any boundaries. Use your imagination to the fullest and do not worry about the outcome. For example, something as weird as newspaper pattern and origami stamping look perfect together despite what you may have thought about it unless you see it.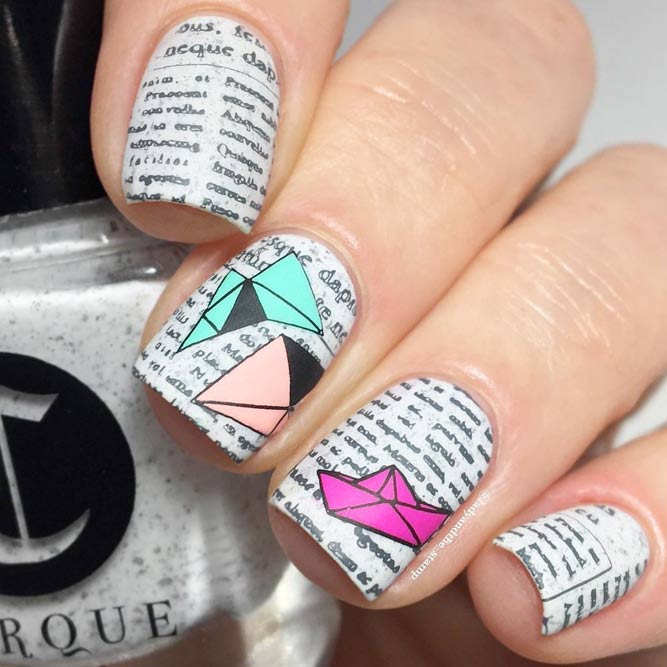 Source:
ladyandthe_stamp via Instagram
Soft Yellow French Tips For A Flirty Look
Some people are just bound to the classics that is why we are suggesting this idea. To spice things up a little we suggest you add a matte top to your perfect pastel yellow French tip and you will still preserve the elegance and class but will certainly add fashion to the design.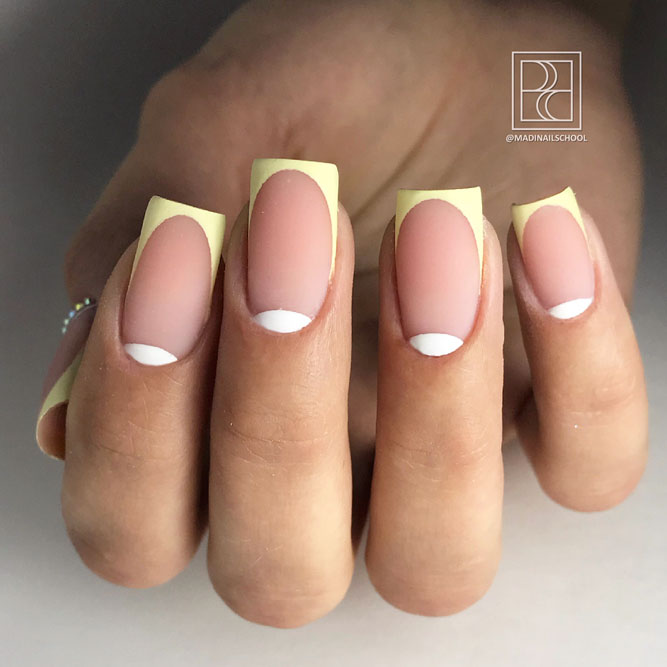 Source:
murievamadina via Instagram
Amazing Turquoise Manicure With Glitter Accents
Sometimes it is all about the accent. If you do not know what to choose for the perfect accent – thing glitter nails and you will never fail. Just look at this perfect turquoise manicure with glitter accent, and you will understand what we are talking about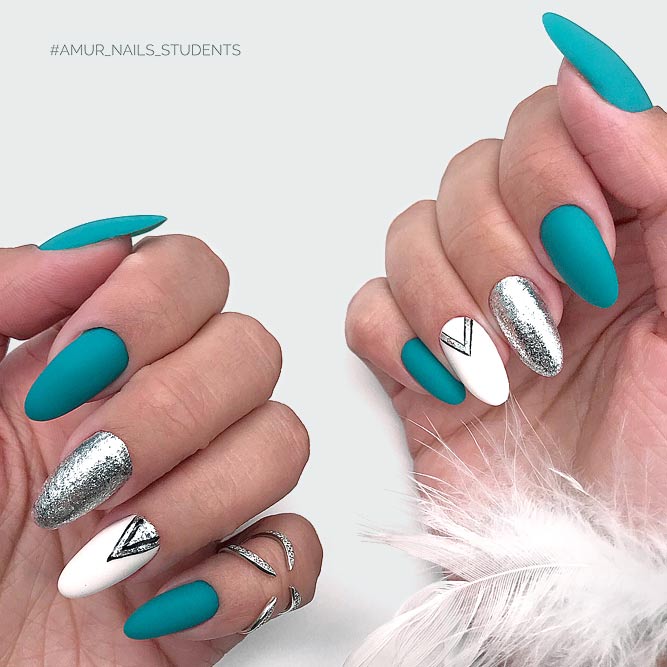 Source:
amur_nails via Instagram
Main photo by La_avenail