Long nails will always look more glamorous than most of the designs for short nails. These nail design ideas that we have gathered here will fit both artificial and naturally long nails. From beginners to professionals, everyone can try these nail art ideas. Long nails are a great canvas for creativity. Keep your hands busy right now!
Luxurious Look – Matte Nude Nails Design
Nude nails are trendy right now, but not everyone knows that neutral nails can be pretty dark at times. For example, this milk chocolate matte base is the best representative of the kind.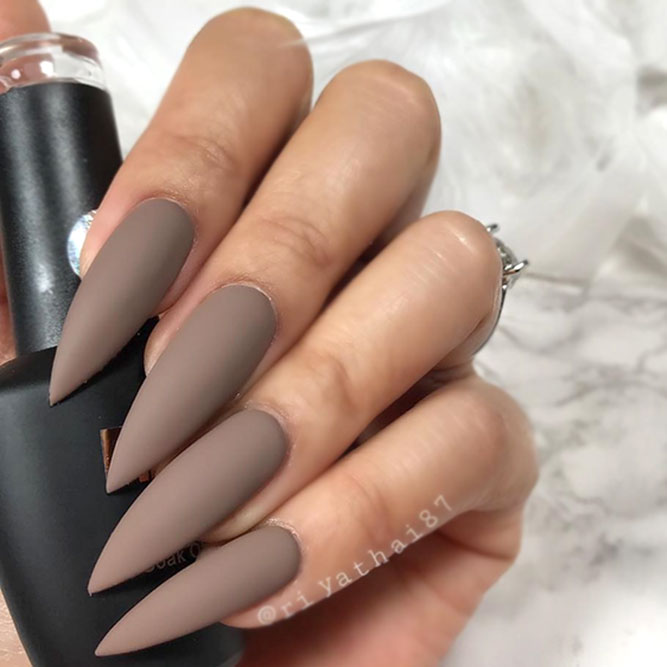 Source:
riyathai87 via Instagram
Winning Look – Black And Gold Color
If you are looking for a winning combo for your next manicure, surely the black and gold should be on the list. What is more, the mixture of black and gold transfer foil is not only stylish but one of the most requested long nails ideas out there.
Source:
fiina_naillounge via Instagram
Feline Design Nails For Brave Ladies
Animalistic prints are always required. What is more, long nails look very harmonic and feminine despite the boldness of feline print.
Source:
helennails_yeg via Instagram
Galaxy Inspired Design
Galaxy nails are all over the web these days. That is why we couldn't simply pass this gorgeous space design in blue hues. Of course, the look is very daring but charming nevertheless.
Source:
nailsbymztina/ via Instagram
Classic Red Color For Long Nails
Very often, when you are dealing with long nails, you do not really want to go too far with the nail art itself. That is when classic red comes in more than helpful. Just look at that elegant and royal vibe that this matte hue holds within!
Source:
kazmiraemery via Instagram
Amazing Nails With Black Designs Combo
It is true that not every lady is brave enough to go black with her manicure. In case you are willing to try it out, we suggest you add a touch of black glitter to your mani for a better result.
Source:
solinsnaglar via Instagram
Creative Fall Nail Design
When it gets cold outside but you still wish to celebrate the season; we have a perfectly creative idea in mind. This fall nail design is about to win the hearts of all the fashionistas out there.
Source:
fiina_naillounge via Instagram
Glossy Grey Shades And Glitter French
It happens so that this season is all about the grey hues. If you are not ready to go full grey with your mani, then we suggest you combine the glittery French with some glossy grey accents.
Source:
solinsnaglar via Instagram
Gradient Nails With Bold Shade Combination
Vamp ladies will certainly appreciate the combination of bold transition as well as pretty stiletto nail shape. The black to blood red ombre requires some courage and style to be pulled off if you possess both – what are you waiting for!
Source:
perfect10customnails via Instagram
Ombre Nails Design With Glitter And Rhinestone Accents
There is no such a thing as too much bling when it comes to long nails ideas. Those of you who think the same will undoubtedly value this spicy ombre nail art ideas with glitter and rhinestone accents.
Source:
cheyennesnails_ via Instagram
Glamor Long Nails
Beauty comes in details, and the very same statement is true about the manicure. If you know how to mix and match things correctly, you will surely create the masterpiece, and this example is the best proof to the theory!
Source:
amyduclosnails via Instagram
French Fade – Classic Manicure
French tip is both classy and sassy, but when you are looking for some fresh upgrade without dramatic change, then French fade is your next best option.
Source:
nailsbymztina via Instagram
Holographic Design For Long Nails
You may already know that holographic designs are all in this season but what matters is the shades you combine it with. For example, the combo of white and black accent nails and the green holo is quite unusual but certainly a killer one!
Source:
helennails_yeg via Instagram
Bright Color Nails With Rhinestones
If you are a fan of bright shades, then this design is undoubtedly fit for you. The thing is that yellow is not only bright but also unique and the addition of rhinestone patterns only intensifies the effect.
Source:
kazmiraemery via Instagram
Two-Tone Color Nails With Glitter Finger
When going too far with the nail art experimentation is not your cup of tea, it is time to try a two-tone manicure. Pastel grey shades and glitter work perfectly together.
Source:
jossannails via Instagram
Pretty Pink Nails With Mandala Accents
Pink hues are not only neutral but also gentle and lady-like. That is why if you are looking for something over the edge cute then this pastel pink manicure with sweet mandala pattern addition is what you need.
Source:
puro.nails via Instagram
Long Nails With Neon Stripes
Those of you who are looking for long nails ideas that would look mesmerizing and gorgeous – we have an idea hidden up our sleeve. The thing is that the combination of classic nude shade and colorful neon stripes looks astonishing together.
Source:
malishka702_nails via Instagram
French Manicure For Chic Look
White French tips are classic French manicure for every season. You can easily play around with white tips and achieve the elegant and classy look.
Source:
kazmiraemery via Instagram
Geometric Nail Design For Stylish Geeks
If you think of yourself as of a Geek, then you will fall in love with this geometric manicure idea for long nails that is without a doubt.
Source:
galichaiaolga via Instagram
Funky Swirls For Extraordinary Girls
Funky girls never seek easy ways or looks; we are fully aware of that. That is why we advise you pay attention to this extraordinary swirly nail art!
Source:
urbannailart via Instagram
Glitter Accent For Classy A Look
Even neutral shaded manicure needs some fresh and spicy updates. In times like these, we think that decorating your nails with glitter and the pale pink base is the best possible way out.
Source:
riyathai87 via Instagram
Amazing Ideas Of Ombre Nail Designs
It is certain that ombre is on the edge of popularity these days. That is why you need to try all possible options out, and this peach-shaded nail art idea is surely something fresh and juicy. Would you dare to resist it?
Source:
jossannails via Instagram
Royal Blue Stilettos
Source:
laquenailbar via Instagram
Popular Comic Book Nail Art
Source:
helennails_yeg via Instagram
Sweet Pink Nail Design For Everyday Look
Source:
tami_tamichka via Instagram
Main photo by Kazmiraemery