These days we have a few amazing options to choose from when it comes to shaping or nails. Of course, some of them are more daring than the others, but even the boldest shape can be tamed. It is true that coffin shape is quite daring, but it can be suited for the everyday life too. The thing is that short coffin nails are totally an option nowadays and if you are trying to choose between square and coffin nail shape – coffin one will add some more spice to your look. Taking all that into consideration we are ready to treat you with a fresh portion of nail art ideas that will take your manicure to the whole new level!
Sweet Glossy Lilac For Short Coffin Nails
Short ballerina nails will look extraordinary cute with the addition of some lilac hues. To take the cuteness even farther you can add some sparkles to the design. Who said that coffin shaped nails are about dark shades only?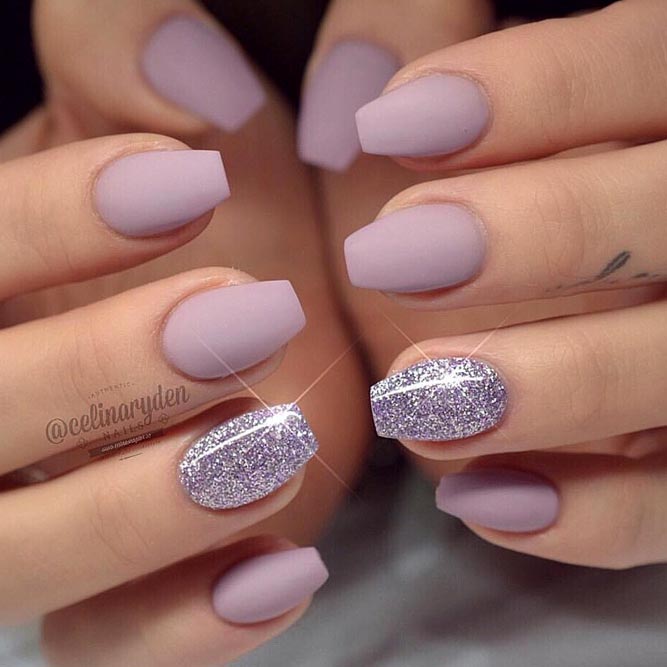 Source:
celinaryden via Instagram
Sky Blue Coffins With Rhinestone Accent
Pastel blue shades are on the top now and spicing your coffin nail art with such a shade is more than a great idea. What is more, you can always go ahead and introduce some rhinestone pattern into the design so that no one can resist casting a glance on your nails!
Source:
celinaryden via Instagram
Natural Short Coffin Nails For A Wedding Look
The wedding is a special day, and you have to be ready for it in your full armor. That means that your nails should look appropriate too. In case, you wish to keep things simple but not boring then trimming your nails coffin and adding some natural shading with a crystal accent would be the best way to achieve an unforgettable wedding look!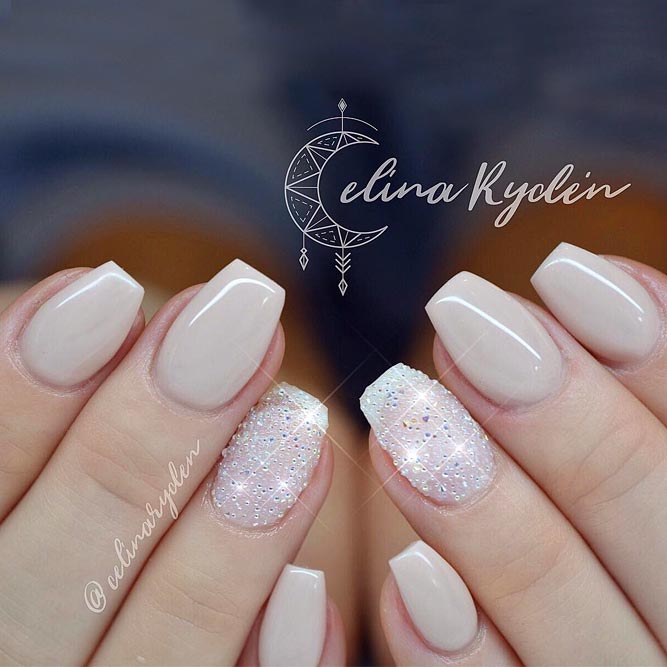 Source:
celinaryden via Instagram
Creative Glitter Design For Short Coffin Nails
Some people may think that all the fancy designs are left for long nails. We are going to prove you wrong since no one can say that this creative glittery pink design is just simple and boring, can they?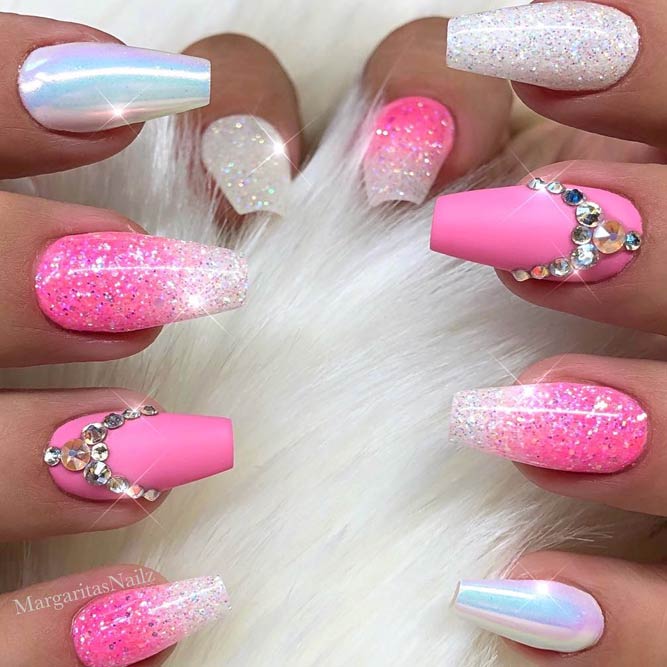 Source:
margaritasnailz via Instagram
Experimentation For Your Coffin Nail Art
Short coffin nails designs do not mean that there is no room for experimentation – there totally is. Moreover, this fancy nail art is the best proof of that!
Source:
_stephsnails_ via Instagram
Triangular French Tip For Short Coffin Nails
Opting for a French tip is always classy. However, you can always upgrade your short coffin nails French tip! This triangular metallic French tip in combination with neutral pink base look irresistible.
Source:
celinaryden via Instagram
Sexy Gold & Burgundy Combos For Coffins
Sassy vamp look is something that every lady needs every once in a while. In order to add your bold burgundy mani some feminine vibe, we suggest you add some gold glitter to the design.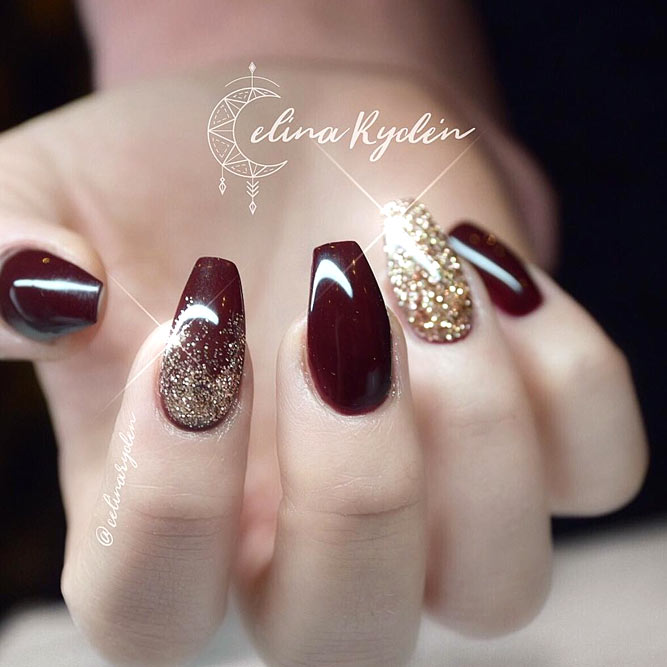 Source:
celinaryden via Instagram
Army Touch Nails Design
Coffin shape is not for everyone so is the camouflage nail art. If you can withstand the too – then this killer combo is what you need!
Source:
earthmamainkillerheels via Instagram
Matte Royal Blue Polish For Short Coffin Nails
Painting your short coffin nails matte blues is a proper way out if you want to keep up with the trends no matter what. A floral accent wouldn't be out of place too.
Source:
lexxdoesnails via Instagram
Matte Beige Short Coffin Nails
Matte tops coat are still on the edge of popularity that is why adding such a coating to your neutral-shades coffin nails is a great idea if you can't experiment farter that point. A neutral matte mani is also a nice way to get some rest from all the previous and future nail art intricacy.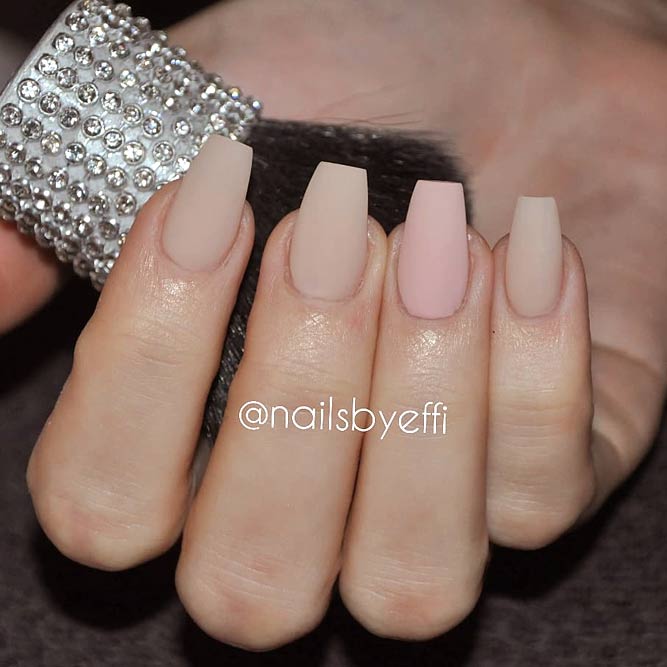 Source:
nailsbyeffi via Instagram
Elegant White Coffin Nails
White coffin nails look extremely elegant and gentle. Minimalistic glittery design and some sparkly crystals only intensify the effect.
Source:
nailsbyeffi via Instagram
Short Coffin Nails In Mint Green Hues
Mint green shades are perfect for the summer. They are both fresh and quite neutral. In case solid shading is a little too boring for you, you can always experiment with the techniques, and we think this particular idea may at least inspire you!
Source:
sarahsnailsecrets via Instagram
Beautiful Flower Design For Coffin Nails
Floral designs are pretty special, and not everyone will dare to pull off such a cute look. If you think you able to deal with all this sweetness, then you should try the idea out!
Source:
nailsbyjema via Instagram
Black Coffin Nails Design
Black can look elegant too; the point is to come up with a proper design to make it look so. We think that the combo of black glitter, French tip, and geometric pattern make a great example. What do you say?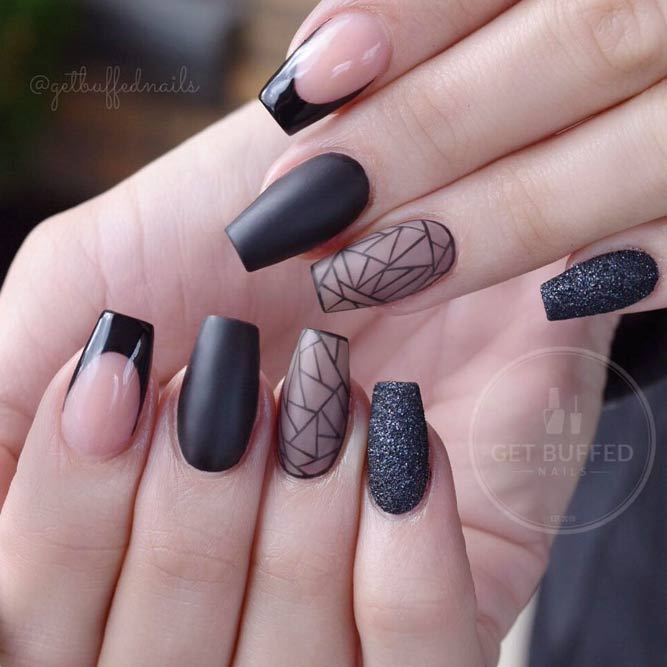 Source:
getbuffednails via Instagram
Popular Geometric Design For Your Short Nails
Geometric designs are totally rocking the world of nail art fashion these days. However, it happens so that almost all the time the geometric patterns are reserved in color that is why we suggest you experiment with bright shades and geometric designs for a change. Oh, and do not forget about the glitter!
Source:
kimiko7878 via Instagram
Ombre French Coffin Nails Design
Short ballerina nails look especially gorgeous with the addition of light pink ombre. But what takes the design over the edge is the introduction of Japanese cherry flowers and rhinestone accent. So sweet and gorgeous that it is difficult to take the eyes off!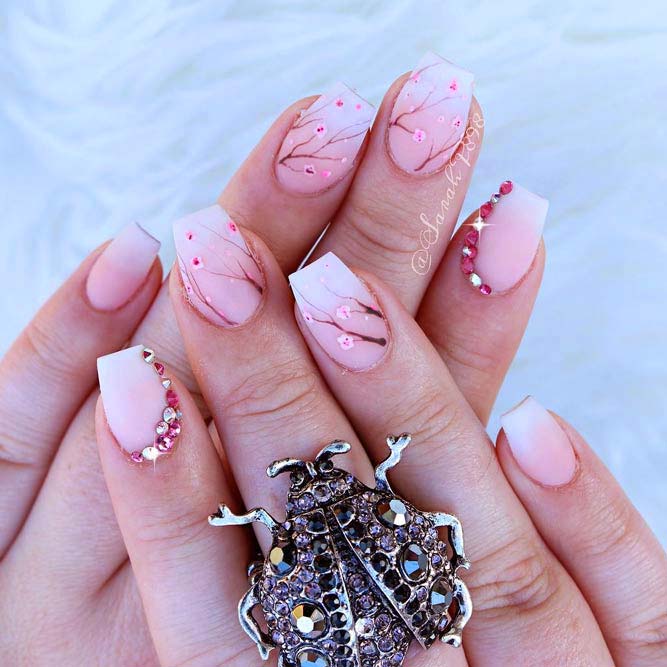 Source:
sarahsnailsecrets via Instagram
Blue And White Coffin Nails With Marble Effect
If you are one of those ladies who like to go full-in when they pay a visit to their nail artist – this blue marble nail art may be exactly what you should give a try next time you are headed for your manicure. Even though, the design looks complex over the edge; it does not look vulgar or out of place.
Source:
sarahsnailsecrets via Instagram
Matte And Glossy Mix For Short Coffin Nails
When you do not know what top coat to choose – shinny or matter it is best to combine them both. Besides, this gentle, lady-like nail art idea may be something to capture your heart.
Source:
celinaryden via Instagram
Rich Matte Emerald Short Coffin Nails
There is barely any shade that short coffin nails would look inappropriate in. This emerald green manicure is the best proof to the point. Rich green shades combined together and spiced up with the rich rhinestone pattern will steal all the attention no matter where you go!
Source:
sarahsnailsecrets via Instagram
Amazing Turquoise & Gold Nails Design
There are people who like to experiment with shades that are anything but usual. This turquoise and gold nail art is the best representative of the kind, what makes it even more special – is the coffin shape!
Source:
_stephsnails_ via Instagram
Mermaids Design For Coffin Nails With Rhinestones
If you wish to escape from reality for at least a while, we may have a suggestion in mind. The best way to achieve the goal is to give in to this perfect mermaid manicure for coffin nails.
Source:
ivymaybeauty via Instagram
Black And Metallic Combo For Coffin Nails
Sometimes it is difficult to make up your main whether bold or sweet you would like your nails to look. That is when it is best to think about the compromise. A little bit of metallic, a little bit of sparkle and negative space plus some black shading will deal with the task!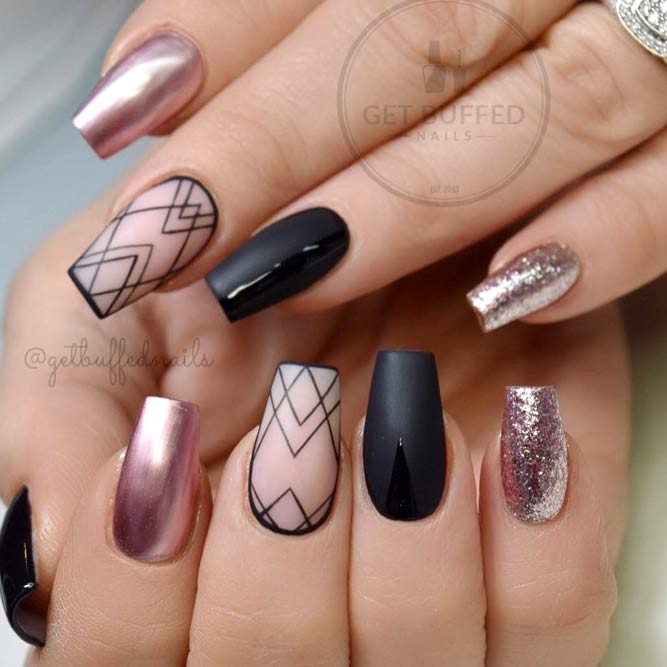 Source:
getbuffednails via Instagram
White And Cobalt Blue Hand Painting Nails Design
Whenever you combine white and cobalt blue hues, the result is always breath-taking. In case you do not trust us all you need to do is to have a look at this marvelous nail design!
Source:
_stephsnails_ via Instagram
White & Gold Mix With Chevron Nails Accent
It seems that the match of gold and white were made in heaven that is why you should not miss the opportunity to combine the two when you can. Besides, we have a perfect suggestion in mind!
Source:
annieph.nails via Instagram
Matte Black Short Coffin Nails
There are times when there is nothing else required to make a statement but a single shade. Black matte coating for short coffin nails may be your perfect chance to speak up your mind!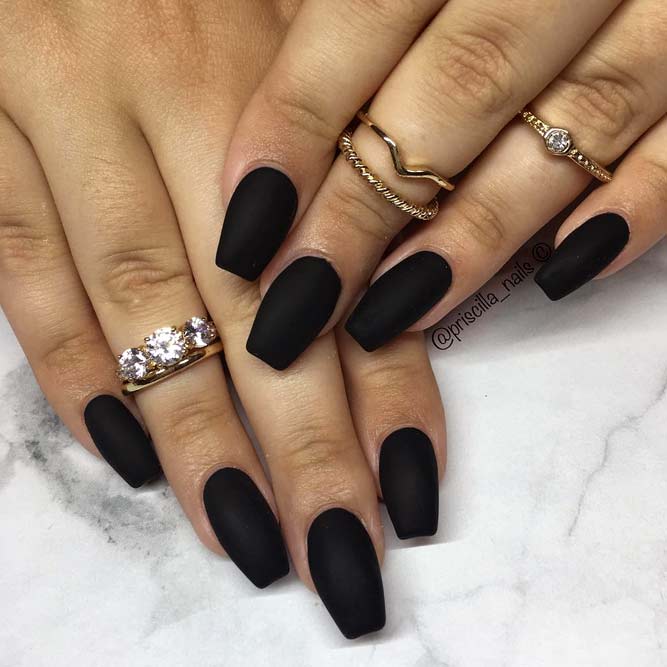 Source:
priscilla_nails via Instagram
In case you like these nail designs, do not forget to share them and come back any time you need a fresh and stylish idea for your next mani.
Main photo by Сelinaryden