Holographic nail polish is something that every fashionable lady not only knows about but also is eager to pull off whenever there is a possibility. The thing is that unlike any other nail polish holographic one grants you not just one shade but the whole rainbow captured on your fingernails. If there is anything more miraculous-looking – we know nothing about it! What we do know is that it is quite difficult to come up with the best holographic nail polish since the available variety is more than impressive. We have brooded over this fact for a while and decided that it will be very useful for you to know about the best available holographic polishes existing out there and reasons why you should acquire at least some of them!
KBShimmer Holographic Nail Polish
In case you are not a huge fan of clear holographic nail polish and look for something more pigmented and a lot more noticeable then you surely need some KBShimmer! The thing is that it is not only gorgeous-looking but also available in many shades not to mention all possible textures. You can easily get inspired by the ideas gathered by us or you can look for something of your own, but there is one thing to keep in mind – in order for your nail color to look flawless and opaque you need to apply three coats of KBShimmer.
Source:
victoriaoliviaxo via Instagram
Source:
victoriaoliviaxo via Instagram
Source:
kbshimmer via Instagram
Holographic Nail Polish OPI
Those of you who are mesmerized by the beauty of this pink holographic nail polish should be aware that such perfection can be created with the help of OPI nail polish. It is true that OPI nail polishes are gorgeous, but the downside is that the OPI nail polish price is a little higher than many other nail polishes. If this fact does not bother you that much – it is totally worth trying any of these holo nail art ideas!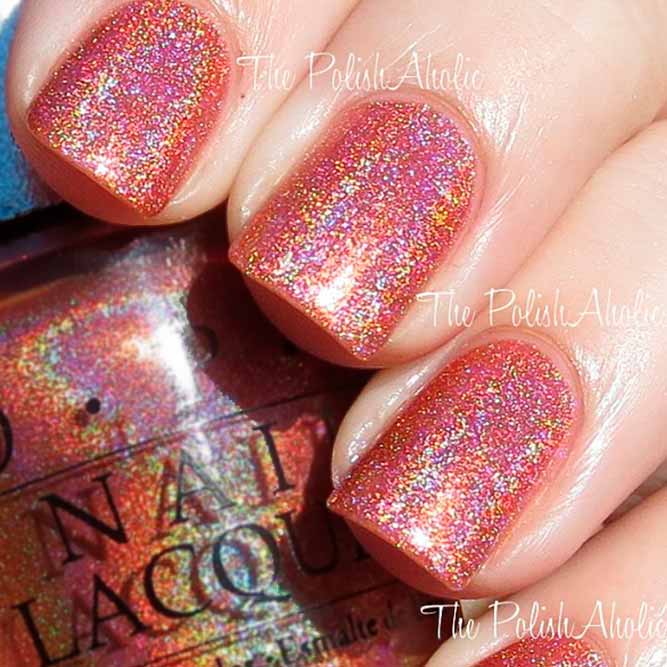 Source:
thepolishaholic via Instagram
Source:
opi_products via Instagram
Source:
cosmeticsanctuary via Instagram
ILNP Holographic Nail Polish
Holographic nail polish range suggested by I Love Nail Polish is super impressive, that is the truth. When you wish to accent your manicure most, this is the type of holo nail polish you need to consider in the first place. Among other advantages you can surely point out its lasting effect, and only two coats of this polish are more than enough. What is more, it is absolutely cruelty-free and vegan. Yet, beware that three coats of Ilnp may be too much for some of you, other than that – it is an amazing choice!
Source:
victoriaoliviaxo via Instagram
Source:
lakkomlakkom via Instagram
Source:
victoriaoliviaxo via Instagram
Color Club Holographic Nail Polish
Unlike any other holographic glitter gel nail polish, the one suggested by Color Club is highly dependable on the lighting. The thing is that sometimes when there is not that much light in the room, it may appear like any metallic nail polish but let the light in, and the dramatic change is easy to grasp even for those who are anything but fashionistas. Of course, it is rather a fresh perk than a disadvantage, but we think that you should be better warned than later disappointed. Other than that – color club nail polish is fantastic!
Source:
lisa_kovacs76 via Instagram
Source:
tinesuchtnachmehr via Instagram
Source:
heatherd_nails via Instagram
Essie Holographic Nail Polish
There is rarely any lady who is into nail fashion and haven't heard about Essie nail polish list of advantages. It is true that the collection of shades provided by Essie is breath-taking, what is more, they add something new to the collection at least once a year. The application is flawless no matter which one Essie nail polish you opt for. And that is not all of the advantages – Essie nail polishes are extremely lasting, and that is amazing! That is why we couldn't but bring to your attention a list of holographic options created by Essie. Yes, we know that this collection proves that magic is real though it is pretty costly. Well, nothing is perfect, right?
Source:
nailsonthames via Instagram
Source:
dimondsndprls via Instagram
Source:
essiepolish via Instagram
ZOYA Holographic Nail Polish
Another perfect holographic nail polish set of ideas is suggested by ZOYA. Of course, it is worth mentioning that ZOYA nail polishes last up to five days even without a top coat, fascinating, isn't it? But there is a little downside to ZOYA holo nail polishes – it can appear uneven if you do not apply it in perfectly precise movement. But, we are sure that such a professional as you are will deal with in a blink of an eye! What is more, ZOYA polishes are absolutely free of lead, formaldehyde and other harmful chemicals, and you can wear it with no fear during the pregnancy.
Source:
theswatchaholic via Instagram
Source:
zoyanailpolish via Instagram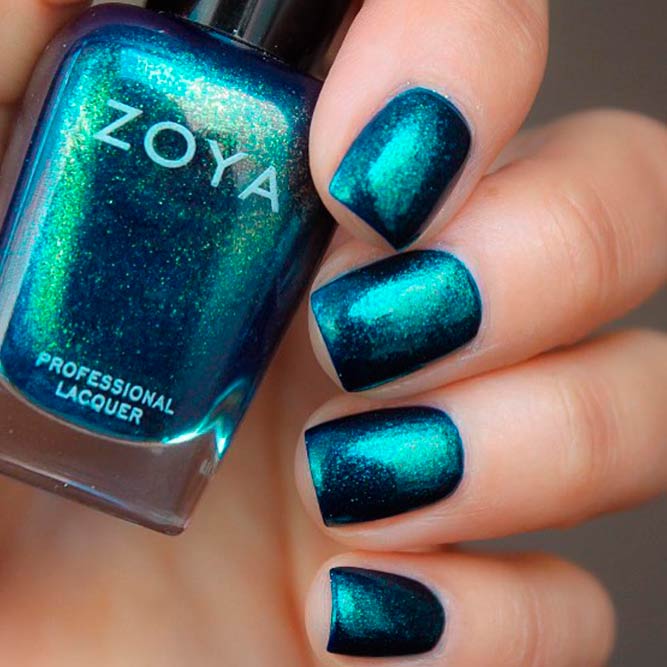 Source:
alesplotnikova via Instagram
Born Pretty Holographic Nail Polish
The name Born Pretty speaks for itself, doesn't it? The holographic nail polish collection suggested by the company is as impressive, and it is worth mentioning that it is pretty affordable.
What is more, you can easily experiment with the creation of some intricate designs since the perfect formula allows it. With such a set of advantages, it is difficult to resist the temptation and buy a lot more than just one!
Source:
nailpassion_nl via Instagram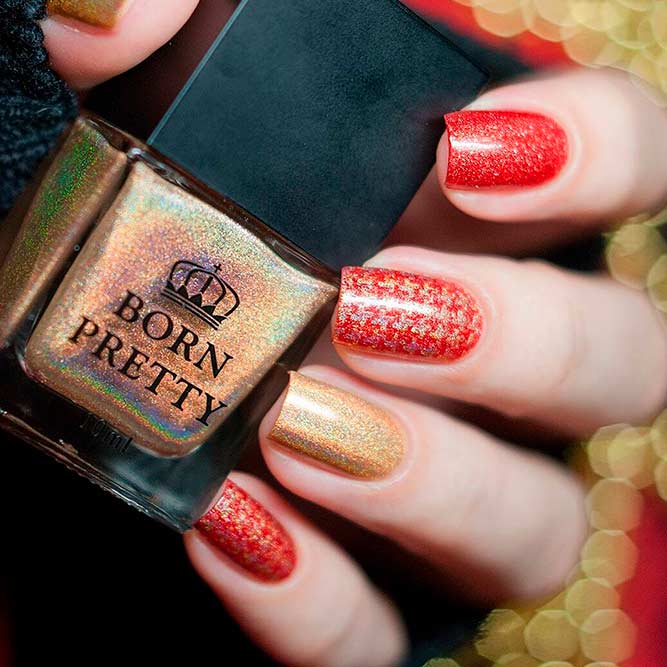 Source:
irina_zorg via Instagram
Source:
lacktastisch via Instagram
Time doesn't stay still, come back for a fresh update any time you decide that you have tried it all!
Main photo by Nailpassion_nl