Grey nails are the ones that usually get underestimated. The thing is that grey is one of those neutral shades you tend to rarely pay attention to. Yet, gray nail art designs are far fancier than you can imagine. In fact, grey shades are pretty elegant and sophisticated. What is more, you can always use grey as a background for many other nail colors and designs. That is why we have decided to treat you with a nice and trendy portion of grey nail art to get inspired with.
Matte Grey Nails Ideas
Matte nails have been trending for a while now. That is why adding to your grey nails matte top coat is what you need to look both neutral and elegant. Grey and pink nails will suit those of you who like to keep their nails look gentle and sweet. While those of you who seek a bolder decision will totally like this matte combo of black and grey.
Source:
nailsbyjema via Instagram
Source:
nailsbyjema via Instagram
Source:
veryemily via Instagram
Sparkly Glitter Grey Nails
Grey nails with glitter are something that you need to look a little bit edgy, but without going over the edge with it. What is more, grey acrylic nails with glitter are that special thing you need to finish off your festive look when holiday season hits. When it comes to coffin nails designs matte gray paired with glitter looks more than special and quite exquisite.
Source:
nailsandtowel via Instagram
Source:
nailsbyeffi via Instagram
Source:
coewlesspolish via Instagram
Gray Nails Designs with Rhinestones
There is no way gray nails designs would look any more special when there would be no rhinestones involved. When there are rhinestones, there is beauty and uniqueness. Be it black and grey nail designs or pastel grey, they will all look extraordinary and elegant if you add some rhinestone patterns to them.
Source:
sveta_sanders via Instagram
Source:
nailsbymztina via Instagram
Source:
selfie_beautyclubvia Instagram
Gold and Silver Accents
There are two main accents which never seize trending. What we have in mind are gold and silver accents added to our nails. Be it simple stripes, dots, rhinestones or even nail polish – they will take any design to a new level. Grey nails are not the exception. For example, grey and silver acrylic nails look extremely sweet and sophisticated, and there is no occasion that they wouldn't fit into.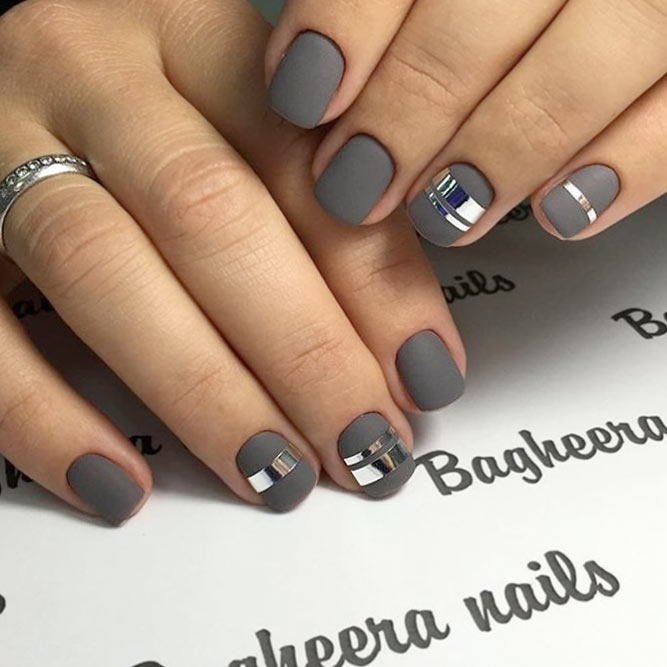 Source:
nail__master__russia via Instagram
Source:
badgirlnails via Instagram
Source:
noemihk via Instagram
Trendy French Tips
When it comes to French tips, we all know that it is the definition of a classy manicure. Yet, we would like to show you that French mani can be different, with the hints of class but a lot trendier. Those of you who prefer their grey nails acrylic will totally appreciate this blood-red and grey combo, while those of you who are all about the traditions will definitely appreciate this French tip and pastel grey combo.
Source:
selfie_beautyclub via Instagram
Source:
acelyanin.makyaji via Instagram
Source:
nail_sunny via Instagram
Grey Nails with Prints
When it comes to grey nails, it is a mere fact that they look neutral but stylish and elegant. But, once you combine them with an additional print, you will be astonished by the transformation. Grey and white nail designs, with no difference either they are hand-drawn, or it is stamping, or stickers look mesmerizingly cute and stunning!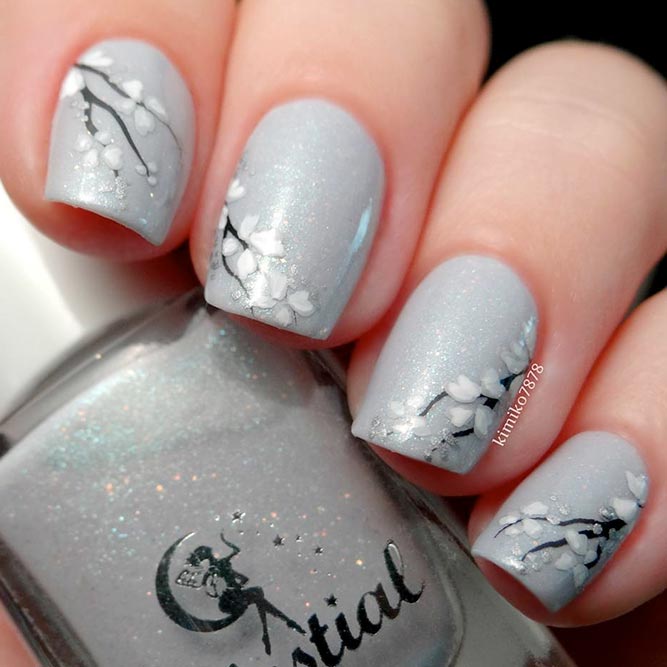 Source:
kimiko7878 via Instagram
Source:
i_annylook via Instagram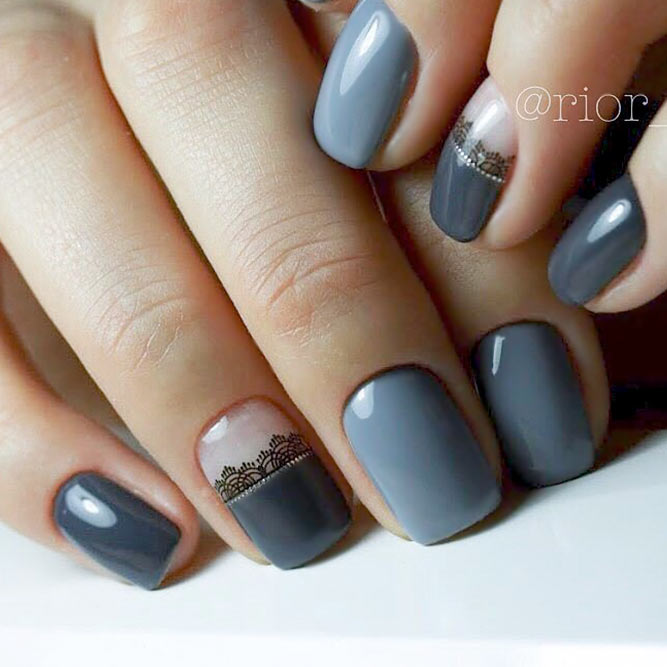 Source:
rior_nails via Instagram
Simple Designs with Different Grey Shades
Those of you who do not like to go over the edge with their nail art can pull off sheer gray mani with no worries. The thing is that there are lots of gray shades that will definitely suit all tastes and outfits. That is why in case you want to look fashionable and stylish, we recommend you try sheer grey shades out, no matter pastel or dark with no accessories included.
Source:
nailsbymztina via Instagram
Source:
jessicariviery via Instagram
Source:
live.love.polish via Instagram
In case you like these nail designs, do not forget to share them and come back any time you need a fresh and stylish idea for your next mani.
Main photo by Sveta_sanders