Halloween nails are always a fun way to scare and delight your friends. From blood dripped coffin nails to pretty pumpkins, there are so many cute and spooky designs for Halloween nail art.
If you want some fancy nails this Halloween, you have come to the right place! We have it all from spooky ghosts to Halloween manicures to scary spiders and wicked witches!
Check out our spook-tacular gallery of cute nails for Halloween! And watch out for things that go bump at night!
Glow in the Dark Ghosts
These nails are sure to spook everyone! The fluorescent green ghosts on a matte black base will glow in the dark for a spook-tacular effect!
Source:
Dulllikeglitter via Instagram
Bloody Good Time for Halloween Nails
These sparkly red drops of blood on a shiny black base are edgy and eerie.
Source:
Sassyshelly
Monster Manicure
This manicure with a ghoulish green to sparkly black fade on the tip is a fun take on the traditional Halloween manicure!
Source:
Chalkboardnails
Cool Cobweb
Paint thin 3D white cobweb on your black nails to give them a ghastly appearance!
Source:
Rina-alcantara
Enchanted Forest
This pretty orange and yellow ombre fade looks just like a fall sky. Paint some dark trees, bats, and a spooky moon on your nails to remember a haunted forest.
Source:
Lacquerstyle
Spooky Spiders for Your Fancy Nails
Paint some realistic black spiders on a nude base to really freak out your friends!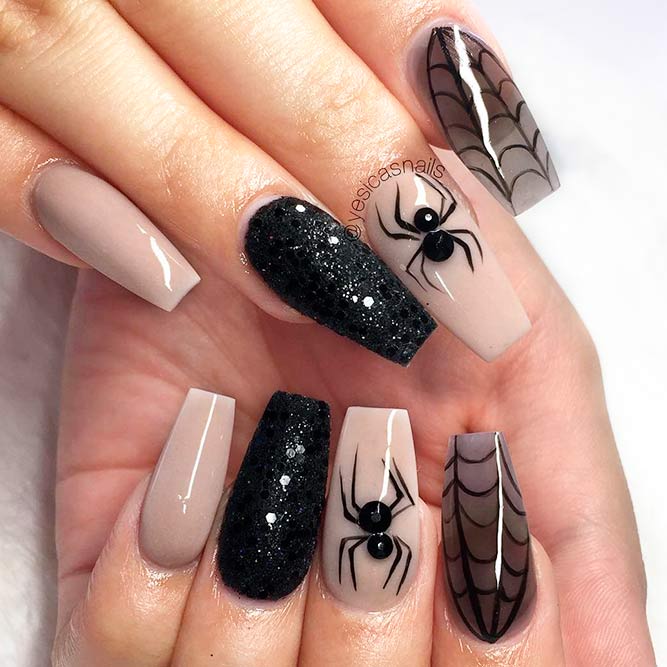 Source:
Yesicasnails via Instagram
Candy Corn Manicure
If you want a look that's still based on Halloween but not too spooky, try this funky manicure with yellow, orange, and white tips that look just like candy corn!
Source:
Thepolishaholic
Simply Batty
These spooky black bats on a white base will give your friends the chills!
Source:
Rina-alcantara
Haunted Mansion
Paint some spooky black silhouettes of haunted houses on orange nails for a harrowing experience!
Source:
Amkuch15 via Instagram
Black Cat Manicure
This manicure with black cat tips is both cute and spooky!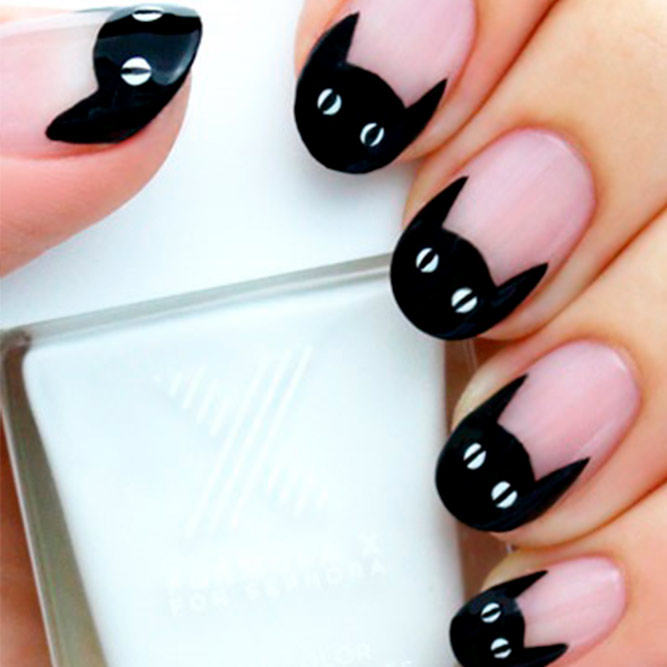 Source:
Hannahroxit
Grim Reaper Halloween Nails
This blue-gray ombre fade is super spooky, but the Grim Reaper on the ring finger is what makes this look totally terrifying!
Source:
Kellimarissa via Instagram
Cute Nails for Goth Girl
This red and black plaid design is super cool and edgy. Paint some goth symbols on your nails to make this look perfect for Halloween.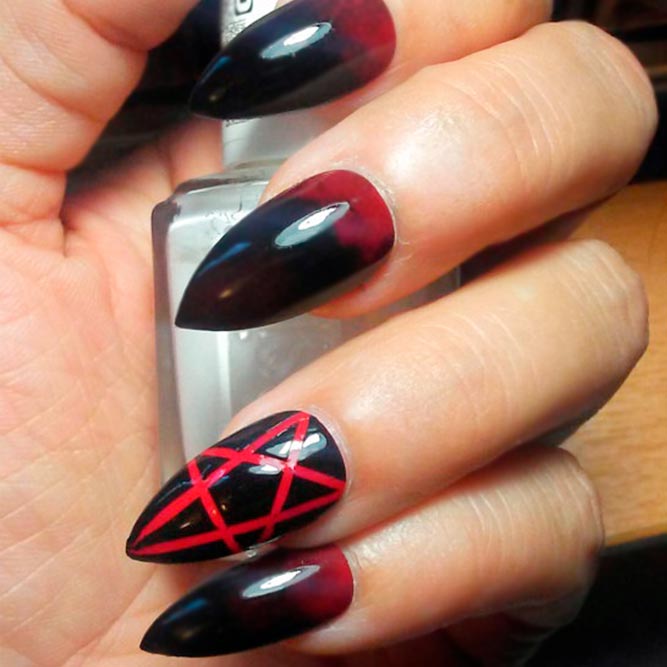 Source:
RitualNailDesigns via Etsy
Skull Art
Paint some white skull art on your matte black nails for a scary and edgy effect!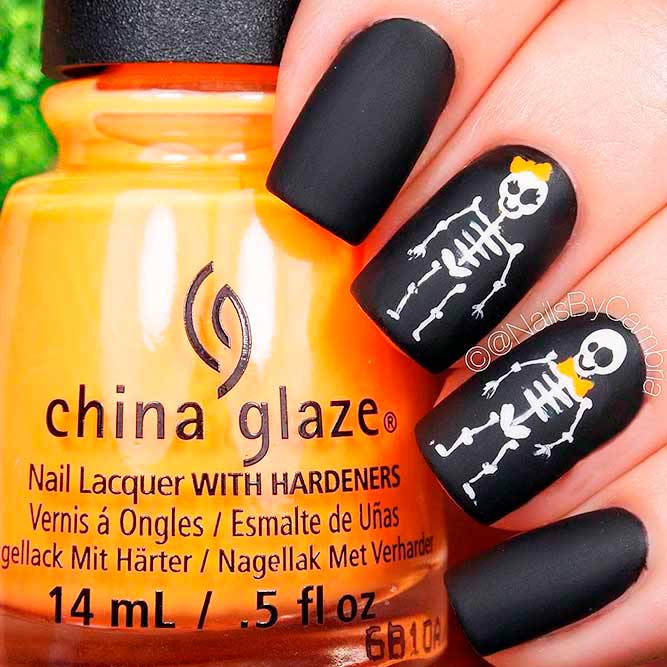 Source:
Nailsbycambria via Instagram
Bloody Tips
This red and white Halloween manicure will get you noticed. And the dripping blood-red tips will make your friends wonder what you've been up to!
Source:
Simplynailogical via Instagram
Jailbreak
These white and black thin striped nails will make you look like an escaped convict. Paint a creepy face on one of the nails for a blood-curdling effect.
Source:
Nailsbycambria via Instagram
Spiderweb Tips
This black French with a transparent base is really cool. Paint some spiders on the nails and silver spiderweb on top of the tips to give them a scary vibe.
Source:
Wackylaki
Midnight Moon
These matte navy black nails are really pretty. What sets them apart is the picture of a planet on each nail. This look is cute for those with shorter nails who want to show their love for Halloween.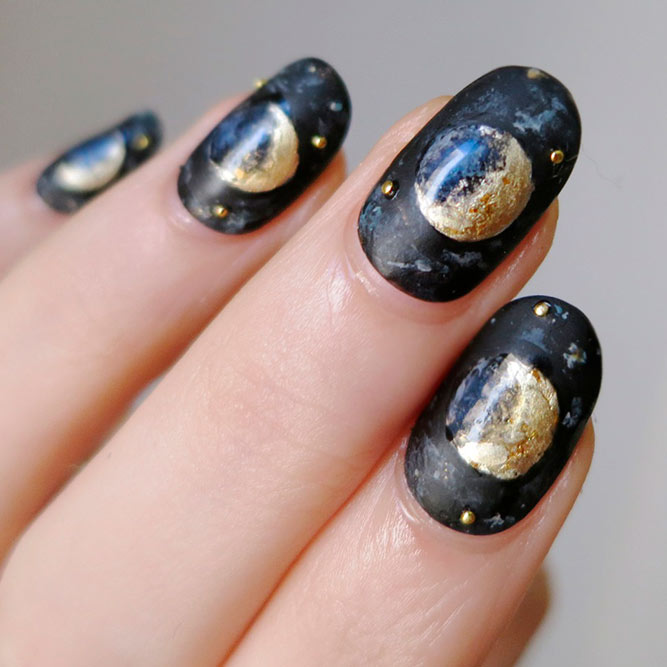 Source:
Ladycrappo
Pumpkin Patch Manicure
Adorn your tips with cute pumpkins for a fun take on a French manicure.
Source:
Kellimarissa via Instagram
Witchy Nails
Black nails with sparkles are totally wicked. Paint a cauldron or witches hat on your accent finger to finish off this super cool look.
Source:
Cdbnails
Evil Eye
Paint your nails a matte black base. Paint an evil eye on your ring finger to let your friends know that you're watching their every move!
Source:
Esnail_la via Instagram
Aren't these funky Halloween nails super spooky? Are you ready to scare your friends? Try them all this fall and show your love for Halloween with these wickedly scary nail art designs!
Main photo by Lacquerstyle