It is true that fall nail colors have something unique about them and that something tends to change with every year. Since the summer is passing it is the time you prepare yourself to greet fall in all armor, and your perfectly painted nails should not be an exception. That is why we have gathered here all the trendiest fall nail shades according to Pantone 2018 and some spicy nail art 2018 ideas to replicate. Read on and enjoy!
Red Pear – Perfect Burgundy Shade
Fall season nails in burgundy shades are just perfect. That is why this Red Pear burgundy nail art combined with rhinestone accent nail is so fitting for the season. Such a manicure will suit any outfit or occasion.
Source:
amur_nails via Instagram
Valiant Poppy – One Of The Most Classic Fall Nail Colors
There are shades that are trendy no matter the season and red is surely one of those colors. However, adding matte finish and some minimalistic striped black pattern will make your nails look fabulous according to fall nail trends. Try it out when autumn strikes!
Source:
nails_harbor via Instagram
Ceylon Yellow For Warm Floral Manicure
Very often all the bright nail polish colors are left for summer. Yet, we think that this muted yellow nail art with some flowers added will suit the season no worse than any other shade. If your life lacks so brightness – let the Ceylon Yellow in!
Source:
ninanailedit via Instagram
Martini Olive – Magnificent Velvet Shade For Low-Key Nails
Occasional martini is a great idea, but adding some Martini Olive nail shades to your nail art designs is surely as worthy. White to olive ombre transition can be that one perfect accent you can spice your nail art with!
Source:
lackschaft via Instagram
Limelight – Suitable Yellow For Fall Manicure 2018
Limelight nail polish shade speaks for itself, but as every autumnish shade, it is not as bright as it could have been. However, that does not mean that it is any less gorgeous or fabulous. Besides, there is nothing better than some glitter accent to take any shade to the whole new level of fancy.
Source:
viktoriyaandreeva_nailart via Instagram
Russet Orange – Bright Pumpkin Color For Halloween Nails
Autumn is all about holidays and pumpkins, that is why Russet Orange color is one of the best to pull off when the season hits. It is so juicy and elegant that it is difficult to resist!
Source:
la_avenail via Instagram
Ultra Violet – Most Popular Color Of The Year
It is not a secret to anyone that violet shades are on the top this year no matter the season. That is why we suggest to your attention this ultraviolet floral nail art to greet the season looking your best!
Source:
lackschaft via Instagram
Crocus Petal For Delicate Geometric Manicure
Some ladies prefer gentle shades nail ideas all year long, and we can't say that we blame you in case you are one of them. What is more, this super sweet geometric nail art may come in handy when you decide to pull something fresh off for the upcoming season.
Source:
lackschaft via Instagram
Nebulas Blue – Bright Shade For Fall Season Nails
Vibrant fall nail colors such as this Nebula Blue are suitable for all the seasons, especially if you pair it with gentle silver sparkles. Just one accent nail and your blue-shaded manicure will look irresistible!
Source:
want_nail_studio via Instagram
Stunning Fall Nails Using Quetzal Green Shade
Metallic shades seem not to go anywhere no matter the season. However, trendy tints are what you need to look unforgettable and ravishing. This emerald green manicure is simply fabulous despite the variety of tints don't you think?
Source:
puro.nails via Instagram
Sargasso Sea – Rich Deep Blue For Аor Вark Сolors Lovers
We couldn't simply pass by this great nail art idea. The thing is that sometimes all that you need is one solid shade and it will take your manicure to the completely new level just in an instant. This rich blue glittery shade is exactly what we have in mind!
Source:
ikki_nails via Instagram
Tofu – New White Shade For Gentle Nail Art
White shades are always in because they are so gentle and elegant, but there is always a way to spice things up. What we have in mind is the addition of a fascinating floral accent to your matte white nails, and Tofu shade is the best to help you succeed with this masterpiece.
Source:
ikki_nails via Instagram
Almond Buff As The Best Beige Nude
Even neutral manicure requires a trendy upgrade from time to time, and we happen to have a perfect idea in mind. How about adding some geometric pattern to your beige base? We think it looks marvelous!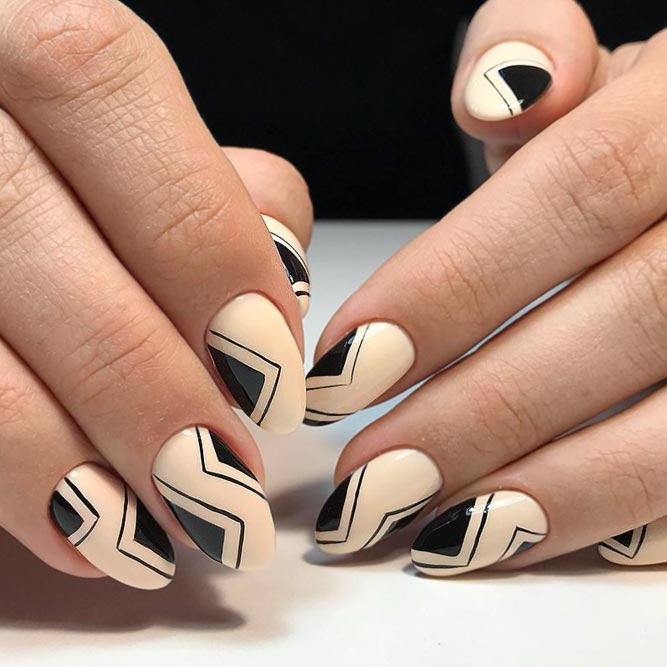 Source:
viktoriyaandreeva_nailart via Instagram
Flawless Minimalist Manicure With Quiet Gray Color
Those of you who are all about minimalistic manicure ideas will surely appreciate this quite grey nail polish out of all the fall nail colors. Besides, there is always a way to heat things up with some minimalistic but intricate pattern!
Source:
lackschaft via Instagram
Meerkat – Shade Of Fallen Leaves On Your Nails
The best way to meet the season is to combine the trendy colors together with trendy patterns in your manicure. Fallen leaves and plaited shirts – are the killer combo for your fall nails!
Source:
solo_nails via Instagram
Fall nail colors are very vibrant and versatile, and it is time you learn about what is going to be on the top when the season hits. We can assure you that among these fashionable shades and trendy fall designs there will be something special for you!
Main photo by Lackschaft