Press on nails can really help you out in the event of an emergency, like an unexpected date or business meeting, when every detail matters and the manicure is no exception. Or in case you just can't or don't want to spend time and money on the visits to the nail salon. Or no matter how hard you try to grow out your natural nails, they still break easily. We feel your every pain, thus prepared a brief guide to the press on manicure with useful tips and design ideas.
What Are Press On Nails?
Press on nails are fake nail tips that cover the whole nail. Lee Pharmaceuticals helped popularize them in the 1970s, thus becoming the forerunners of the tips we have today. Now, they are made of different materials. For instance, there are acrylic press on nails and gel.
Advantages / Disadvantages
Press on manicure has a number of advantages as well as disadvantages.
You should get it because it's:
affordable
easy applicable and removable
timesaving
versatile in sizes and designs
home-based
realistic
topnotch.
What can you stop from getting it is:
an arguably short lifespan (around to seven days)
the risk of weakening your natural nail when removing the tip.
the risk of your natural nail lifting by the popped off tips.
How To Do Press On Nails At Home?
The answer to the question "How long do press on nails last?" fully depends on the way you apply them. So, here's our step-by-step tutorial on how to properly do press on nails at home:
Cut or file your natural nails short.
Create grip with filing your nail surface.
Apply a drop of glue both to your natural nail and the tip.
Stick the press on, pushing with its bottom end under the cuticle.
Secure everything with a clear nail top coat.
These are the basic steps. However, we've also prepared some tricks and ploys to make the most out of your press on mani:
Apply a strengthening base coat to protect your nails before placing the glue.
Degrease your nails with the help of a polish remover before the application.
Pondering how to remove press on nails, first, soak them in warm water or apply an oil to loosen the hold of adhesive. Then try to slide them instead of pulling off.
Give your nails a couple of weeks to recover before the next application.
Various Designs For Press On Nails
Now, when you're armed with all the information you need to know about the press ons, it's time to choose the design that appeals to you the most.
Ombre Design For Coffin
These long press on nails combine several mind-blowing trends at a time. First, the color combo reminds of the classic French manicure with milky tips and nude nail beds. Second, as these two shades melt in each other, the ombre effect is achieved. And finally, the coffin shape brings it to the whole new level.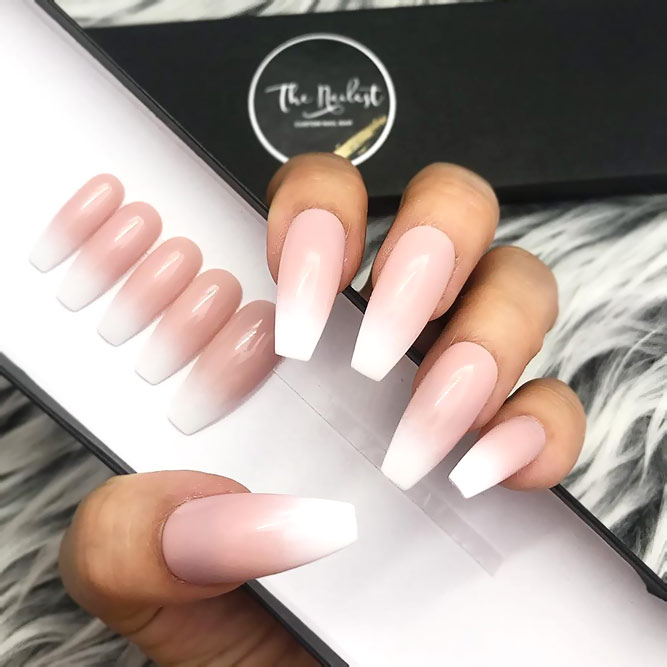 Source:
thenailestco via Instagram
Black Stiletto With Rhinestones
The black base makes almost any nail design pop, especially with rhinestones. The shiny and glamorous stiletto press on claws show off dazzling.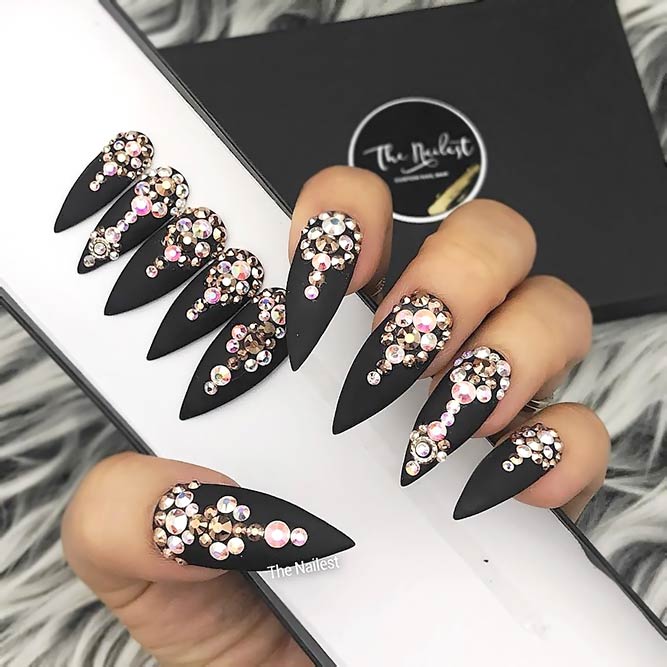 Source:
thenailestco via Instagram
Red Tips With Rhinestones For Coffin Nails
The coffin press on nails in classic red color with matte finish look daring and vampy. As a shiny accent, they embrace a myriad of rhinestones on the ring fingernails.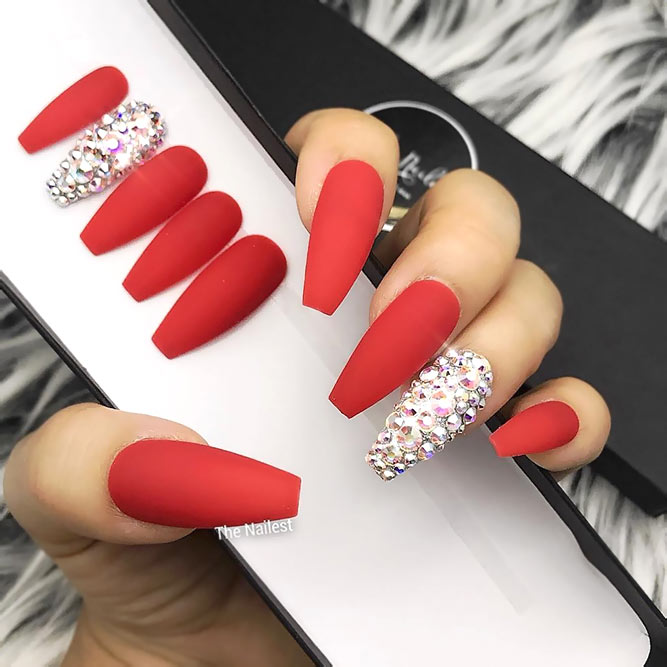 Source:
thenailestco via Instagram
Glitter Design Stiletto
Stiletto press ons come out very bold themselves. Though, you can upgrade them to the killer look by simply opting for glitter design.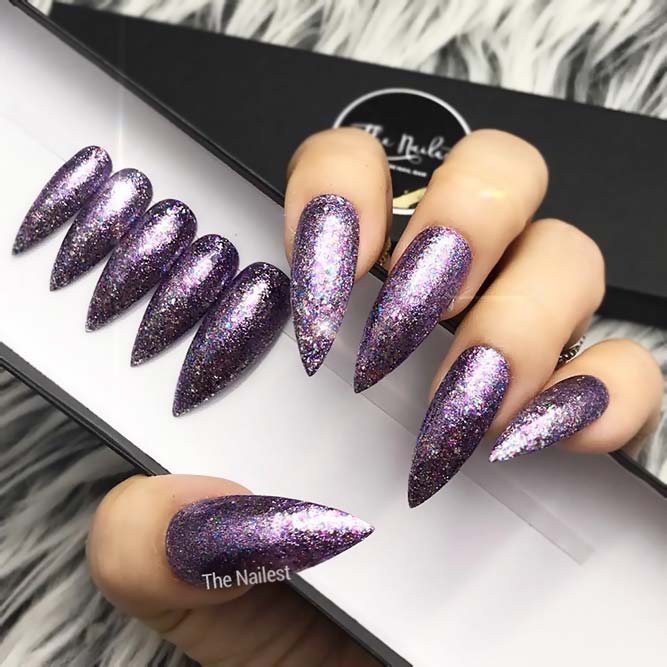 Source:
thenailestco via Instagram
Square Nude Press Ons With Chrome Accent
If you're after rather natural looks, go with square nude fake tips, such as this Kiss press on nails with chrome accent on the ring fingernails.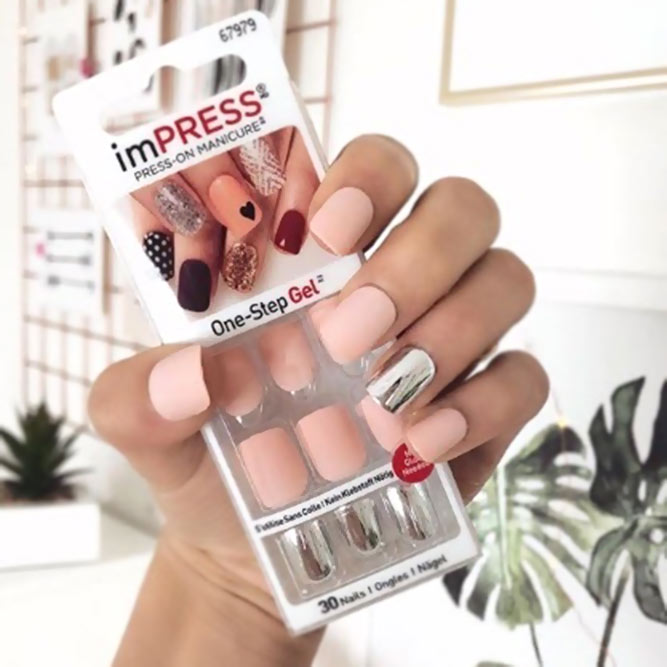 Source:
impressmanicure via Instagram
Gold Glitter Design For Oval Press On Nails
Another naturally-looking option is oval gel press on nails, featuring two winning colors – white and gold. The latter can be used in a form of different cute patterns or solidly.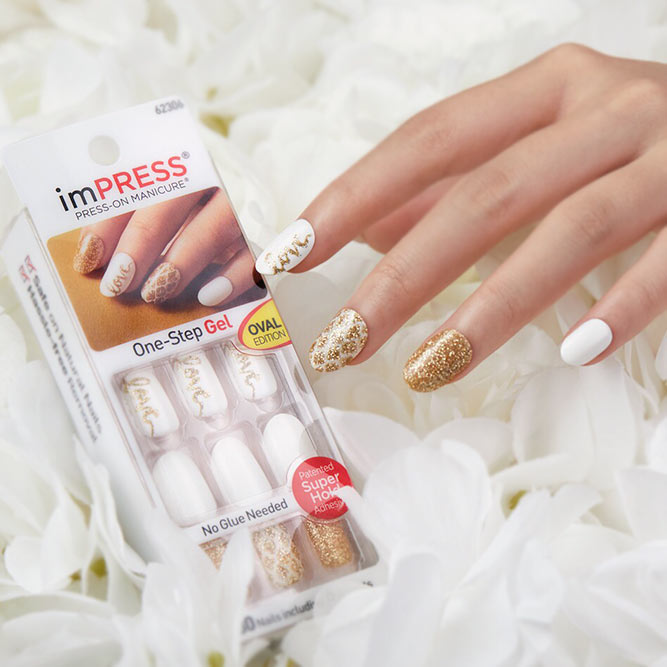 Source:
impressmanicure via Instagram
Blue Press Ons With Holographic Ombre For Square Nails
Blue metallic and frosty white press on square nails with unusual holographic ombre are a match made in heaven. Say no more!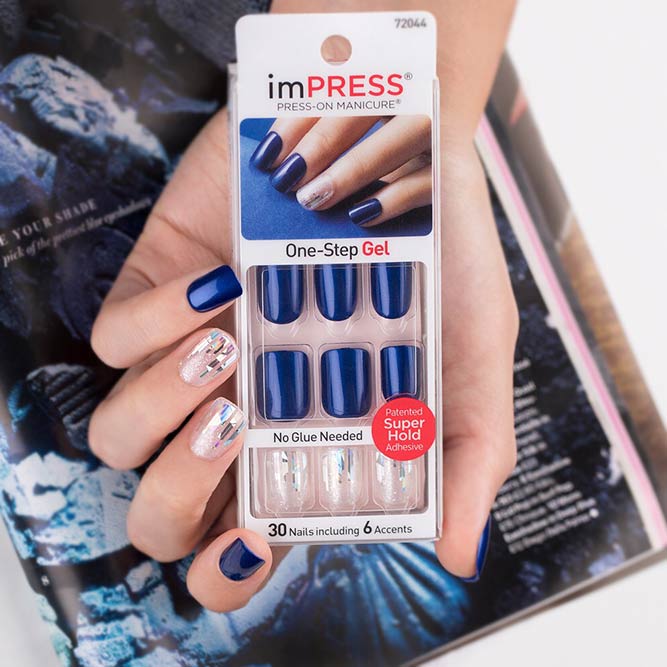 Source:
impressmanicure via Instagram
Flower Design And Chrome Accents For Round Press On Nails
Can you imagine a more girly manicure? These imPRESS press on nails offer you a very sweet and romantic combination of the baby pink enamel, dusty rose chromic and flowery designs on a round shape.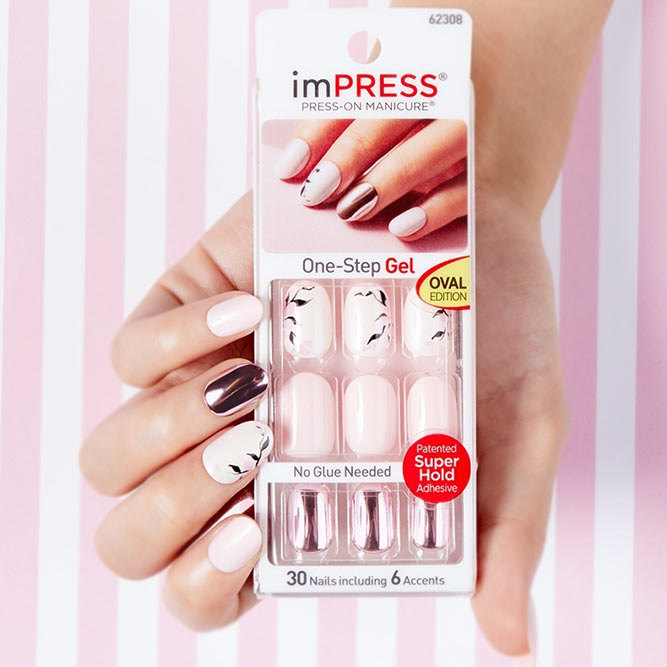 Source:
impressmanicure via Instagram
Lilac Squoval Press Ons With Broken Glass
Very edgy press ons partner unusual shape with the even more unusual design. Brocken glass glitter laid out on lilac squoval press on nails has a rather futuristic and enchanting air.
Source:
impressmanicure via Instagram
Nude With Glitter Accents For Round Press On Nails
Nude round press on manicure with matching glitter accents will be appreciated by business ladies with the semi-formal dress code at the office. For the completely formal look, just leave out the glittery tips and apply only nude ones.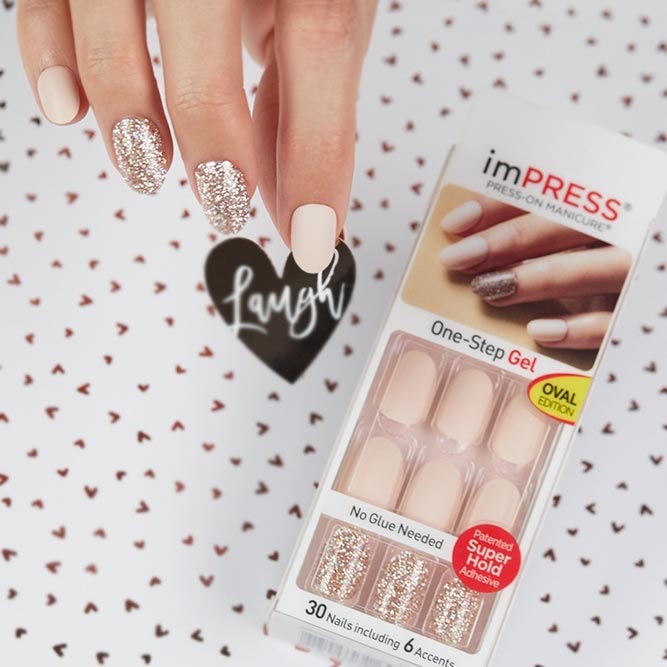 Source:
impressmanicure via Instagram
Press on nails can become a real savior in everyday life of busy women. They offer you quick, stylish and long-lasting manicure without any additional effort or expenses. We hope that these press on nails tips and ideas have given you inspiration to try them out yourself.
Main photo by Thenailestco