You can get festive glitter ombre nails not only during the holiday season! Wear sparkles on a daily basis if you want, especially if you adore everything that shines. Get inspired by our amazing ideas and create your own sophisticated mani. In case you can't get to a nail salon for some reason, these ideas are easy to copy at home.
Fantastic Glitter Ombre Nails
There are many tutorials on how to do ombre nails. This is one of the easiest looks to recreate. Just choose your base color and top it off with glitters.
Natural Glitter Ombre Nails
Ombre nails are a nice option for some formal or special occasion, like a birthday party. Your party won't go wrong with this beautiful glitter gradient.
Nude Glitter Nails
For a softer look, try some nude or neutral color as a base coat and top it with silver or rose gold. Transparent polish with gold glitter is to live for.
Pink Nails With Glitter Ombre
Reverse ombre is also popular in the beauty world. These combinations of polishes and blue and green glitter won't leave you indifferent.
Gold Glitter Ombre Nails
A mix of burgundy and gold is always a winning combination. If you are ready for something bold, purple is a nice option.
Color Glitter Gradient
Glitter ombre looks really gorgeous on long acrylic nails, especially with a stiletto or square shape.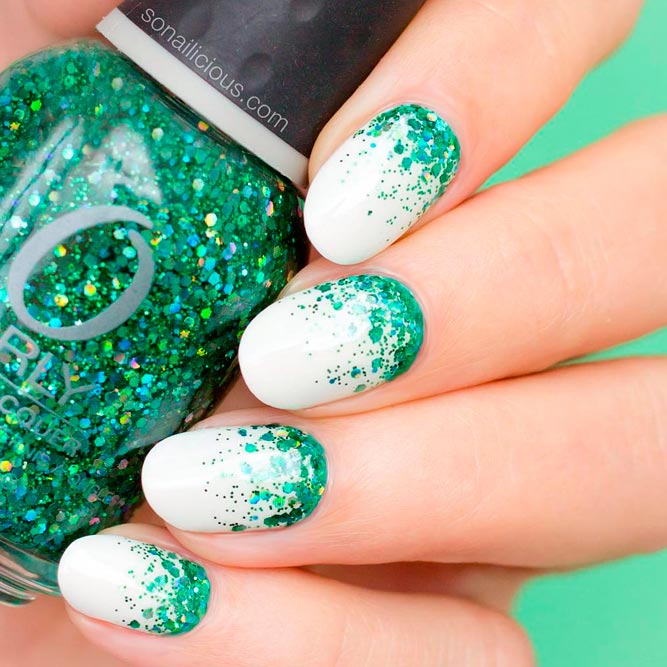 Glitter Ombre Red Nails
A different color for every nail is another popular trend in the beauty world. Perfect idea for those who can't choose only one.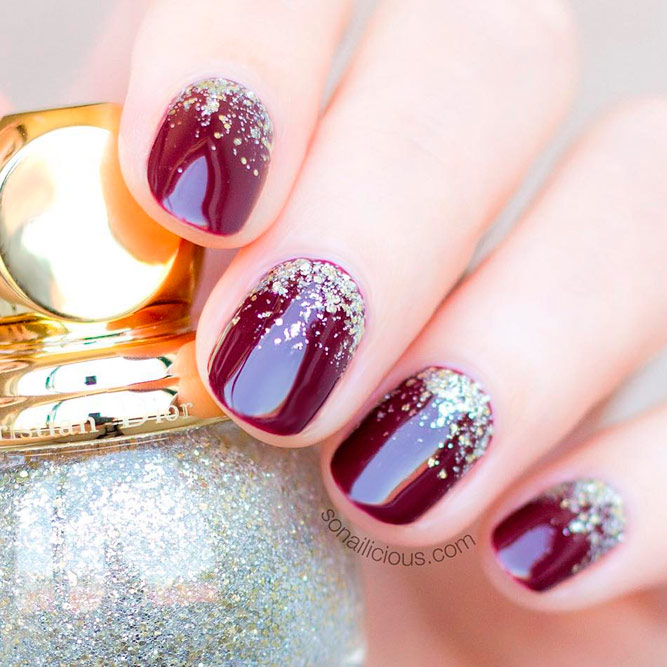 Blue Colored Nails Ideas
What is best way to add some dimension to your pastel shaded mani? Of course, glitter! Especially if it is a matching shade of glitter. Just look at this killer combo of blue on blue glowing ombre. There is barely anyone who would resist it!
Glitter Art for Square Nails
What is the best way to spice up these purple, square-shaped nails of yours? We think some lilac holo addition in a combination with tiny drop of sparkly ombre is exactly what you need!
Glitter Designs for Oval Nails
When you combine your trendy oval nail shape with not less trendy matte peach shades, there is barely anything that can be added. But we think that a hint of silver sparkles won't ruin the harmony.
Trendy Ideas for Short Nails
Who says that short nails are boring? We think quite the contrary. Just look at this magic and fun way these black nails are enhanced! There is never too much of silver sparkles, right?
Main photo by So_nailicious