We must agree that short stiletto nails are not less daring than their longer version. Besides, this nail shape is perfect for those who want their fingers to look slenderer. Yet, there is always a downside. You can easily hurt yourself with such a nail. But if you are careful enough, then you should simply give in to this most wanted trend.
Cute Short Stiletto In Blue Shade
If you stick to nail shapes chart stiletto one is surely one of the boldest ones, in case it is not the short stiletto, of course. The thing is that short stiletto nails can look perfectly simple and elegant especially with the addition of simple blue patterns to them do not trust us? See for yourself!
Source:
getbuffednails via Instagram
Bright Pink Stiletto Nails To Rock The Summer
You may already know that stilettos are the shape that is achieved with the help sharping really long nail into really pointy shape. However, when long nails are not your cup of tea, short stilettos come in handy. You can experiment with short ones without any limitation, in case that is something that bothers you. Bold shape and bright pink nail art will take the spot instead of length, and that is quite special too.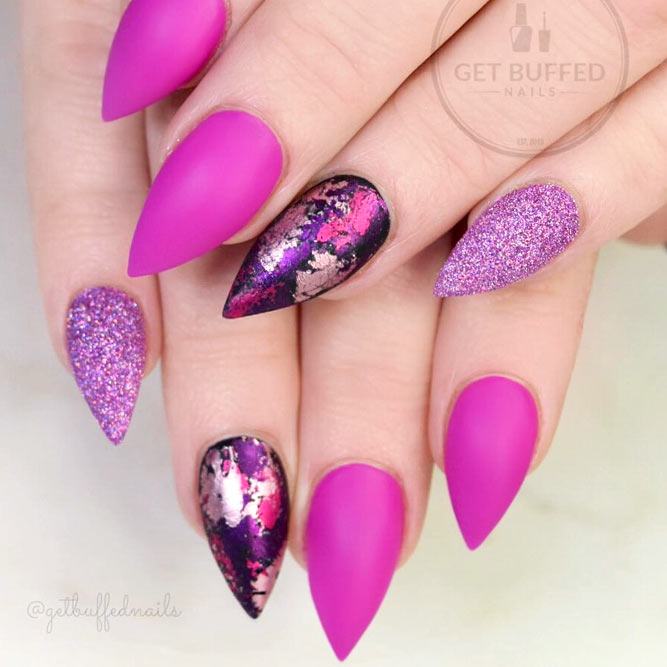 Source:
getbuffednails via Instagram
Stunning Stiletto Nails: Matte Top In Combination With Smoked Design
Short stiletto nails designs are suitable for the formal look too all you need to do is to come up with the perfect design idea. White base with the addition of smoked design and matte top suits the goal just great, what do you think?
Source:
sarahsnailsecrets via Instagram
Geometric Stiletto Nail Design On Perfect Rainbow Ombre
In case you are looking for some summery nail art ideas you have come to the right place! We think that this rainbow ombre adorned with intricate geometric patterns is just as summery as you need.
Source:
getbuffednails via Instagram
Black Matte Stiletto Nails With Rhinestone
Black matte stiletto nails with rhinestones is a bold option to choose from. What makes the design fit the sunny season is the bright rhinestone pattern, and we think it is more than enough in case you want keeping your nails bold to the extent.
Source:
sohotrightnail via Instagram
Modern Lime Green French On Short Stiletto Nails
Stiletto nails can be easily transformed into something entirely classic but trendy and modern. Just add lime green shade instead of white to achieve the French tip and then experiment with black and negative space to keep up with style.
Source:
sohotrightnail via Instagram
Rose Quartz Design For Restrained Manicure
Playing around with short nails may be tricky at some point since no matter the shape you still need length to experiment. If experimentation is not for you than short stiletto shape is just great for you not to mention that there is a fair share of simple and good ideas to pull off with it. For example, simple quartz nail at in pink shades with cute little bow accent works fine for the purpose.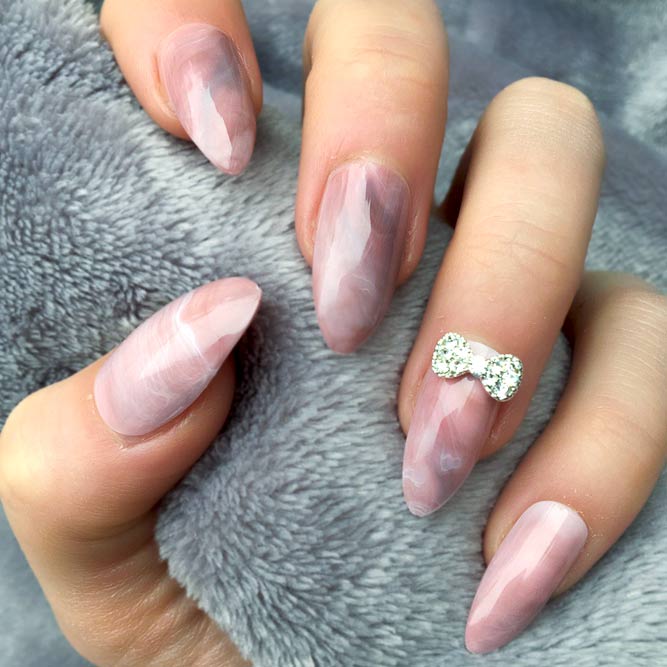 Source:
doobysnails via Instagram
Stiletto Nails: Short Length With Light Elegant Design
Keeping your stiletto nails short does not mean that you are limited in the range of ideas to pull off. Stylish black and nude combo adorned with the cute boho pattern is unique-looking so that you can surely give it a try or at least a thought.
Source:
nailsbymztina via Instagram
Mesmerizing Matte Color Block
Coating stiletto nails matte for many of you may seem like the dimming of the color. However, one look at this bright-colored matter manicure will surely change the perception.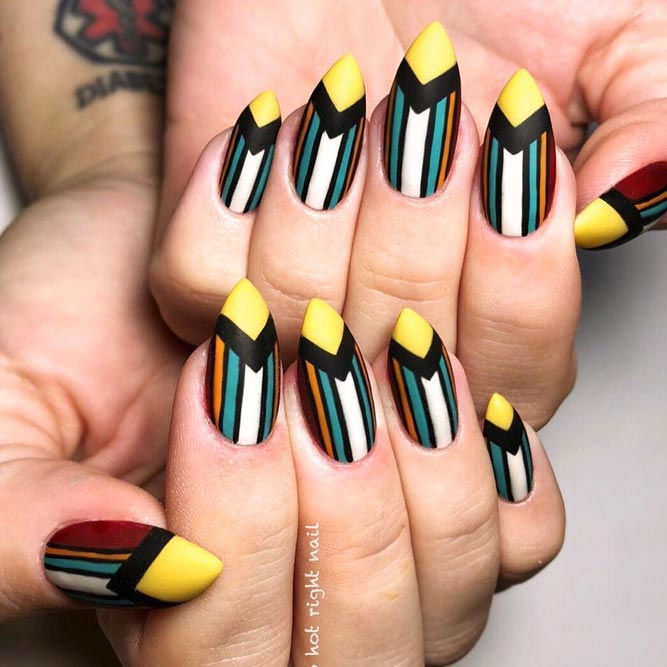 Source:
sohotrightnail via Instagram
Dream Stiletto Nails: Gold & Stones
Short stiletto nails can look very dreamy and luxurious, all you need to do is to add some gold hues and glitter to your neutral manicure. Trust us, from now on the perception of neutral manicure will be changed for you.
Source:
getbuffednails via Instagram
Galaxy Nails For Being In Touch With The Universe
Galaxy nails are on the edge of popularity these days, and there is no wonder why since who wouldn't want to discover new universes, right? What is more, galaxy nail art suits all the shapes with no exceptions, if your nails are short – worry not galaxy manicure will save the situation.
Source:
sohotrightnail via Instagram
Fantastic Tribal Nail Art For Short Stiletto Nails
It has been mentioned already; the fact that your stilettos are pretty short does not mean that you are limited in any way. The combination of astrological and tribal patterns together with blue and ivory-blue bases are the perfect proof.
Source:
celinaryden via Instagram
Stiletto Nails Black Bubble Design
There are times when the urge to pull off something unusual gets almost unbearable. In times like these – you better play around with this anything but usual bubbly contrasting nail pattern.
Source:
perfect10customnails via Instagram
Moon Inspired Stiletto Nails
It is only natural that space inspires many of us for many things but what about the planets? We thing moon nail art is as impressive and magnetizing as the Moon itself!
Source:
perfect10customnails via Instagram
Short Pointy Nails With Feminine And Elegant Design
Every lady cares about her nails because she knows that details matter. That is why if you are looking for something to emphasize your elegance and femininity – we have just a perfect idea in mind. The combo of black and nudes shades has always been special, and this nail design is surely not the exception.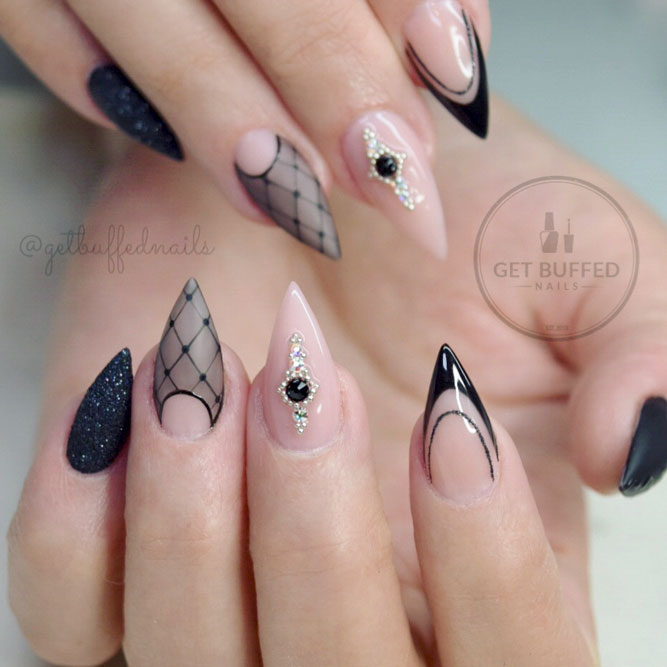 Source:
getbuffednails via Instagram
Unicorn Nail Design For Coquettish Girls
Fantasy nail designs are taking over the world of nail fashion these days. However, in many cases, unicorn-like manicure may be quite out of place until you have a perfect way out in mind. The thing is that unicorn many can be both gentle and thematic at the same time, and this is the perfect example for you.
Source:
kosmetycznahedonistka via Instagram
Matte Burgundy Stiletto Nails With Royal Chrome Pigment
Matte burgundy stiletto nails look gorgeous on their own, but in case you are willing to take the matter further, we know a way that you can spice things up a little. The thing is that chrome accent nail together with same royal French tip will complete the matte burgundy manicure like nothing else.
Source:
getbuffednails via Instagram
Short Pointy Stiletto With Sweet Dried Flowers
Those of you who wish to look over the edge special should try dried flower nail art. The chances that someone else will pull off the same look are thin, and the outcome is mesmerizingly cute!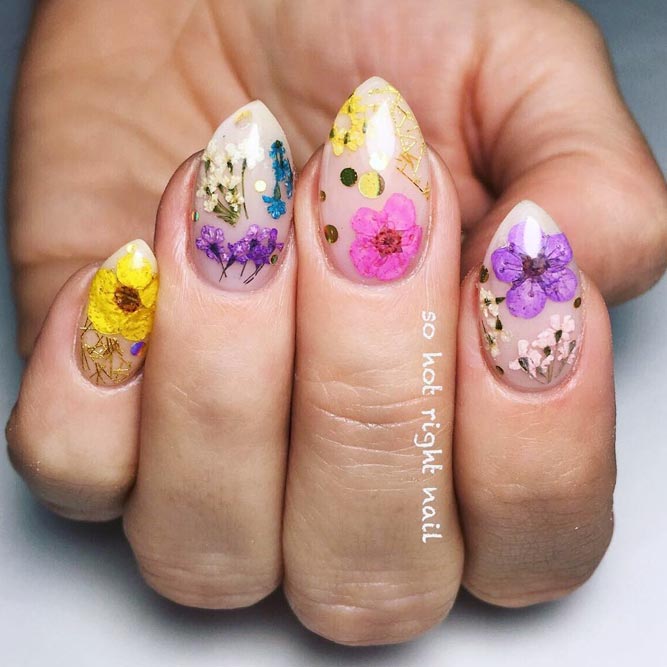 Source:
sohotrightnail via Instagram
Cute Pink And Marbled Nails
Stiletto nails can look not only bold and daring but also gentle and feminine. All that you need to do to achieve the result is to paint your nails pale pink and add sweet marble stone accent to your nails.
Source:
aymehnails via Instagram
Chic Sparkly Glitter Nail Tips
Classic French tip is an excellent suggestion for stiletto nails but when it becomes a little too used up – there is a perfect way out. Just sprinkle some glitter over your tips, and you will achieve an entirely new and stylish look.
Source:
esnail_la via Instagram
Pretty Blue Nails With Foil Accents
Pastel hues are still trendy, and many people choose them as the next manicure option. However, when mere pastel is not your cup of tea, we suggest you upgrade it with some transfer foil.
Source:
celinaryden via Instagram
Turquoise Chrome And Glitter Stilletos
When you are looking for a fresh mani idea to replicate there are many factors to take into consideration. Most women wish their nails to look stylish and feminine at the same time besides taking the design over the edge is not an option. In case you are one of those picky ladies you will surely appreciate this chrome and glitter nail art!
Source:
luminousnails via Instagram
Pretty Nude Nail Design With Accented Finger
Stilettos and nude shades look just perfect together. What is more, you can always spice things up with the addition of an accent finger.
Source:
luminousnails via Instagram
Stunning Nude And Glitter Nails
Very often you can hear the thought that neutral manicure and glitter are totally incompatible. Well, we say otherwise, the thing is that perfectly chosen glitter hues, and nude shades complete each other just fine.
Source:
luminousnails via Instagram
Stylish Marbles Nails With Smokey Effect
Marble stone patterns are very commonly used these days, but when regular marble effect become a little dull, there is another way out. Marbles adorned with smokey effect look just marvelous!
Source:
celinaryden via Instagram
Negative Space Heart Art
If you are a romantic at heart and you are not afraid to show it off, we have a just perfect idea for your next mani in mind. There is nothing more than the classy red nail art adorned with negative space heart accent. Simple, elegant and stylish!
Source:
home_of_deva via Instagram
Peach Nails With Rhinestones
Rhinestones will add a unique charm to any manicure. If you prefer bright shades and bold shapes, then the combo of peach color and stiletto shape are created for you. Besides, rhinestone pattern grants this manicure that special vibe.
Source:
nailsbymztina via Instagram
Main photo by Perfect10customnails