Lovely nails are always trendy. From a traditional French manicure to pretty floral designs, nail art has come a long way over the years.
Cute nails designs are fun for the holidays or for a seasonal look.
Easy nail designs are meant for every day to make your beautifying routine less time-consuming.
Check out our stunning designs for nail art.
Rainbow Raindrops
These rainbow raindrops are really pretty for a fun summer look. You can paint the base with the color of your choice and then make tiny raindrops in rainbow colors on each nail.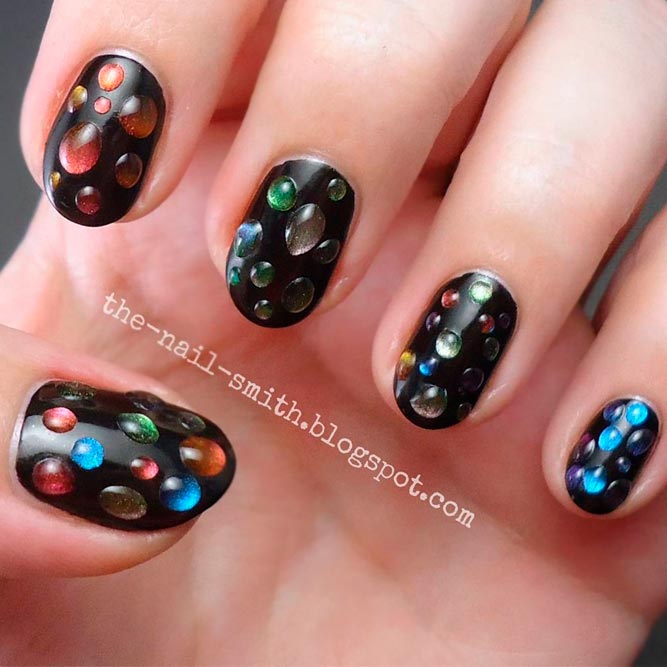 Source:
Milliethenailsmith via Instagram
Swan Lake
This pale pink and grey ombre is such a delicate shade. The graceful white swan on the accent finger gives it a demure effect.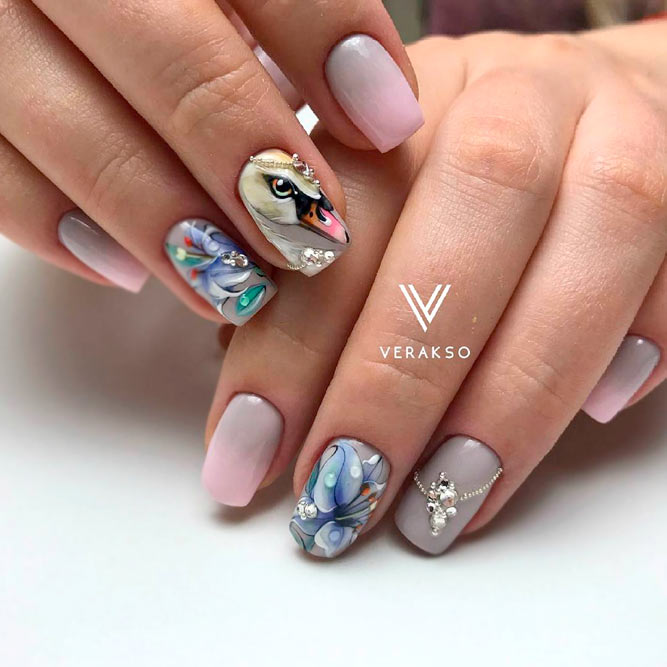 Source:
Verakso_nail via Instagram
Caviar Hearts
Caviar nail art is all the rage with 3D nail designs. Paint your alternating nails soft pink and baby blue and then make a pink caviar heart outlined in blue caviar on your ring finger.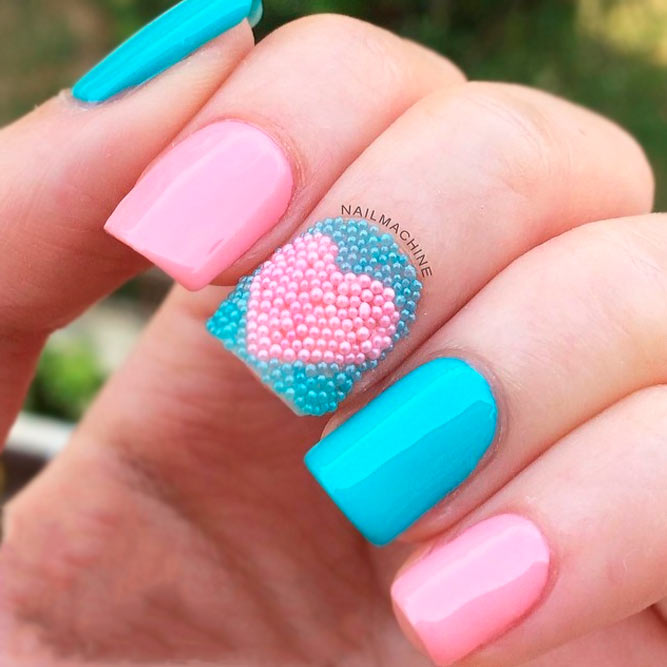 Source:
Nailmachine via Instagram
Navy Nautical Nails
If you love navy blue, this white and navy striped pattern is really striking. The miniature red heart on each nail makes the design patriotic.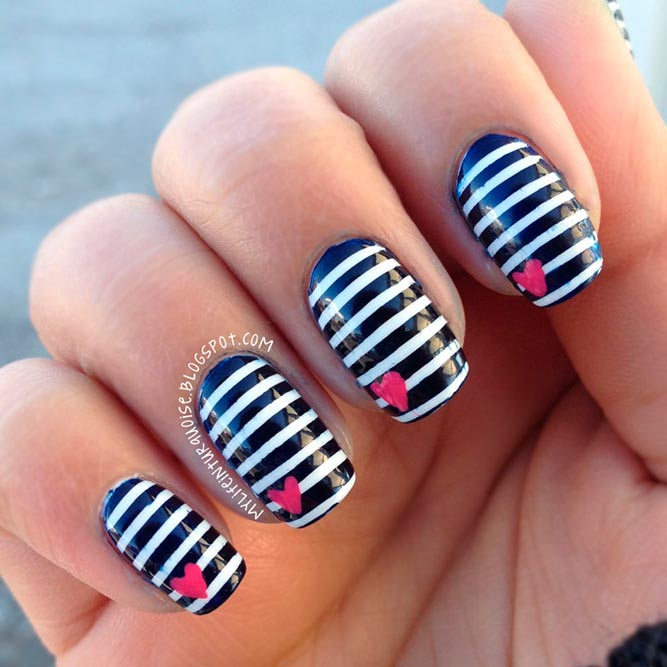 Source:
My Life in Turquoise
Diagonal Manicure
This pretty pink tipped manicure is a bit off-kilter. Instead of straight tip, pink is on a diagonal angle for a topsy-turvy effect.
Source:
So Nailicious
Dirty Dice Manicure
This take on the French manicure is super cute. Paint your nails black and then use nail tape to separate the tips. Then paint white dots on each nail in a dice pattern for good luck!
Source:
Goldnails_nailart via Instagram
Purple Color Block
We love the combination of deep purples, light purples, and white polish in this cool geometric color block pattern. This look is totally modern and chic.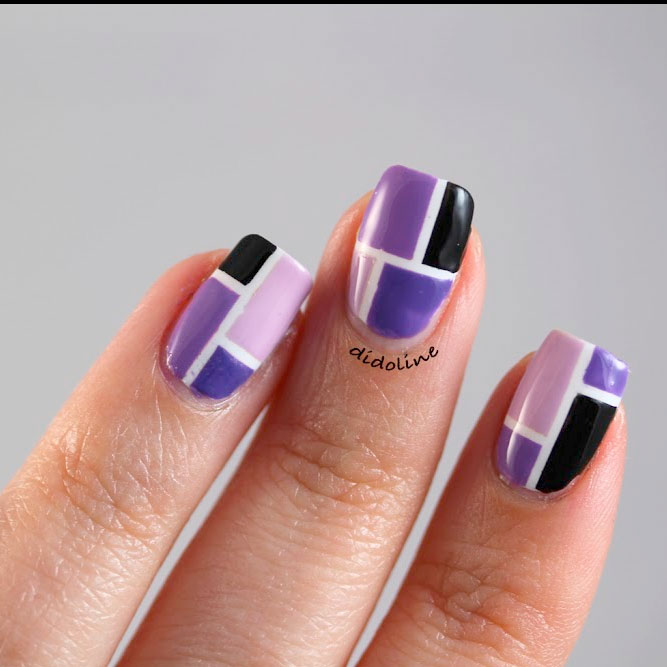 Source:
Didoline's Nails
Bold Blue Manicure
This shiny blue base is so soft and delicate. The silver and black tiger stripe pattern on the tips gives it an edgy look and feel.
Source:
Mad Manis
Gray and Silver Sparkle
This manicure is totally mod and hip! The pale gray matte tips are enhanced by the shiny metallic silver tips for a totally out of this world stylish manicure! sparkling French tip.
Source:
Itsmanalshaikh via Instagram
Girly Glam
These sparkly iridescent tips on a pale peach base are totally girly and chic!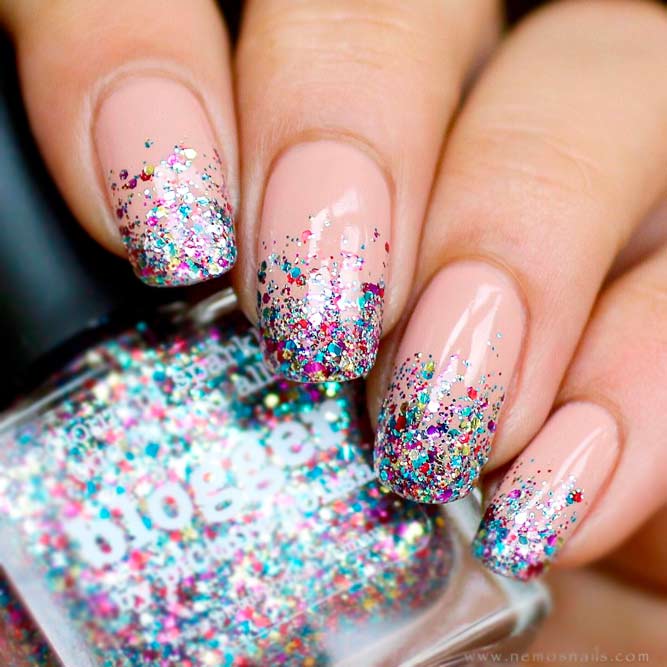 Source:
Nailsbynemo via Instagram
Golden Claw
These golden claws on a black matte base look super edgy and sparkly.
Source:
Chalkboardnails via Instagram
Candy Girl
This metallic red and white swirled stripe design is perfect for Christmas. It reminds us of peppermint candy canes!
Source:
Lucy's Stash
Peace Out
We think these rainbow patterned peace symbols on a black base are totally far out!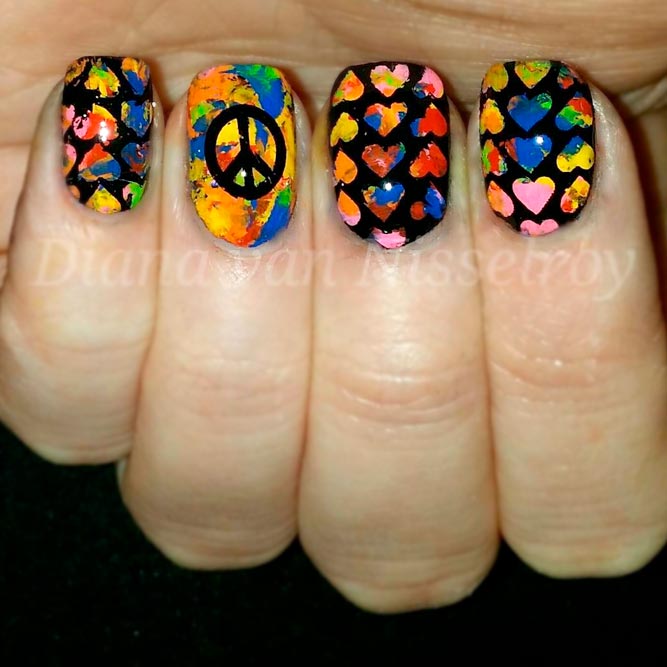 Source:
Dianavnisselroy via Instagram
Sky Blue Swirls
Look at these lovely nails! These pretty white and blue swirls look just like the sky!
Source:
Lacquerbuzz via Instagram
Pastel Rainbow Ombre
This pretty pastel fade is easily achieved with thin stripes for nail art. This soft look is perfect for spring or Easter time.
Source:
Semilac via Instagram
Turquoise Triangles
Paint your nails a pretty brown or taupe color and then paint a triangle on each for a cool geometric twist.
Source:
Ane_li via Instagram
Fire Flame Ombre
Start with a yellow base and then add bright red and orange coats for a fire flame effect that's hot to trot!
Source:
Ane_li via Instagram
Red and Silver Manicure
This petty manicure will work for Christmas or Valentine's Day. Or for those who simply love the color red. Paint your base shiny metallic or candy apple red. Then make silver glitter half moons for the tips for a look that's totally elegant and fits any occasion.
Source:
Elpis_nails via Instagram
Zig Zag
This fun zig zag pattern is easy to duplicate with nail tape and your 2 favorite contrasting shades of polish.
Source:
Hannahroxit via Instagram
Smokey Swirls
These white, gray, and black marble art swirls have a sexy smokey effect.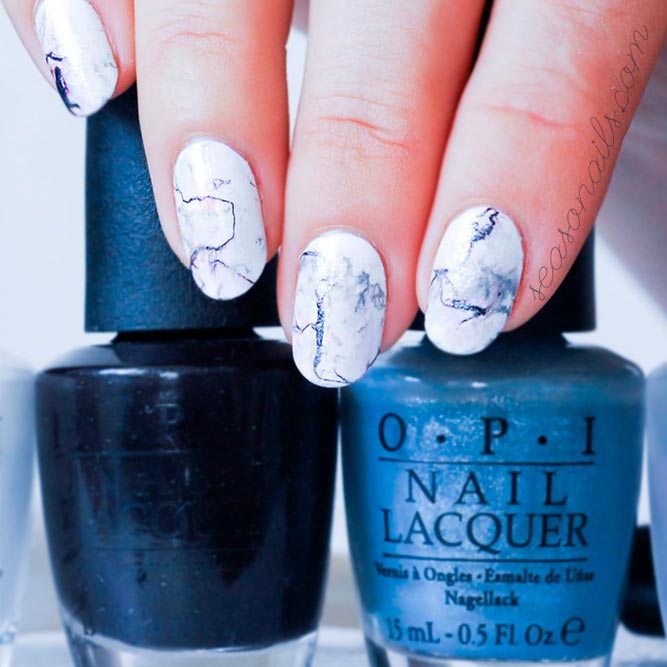 Source:
Seasonails
Silver and Gold Glam
Who says you can't mix and match silver and gold? Paint fingers silver, white, and gold for a tri-color glam look!
Source:
Chelseadiane12 via Instagram
These ideas for lovely nails are super chic and elegant! Try them today or create your own designs!
Main photo by Seasonails