Lovely nails are always trendy. From a traditional French manicure to pretty floral designs, nail art has come a long way over the years.
Cute nails designs are fun for the holidays or for a seasonal look.
ADVERTISEMENT ‧ CONTINUE READING BELOW
Easy nail designs are meant for every day to make your beautifying routine less time-consuming.
Check out our stunning designs for nail art.
Abstract Nails Art With Cute Details
Abstract nail art will never go out of fashion, as it has many advantages over other nail designs. First and foremost, it allows you to wear a one-of-a-kind, personalized mani, as every pattern is truly unique. Besides, even with the least effort, you will manage to get an intricate and eye-catching nail design.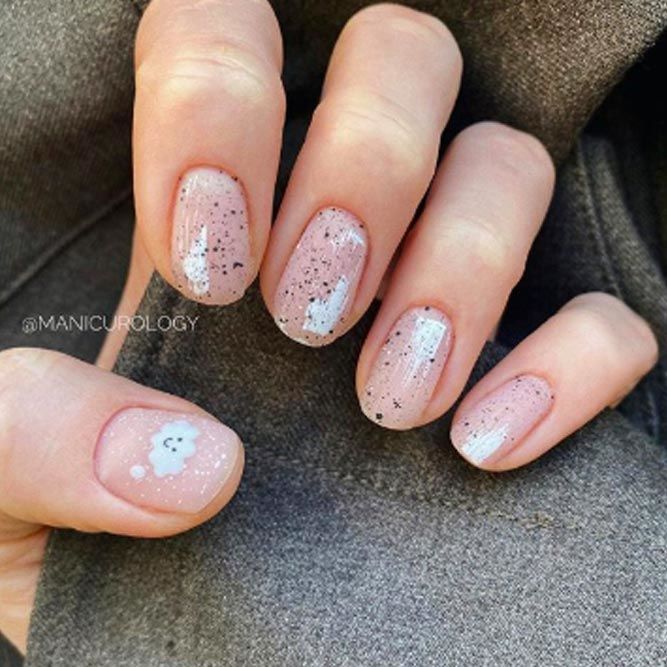 Source:
manicurology via Instagram
ADVERTISEMENT ‧ CONTINUE READING BELOW
Beauty In Minimal Details
This minimalistic manicure is made for women who have a strong sense of style and fashion. It does not require any special skills from you to create. Yet, the final result looks tasteful and sophisticated, which makes it suitable for literally any outfit.
Source:
safinailstudio via Instagram
Plaid Nails In The Trend
If you ask us about unfading nail trends, then the plaid pattern will be the first to pop into our heads. This classic nail design always appears in fashion, allowing you to complement your every look with it. Also, you can never get bored with it, as you can play around with color combinations and flaunt a brand-new mani every time.

Source: nailedbycleo via Instagram
ADVERTISEMENT ‧ CONTINUE READING BELOW
Animal Print On Your Nails For a Modern Woman
Animal print is one of those trends that pop in and out, however, they never disappear completely. Thus, should you decide to adorn your nails with an animalistic nail design, you can rest assured that your manicure will be either on trend or ahead of it but never behind.
Source:
justnails.pl via Instagram
Always Popular – Geometric Nails
You can never go wrong with a geometric nail design, as it does not seem to lose its popularity ever. In addition to being hugely versatile, a geometric manicure is pretty easy to create, so even a newbie can handle it. Besides, there are plenty of sources to draw inspiration from.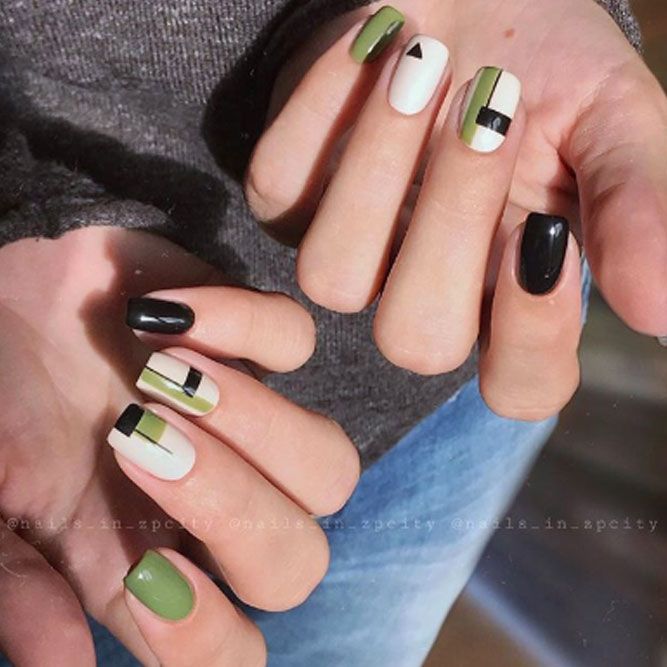 Source:
nails_in_zpcity via Instagram
ADVERTISEMENT ‧ CONTINUE READING BELOW
Sexy Metallic Nails
There is something really attractive about metallic nails. Maybe, it is the way they reflect light or the fact that they seem realistic thus dangerous. Either way, if you decide to go for a metallic nail color, you will end up with a sexy and stylish manicure for sure. Just choose the shade that resonates with you most and be ready to collect admiring gazes.

Source: laquenailbar via Instagram
Magical Galaxy Nails
Galaxy nails have that hypnotic flair that no other nail design has. They may seem quite difficult to get, but this impression is misleading. The secret is in the right combination of colors mixed on a dark or black base. And do not forget about the scattering of shimmer and glitter for a twinkling stars effect.

Source: terrieaton via Instagram
Rainbow Nails Art
These rainbow art are really pretty for a fun summer look. You can paint the base with the color of your choice and then make tiny lines in rainbow colors on each nail.

Source: nailthoughts via Instagram
ADVERTISEMENT ‧ CONTINUE READING BELOW
Sweet Birds On Your Nails
This white polish is such a delicate shade. The graceful black birds on the fingers gives it a demure effect.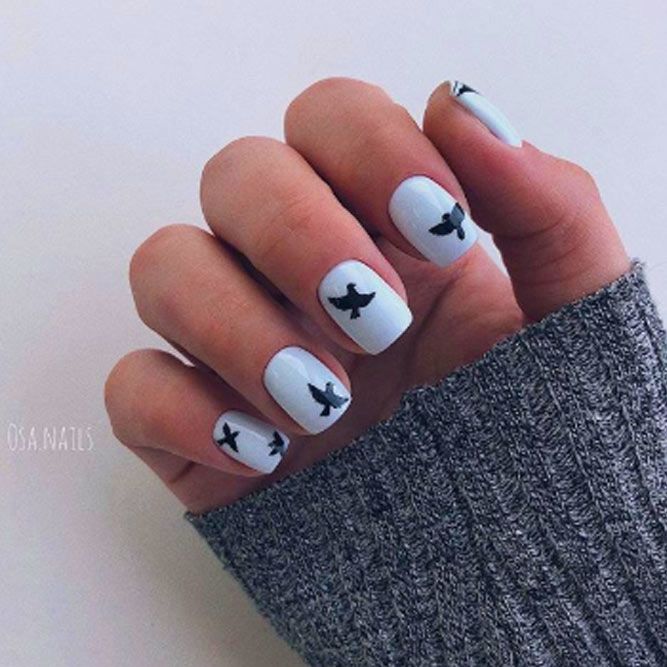 Source:
osa.nails via Instagram
Lovely Hearts Nail Design
Paint your alternating nails in red and then make a red hearts accent on your finger.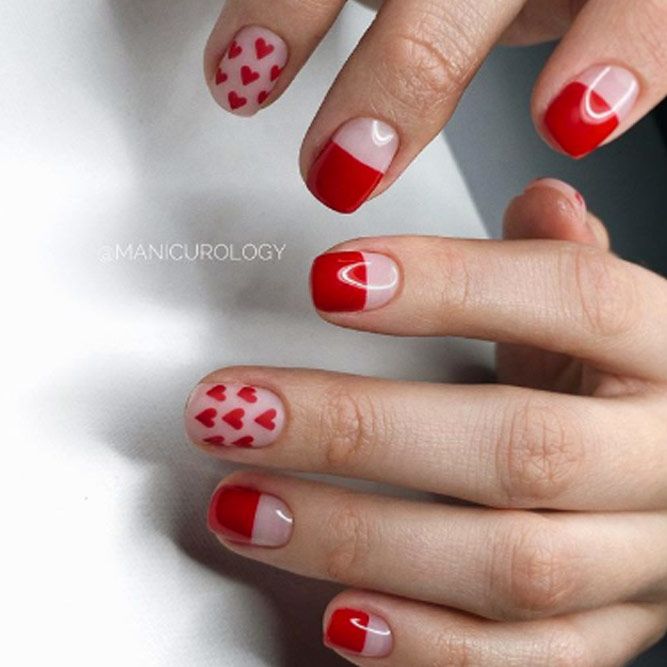 Source:
manicurology via Instagram
Navy Nautical Nails
If you love navy blue, this white and navy striped pattern is really striking. The miniature gold anchor on nail makes the design patriotic.

Source: caticorn_nails via Instagram
ADVERTISEMENT ‧ CONTINUE READING BELOW
Diagonal French Manicure
This pretty colorful manicure is a bit off-kilter. Instead of straight tip,add diagonal angle for a topsy-turvy effect.

Source: nailedbycleo via Instagram
Baby Blue Nails With Foil Accent
This shiny blue base is so soft and delicate. The foil pattern on the tips gives it an edgy look and feel.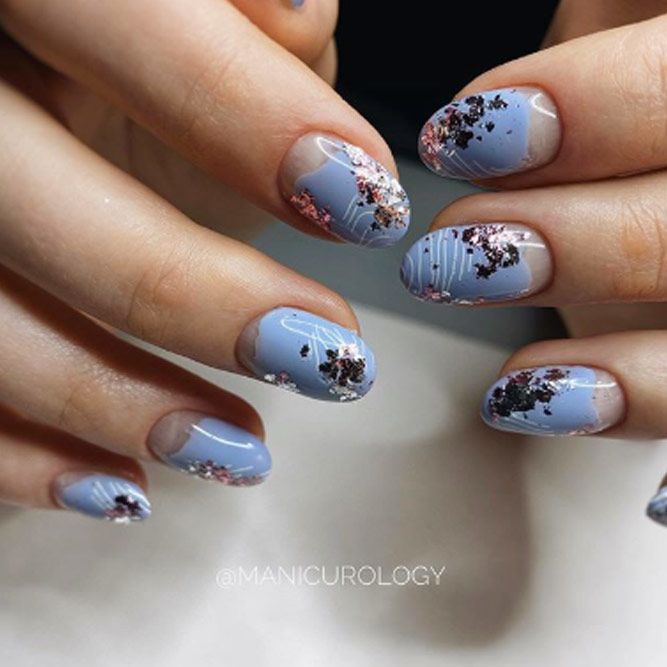 Source:
manicurology via Instagram
Try This Girly Glam Nails
These sparkly iridescent tips on a pale peach base are totally girly and chic!

Source: allaboutatima via Instagram
ADVERTISEMENT ‧ CONTINUE READING BELOW
Matte Black Nauls With Golden Claw
These golden claws on a black matte base look super edgy and sparkly.

Source: Chalkboardnails via Instagram
Peace Sign Nail Design
We think these rainbow patterned peace symbols on a black base are totally far out!

Source: Dianavnisselroy via Instagram
Sky Blue Nails Design
Look at these lovely nails! These pretty white and blue swirls look just like the sky!
Source:
Lacquerbuzz via Instagram
ADVERTISEMENT ‧ CONTINUE READING BELOW
Pastel Rainbow Nails Ombre
This pretty pastel fade is easily achieved with thin stripes for nail art. This soft look is perfect for spring or Easter time.
Source:
aneta_happy_mum via Instagram
Turquoise Triangles On Nails
Paint your nails a pretty brown or taupe color and then paint a triangle on each for a cool geometric twist.

Source: Ane_li via Instagram
Fire Flame Ombre Nails
Start with a yellow base and then add bright red and orange coats for a fire flame effect that's hot to trot!

Source: Ane_li via Instagram
ADVERTISEMENT ‧ CONTINUE READING BELOW
Red and Silver Mani
This petty manicure will work for Christmas or Valentine's Day. Or for those who simply love the color red. Paint your base shiny metallic or candy apple red. Then make silver glitter half moons for the tips for a look that's totally elegant and fits any occasion.
Source:
Elpis_nails via Instagram
Short Nail with Zig Zag Art
This fun zig zag pattern is easy to duplicate with nail tape and your 2 favorite contrasting shades of polish.

Source: Hannahroxit via Instagram
These ideas for lovely nails are super chic and elegant! Try them today or create your own designs!
Source: osa.nails via Instagram
ADVERTISEMENT ‧ CONTINUE READING BELOW