Interesting Classy Nails Ideas To Consider
Classy nails are definitely a must for every woman. But, these days, when the variety of nail designs is greater than ever it is getting harder with every second to pick just one. There are occasions that simply force you to look nothing but classy. That is exactly the reason why we have gathered here all the perfectly suitable designs for all the events in one place. But, unlike all the other sources we made sure that with our designs your nails will not only look classy but sassy at the same time. Let's have a closer look!
Elegant Dark Mani With Gold Accent
In case you are more about dark and velvet hues then we have something unique and intricate in store for you. This mate burgundy color upgraded with a gold line accent makes this design look exquisite and sophisticated.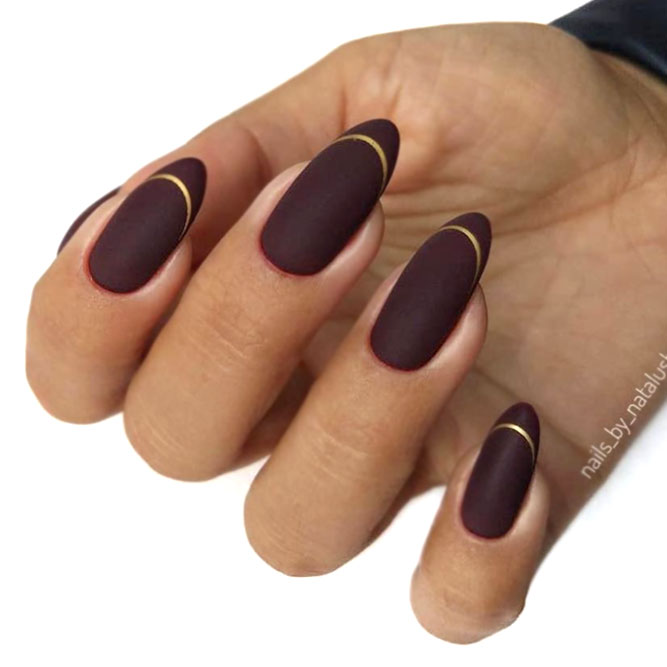 Source:
nails_by_natalusha via Instagram
Natural Nails With Gold Glitter Accents
If you want your nails to look super cute – we have an idea in mind. The thing is that the combination of natural nails and glitter ombre accent can't leave anyone indifferent!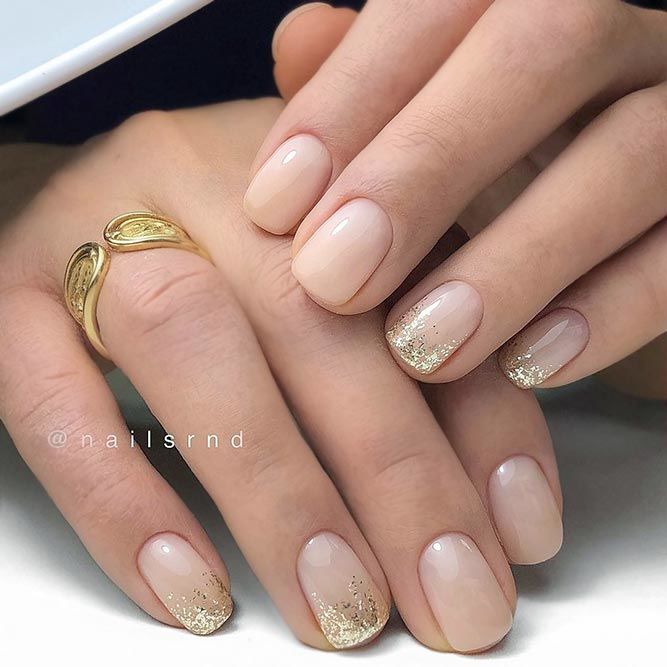 Source:
nailsrnd via Instagram
Gentle Mani With Brave Animalistic Accents
Very often, it is thought that animal prints fit only bold or daring manicure ideas. We think otherwise. We come to the conclusion that animalistic patterns can be those perfect accents for gentle mani as well.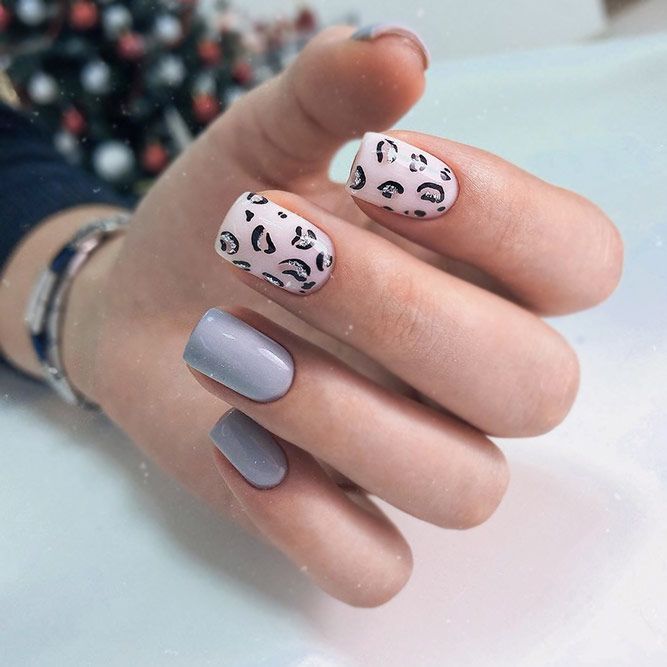 Source:
kalina_nails via Instagram
Exceptional French Nail Design
It is true that when it comes to classics, the first thing that comes to mind is French manicure. However, even a French tip can be taken to the next level with the help of creativity and useful ideas at hand. How about black French tip and a little reversed French combined together?
Source:
mindal_studio via Instagram
Gentle Pink Nails With Glitter Accents
There are times when you need that simple and almost unnoticeable accent. In times like these, the best way to spice up your classy nails is to introduce some glitter. Yet, it is essential that glitter is of the same color palette that the base color.
Source:
an_krd via Instagram
Chic Combo: Black & Pink
When going all neutral is not your cup of tea we suggest to your attention a little addition. The combination of black and baby pink looks extraordinary sweet and a simple rhinestone adds the necessary elegance.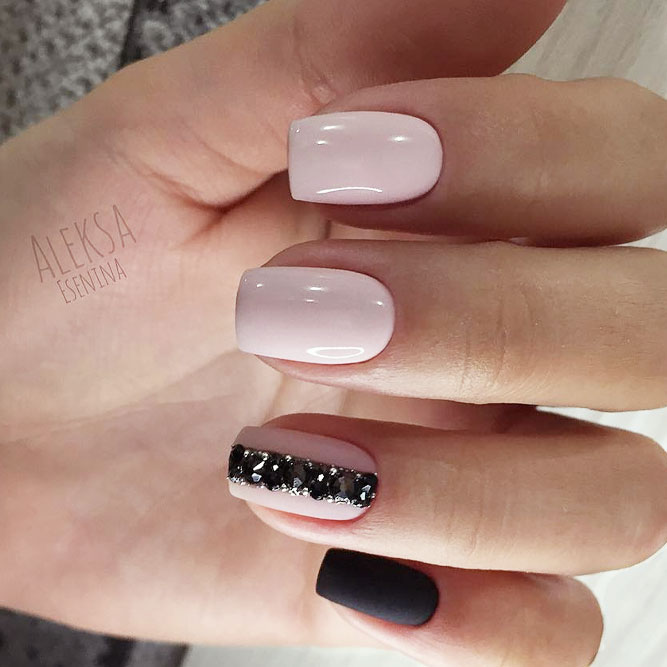 Source:
aleksa.nail.art via Instagram
Gorgeous V-Design
Plum colored nail designs seem to never go out of style. Yet, spicing this classy combination with a proper V design is definitely a worthy idea.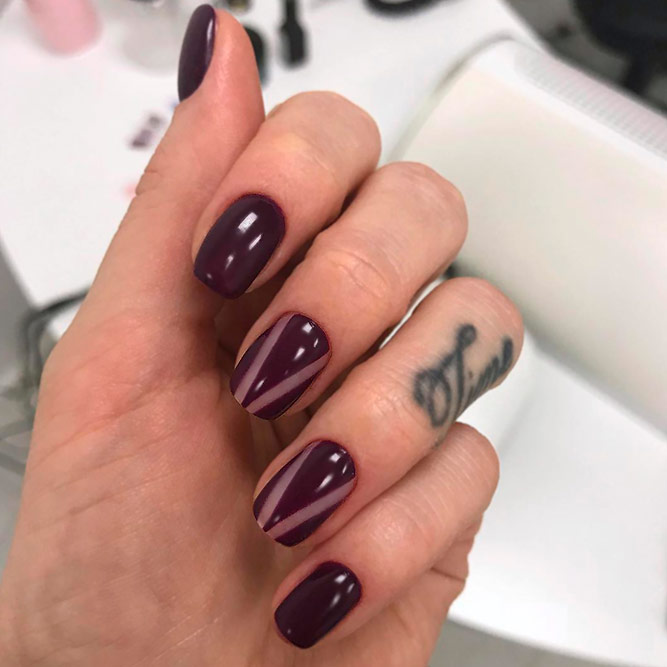 Source:
nogtiinminsk via Instagram
Pink Shades Nails With Glitter Accents
If you are looking for pink nail designs for short nails that we have a perfect suggestion in mind. How about this sweet and elegant blend of sparkles and nude shades?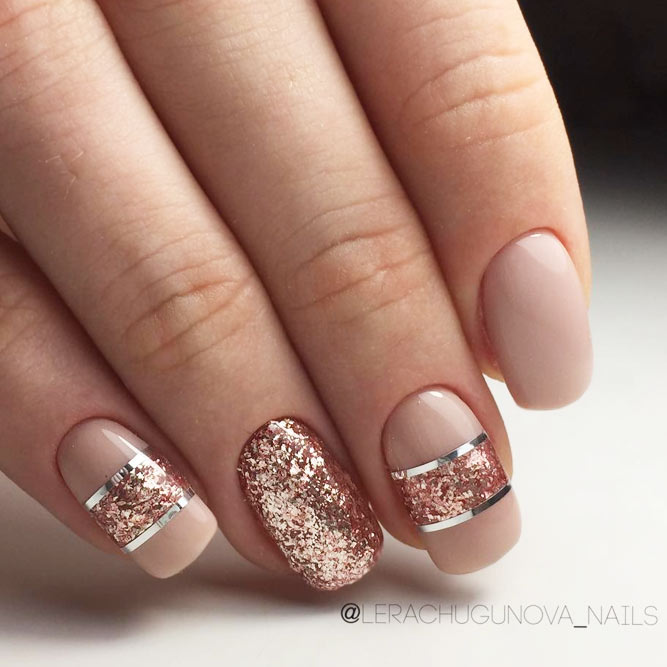 Source:
lerachugunova_nails via Instagram
Elegant Nail Design For Real Ladies
There is a simple way how to make short nails look longer. You may be surprised but the trick lies in the proper outline. For example, this mixture of glossy nail polish and shimmery outline adds that necessary lengths to the nails, that you have been looking for.
Source:
victoria_nails_samara via Instagram
Classy Nails With Charming Stripes
There are lots of nail designs for long nails, but if you are looking for something elegant and charming at the same time, then we may have something in store for you. Have a look yourself!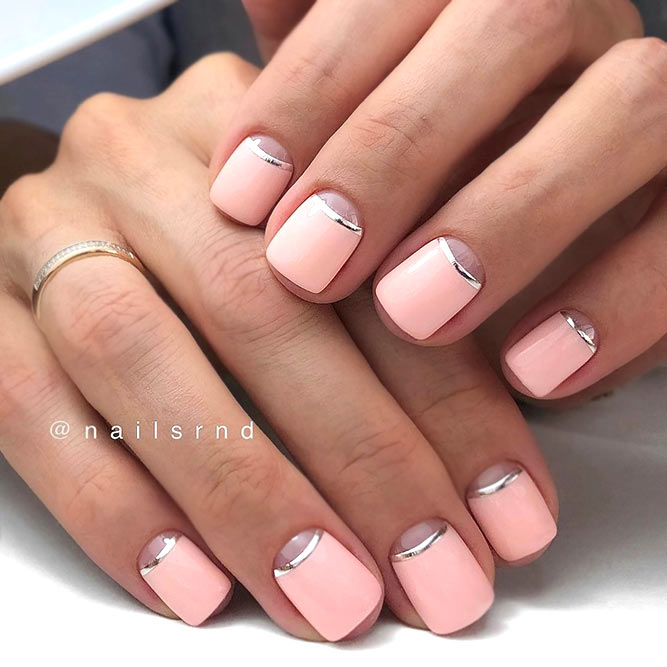 Source:
nailsrndvia Instagram
Fabulous Accent Nail Design
It is true that classy nails 2018 are all about proper accents and simplicity. There is nothing better to emphasize the contrast if black and pastel pink than a nice sparkly accent nail!
Source:
kadyntseva_nails via Instagram
The Contrast Of Dark & Light Shades With Gold Foil
It is not a secret to anyone that contrasting hues make perfect nail art when combined. But, when it seems that the manicure is still incomplete, we suggest you play around with transfer foil a little.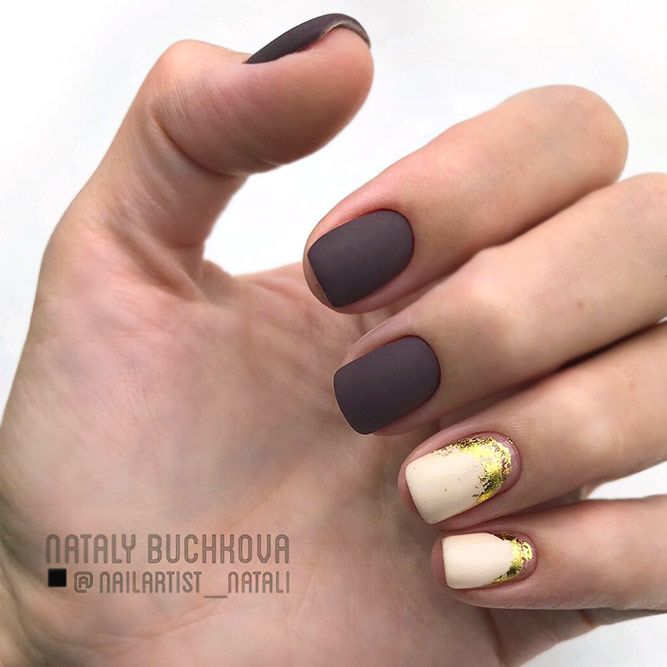 Source:
nailartist_natali via Instagram
Delicate Mani With Minimalist Accent
Those of you who are looking for a delicate manicure, you need to bear it in mind that not only hues matter. The way you intertwine the gentle hues with proper accents is crucial too. This design is the perfect proof to the point.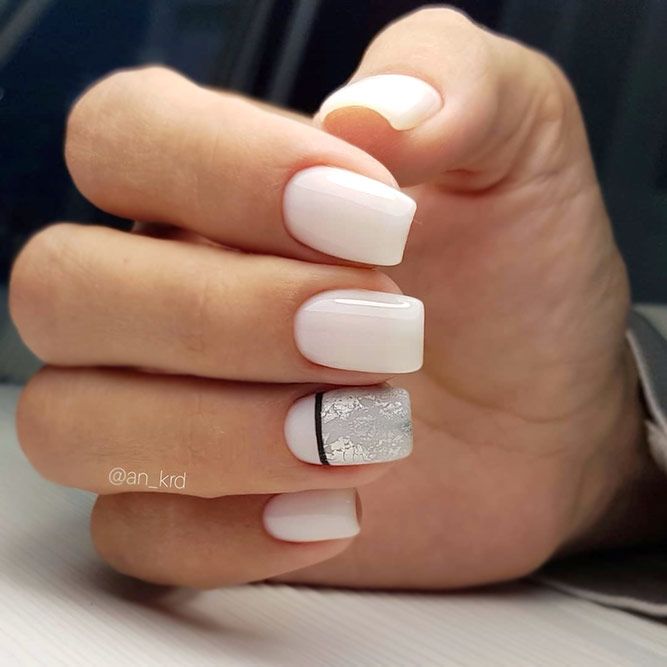 Source:
an_krd via Instagram
Adorned Nail Design For Short Nails
Still wondering how to design fingernails? Have a look at this perfect and gorgeous combo of nude and black adorned with rhinestones!
Source:
amur_nails via Instagram
Elegant Rhinestone Accent Design
It has been mentioned before that in order to gain classy look you do not need much. The thing is that pale grey base will look terrific if you spice it up with simple but elegant rhinestone accent. Do not forget to play around with the coating!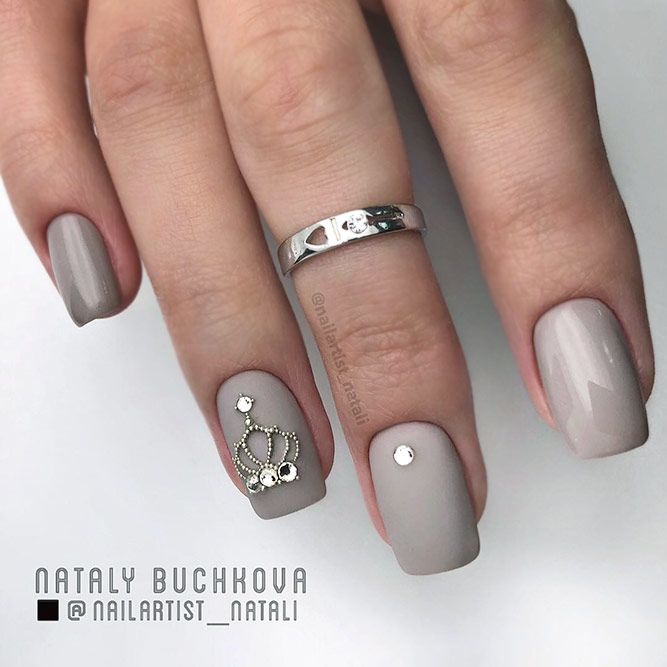 Source:
nailartist_natali via Instagram
Perfectly Black Classy Nails
Black nails can look not only bold but also classy. All you need to do to achieve the result is to combine matte black base with intricate patterns and nude accent fingers.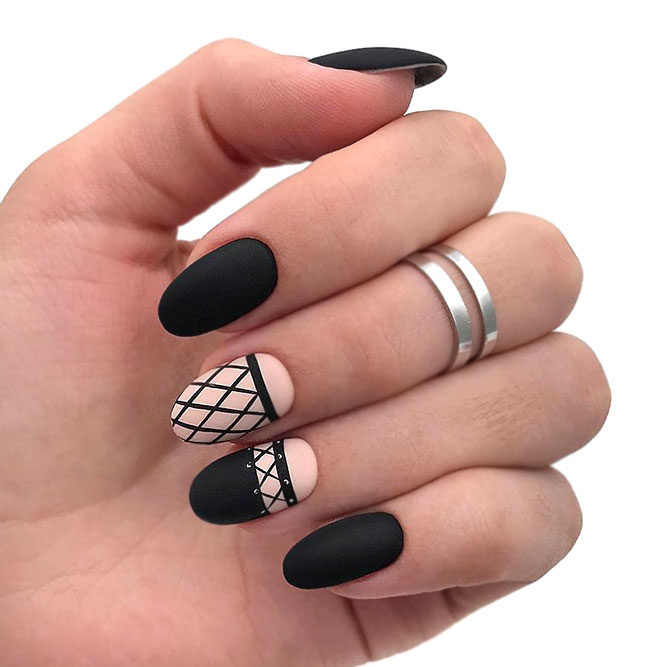 Source:
amur_nails via Instagram
Nude Nails With Minimalistic Stripes
In case you wonder what to spice your nude nails with without taking the nail art over the edge, we have an idea. The truth is that minimalistic patterns are all the rage these days. That is why a three-color stripe in the middle of your finger is precisely what you need for your neutral manicure.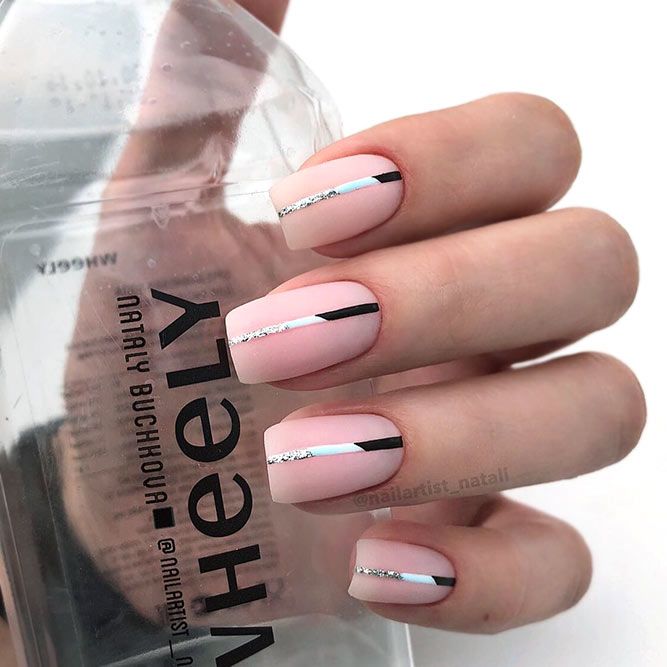 Source:
nailartist_natali via Instagram
Pretty In Pink
If you are a fan of gentle manicure ideas, then this one will surely conquer your heart. The thing is that the sweet transition from light pink to a little darker shade is adorned with elegant but straightforward triangular stud and that is precisely the detail that makes this idea classy.
Source:
lyasha_nevskaya via Instagram
Classy Red Nails With Elegant Accents
There is nothing wrong with you if classy nails are your absolute weakness. Worry not, there is always a way out. In this case, the rhinestone stripe and negative space one are the perfect details that make the design stand out.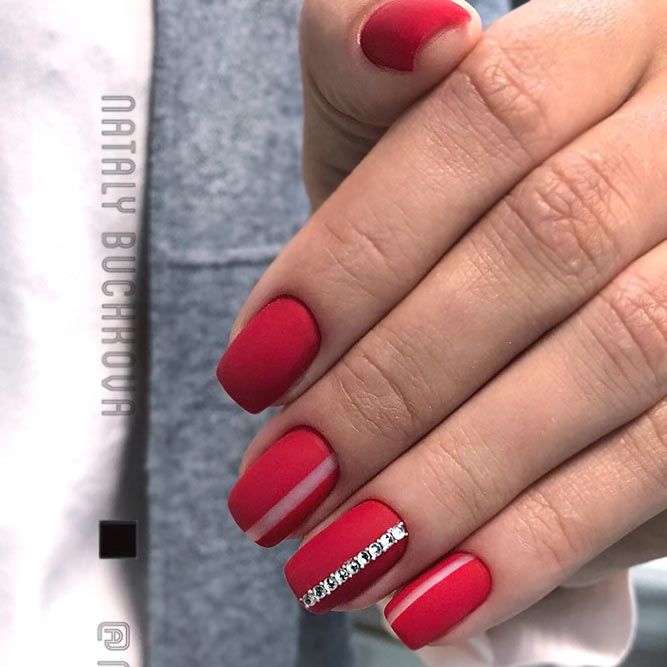 Source:
nailartist_natali via Instagram
Simple And Abstract Accents
Searching for simple but elegant nail design may not be the easiest task ever. However, we managed to come up with something interesting. The combo of the black and nude base is already exciting but what takes this design to the new level is surely this unusual abstract accent.
Source:
nailartist_natali via Instagram
Golden Line
What can make a classical pale pink manicure more fresh and trendy? You will definitely like this design with a thin shiny gold line on a matte base.
Source:
nails_brand via Instagram
Hypnotic Contrast
When it comes to short nails designs you should in no case be afraid of experimentation. Use contrast shades to your advantage and enjoy the spicy result.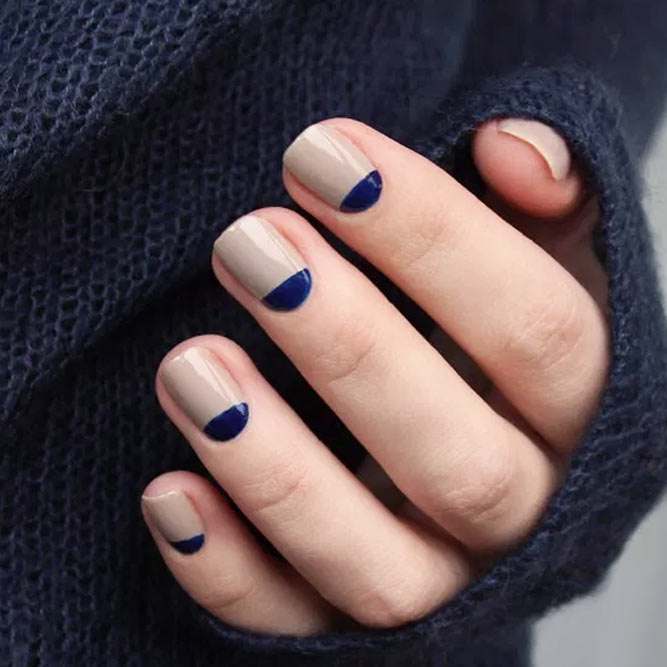 Source:
mari_lumme via Instagram
Beauty Comes In Simple Details
It is true that short nail shapes are less versatile than the ones for long nails. But when it comes to the designs, short nails are definitely not lagging behind. Beauty comes in simplicity, but simple things are extremely versatile!
Source:
nogtiinminsk via Instagram
Trendy Matte Nail Art Design
There are a lot fancier nail art designs for short nails than you may have even thought. Yet, we present to your attention only the perfect ones!
Source:
badgirlnails via Instagram
Bright Stamping Nail Art
A bright and exciting design is always supposed to be over the edge complicated. All you need are the correctly chosen colors and a stamping pattern that combines them. As simple as that!
Source:
ladyandthe_stamp via Instagram
Orange Color Nails With Black Accent
Classy nails designs can be pretty bright too. This matte bright orange nail art combined with black accents is the best proof of the idea.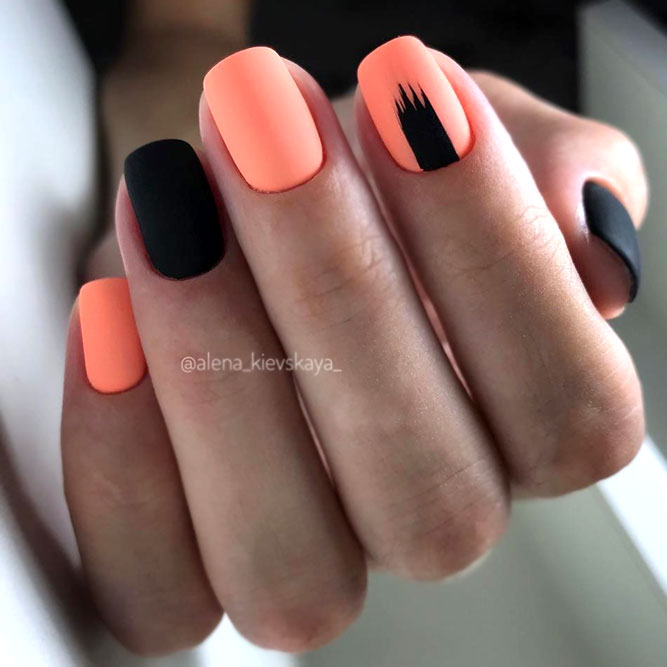 Source:
alena_kievskaya_ via Instagram
Cute And Classy Nails With Tiny Icons
It may be difficult to choose a proper design for short nails at times. But we think that this combo of simplicity and edginess is worth at least some of your attention.
Source:
botanicnails via Instagram
Classy Nails With French Tips
Among all the nail art designs elegant French nail designs are on the top of the list. But we think that adding a little upgrade to classy French nail designs is never a waste. How about a tiny line of rhinestones on accent finger?
Source:
nails_irinamarten via Instagram
Cobalt Blue Nail Art To Break The Routine
Not all elegant nail polish colors should be neutral or muted. Vibrant shades can look elegant as well. Just look at this mesmerizing cobalt blue temptation!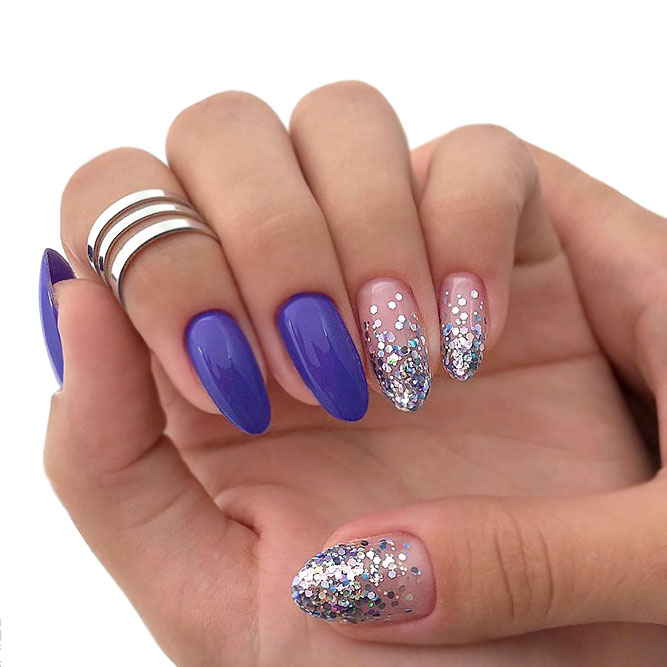 Source:
amur_nails via Instagram
Abstract Teal Design
If you are looking for cool nail ideas, you have come to the right place. Abstract teal nail art looks quite juicy and extraordinary without looking too extravagant, don't you think?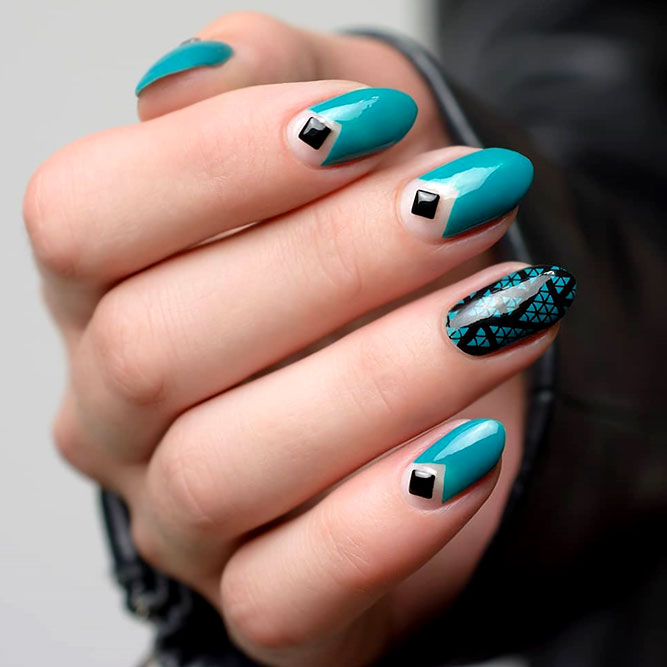 Source:
lucy_nail_addict via Instagram
We hope these ideas come to your liking and you will share them with your friends! Do not forget to check for updates!
Main photo by Lerachugunova_nails