Classy nails are definitely a must for every woman. But, these days, when the variety of nail designs is greater than ever it is getting harder with every second to pick just one. There are occasions that simply force you to look nothing but classy. That is exactly the reason why we have gathered here all the perfectly suitable designs for all the events in one place. But, unlike all the other sources we made sure that with our designs your nails will not only look classy but sassy at the same time. Let's have a closer look!
Classy Nails With French Tips
Among all the nail art designs elegant French nail designs are on the top of the list. But we think that adding a little upgrade to classy French nail designs is never a waste. How about a tiny line of rhinestones on accent finger?
Source:
nails_irinamarten via Instagram
Chic Combo: Black & Pink
When going all neutral is not your cup of tea we suggest to your attention a little addition. The combination of black and baby pink looks extraordinary sweet and a simple rhinestone adds the necessary elegance.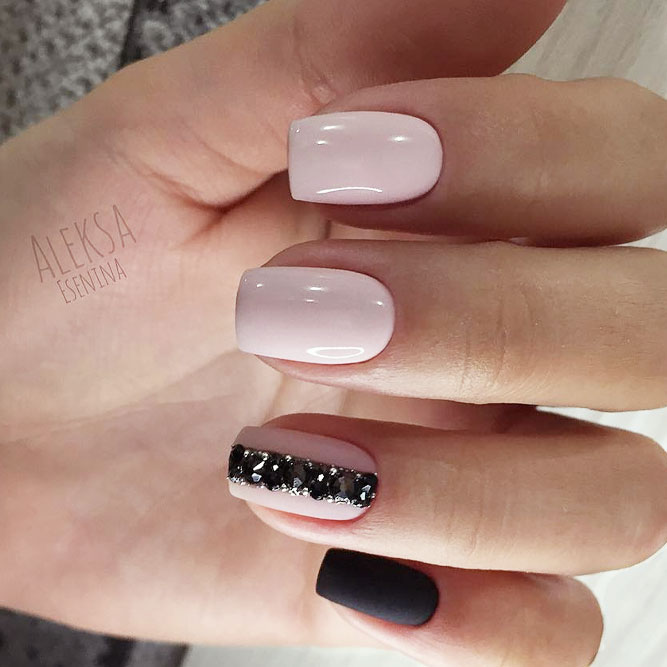 Source:
aleksa.nail.art via Instagram
Gorgeous V-Design
Plum colored nail designs seem to never go out of style. Yet, spicing this classy combination with a proper V design is definitely a worthy idea.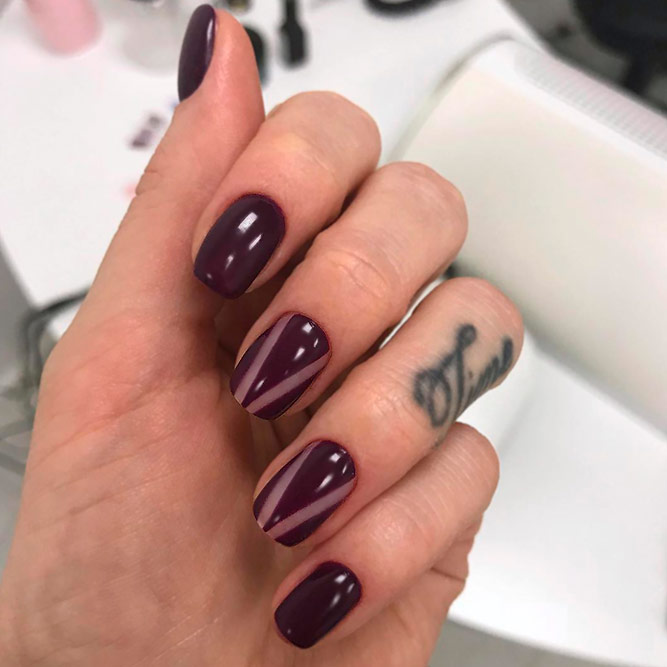 Source:
nogtiinminsk via Instagram
Pretty In Pink
If you are looking for pink nail designs for short nails that we have a perfect suggestion in mind. How about this sweet and elegant blend of sparkles and nude shades?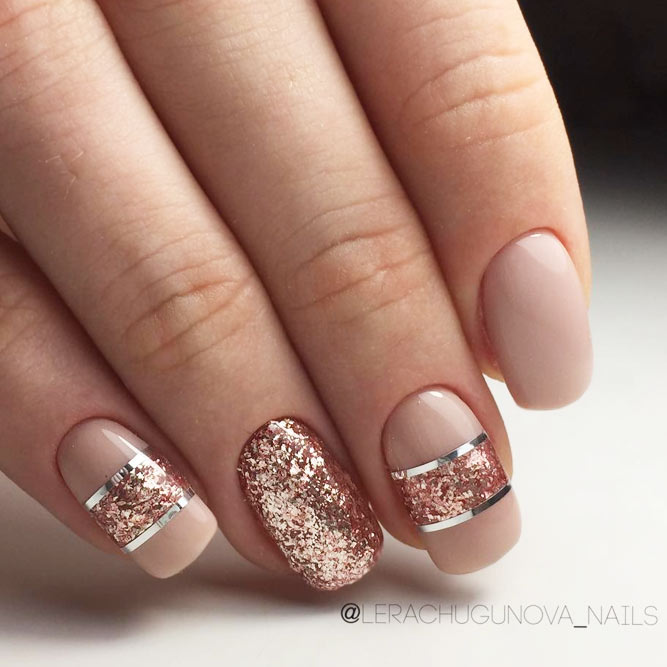 Source:
lerachugunova_nails via Instagram
Elegant Nail Design For Real Ladies
There is a simple way how to make short nails look longer. You may be surprised but the trick lies in the proper outline. For example, this mixture of glossy nail polish and shimmery outline adds that necessary lengths to the nails, that you have been looking for.
Source:
victoria_nails_samara via Instagram
Classy Nails With Charming Rhinestones
There are lots of nail designs for long nails but if you are looking for something elegant and charming at the same time, then we may have something in store for you. Have a look yourself!
Source:
getbuffednails via Instagram
Fabulous Accent Nail Design
It is true that classy nails 2018 are all about proper accents and simplicity. There is nothing better to emphasize the contrast if black and pastel pink than a nice sparkly accent nail!
Source:
kadyntseva_nails via Instagram
Sweet Half Moon Nail Art Design
There are many classy nail designs for short nails but not all of them are as breath-taking as this combination of half-moon design with elegant rhinestones accent.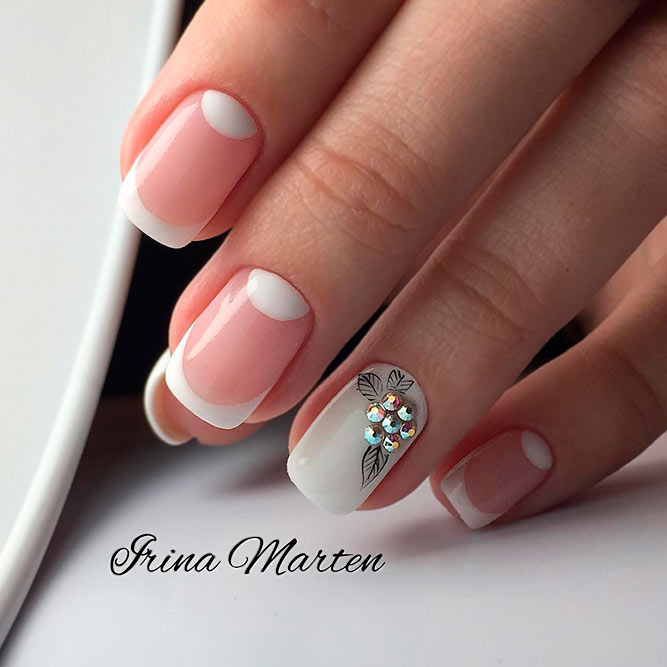 Source:
nails_irinamarten via Instagram
Cute And Classy Nails With Tiny Icons
It may be difficult to choose a proper design for short nails at times. But we think that this combo of simplicity and edginess is worth at least some of your attention.
Source:
botanicnails via Instagram
Extra Black Nails For Brave Girls
It may seem that there is nothing special about black short nails. Wait until you see what we have got here! There is no way you will think this matte black with the addition of crystal-like rhinestones anything but gorgeous!
Source:
home_of_deva via Instagram
Trendy Matte Nail Art Design
There are a lot fancier nail art designs for short nails than you may have even thought. Yet, we present to your attention only the perfect ones!
Source:
badgirlnails via Instagram
Beauty Comes In Simple Details
It is true that short nail shapes are less versatile than the ones for long nails. But when it comes to the designs, short nails are definitely not lagging behind. Beauty comes in simplicity, but simple things are extremely versatile!
Source:
nogtiinminsk via Instagram
Alluring Lace
Those of you who want their classy nails designs to look perfectly feminine will definitely appreciate the lace combination of black and pink.
Source:
yagala via Instagram
Hypnotic Contrast
When it comes to short nails designs you should in no case be afraid of experimentation. Use contrast shades to your advantage and enjoy the spicy result.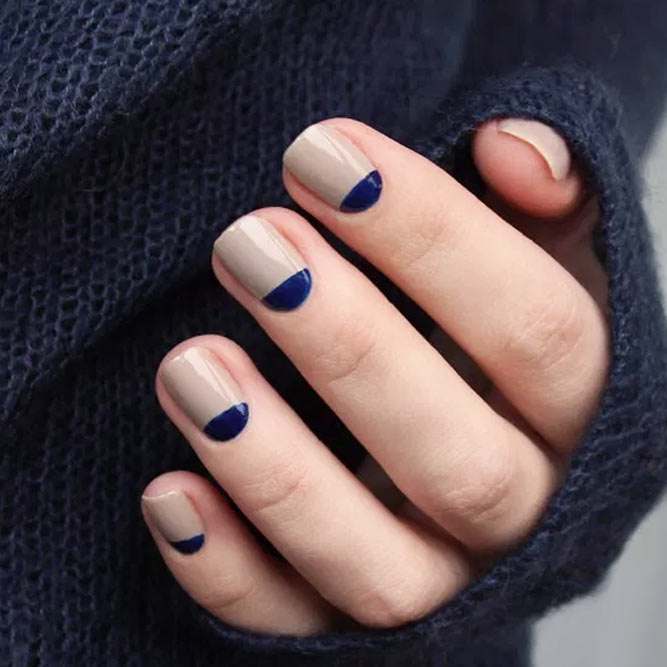 Source:
mari_lumme via Instagram
Playing Cards Nail Design For Extra Chick Look
Classy nail ideas can be pretty, fun and playful. Why not opt for a card deck for a change?
Source:
yagala via Instagram
Adorned Nail Design For Short Nails
Still wondering how to design fingernails? Have a look at this perfect and gorgeous combo of nude and black adorned with rhinestones!
Source:
amur_nails via Instagram
Shining Rhinestone Accent For Adorable Mani
Simple nail designs can look elegant and gorgeous without going over the edge. All you need to do is to combine a pastel matte shade with a rhinestone accent nail. As simple and as perfect as that!
Source:
amur_nails via Instagram
Abstract Deep Green Design
If you are looking for cool nail ideas, you have come to the right place. Abstract green nail art looks quite juicy and extraordinary without looking too extravagant, don't you think?
Source:
nails_irinamarten via Instagram
Perfect Black Classy Nails
All the nail designs for short nails with the involvement of matte black and some negative space look stunning and supreme!
Source:
amur_nails via Instagram
Cobalt Blue Nail Art To Break The Routine
Not all elegant nail polish colors should be neutral or muted. Vibrant shades can look elegant as well. Just look at this mesmerizing cobalt blue temptation!
Source:
amur_nails via Instagram
Strict Lined Nail Art
There are lots of possibilities to be pulled off with medium nails. Yet, in case you need something classy but quite strict, use some geometric lines to your advantage!
Source:
sveta_sanders via Instagram
Cherry Bomb
The combination of coral polka dots and the nude base is super cute and easy to create. For a final look add some golden charms like this dazzling cherry embellishment.
Source:
nailsbydaniellet via Instagram
Pretty In Pink
This ombre in light colors looks feminine and elegant. Some details such as negative space and pink rhinestones add some individuality.
Source:
sveta_sanders via Instagram
Sparkly Triangles
Bold black and glitter is one of the most popular combinations. Adding triangle lines makes your manicure severely and keenly.
Source:
solo_nails via Instagram
Bronze Art Deco
The bronze pattern shimmers gorgeous over the smooth pink polish. Simple shapes create very structured designs. It's a beautiful manicure for any occasion!
Source:
nailsbydaniellet via Instagram
Simple Geometry
Don't you want to spend a lot of time on the manicure? Try this ultra-trendy design with geometric patterns on accent nails. It is beauty in details!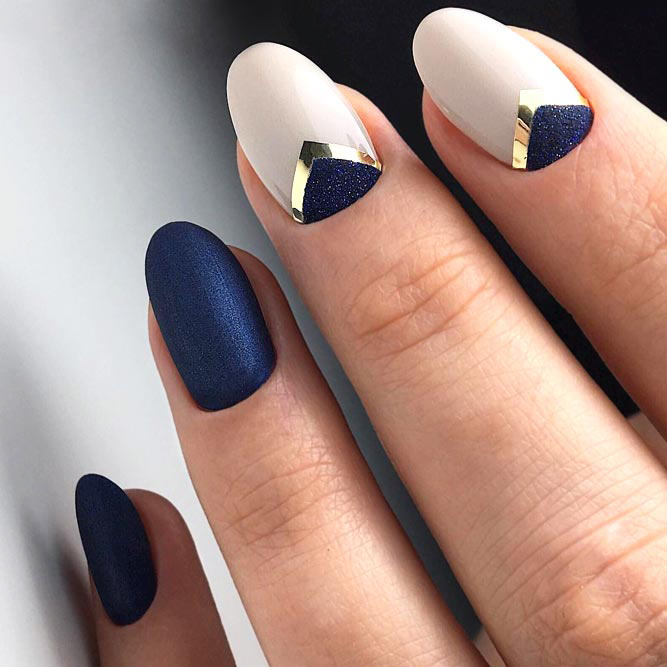 Source:
semerikovanails via Instagram
Golden Line
What can make a classical pale pink manicure more fresh and trendy? You will definitely like this design with a thin shiny gold line on a matte base.
Source:
nails_brand via Instagram
We hope these ideas come to your liking and you will share them with your friends! Do not forget to check for updates!
Main photo by Lerachugunova_nails