Acrylic nails are on the edge of popularity these days. There is no wonder why since many celebrities have been sporting them recently. It is not that they haven't been popular before, because they have been, starting from 1950's, but nowadays it is all a little bit different. The thing is that they come in extremely handy when your natural nails leave much to be desired. That is why if you always wanted to grow out nice long fingernails, this is high time you should try acrylic substitutes out. In most cases it is difficult to distinguish between your real nails and acrylic ones besides they come with a nice set of upgrades. That is why today we will tell you everything about this type of nails and a little bit more.
Pros And Cons Of Acrylic Nails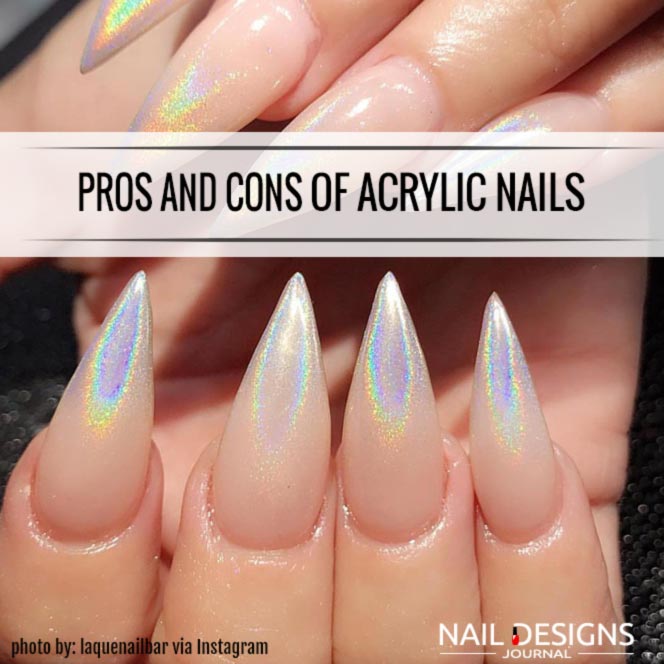 Source:
laquenailbar via Instagram
It is never a good idea to rush into something you are not properly introduced into. That is why we decided to carry out a little research and supply you with the information on pros and cons of getting acrylic upgrades over your nails. Here is what we came up with:
Advantages:
They are perfect if your nails are too fragile.
In case you have a nasty habit on chewing on your nails, acrylic ones will make sure you get rid of it in no time.
Since this design has been around for a while now, most nail art artists are familiar with it and there is no way they will ruin your look.
They are more affordable.
In case one, breaks, you can easily repair it at home, without spending a fortune at the salon.
They last longer than gel nails.
Disadvantages:
Your natural nails may get damaged or infected if you choose unqualified master or products of poor quality.
Sometimes this type of nails can look pretty artificial, that is why you should choose a skilled master to avoid that
You may be allergic to the chemicals used in the process.
How To Do Acrylic Nails?
In case you are wondering how to do acrylic nails, there are few ways to get them done. First of all, you should choose whether you would like to have them done at the salon or at home. Of course, it is a lot easier to have them done by a professional, yet you have to be sure that the nail artist you are going to pay a visit to is experienced and knows what he is doing. You can also try to carry this process out on your own, at home, but there are two crucial ingredients you need – that would be a liquid monomer and powdered polymer.
There are also two ways of adding length to your nails. The first one is to add acrylic mixture to the tip of your nail, it kind of looks like gluing an extension to your natural nail. The other way is to spread the mixture all over your natural nail and make it as long as you would like it to be. The tricky part is to shape it correctly, and for that you would need a properly-shaped sticker to put under your natural nail, and keep it there until the mixture hardens then you can simply take it off. The choice is yours – to go the easy or the hard way.
Source: CrystalNailsTv
Contrasting And Special Ombre Designs
It is impossible not to fall in love with the ombre technique. It offers such versatility and charm that it is hard to resist. No matter pink acrylic nails or red acrylic nails are of your preference there is an easy way to spice up your manicure with ombre!
Source:
nailartist_natali via Instagram
Source:
rudman_nailstudio_nsk via Instagram
Source:
amur_nails via Instagram
Stylish Chrome Accents For All Tastes
The beauty of chrome effect is that it can take any manicure to the whole new level of gorgeous. Be it a gentle or bold manicure the addition of chrome accent will spice up the look like nothing else.
Almond nails look extraordinary with the mixture of pastel and dark shades, especially when emphasized with rhinestones and intricate geometric patterns.
Source:
galichaiaolga via Instagram
Source:
viktoriyaandreeva_nailart via Instagram
Source:
nailartist_natali via Instagram
Magnificent Experimentation With French Tip
French tip acrylic nails deserve special attention since many classic ladies prefer this design to all the others. However, it is time you step away from tradition a little and get into some fabulous experimentation!
Source:
mariya_shikhaleva__ via Instagram
Source:
orchid_nail_studio via Instagram
Source:
nogti_anastasiya_nails via Instagram
Stylish Geometric Art Designs
Nude acrylic nails look simply irresistible when some geometry is involved. Yet, when nude is not your cup of tea – daring black manicure with a little addition of negative space can save the day!
Source:
vika_nogti_minsk via Instagram
Source:
rudman_nailstudio_nsk via Instagram
Source:
rudman_nailstudio_nsk via Instagram
Captivating Power Of Matte Manicure
To tell you the truth, matte coating seems not to go away from the spotlight of recent runaways. When you look at these matte acrylic nails, you will understand why. Who could have thought that a masterpiece can be so simple and elegant at the same time!
Source:
rudman_nailstudio_nsk via Instagram
Source:
nailartist_natali via Instagram
Source:
nailartist_natali via Instagram
Trendy And Exquisite Marble Designs
A lot has been said lately about marble stone patterns but one thing is true they look fantastic. No matter what you pair, the design with the outcome will always be ravishing!
Source:
m.n.b.beauty via Instagram
Source:
nailsbymztina via Instagram
Source:
perfect10customnails via Instagram
Cute And Elegant Glitter Accents
In case you are in search of cute acrylic nails, we have something special for you! The thing is that glitter acrylic nails are that one thing you need to look totally fav. There is no nail art that wouldn't be taken to the whole new level of sweet with the addition of glitter!
Source:
m.n.b.beauty via Instagram
Source:
celinaryden via Instagram
Source:
nailartist_natali via Instagram
Fancy Transfer Foil Designs
One of the reasons why transfer foil is so popular is that it is easy to use, but the introduction of it transform the manicure significantly. Even the simplest ideas will look like true art with the help of transfer foil accents. See for yourself!
Source:
safara_nails via Instagram
Source:
botanicnails via Instagram
Source:
rudman_nailstudio_nsk via Instagram
Luxurious Rhinestones Pattern
If you are looking for something genuinely luxurious, then this set is undoubtedly what you need. The thing is that there is something special about the gems even when they are artificial. Add a little rhinestone pattern to your mani and observe the transformation!
Source:
celinaryden via Instagram
Source:
lenochka_pisareva_nails via Instagram
Source:
celinaryden via Instagram
Lovely Twig Design Accents
Those of you who do not know how to spice your natural acrylic nails up – we have a suggestion. The thing is that simple twig accents can take any manicure to the new level of elegant and complete.
Source:
podsolnuh.nails via Instagram
Source:
rudman_nailstudio_nsk via Instagram
Source:
allure_nail_studio via Instagram
Everything About Acrylic Nails Upkeep
No matter how fancy and comfortable long acrylic mani looks, you should never forget about keeping your hands and nails clean to prevent any infection from happening. That is why you should wash your hands regularly, but also you need to scrub out all the dirt that piles under your nails. Plus, if there is a dirty work to be done – never forget about the gloves. One more thing – to prevent your nails from peeling off, keep your coticules altogether with hands well moisturized. In case you are wondering how to remove acrylic nails, worry not! You can easily remove them with the help of regular acetone. Just soak a cotton pad in acetone and wrap it around your nail, for the better effect you can wrap some foil around too, wait for about 10-15 minutes and you can easily remove your acrylic nail. Everything perfect is simple at the core. Keep that in mind.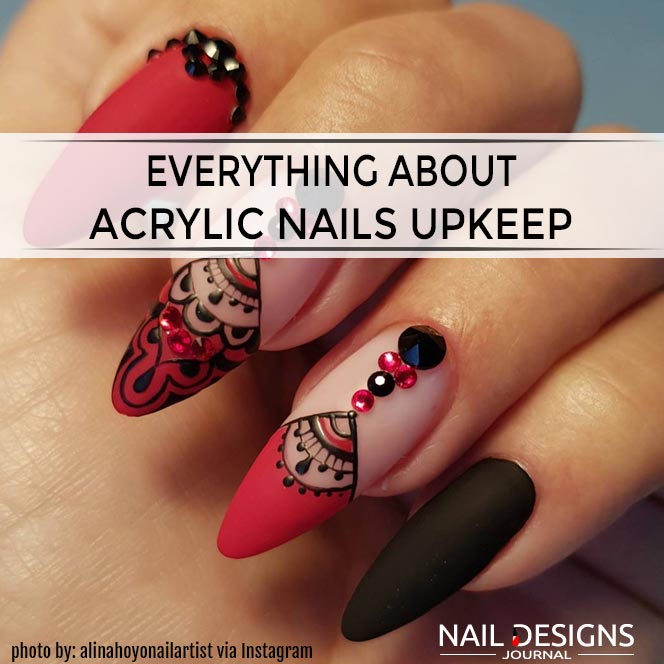 Source:
alinahoyonailartist via Instagram
Time doesn't stay still, come back for a fresh update any time you decide that you have tried it all!
Main photo by Pahomova_nogti