Acrylic nails are on the edge of popularity these days. There is no wonder why since many celebrities have been sporting them recently. It is not that they haven't been popular before, because they have been, starting from 1950's, but nowadays it is all a little bit different. The thing is that they come in extremely handy when your natural nails leave much to be desired. That is why if you always wanted to grow out nice long fingernails, this is high time you should try acrylic substitutes out. In most cases it is difficult to distinguish between your real nails and acrylic ones besides they come with a nice set of upgrades. That is why today we will tell you everything about this type of nails and a little bit more.
Pros And Cons of Acrylic Nails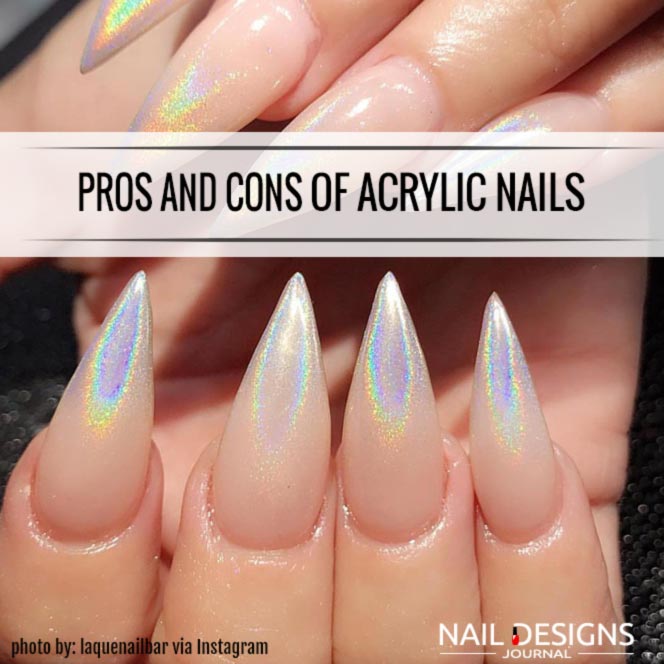 Source:
laquenailbar via Instagram
It is never a good idea to rush into something you are not properly introduced into. That is why we decided to carry out a little research and supply you with the information on pros and cons of getting acrylic upgrades over your nails. Here is what we came up with:
Advantages:
They are perfect if your nails are too fragile.
In case you have a nasty habit on chewing on your nails, acrylic ones will make sure you get rid of it in no time.
Since this design has been around for a while now, most nail art artists are familiar with it and there is no way they will ruin your look.
They are more affordable.
In case one, breaks, you can easily repair it at home, without spending a fortune at the salon.
They last longer than gel nails.
Disadvantages:
Your natural nails may get damaged or infected if you choose unqualified master or products of poor quality.
Sometimes this type of nails can look pretty artificial, that is why you should choose a skilled master to avoid that
You may be allergic to the chemicals used in the process.
How to Do Acrylic Nails?
In case you are wondering how to do acrylic nails, there are few ways to get them done. First of all, you should choose whether you would like to have them done at the salon or at home. Of course, it is a lot easier to have them done by a professional, yet you have to be sure that the nail artist you are going to pay a visit to is experienced and knows what he is doing. You can also try to carry this process out on your own, at home, but there are two crucial ingredients you need – that would be a liquid monomer and powdered polymer.
There are also two ways of adding length to your nails. The first one is to add acrylic mixture to the tip of your nail, it kind of looks like gluing an extension to your natural nail. The other way is to spread the mixture all over your natural nail and make it as long as you would like it to be. The tricky part is to shape it correctly, and for that you would need a properly-shaped sticker to put under your natural nail, and keep it there until the mixture hardens then you can simply take it off. The choice is yours – to go the easy or the hard way.
Source: CrystalNailsTv
Acrylic Nail Shapes
Acrylic nail shapes change with every season. In case it is all about the trends for you, you should keep in mind that these days, women prefer natural-looking nails, that means that the era of extraordinary long claws is slowly coming to an end. That is why you should draw your attention to almond, oval or square shapes. But in case you would like to keep your nails longer no matter what, then coffin or ballerina shape is totally what you should opt for. No matter what you prefer you should make sure that you feel comfortable and satisfied with the way your nails look.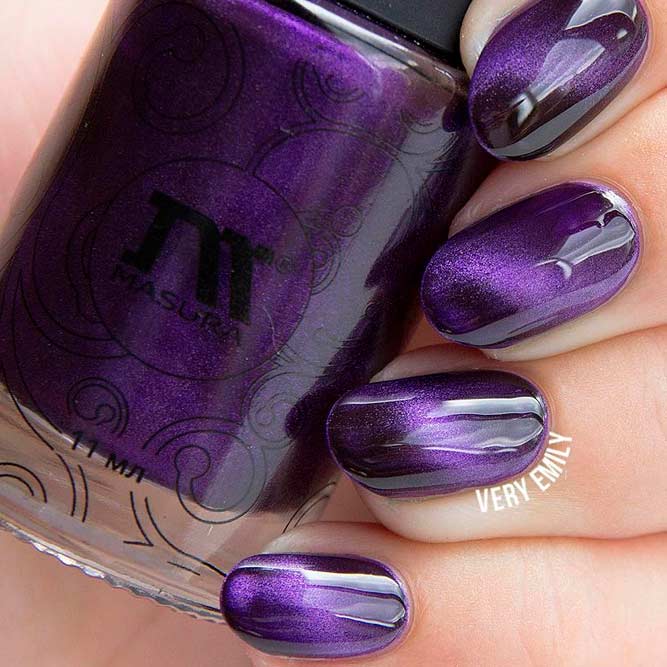 Source:
veryemily via Instagram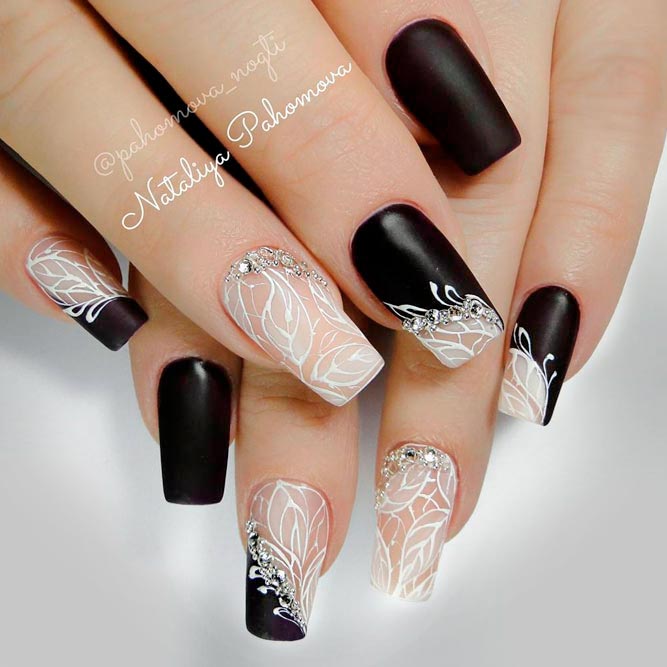 Source:
pahomova_nogti via Instagram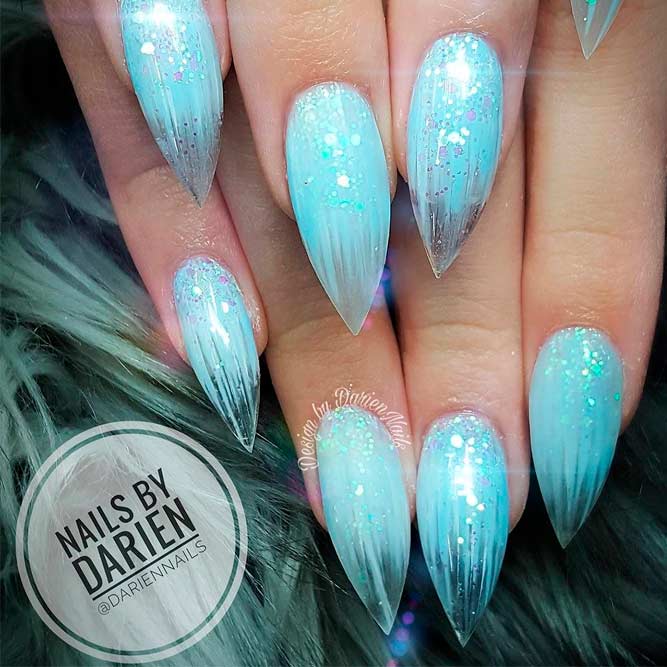 Source:
dariennails via Instagram
Source:
themainlexx via Instagram
Source:
chellys_nails via Instagram
Source:
home_of_deva via Instagram
Most Popular Acrylic Nail Designs
Acrylic nail designs are perfect to set your imagination free. No matter what you choose, make sure that you at least considered what we have to suggest here.
Almond nails look extraordinary with the mixture of pastel and dark shades, especially when emphasized with rhinestones and intricate geometric patterns.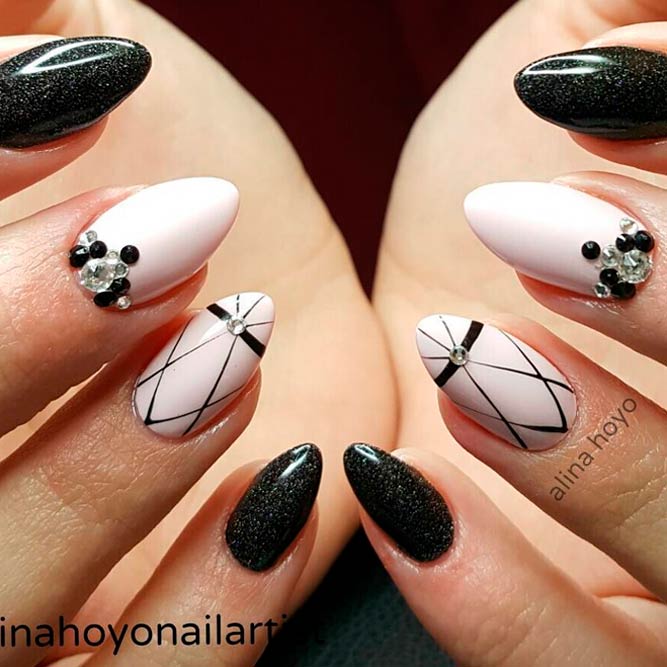 Source:
alinahoyonailartist via Instagram
No matter where you are headed or which shades you prefer – remember that even a slightest gold upgrade will take your mani to the next level.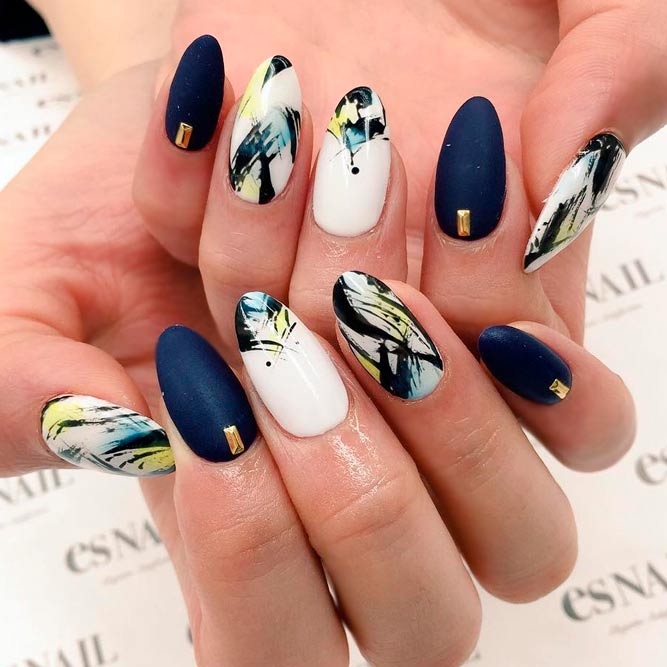 Source:
esnail_japan via Instagram
If you are a classier kind of chic, spice your regular French with an unusual pointy shape. So simple and so perfect!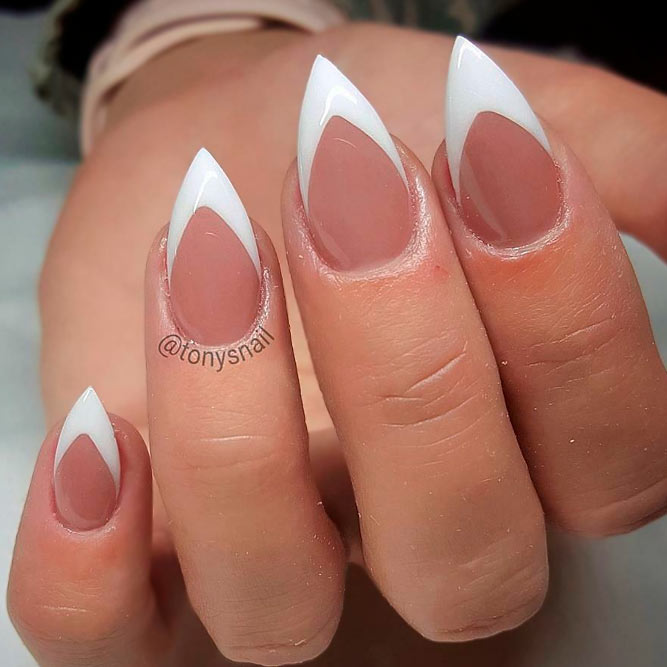 Source:
tonysnail via Instagram
Chic Mani With Rhinestones
After having gotten the desired shape and length of acrylic nails, you are able to paint them in your favorite colors or experiment with designs. Put a little bit of glitter or rhinestones, creating a black-and-white act. An incredible look, isn't it?
Source:
sarahsnailsecrets via Instagram
Source:
pahomova_nogti via Instagram
Source:
amyduclosnails via Instagram
Trendy Nail Designs You Must Try
Thanks to acrylic nails, you are able to realize the boldest ideas of design. A stylish marble art or geometric pattern is the trend of this season. And which one do you prefer?
Source:
perfect10customnails via Instagram
Source:
yagala via Instagram
Source:
perfect10customnails via Instagram
Lovely Acrylic Nail Art for You
Using acrylic powder, you can also create three-dimensional 3D patterns on your nails. Such a manicure will never be over the hill. But you can always prioritize classical ombre or bright hand-painted.
Source:
nailbees via Instagram
Source:
riyathai87 via Instagram
Source:
nail_sunny via Instagram
Everything about Acrylic Nails Upkeep
No matter how fancy and comfortable long acrylic mani looks, you should never forget about keeping your hands and nails clean to prevent any infection from happening. That is why you should wash your hands regularly, but also you need to scrub out all the dirt that piles under your nails. Plus, if there is a dirty work to be done – never forget about the gloves. One more thing – to prevent your nails from peeling off, keep your coticules altogether with hands well moisturized. In case you are wondering how to remove acrylic nails, worry not! You can easily remove them with the help of regular acetone. Just soak a cotton pad in acetone and wrap it around your nail, for the better effect you can wrap some foil around too, wait for about 10-15 minutes and you can easily remove your acrylic nail. Everything perfect is simple at the core. Keep that in mind.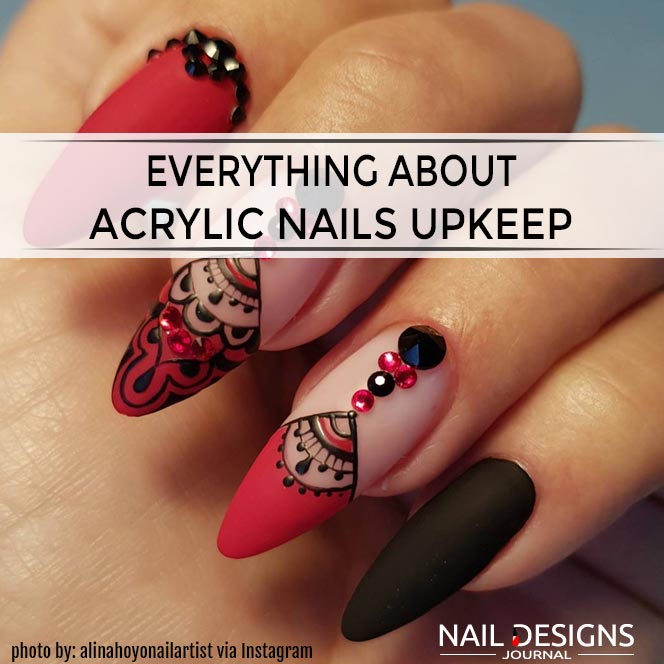 Source:
alinahoyonailartist via Instagram
Time doesn't stay still, come back for a fresh update any time you decide that you have tried it all!
Main photo by Pahomova_nogti