Nude nails with glitter are something universal. Despite all the trends that are changing in a blink of an eye, they manage to stay at the top. What is the reason for that you may wonder? Well, the answer is pretty simple: have you ever seen anything more neat and elegant than nude nail art? There you go! And today we are going to talk about the best examples of this stunning combination.
Gorgeous Nude and Gold Nails
Nude and gold nails can be very bold and edgy. In case you do not believe us, have a look at this sharp stiletto shape. The nails would look like animal claws but this sweet sparkly mani makes them look simply charming.
Source:
Mariya_arr_nails via Instagram
Source:
Tonysnail via Instagram
Source:
Laquenailbar via Instagram
Amazing Nude Almond Nails
When it comes to nude almond nails, you can say straight away that there is nothing more sweet-looking. Until you know a little trick that will make that sweetness simply overload. Yes, we have in mind that tiny vertical gold stripe added.
Source:
Selfie_beautyclub via Instagram
Source:
Christinacronk14 via Instagram
Source:
Home_of_deva via Instagram
Stylish Short Nude Nails With Glitter
If you seek something that will look extremely neat, we may have something for you. Keep your nails short and combine them with this sweet nude-shaded mani. Do not forget to cover some fingernails with gold sparkles!
Source:
Kira_sweet_nails via Instagram
Source:
Rudman_nailstudio_nsk via Instagram
Source:
Amur_nails via Instagram
Trendy Glitter Polishes
Time never stands still. As the trends are changing so are the means and products. You no longer have to combine nail polish and glitter to create something out of ordinary. Nowadays, nail polishes themselves are already mixed with glitter.
Source:
Borsch_nails via Instagram
Source:
Justagirlandhernails via Instagram
Source:
Shannasnailadventures via Instagram
Simple and Chic Nail Designs
What is the best way to keep your nails simple still chic? There is nothing complex about it. Just a glossy nude base with a hint of sparkles and the stunning perfection is ready!
Source:
Cutepolish via Instagram
Source:
Tonysnailvia Instagram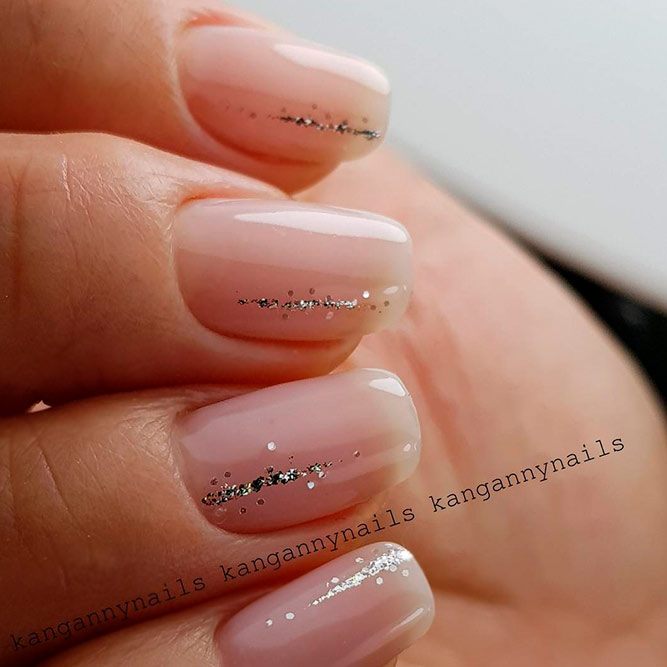 Source:
Kangannynails via Instagram
Best Ideas for Nude Nails with Rhinestones
If you decide to combine a nude design with rhinestones, we may have just the perfect idea in mind. Just one look at this gorgeous pattern in a combination with silver sparkles won't leave anyone indifferent.
Source:
Madina_nails via Instagram
Source:
Darya_shellak_tmn via Instagram
Source:
Darya_shellak_tmn via Instagram
Nude Nails with Glitter for Every Day
If you are looking for something to suit your everyday life, then this design may be just it. Combine a pink nude base and the half-moon design, add up a nice sparkly pattern, and there will be no outfit that won't suit you.
Source:
Laquenailbar via Instagram
Source:
Getbuffednails via Instagram
Source:
Mariya_arr_nails via Instagram
Main photo by Tonysnail