Nude nails are universal, just like red lipstick or little black dress, that is a known fact. Yet, these days, more and more nude shades appear. When you think about it for a while, it seems quite nice to have a greater range of nudes to choose from. But, there is something you are bound to know – not every nude hue suits all types of skin. That is why we decided to carry out a little research and introduce to you a range of shades that go well with every complexion. We hope you will discover something new today!
Nude Shades for Fair Skin Tone
Nude nail colors for fair skin should be contrasting. The thing is that when your skin is naturally pale there is no need to make it look even lighter and more fragile, that is why white nudes and beige ones should be crossed out immediately. While pink shades, are already contrasting to pale skin, that is why you should center your attention around pink shades. In case you want to spice your everyday mani up – light pink nails with glitter are the perfect option!
Source:
essielienchen via Instagram
Source:
little_zzi via Instagram
Source:
little_zzi via Instagram
Nude Nails for Light Skin
Light skin requires subtle nail art ideas. Yet, the key point is to pay attention to your natural nail bed shade, since applying the shame-shaded nude nail polish over, is totally a win-win situation. With light skin, it is important to pay attention whether it has warm or cool undertones, too. Warm undertones beg for warmer shades, such as apricot ones, besides a little bit of glitter wouldn't be a waste too. While, you should opt for cooler shades with cool undertones, something like neat beige would suit you perfectly.
Source:
borsch_nails via Instagram
Source:
natalia.terlikowska via Instagram
Source:
essielienchen via Instagram
Nude Nail Colors for Ladies with Medium Skin Tone
Neutral color nail designs for medium skin should contain yellow undertones, but not the brown ones. What is more, sometimes a little contrast is what you need to spice things up a little. That is why brighter pink shades or coffee-and-milk ones are what you need. Yet, you should stay as far away from ash grey as possible, because you will only make your hands look old and washed out, with shades like that.
Source:
sundancegirl via Instagram
Source:
kelliegonzo via Instagram
Source:
essiepolish via Instagram
Nude Nails for Olive Skin
While considering nude nails for tan skin you should think of something that will highlight your natural tone and will only complement it. That is why pale beige is that perfect contrasting shade that ladies with olive skin tones should at least consider wearing. If beige is not your cup of tea, think of pinkish nudes or even peachy ones, since peach-shaded nails are perfect neutral nails for work.
Source:
amandaensing via Instagram
Source:
lovefreshpaint via Instagram
Source:
lovefreshpaint via Instagram
Nude Nails for Ladies with Dark Skin Tone
When it comes to nail color ideas for dark skin, it is safe to say that the list is never-ending. The thing is that with darker complexion it is so easy to pull of bright nude shades as well as dark ones. That is why if you are looking for something dreamy, you should definitely consider dark reds and browns. While light shades are great for contrast and attention attraction. Do not be afraid of experimentation!
Source:
essiepolish via Instagram
Source:
christinagranthands via Instagram
Source:
whatonegirlloves via Instagram
Time doesn't stay still, come back for a fresh update any time you decide that you have tried it all!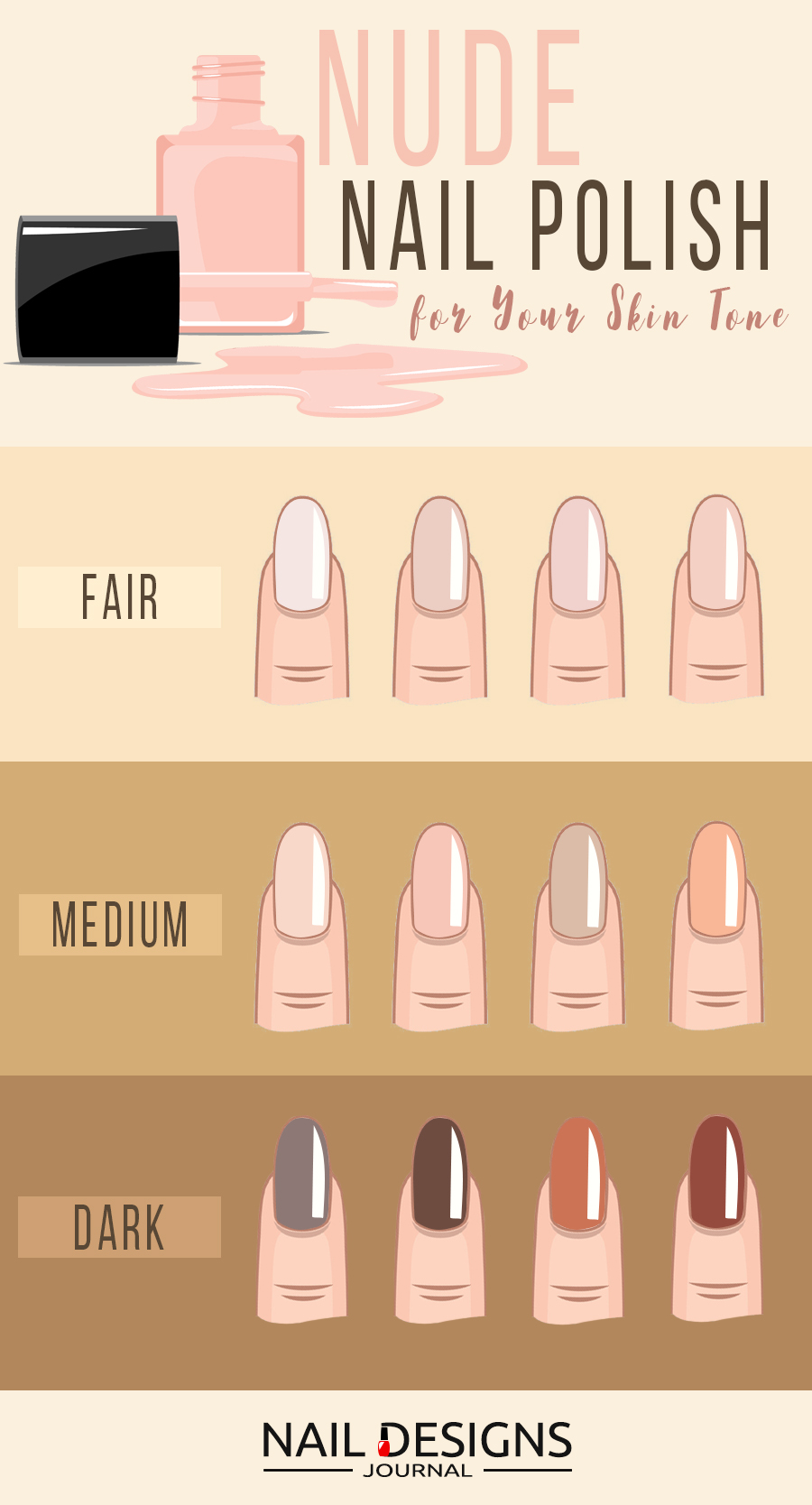 Main photo by Essielienchen