Gel nails are becoming more popular day after day for a number of reasons. Who wouldn't dream of long beautiful nails? They make your hands look more feminine and graceful while the fingers appear more slender and aristocratic. However, we bet you know what a nightmare it is to grow out long natural nails. Even if you manage to do it, there's always a risk to break one or even several. Or they can begin to split and peel. Or Mother Nature didn't grant you with a beautiful nail bed or smile line. Or you hate painting your nails because the nail polish smudges or chips in blink of an eye.
ADVERTISEMENT ‧ CONTINUE READING BELOW
"Gel nails save you a lot of time, nerves and, in the long run, money."
Gel is what's going to wash all your troubles away. If going to the beauty salon isn't an option for you, we have prepared the fullest DIY gel nails guidance that will teach you how to do gel nails at home.
Everything You Need To Know About Gel Nails
Gel nails save you a lot of time, nerves and, in the long run, money. You don't have to repaint your nails every other day unless you really want to. You don't have to worry that it will chip at the wrong moment. You don't have to carry a bottle of nail varnish just in case. You don't have to do many unpleasant things that you would normally do without gel on your nails. Isn't that great?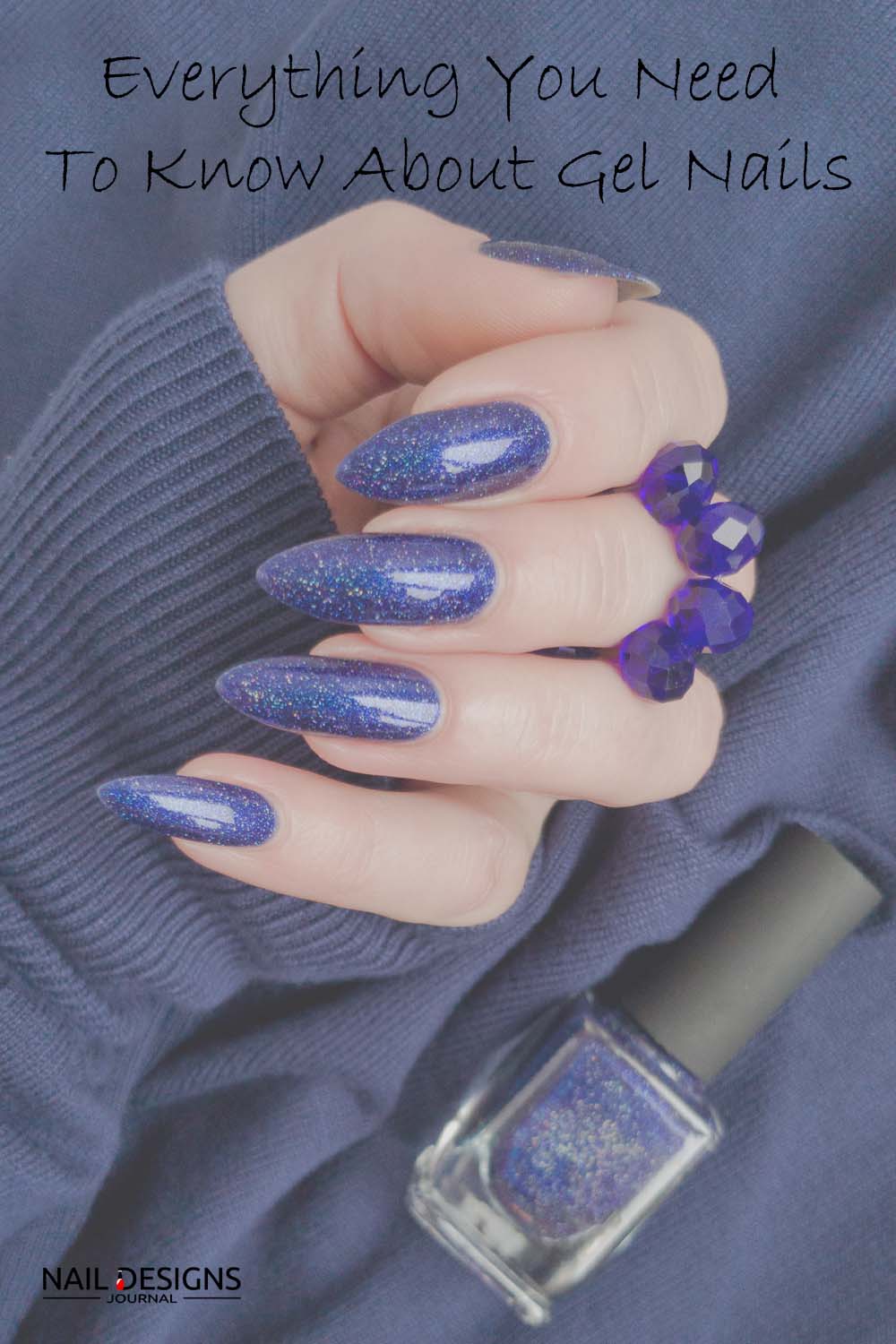 ADVERTISEMENT ‧ CONTINUE READING BELOW
What Are Gel Nails?
To start off, let's address the question "What are gel nails?" When you cover your nail plate with a hard or liquid gel, which basically looks like a thick nail polish, and cure it under a LED or UV lamp, you get a hard top nail coating or, in other words, gel nails.
Gel Vs. Acrylic Nails: Similarities And Differences
Most likely, you've already heard of acrylic nails. If to compare gel vs acrylic nails, you'll reason that they're different as much as alike. For the latter, you use an acrylic powder and a solvent, whereas the former is made with the help of a liquid gel and a LED or UV lamp. However, both of them can be used to build up the nail plate or strengthen the top layer. Acrylic nails don't offer a wide range of colors, unlike the gel ones.
ADVERTISEMENT ‧ CONTINUE READING BELOW
Types Of Gel Nails
The liquid gel nails get covered with comes in two forms – hard and soft. Hard gel can be used to make nail extensions because it becomes tough when cured. So you can get really long hard gel nails even if your natural nails don't have a free edge at all. In its turn, soft gel stays quite flexible, which makes it unsuitable for the nail extensions creation. Soft gel is more used for coloring and designing nails, not building them up.
Gel Nails Myths
Like any other widely spread trend, gel nails have a sheer amount of myths that revolve around them. Though, it only speaks of their popularity. One of the cornerstones that prevent many girls from being happy with their nails is the hot-button question "Are gel nails safe"?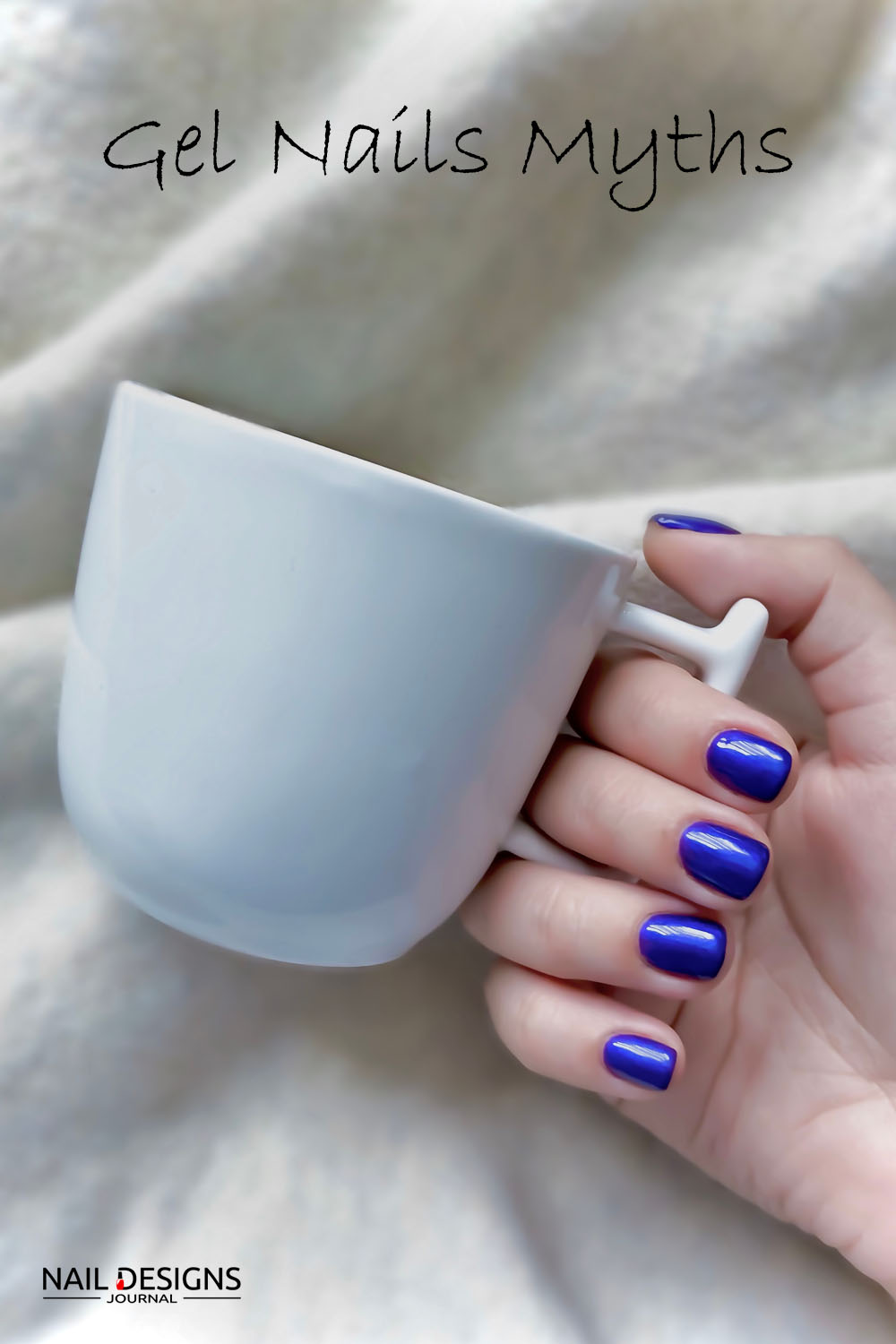 ADVERTISEMENT ‧ CONTINUE READING BELOW
Do Nails Need To Breathe?
One of the reasons why people think that wearing gel on their nails can be harmful is the idea that nails actually breathe. This would probably make sense if our nails weren't dead already. So, there's nothing to worry about. Your nails won't suffocate under the gel coating.
Gels Weaken Your Nail Beds
Okay, so we're done with the whole breathing thing. What's next? Oh, yes. Another myth claims that wearing gel weakens our nail beds. That's not the wearing gel that does harm to your nails but removing it. So, if you want to avoid gel nails problems, arrange the nail technician to take off the coating. However, keep on your toes with him/her and ensure that the work is done properly and, what's more important, carefully.
Cancer Risk
Now, let's talk about serious stuff. Some girls are afraid of being exposed to the UV rays of the gel curing lamps because of the skin cancer risk. Well, we can't blame them. There is a proven connection between ultraviolet radiation and oncological diseases. So, technically, UV gel nails increase the risk of skin cancer. But, we have some good news for you. Due to not so recent but colossal advances in the beauty industry, many companies switched to LED lamp curing, which is totally safe for you. If you still opt for using a UV lamp, apply a bit of sunscreen beforehand.
Another source of the possible cancer threat is the ingredients. Examine the list of the chemicals included in your gel polish carefully. Look for toluene, formaldehyde and dibutyl phthalate. If you find any of these harmful ingredients, the product is unusable.
ADVERTISEMENT ‧ CONTINUE READING BELOW
How Long Do Gel Nails Last?
So, how long do gel nails last? You might wonder. Again we have some good news for you. The best thing about gel nails is their endurance. Weddings with the dances till you drop, birthday parties with enormous feast cooking, exhausting workouts – nothing can ruin your confidence with the chipped nail polish. Gel nails will survive anything during 2-3 weeks, and then you'll want to refresh them.
How Much Does It Cost?
Gel nails cost depends on the place where you do it as well as the complexity of the look. Some basic mono-colored manicures can cost around $35. It's slightly more than the traditional procedure. However, keep in mind all the advantages of gel.
Get Your Gel Nails At Home
Still, if you want to save some money or just reluctant to go anywhere, you can gel nails at home. Just get yourself a special at-home gel-kit and follow the instructions on how to do gel nails carefully. Also, note that done at home gel nails last longer than a traditional mani but shorter than the high-quality salon nails. If you're still determined to do your own nails, don't forget about the moisturizer and cuticle oil. They will keep the nails in good condition.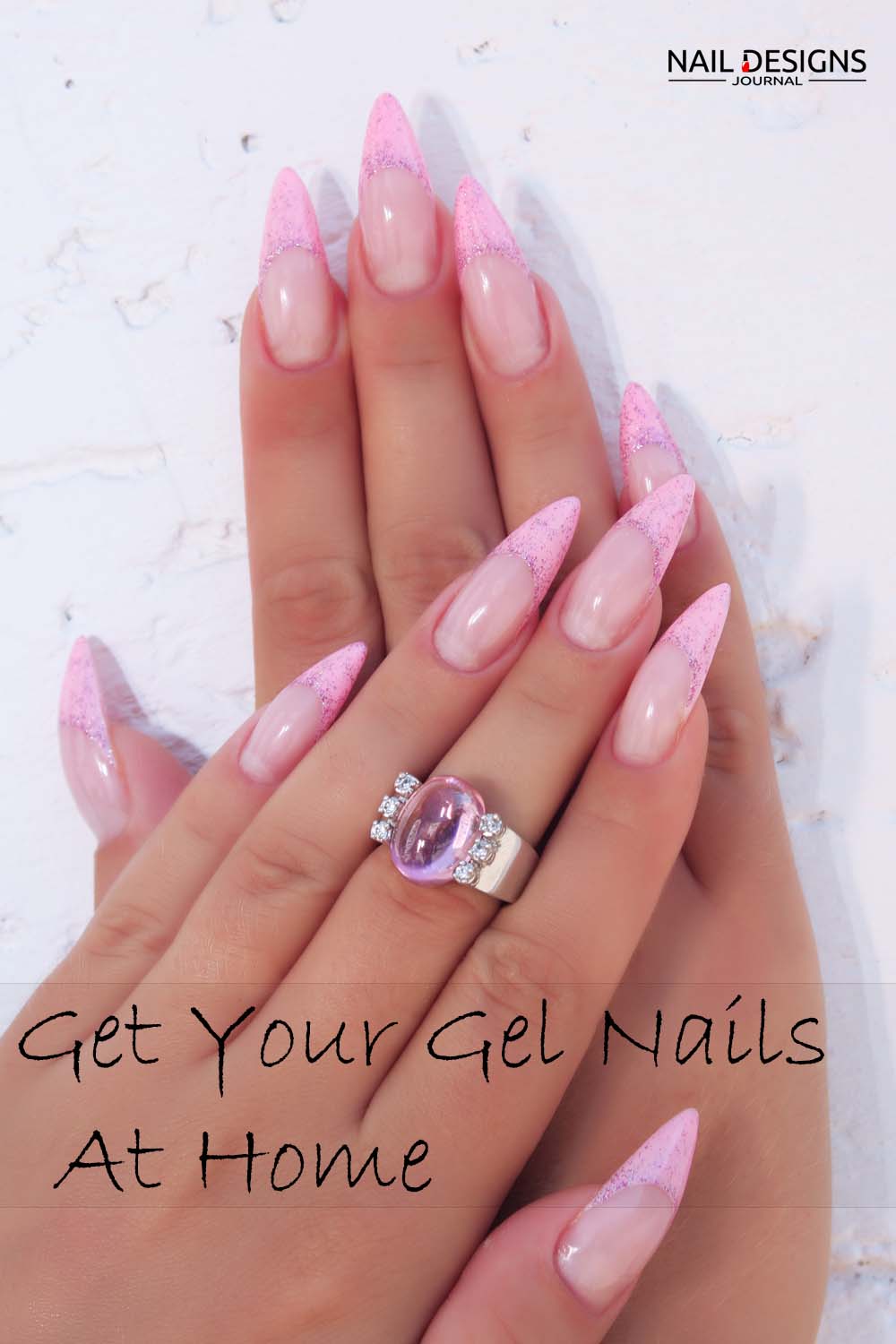 ADVERTISEMENT ‧ CONTINUE READING BELOW
DIY Gel Nails: Application Tips
Following are the tips for gel nails application:
Begin by clearing your natural nails from any remains of the previous gel.
Prep your nail form and pop it under the nail. Ensure that it fits closely without any gaps. Secure the back tabs.
After you've attached all the forms, apply two layers of the gel rubber base coat.
Deep your gel brush into the pot with the hard gel and scoop a bead of the gel. Place the bead where your free edge is and butt it up to each side.
Pull the gel up to the desired size of the nail.
Utilize a UV or LED lamp for the required amount of time, about 30 seconds, to get the first coat cured.
When the first layer is done, remove the forms by pinching them underneath and pulling down.
Take another bead of the hard gel and apply it to the nail plate, moving from back to front in painting motions.
Put the hand into the UV or LED lamp for curing.
Apply the third layer, starting from the cuticle area but moving from side to side this time.
Check from every angle if the apex is in the correct place. If not, hold your hand upside down for around five seconds. This will create the perfect c-curve.
Repeat the step 9.
Take off the inhibition layer with the help of the cleanser.
Create your perfect nail shape by filing the sidewalls, cuticle area, free edge and the body of the nail.
Clear all the dust out with the manicure brush.
Check if you're happy with the shape of the barrel of the nail.
Apply a shiny gel top coat and a cuticle oil.
How To Remove Gel Nails
Say, your done at home gel nails have been worn out and you're ready to learn how to take off gel nails.
You will need: a gel remover (alternatively, you can use 100 percent acetone, but be ready that it's rather harsh), cotton balls, tinfoil and a hand towel.
You will do:
Soak a cotton ball in the remover.
Place it on your nail top.
Wrap tinfoil around each nail.
Wrap a hand towel around your hands.
Wait for 15-60 mins.
Remove the gel with a rubber end of a cuticle pusher.
NB Don't scratch or grind because you'll damage the nail bed.
Easy Gel Nail Designs For Beginners
Now when you know how to remove gel nails, it's time for the fun part, design. Gel nails offer you a big number of styling opportunities. Here are some ideas.
ADVERTISEMENT ‧ CONTINUE READING BELOW
Classic French Tip Nails
It's hard to imagine such a perfect French tip nails made of any other material but gel. Being one of the classic gel nails designs, it's extremely versatile and looks flattering on any nail shape. You can opt for a square stiletto, for example, which makes the classic French bold and stylish. The smile line goes deep and the arch is quite curved.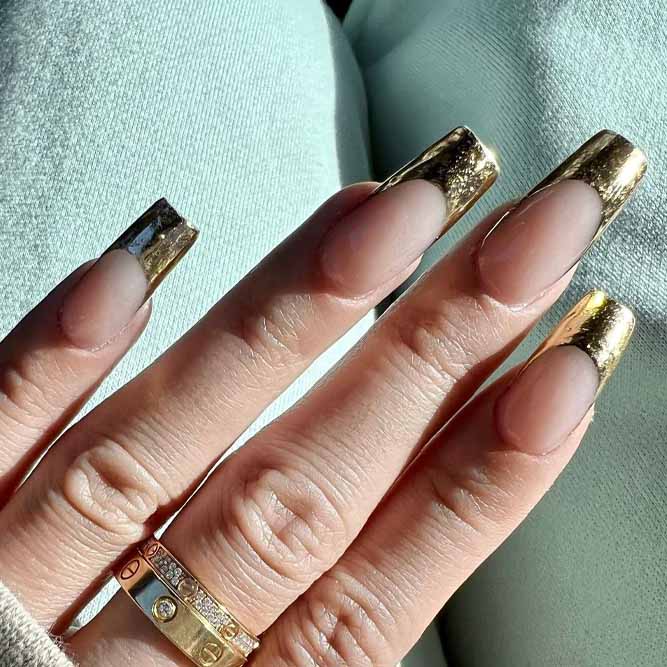 Source:
malishka702_nails via Instagram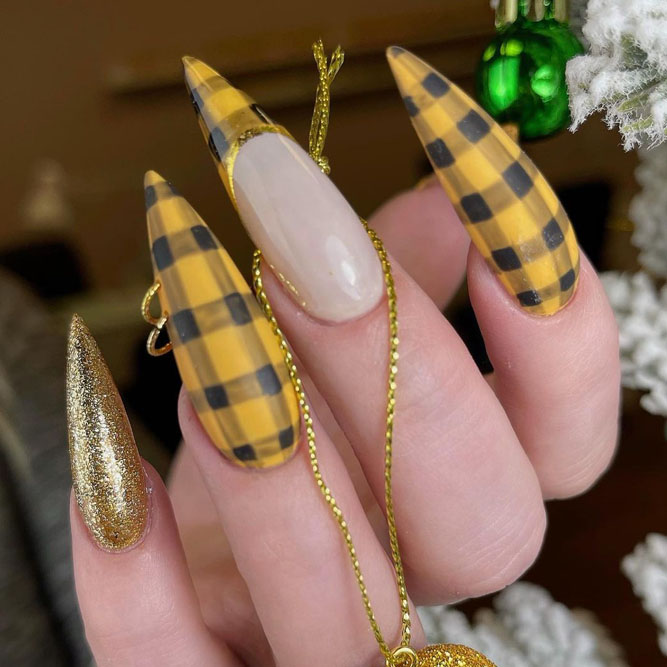 Source:
malishka702_nails via Instagram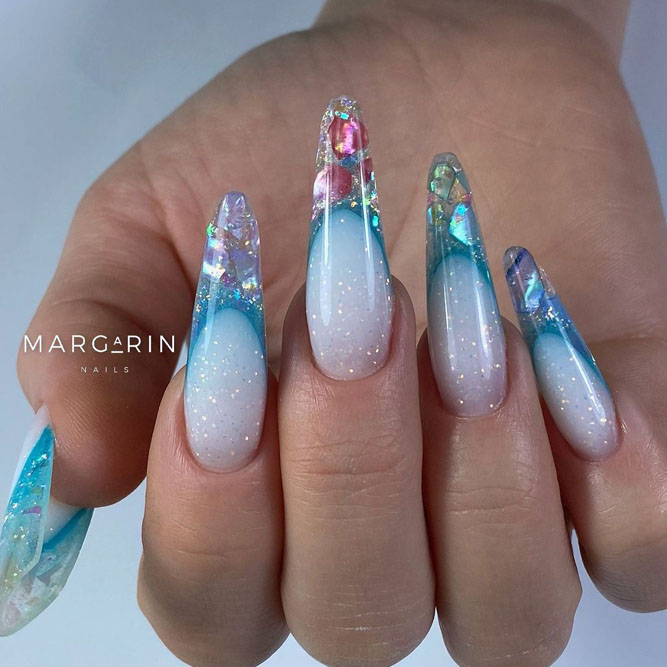 Source:
margarin_nails via Instagram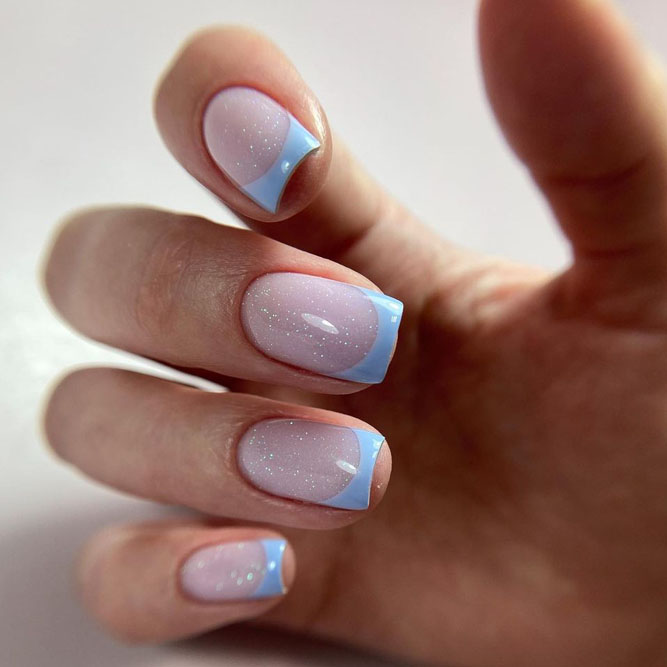 Source:
parfionava.nail via Instagram
Gel Nails with Mix Colors
If you prefer more solid coverage, you may, of course, go with a single color on short or long nails. However, why not to make it a little more varied by combining several different colors? If you're not confident in your color-matching skills, just ensure the colors you choose belong to the same color spectrum. In case you still hesitate what colors to choose, help yourself with the Pantone Matching System.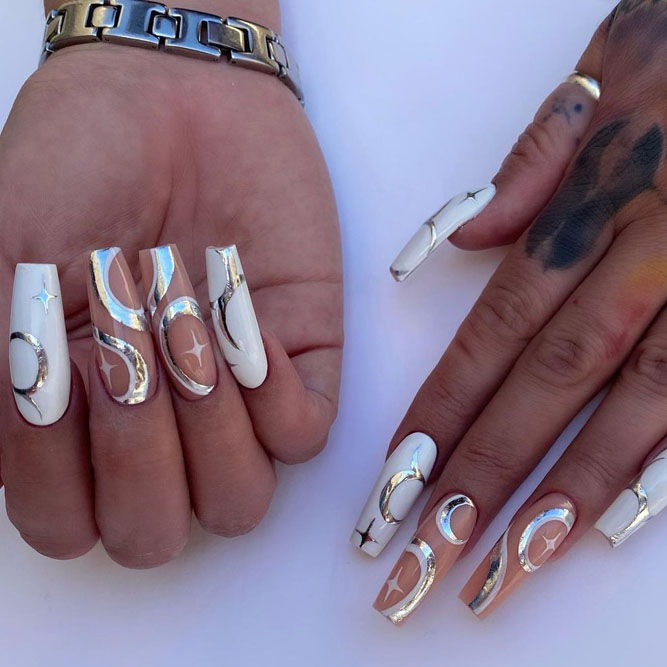 Source:
malishka702_nails via Instagram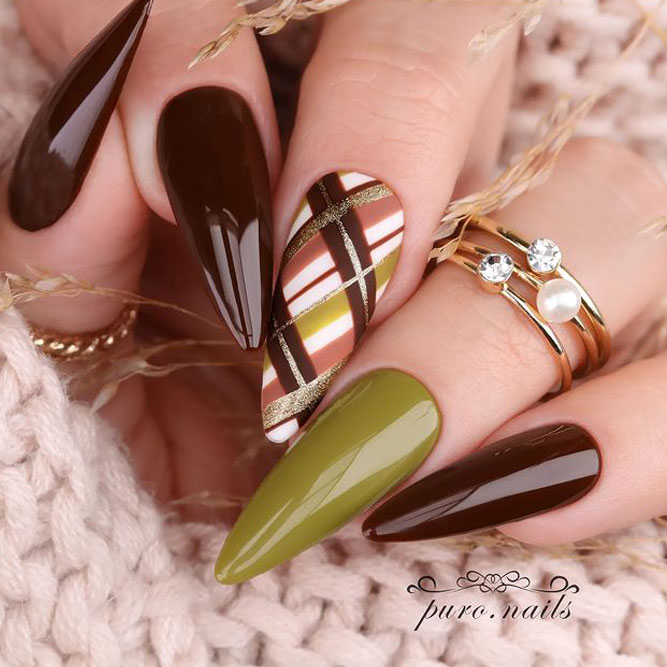 Source:
puro.nails via Instagram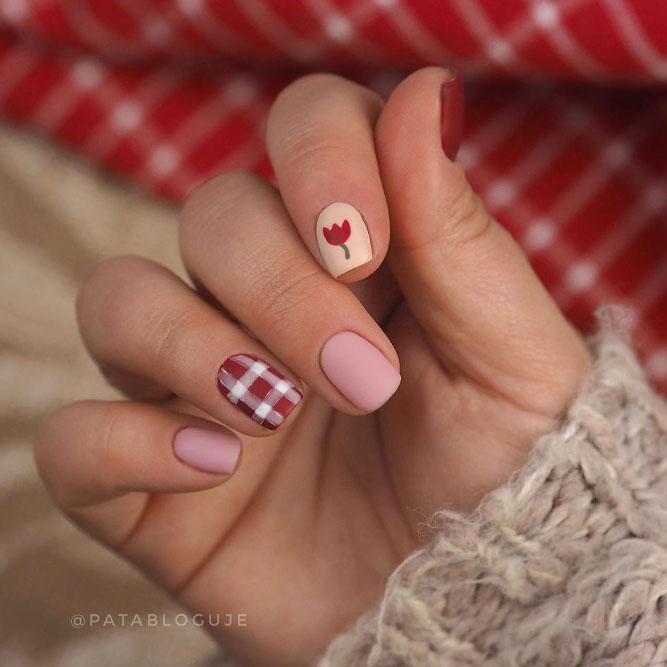 Source:
patabloguje via Instagram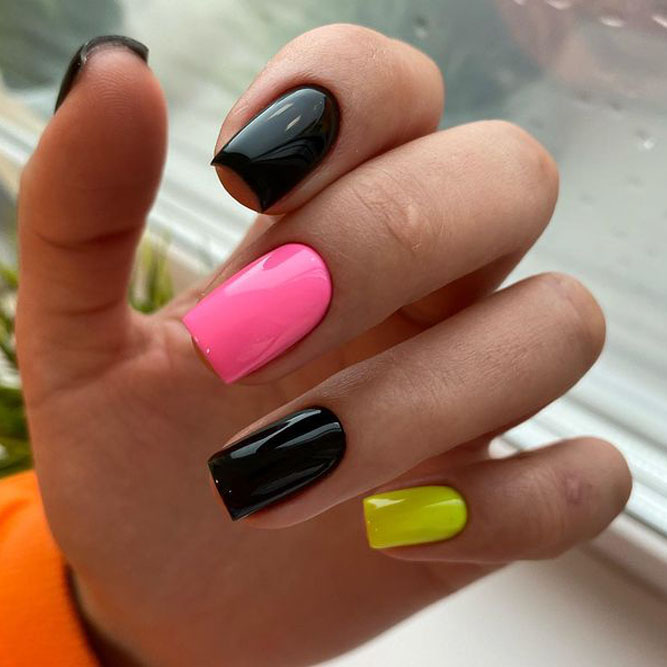 Source:
parfionava.nail via Instagram
Ombre Gel Nail Designs
The gal who would dare to wear such a rich ombre nails designs is definitely used to living on the edge. You create an ombre effect with your fav colors. Note that the colors of all the materials complement each other perfectly.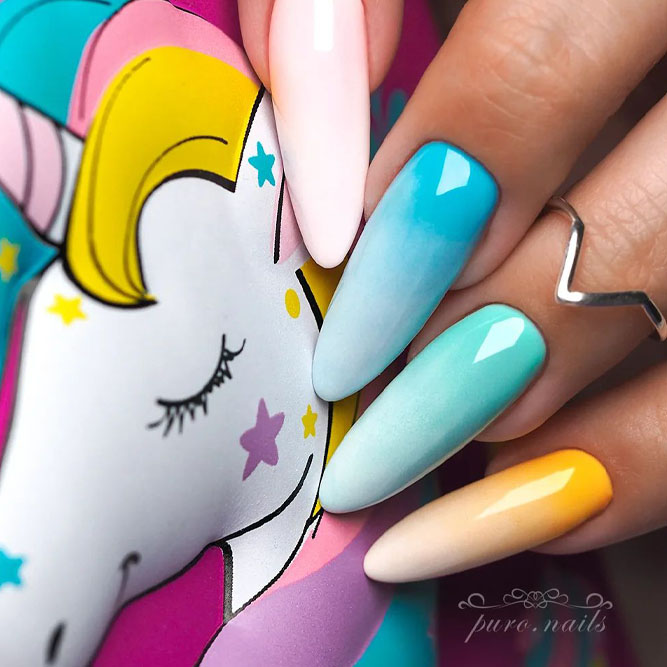 Source:
puro.nails via Instagram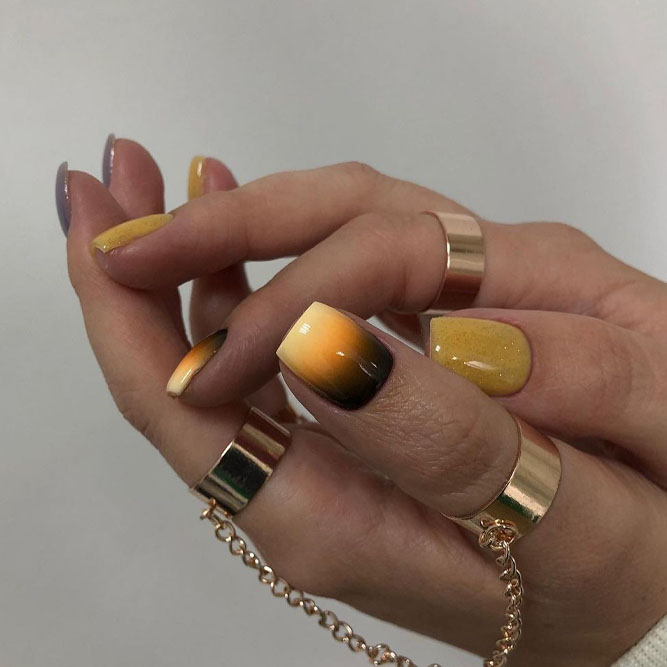 Source:
denisova_nailartist via Instagram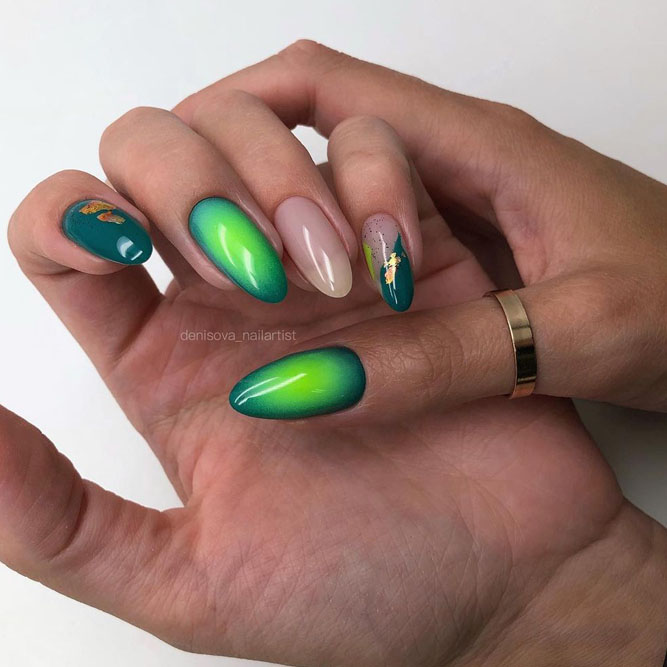 Source:
denisova_nailartist via Instagram
ADVERTISEMENT ‧ CONTINUE READING BELOW
Glittery Gel Nail Designs
Feel like doing some more sophisticated nude nail design? Here's a great option for you. Cover several nails with the nude or pastel color. Find the glitter that matches this color and create a fading effect on the clear gel nails, moving from the free edge to the base of the nail.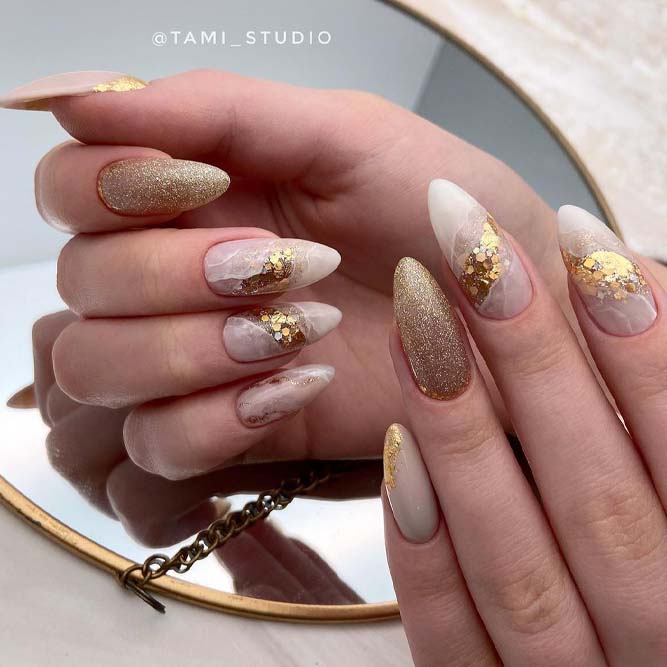 Source:
tami_studio via Instagram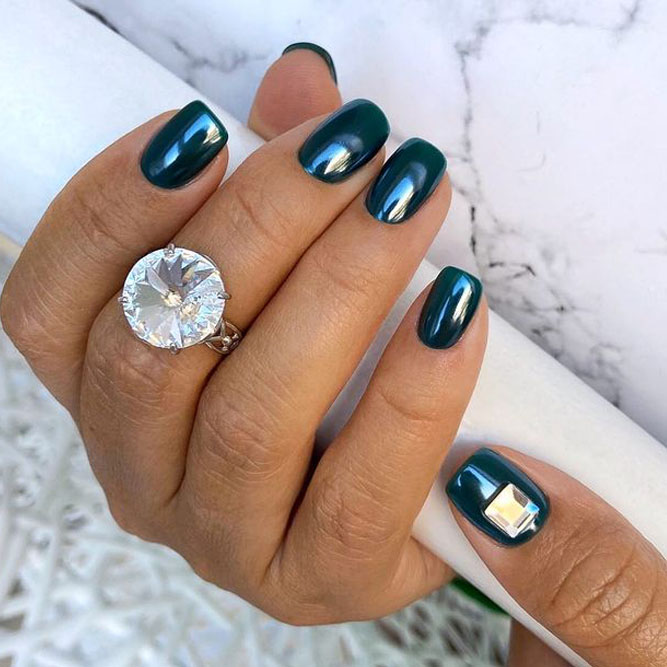 Source:
tami_studio via Instagram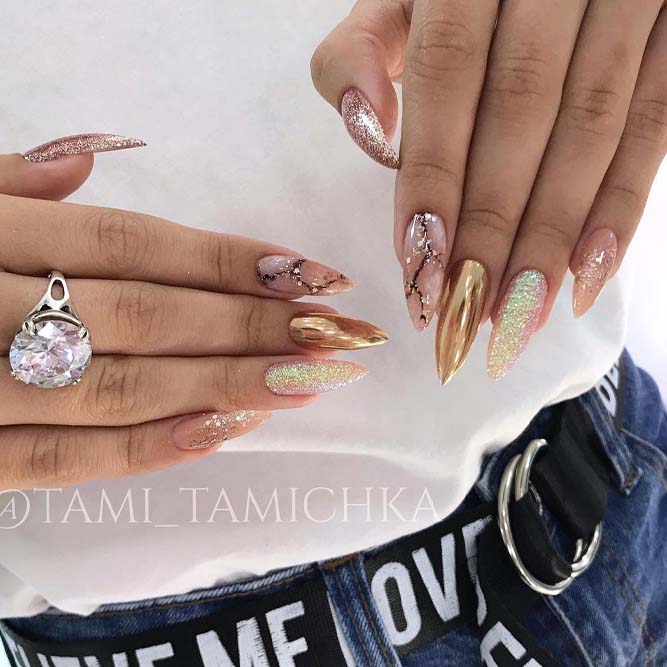 Source:
tami_studio via Instagram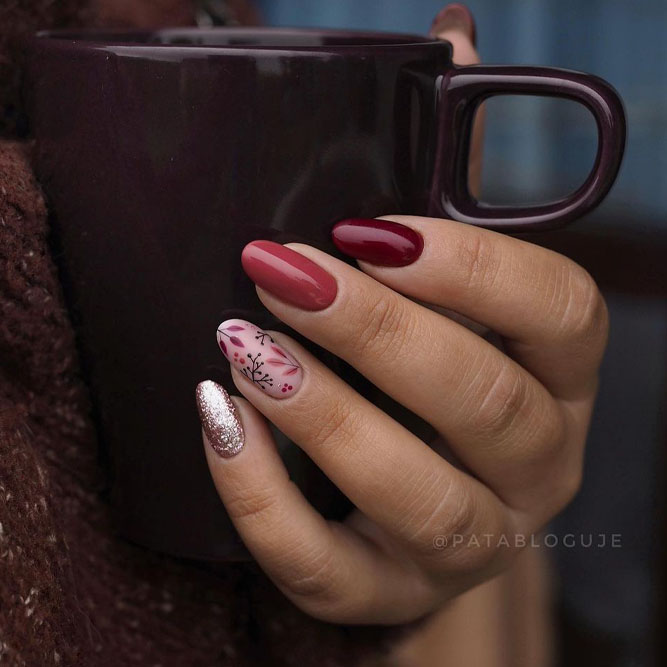 Source:
patabloguje via Instagram
Gel Nails with Floral Accent
Flower nail designs, which just looks out of this world, is definitely here to stay. It makes your manicure incredibly alluring, like the eye candy. You can cover all your nails with it or accentuate separate fingers. No matter whether you choose short gel nails or long, ensure there's a flowers added to your manicure because your nails covered with it look much classier than the traditional solid color gel.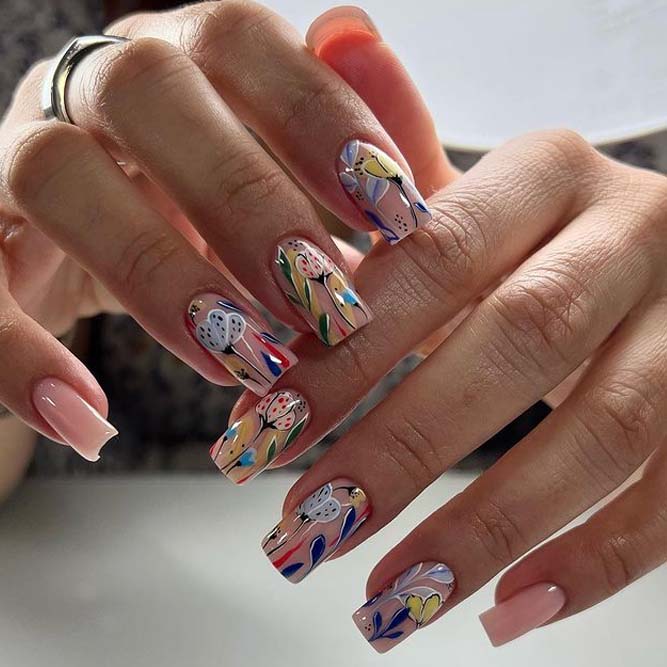 Source:
malishka702_nails via Instagram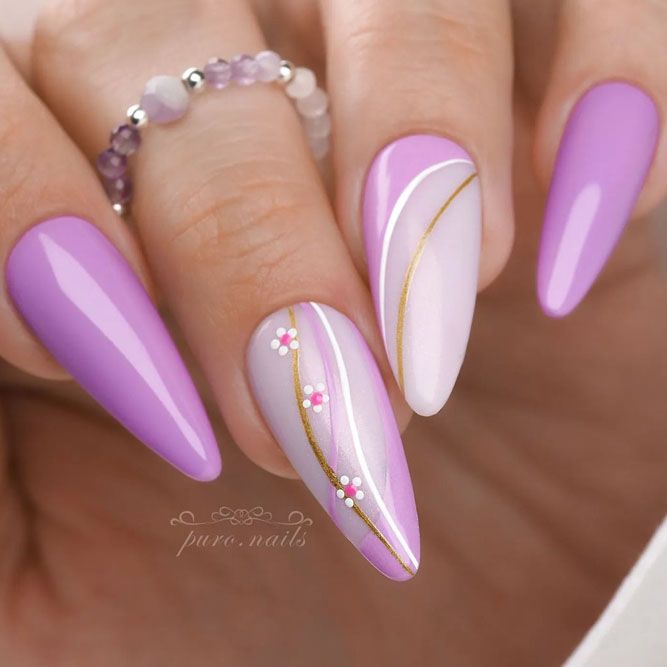 Source:
puro.nails via Instagram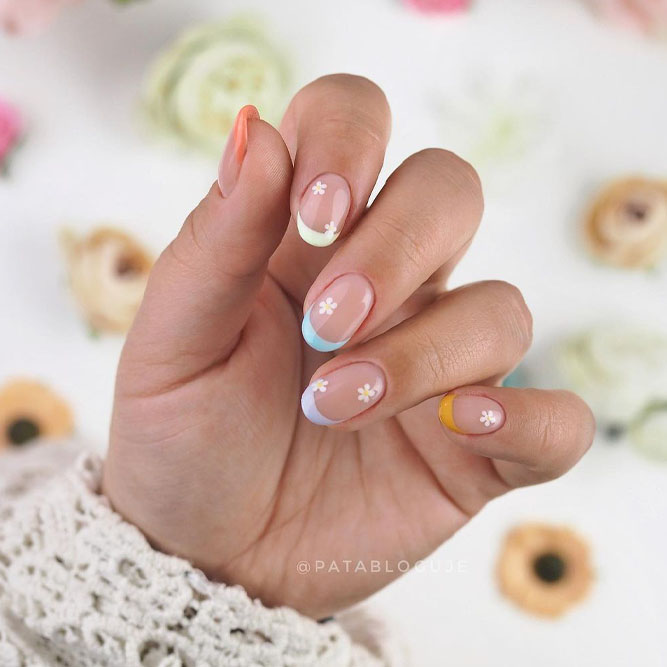 Source:
patabloguje via Instagram
We hope that from now on, you won't have any dissatisfaction with your nails. You know how, why and what to do so that your mani looked incredible. And if you asked yourself, "What are the coolest gel nails near me?", the answer would be, "Mine."
ADVERTISEMENT ‧ CONTINUE READING BELOW