Disney nails is what you should definitely choose next time you are picking a design. Why? Don`t you love Disney cartoons? Cute, kind and heartwarming, they bring a lot of childhood memories back to us. Don`t you want to smile every time you look down on your nails? Sweet moments will instantly get back in your memory. Get some inspiration with us and pick your own loved idea.
Simple Mickey Mouse Nails For You
A true classic Disney character like Mickey Mouse can`t be ignored when it comes to Disney themed nails. The one that is associated with the company, it will make your nails look truly special. Add other simple details like hearts and enjoy your simple Disney nails.
Source:
chiekonakayama via Instagram
Disney Nails With A Delicate Accent
Would you like to add a small detail that will mean a lot to your nails? Draw a little Mickey Mouse and even such a small thing will brighten up your mood during the day.
Source:
pinkiesnailspa via Instagram
A Nude Color and Glitter Mickey Mouse Design
Among other Mickey Mouse nails ideas, we have the one that will be perfect for not only short but also for long acrylic nails. Use a nude color as a base and apply a Mickey Mouse head with glitter on one of the fingers. Stylish but cute and lovely, isn`t it?
Source:
nailsbytinav via Instagram
Disney Nails With An Interesting Glitter Accent
If you are a fan of glitter, we have a cool idea for you. Use it in a new way and create tiny and colorful Mickey Mouse heads with the help of round pieces of glitter. A beautiful glitter accent, in our opinion.
Source:
noemihk via Instagram
Wonderful Fantasy Disney Nails
A perfect idea if you would like to put whole pictures onto your nails. Stick the images or stickers of Mickey Mouse characters and complete the whole design with black and dark blue glittery colors. You can also add little details for an interesting twist.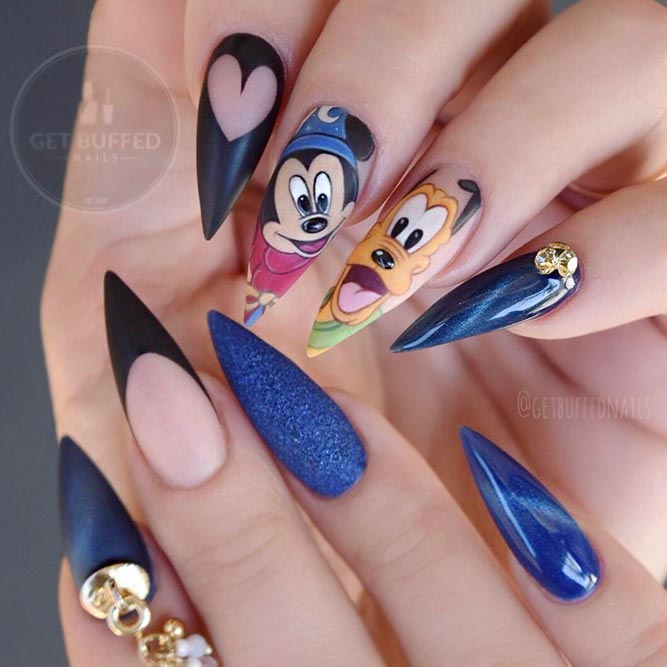 Source:
getbuffednails via Instagram
Classic Mickey Mouse Nails
What are classic Mickey Mouse nails? The combination of red, white and black colors done in different variations. White dots on the red color, black color with red glitter on it and the images of Minnie will make your nails super creative and fun.
Source:
veronicas_nail_art via Instagram
A Disney Princess Nails Art
Disney princesses are the most famous characters in the world. Every little girl dreams to meet them in real life, so why don`t you use their images for nails design later when you grow up? Sweet memories of watching cartoons and light – hearted time will pop in your head for sure with these Disney princess nails.
Source:
celinedoesnails via Instagram
Inspiring Beauty and the Beast Nails
For most girls, Beauty and the Beast gives the first definition of love in their childhood. Would you like to bring those memories back?
Source:
jamylyn_nails via Instagram
Use this beautiful Disney princess nails design. You can apply the image of Belle and the rose combined with different shades of pink. Doesn`t this idea look great?
Source:
getbuffednails via Instagram
Cute Little Mermaid Nails
Another Disney princess nails suggestion that will make your heart beat faster is the little mermaid one. Use a blue color as a base and apply some drawings that you associate with the cartoon. A little friend fish and Ariel herself would look so cute drawn by hand.
Source:
salonglitterhawaii via Instagram
Pretty Frozen Nails
A great Disney nail art idea would be to use a nail sticker with the image of Elza from Frozen. Choose the colors that will go well with the theme of the cartoon and apply them as a base to the nails. Choose one finger for an interesting design and your cute Frozen nails are done.
Source:
jessnailed_it via Instagram
Perfect Aladdin Nails
If your favorite Disney cartoon was Aladdin, then this will become your favorite design. Make grey the main color theme of it and add small details. Glitter, little patterns and of course stickers with Jasmine that will make the whole design even more dreamy.
Source:
getbuffednails via Instagram
A Hand Drawn Brave Nail Art Idea
Do you like new Disney animated movies more? Then think about getting the manicure with some Brave design. Ask your nail master to draw images of characters on every finger and voila, you`re done! A cute and really interesting idea.
Source:
celinedoesnails via Instagram
A Maleficent Disney Nails Art
You don`t have to choose only good Disney characters. A beautiful villain design would be looking perfect too. Add a sticker with Maleficent to black and nude colored nails and a special mood will be around to the idea you have brought to life.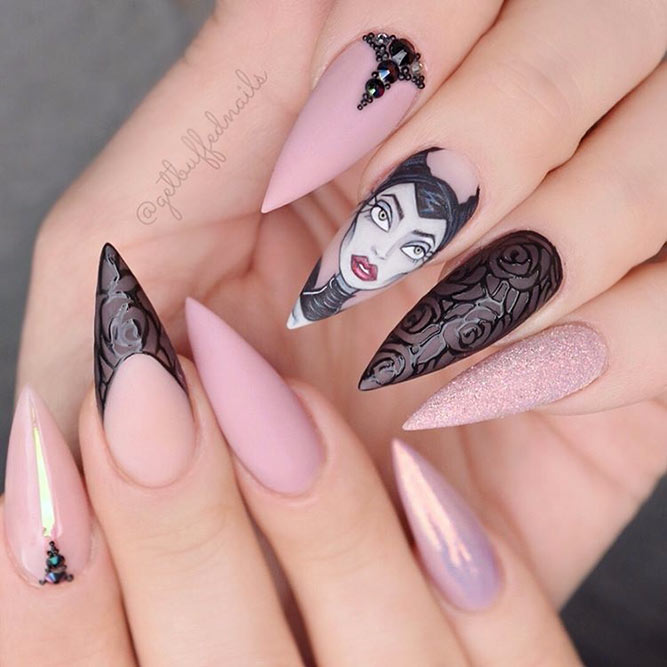 Source:
getbuffednails via Instagram
Other Disney Heroes For You Nail Details
Pinocchio
Pinocchio is a great story that has a beautiful atmosphere around it. Wouldn't you like to recreate it in real life even in such a small way? Add stickers to a basic manicure with light colored nails and make the whole appearance of the nails special.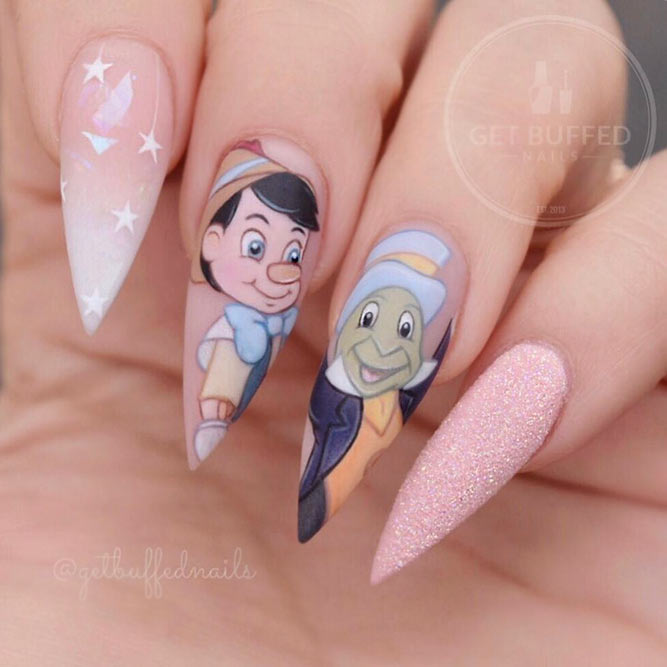 Source:
getbuffednails via Instagram
A Cute Winnie the Pooh Nail Art
Winnie the Pooh is what definitely comes up in everybody`s mind when we start thinking of a really classic childhood story. Draw beautiful and cute little images of your favorite characters and enjoy the way your nails are done.
Source:
celinedoesnails via Instagram
Source: bota_nails via Instagram

Source: clairelofthouse via Instagram

Source: home_of_deva via Instagram

Source:
creatinails via Instagram
Classic Red Nails Incredibles Design
After the coming out of the second part of Incredibles, this nail idea is definitely in trend. Moreover, it is in red color that is considered immortal. Add little details that are associated with the cartoon and a stylish manicure will be created in the end.
Source:
nails_by_erin via Instagram
101 Dalmatians Disney Themed Nails
No one can resist puppies and the emotions their appearance brings. That is why we believe 101 Dalmatians got so popular. Would you like to bring the overload of cuteness to your nail design? Add little black dots on a white color that remind of these gorgeous dogs and add a little red collar to one of the fingers. Get so many compliments for your idea.
Source:
banicured_ via Instagram
Interesting Dark Nails With Finding Nemo
Do you enjoy dark nails but would like to make them look a bit more special? Use an ocean blue color on all of your nails and put on a sticker from Finding Nemo to one of the nails. Great looking, isn`t it?
Source:
jessnailed_it via Instagram
A Colorful Inside Out Idea
If colorful nails are your thing, then we have a wonderful idea that will make them appear even more interesting. Add little faces from Inside out to every nail and you won`t be disappointed with the reaction you will get from other people.
Source:
chalkboardnails via Instagram
Dumbo Disney Nails
Source:
home_of_deva via Instagram
Moana Nails
Source:
devs_nails via Instagram
Lilo And Stitch Mani Idea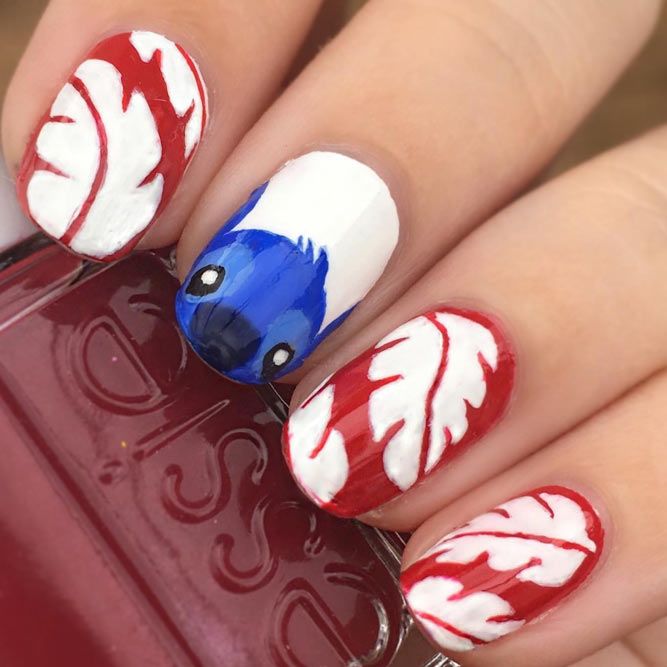 Source:
devs_nails via Instagram
Ohana-Family Nails
Source:
hdinails via Instagram
Idea For Tinkerbell Lovers
Source:
getbuffednails via Instagram
Alice in Wonderland nails
Source:
damselnails via Instagram
The Disney nails ideas are so cute and creative that you can`t miss your chance to try them at least once. Pick your favorite design and see what great emotions it will bring you. Bring some colors to your life with its help.
Main photo by Nailkishkina