We're in a creative age where new ideas keep popping out. Everyone wants to explore lots of styles and also still wants to maintain the same level as others when it comes to trends. Nail trends are no different. Despite the diversity when it comes to current nail trends, there are certain designs that have found a special place in people's hearts, hence the popularity they have. Find below, a compiled list of nail trends 2023 that almost everyone is rocking.
Stylish Pastel Nail Art
If you have a hard time deciding on a color to go for, there's also the option of trying multiple ones. Pastel colors nails arts are perfect summer 2023 nail trends because of the vibrant yet soothing colors involved. This type of design isn't all over the place but rather involves the combination of warm colors to bring out a beautiful result.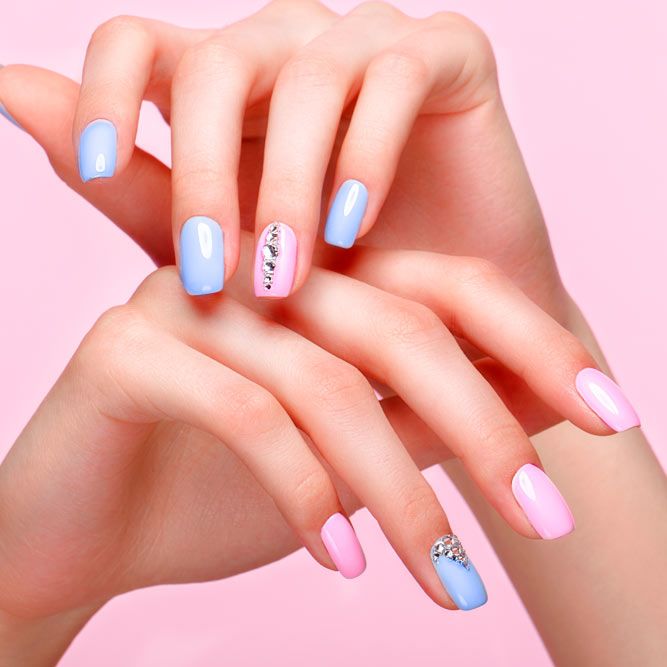 Perfect Blocked-Off Nail Design
This is quite another popular nail trends summer and involves the use of bright tones and shades. You can easily achieve this design from the comfort of your personal space if you love to explore your nails yourself. All you need is your chosen nail paints and sticky tape if you don't have a stable hand. This is because the lines you'll need to paint on your finger have to be clean and clear for a better result. You can opt for two colors and even go beyond that number if you want something more unique. Just try to e sure the colors blend in a pretty harmony.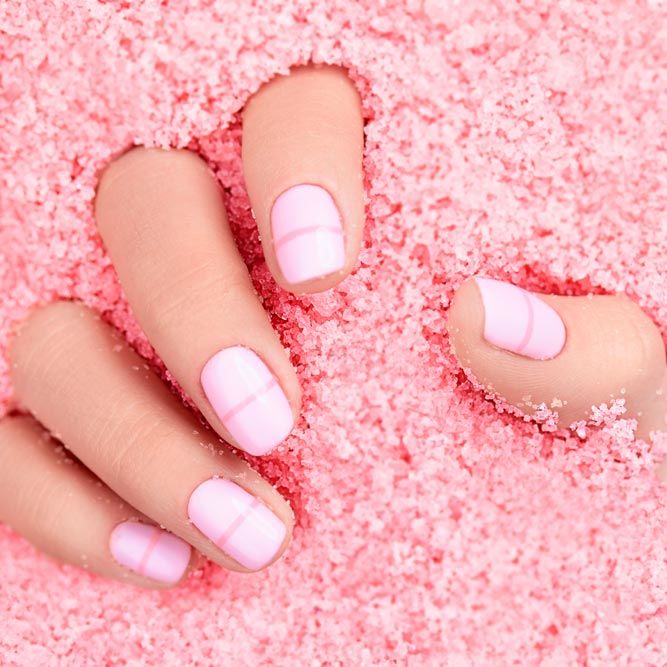 Top Nail Trends – Leaves Pattern
Want to take your artistic skills to the next level, then bring nature to your fingernails. It's unique and worth experiencing. Regardless of what type of leaves you want, the result always ends up spectacular. If you want a unique leaf and you're not confident in your skills to design such yourself, consult experts for better results. The idea of drawing any type of leaf on your nail beds and exploring it with different colors is very refreshing and has its charms.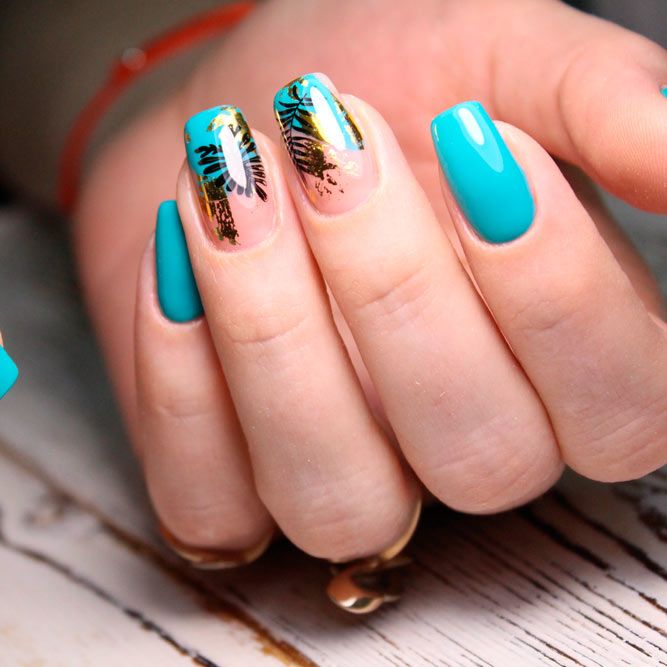 Not Just The Usual French Tips – Make It Deeper
Naturally, French tip nails involve using a warm shade at the tip of your nails different from the color of your nail bed. But to go for something similar but still a little bit different, you can increase the width of the tip colors. Instead of it being just at the edge like the usual acrylic nails trends, you can bring it lower to almost reach the middle of your nails, depending on how much you want the color to show. Length doesn't really matter here at its pretty either way.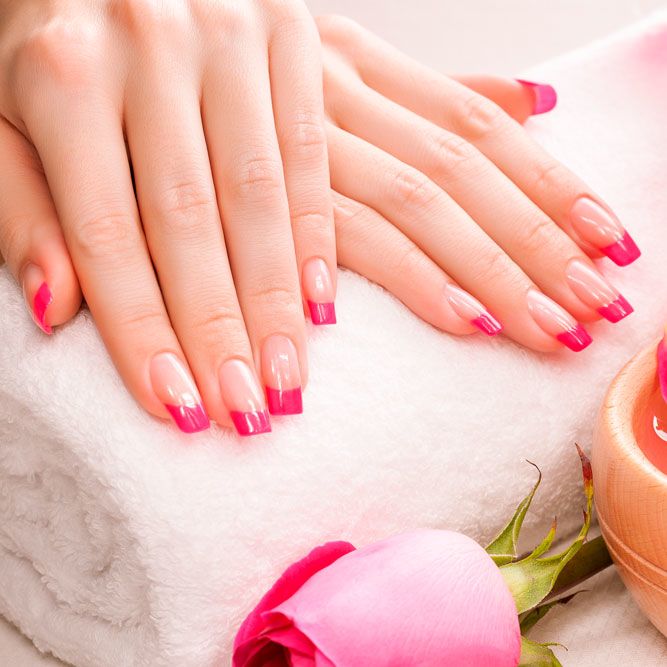 Gold or Silver Foils Nail Art
Go beyond the extraordinary and bring your nails to life with foil papers. It's very innovative and pretty beyond measure. You can slay the foil papers in different quantities and designs, depending on the concept of the nail you're opting for. Go abstract or follow a pattern when attaching the foil, you're still sure to get a creative result.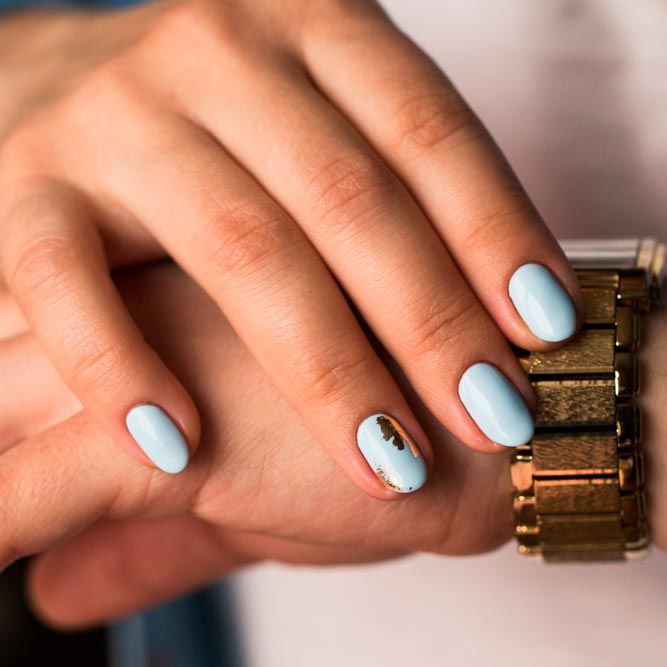 Total Glittery Nail Trends For All Seasons
Glittery nails can be designed in various ways that could appear extravagant and warm respectively. So it doesn't matter if you're someone who doesn't like to draw attention to your nails, there are ways to slay glitters in minimal quantities that would still be very much classy and less shouty. You can apply little glitters at the tip or beginning of your nails or just put them on a single nail instead. But if you want to go all out, then there's a whole list of glitter nail designs you can explore.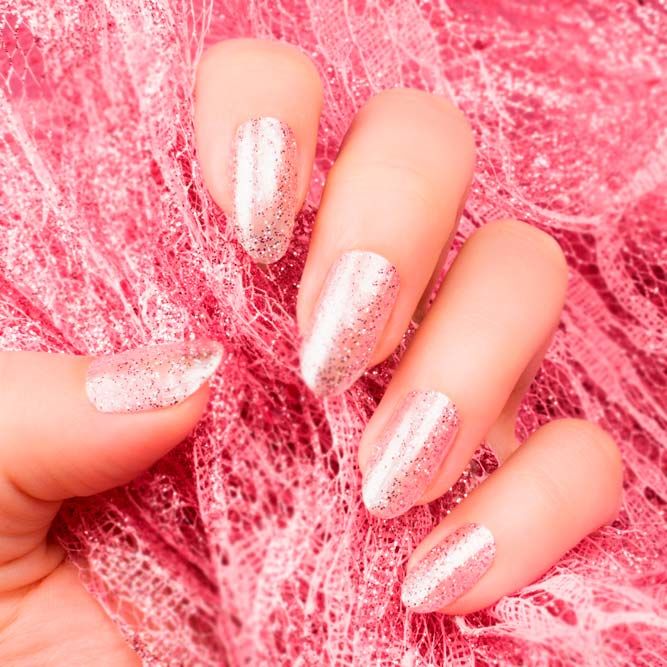 Chic Marbled Nails For Every Day
From the first look at a marble nail, it's undeniable how classic it always looks. They look so vulnerable and should be well catered for and we can say that's just its charm. It's perfect to rock for any occasion whether it's just a hangout with friends or even dinner and official events. It could be long o short, and even square or almond shape, marble nails can be designed in any format and with any color combination.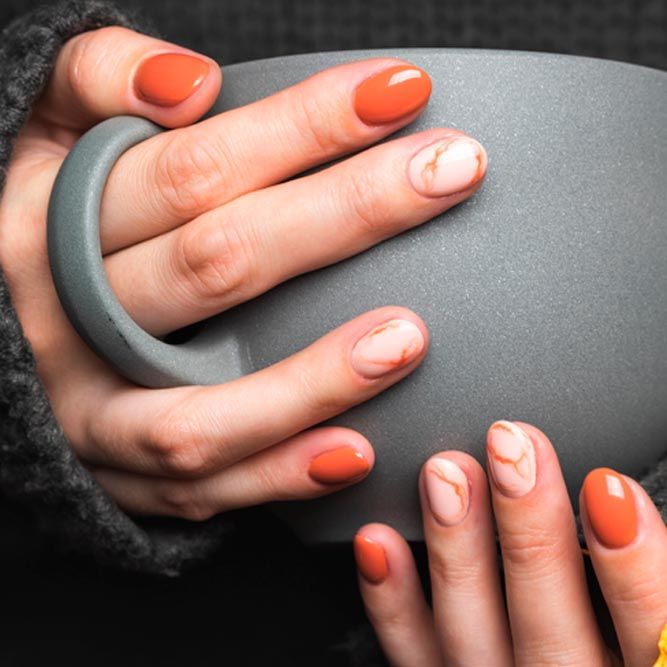 Fresh And So Fun Nail Trends – Metallics
Metallic nails are so fun and refreshing to try out. Its glossy nature and color combination make your nails look like real metal in a cool way. The majority of this type of nail is suitable with square or squoval shapes and also monotone to duotone colors. They aren't extravagant but you can't say they don't draw attention either.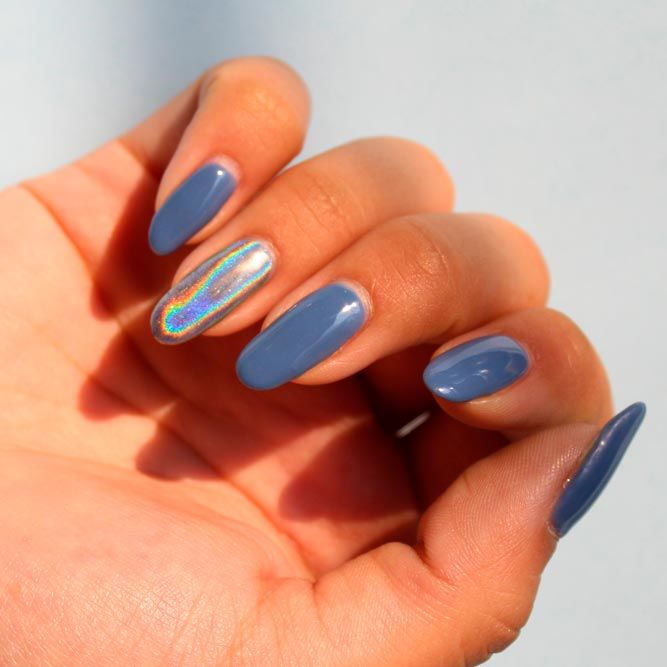 Shimmery Chrome Nail Polishes
This is almost similar to metallics nails in that it has the same glossy and mirror-like finish. It's achieved through chrome powder and makes it seem like your face could be reflected in your nails which makes it all the more awesome. While metallic nails might give off a cold vibe, we can say shimmery chrome nails are warmer and glossy.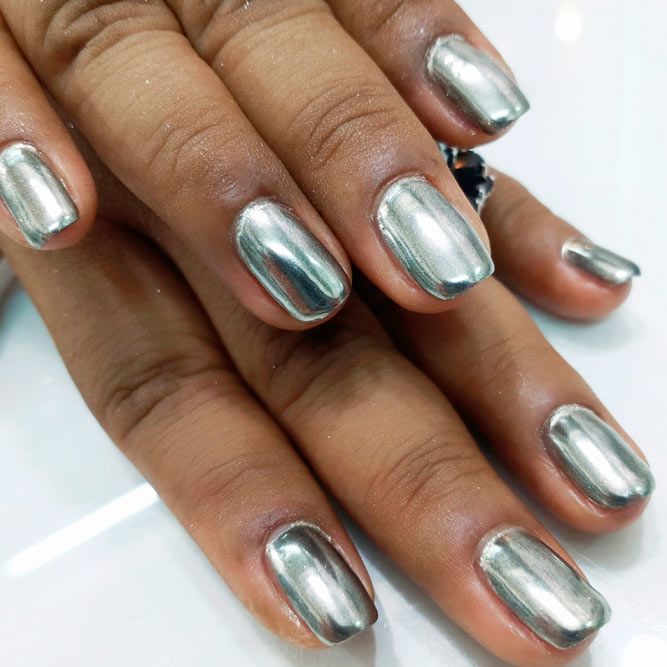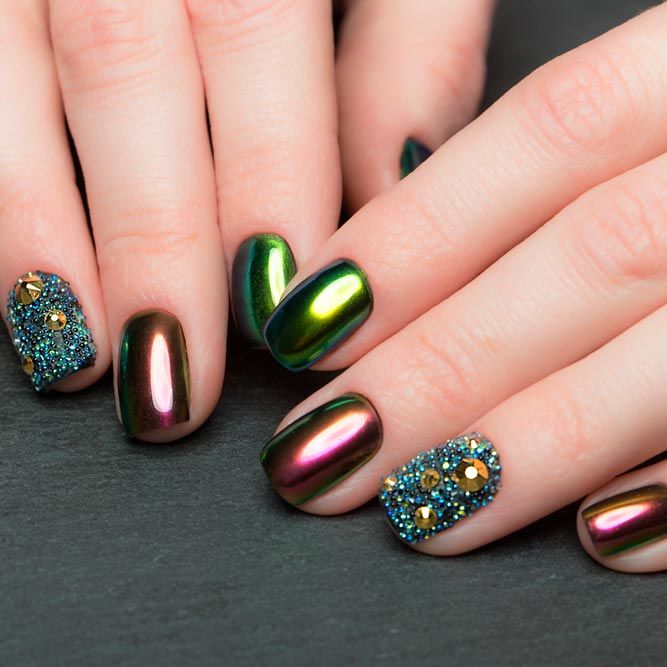 Brave Matte Black Nails
If you're a big fan of the horror-comedy series, Wednesday, then you'll no doubt have loved how she rocked her matte black nails. There was something gothic yet attractive about the nails and it'll continue to trend for many years to come. To avoid it coming off as boring, you can twitch a few of your black nails with designs of other less vibrant colors. The best combo is usually designing the nails with white paint, gold glitters or even stones. This type of nail makes you come off as strong and strong-willed.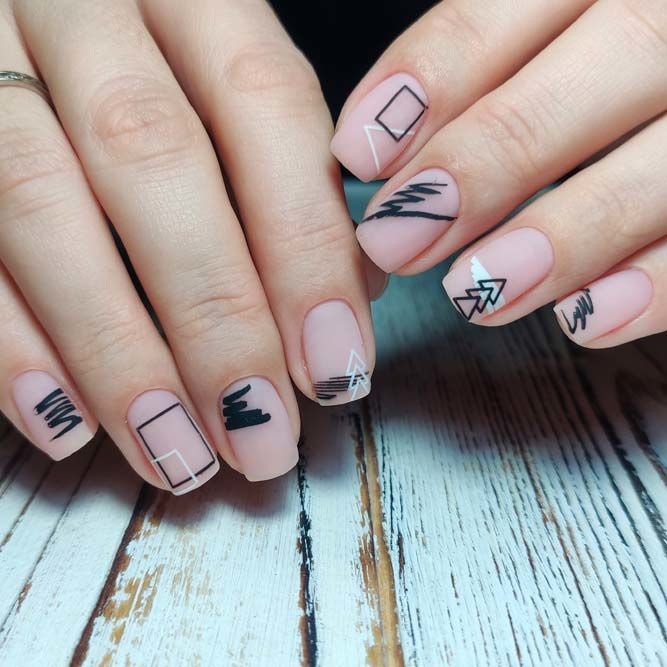 Red Mani For Fatal Women
There's something spectacular about the color red that can't be fully explained with words. With its own charm, a red acrylic nails can help you grab the attention of someone you wish to notice because of its sharp color. It's a color that can't be toned down even if you try, so go for it if you want to leave a strong impression wherever you go.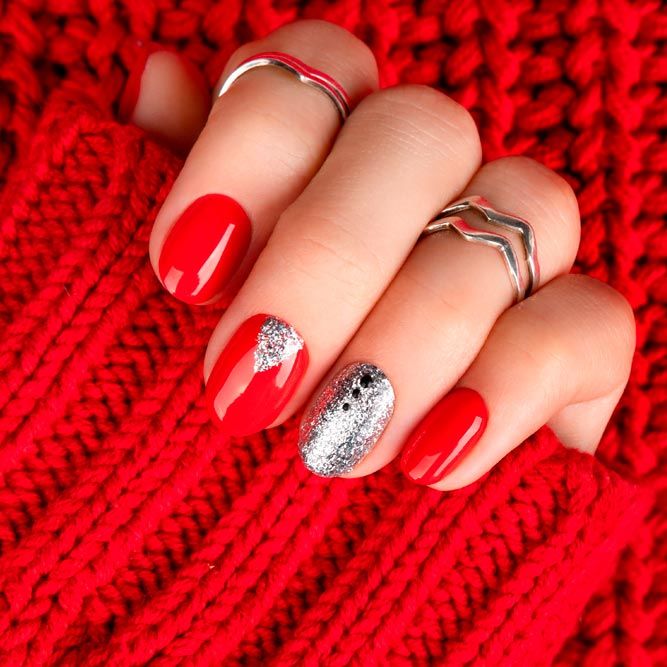 Nudes Shades for Nail Trends
Deviate from the dangerous grip of red nails and move to the side of calming nude shades. They are natural looking and blend easily with your skin. There are different tones of nudes and also you have the option of making it glossy or matte. Regardless, they are perfect for someone who wants her nails to feel natural as much as possible rather than something that looks artificial.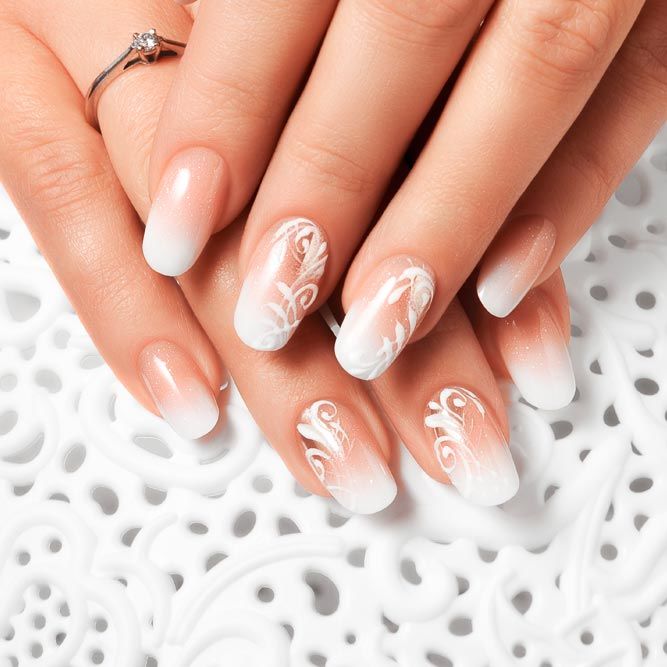 Beauty Glitter Ombre Nails Design
Rather than just moving from one shade to another, it'll be more fun to experiment with moving from a particular tone to glitters. It looks suitable for brides on their big day and also their team of girls. Also, it is commonly done on nude pink nails but that doesn't mean it can't be rocked on other nail colors.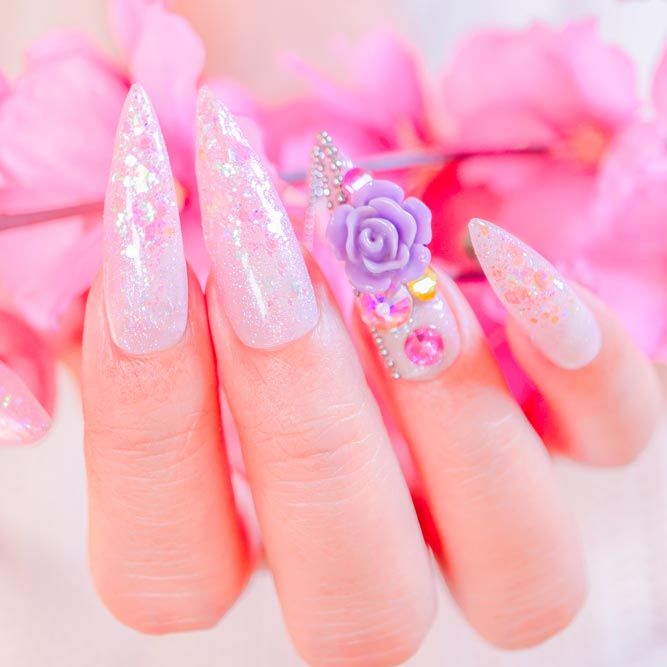 Huge Rhinestones Is New Nails Trend
Want to go all out when it comes to your nails, then add rhinestones to them and leave your nails looking sparkly and elegant. For short nails, it's preferable to use little stones, so it doesn't overshadow the beauty of the nails. But if you have super long nails, you can still go for little stones, but given the length, large stones will still sit more pretty on your fingernails.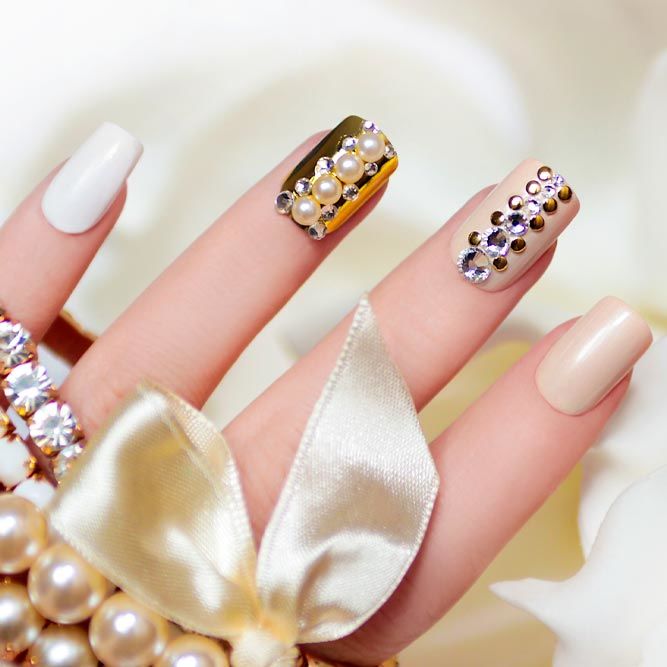 Top Two-Toned Nail Trends
Just like how black compliments white, try just two different colors on your nails and ensure they compliment each other for better harmony. You can decide to have one color of nails on one hand and another on the other or switch the colors between each nail on the hand.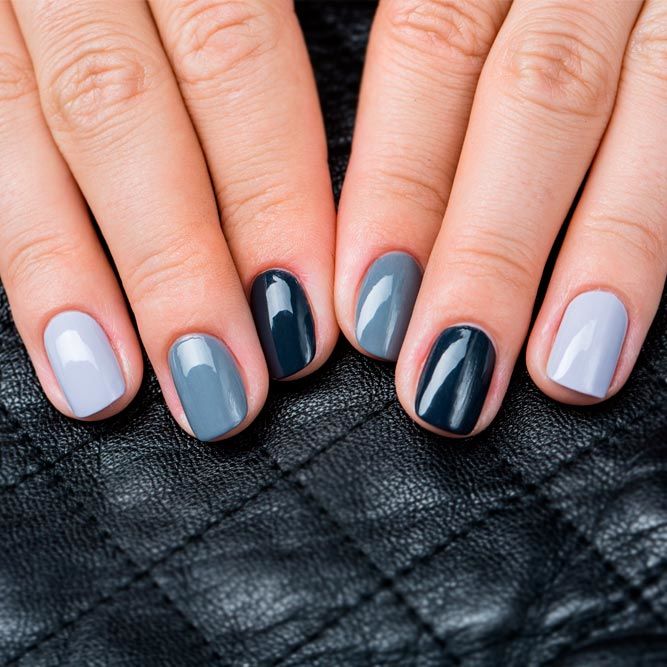 When it comes to nail trends, it's very important as fashion enthusiasts to be well-updated in all areas, design and shape-wise. It gives you a chance to explore and try out new nail color trends. The ones listed above have been quite the talk of the town and so should be considered if you're looking for something new to try out. It's a long list so whether you're interested in summer nail trends o preferably spring nail trends, there's an answer for every scenario.
FAQs
What is the hottest nail trend right now?
There are quite a lot of new nail trends so it's a little difficult to give single answers. But just to mention a few trendy nails; there are chrome nails and half-moon nails. Also, nails with warm tones of blue are quite popular.
What nail color is on trend right now?
Warm and bright tones are the popular ones right now. Examples include blue, green, lilac, neon and a few others.
What is Cat eye Nail?
It is among the new and popular nails trends of recent. It involves drawing a diagonal line over your nail such that it has the appearance of the eye of a cat. It goes best with dark colors rather than vibrant ones.
What shape of nails are in for 2023?
Short nails are quite the thing these days and so the shapes likely to be popular would be square, almond and squoval-shaped nails.