Pink and white nails are probably one of the most popular choices for nail designs these days. And why not? Pink is totally girly and if you add a touch of white, it can make it even more classy!
Pink nails are so versatile, with all the pretty shades of pink that are out there. From ombre nails to pink matte nails the possibilities are countless! With the right shade of pink and a really cute nail design, you'll be the envy of your girlfriends!
If you like basic white nails, but want to add a burst of color, pink is the perfect way to make your nails stand out a bit more without going overboard. A soft pink can be elegant and understated while a bright neon pink can brighten up anyone's day! So embrace your inner girly-girl and break out that pink and white nail polish!
Check out our favorite looks for pink and white nails and start pinning!
Shimmery Triangles
Shimmer nails are perfect for a night out on the town or even a formal event such as wedding or party. We love this pink base with shimmery triangles.
Source:
Prettynailsbymal via Instagram
Baby Pink French Tips
If you love the look of a French manicure, try this take with a milky white base and soft pink tips for a timeless look.
Source:
Dekounas via Instagram
Pink and White Nails Lace
Lacey nails are quite exquisite. This bright pink base with white lace designs is the epitome of sophistication.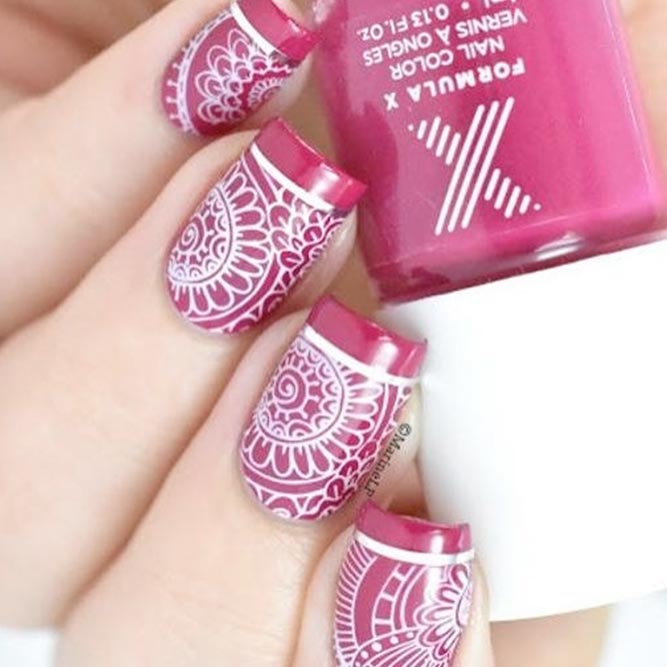 Source:
Marinelp91 via Instagram
Hello Kitty Nails
What girl doesn't love Hello Kitty? This fun Hello Kitty nail art is a perfect way to show off your love of pink… and your love of cats, of course!
Source:
NailEasyDreamArt via Youtube
Gingham Pink and White Nails
Gingham style nails have become quite the fad. This pretty pink and white gingham pattern is so soft.
Source:
Strawbrie via Instagram
Pink and Gold Tiles
This fun pattern of sparkly white and gold tiles on your ring fingers will make you the envy of all your friends.
Source:
Thenailsqueen via Instagram
Sunflowers
Nothing says summer like sunflowers. These pretty sunflowers on a pink base will cheer you up on a gloomy day!
Source:
Nailstorming via Instagram
Hearts and Stripes
We love this French mani with pale pink tips. But what makes it even more stunning is the small pink hearts and the white stripe under the pink tip.
Source:
Life World Women
Flower Power
Florals scream spring! And what's says girl power more than pretty flowers? These pink flowers on a white base are totally girly!
Source:
Lieve91 via Instagram
Polka Dots
Polka dots are another way to show your girly side. You can go crazy with a burst of pink shades on a white base or go for a more classy look with white polka dots on a pale pink base. There are so many ways to rock polka dots!
Source:
Rara_reid via Instagram
Princess Pink and White Nails
Every girl wants to be a princess? This look is quite regal with the sparkly pink accent nails. Add jewels accents for a totally royal look!
Source:
Nailsandtowel via Instagram
Pink and White Ombre
Ombre nails are taking the world by storm. This white to pink ombre fade is delicate and classy.
Source:
Solinsnaglar via Instagram
Pink and White Stiletto Nails
Stiletto nails are another popular trend right now. If you love this long nail design, why not try this pink and white combo with silver gemstones to work those stiletto nails!
Source:
Margaritasnailz via Instagram
White and Pink Matte Nails
Matte nails are also in right now. We think this pale matte pink and white tips design is every captivating and cultured.
Source:
Home_of_deva via Instagram
Tribal Art
Tribal art is quite the trend this year. We think this pink, white, black tribal design is perfect for those who love pink but want a more edgy effect.
Source:
Merlin_nails via Instagram
Cherry Blossoms
Everyone thinks Japanese cherry blossoms are pretty and feminine. We think this dainty pink and black cherry blossom design on a white base is breathtakingly beautiful.
Source:
Sepswep via Instagram
Naughty Neon Nails
Neon pink has more of an edge than a soft pink. This bold neon base with pretty white flowers are girly but with a bit more punch!
Source:
Beautyintact via Instagram
Pink and White Swirls
Swirly nail art is perfect for a party or other event. With soft swirls of white and pink, you will be the belle of the ball!
Source:
Crazy Polishes
Pink Flower Design
This stunning pink Hawaiian flower design on one finger will totally make a simple white French mani stand out!
Source:
Melcisme via Instagram
White Flowers
This soft pink base with white silhouettes of Hawaiian flowers is another take on the gorgeous Hawaiian flower design.
Source:
Marinelp91 via Instagram
Candy Stripes
If you love striped nail art, you'll love this simple candy stripe pattern.
Source:
Kira_sweet_nails via Instagram
Feeling girly yet? Have you caught the fever for pink and white nails? Try one or try them all! We think you'll look totally stylish when you show off your pink and white nail art. All of your girlfriends will be stealing your ideas!
Main photo by Thenailwhisperer