Maroon nails are a great way to express your personality. It definitely gives you some sophisticated and mature vibes as it is a darker hue. Maroon is totally in fashion nowadays. And there are several reasons for that. Firstly, it is classic and never goes out of trend. Secondly, there is a ton of designs to match this color and bring out its full potential. But the best part about maroon nails is that it fits basically any skin tone. The thing is that is has a red color in its base and a hue of brown, which makes it darker. And red color flatters absolutely everyone. You will always hit the spot with a red or maroon color for sure. Keep scrolling to find out the best ideas and designs to match maroon color.
ADVERTISEMENT ‧ CONTINUE READING BELOW
Maroon Nails with Gorgeous Golden Accents
The combo of maroon and gold nail colors never goes out of fashion. And it is not only for holiday season. Maroon color alone is a great statement. But don't be afraid to add some gold shimmer to it. The main rule here is not to go crazy on gold. It also applies to burgundy nails with gold glitter, the popularity of which is endless.

Source: chellys_nails via Instagram

Source: _nailgems_ via Instagram
ADVERTISEMENT ‧ CONTINUE READING BELOW
Stunning Matte Maroon Nails with Rhinestones
Maroon color nails rarely need much more for them to look special. Sometimes just a matte top and a tiny line of rhinestones are all that is required. A matte finish adds to the elegance of the maroon color. Amazing, right?
Source:
svetlana___nails via Instagram

Source: malishka702_nails via Instagram

Source: nailsbymztina via Instagram
Pretty Maroon Nails with Gold Tips
Maroon nails with gold tips are a definition of elegance. Aren't they? French mani is another eternal thing. It is a great idea to bring this bomb combination of maroon and gold to a French manicure. To make your look more creative, opt for a pointed tip shape.

Source: _stephsnails_ via Instagram

Source: riyathai87 via Instagram
ADVERTISEMENT ‧ CONTINUE READING BELOW
Sexy Leopard Manicure You'll Want to Wear
Leopard print on your nails is super bold and brings sexy vibes. There are some ways to incorporate it into a maroon manicure. You may go just for black spots on maroon base. Another option is to take nude nail color as a base and add a print with a matte finish on the top. In this way, you will get a fabulous mani which is totally appropriate for a day to day wear.

Source: selinarockell via Instagram
Maroon Nails with Hand Painted Art
Hand printed art works great with marron shades. Especially if you decide to combine it with black or white.Some intricate black pattern over deep maroon gives you the impression of something hidden deep within it. You'd better solve the mystery!

Source: riyathai87 via Instagram
Source:
elinasnailart via Instagram
ADVERTISEMENT ‧ CONTINUE READING BELOW
Fashionable Maroon Nails with Foil Designs
The foil is one of the trendiest nail embellishments nowadays. If you haven't tried it yet, you are definitely missing out. This design looks brilliant on nails. The best solution for the maroon base would be to go for foil details rather than full foil mani. Subtle foil details remind us of some sophisticated stone or marble. This design guarantees that your nails will be a center of attention.
Source:
elinasnailart via Instagram

Source: chellys_nails via Instagram
Maroon Nails with Chevron Nail Art
Chevron nail art was once popular and now it is coming back. And there is a fair reason for that. Chevron pattern is really simple, which gives a possibility to combine it with other kinds of designs. And since nail design is an art nowadays, this feature is crucial. By incorporating chevron into your maroon nails you will get a great canvas to work with and show your creativity.

Source: vickylovesnails via Instagram

Source: aggiesdoitbetter via Instagram
Maroon Nails With Chrome Accent
Chrome nails are having a moment right now. In a combination with maroon color, chrome pigment looks gorgeous and elegant.
Source:
nogti_ot_poli via Instagram

Source: margaritasnailz via Instagram
Source:
kunitskayanails via Instagram
ADVERTISEMENT ‧ CONTINUE READING BELOW
Feminine Tiny Flowers In Maroon Shades
There is nothing more feminine than flowers, it's a fact. So, why not decorate your everyday mani with a tiny floral pattern? Looks cute and girly!
Source:
oksana.filatovanails via Instagram

Source: badgirlnails via Instagram
Source:
yourkseny_nails via Instagram
Ombre Nails Designs With Black and Maroon Colors
Black and maroon are one of the best color combos for many reasons. First of all, black brings out deep undertones in maroon color. Second of all, they blend nicely with each other creating a smooth and seamless gradient effect. Thus, why don't you take advantage of it and adorn your mani using the ombre technique in maroon and black color? You will be surprised how versatile it is though, as you can play around with the direction of ombre application, nail polish finishes as well as accents and adornments.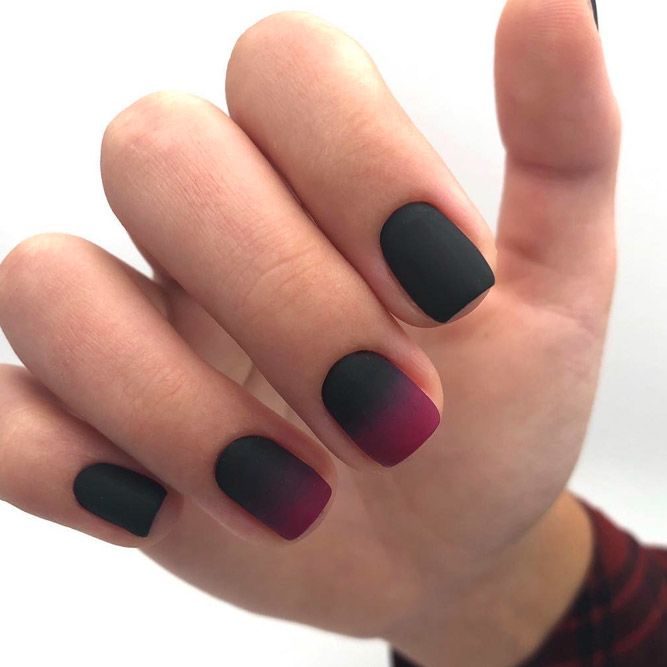 Source:
profi_nails via Instagram
Source:
kseniya_arskaya via Instagram
Source:
nailartist_natali via Instagram
Maroon Nails With Nude Accent Color
If you think that because maroon is such a dramatic color you need to pair it with deep and dark hues only, we are here to prove you wrong. It looks equally flattering with light and nude shades, especially when you use them as an accent. The range of options is so wide that you will easily be able to find a shade and design to match your outfit and preferences.
Source:
profi_nails via Instagram
Source:
zhannanails via Instagram

Source: classicmully via Instagram
Main photo by mindal_studio
REFERENCES:

Burgundy and Maroon Nail Design Ideas are getting more and more popular. Source
ADVERTISEMENT ‧ CONTINUE READING BELOW