Every woman wants to know how to do fun nail designs at home so that there is something to boast of in front of friends. But not every lady is bold enough to actually go and try it out. And the reason for that is pretty obvious – there are too many complex tutorials but almost no easy and cute ones. But what we suggest you here will totally amaze you!
Fun Striped And Floral Nail Designs
All cute nails designs that involve flowers start from the base, in our case the base is pale blue. Now add some thin white lines to your base. And start with the drawing of some cute flowers on the top of your nail, accentuate the flowers with green leaves and fill out the left spaces with some tiny bright pink flowers. Add a top coat and it's done! As simple as that!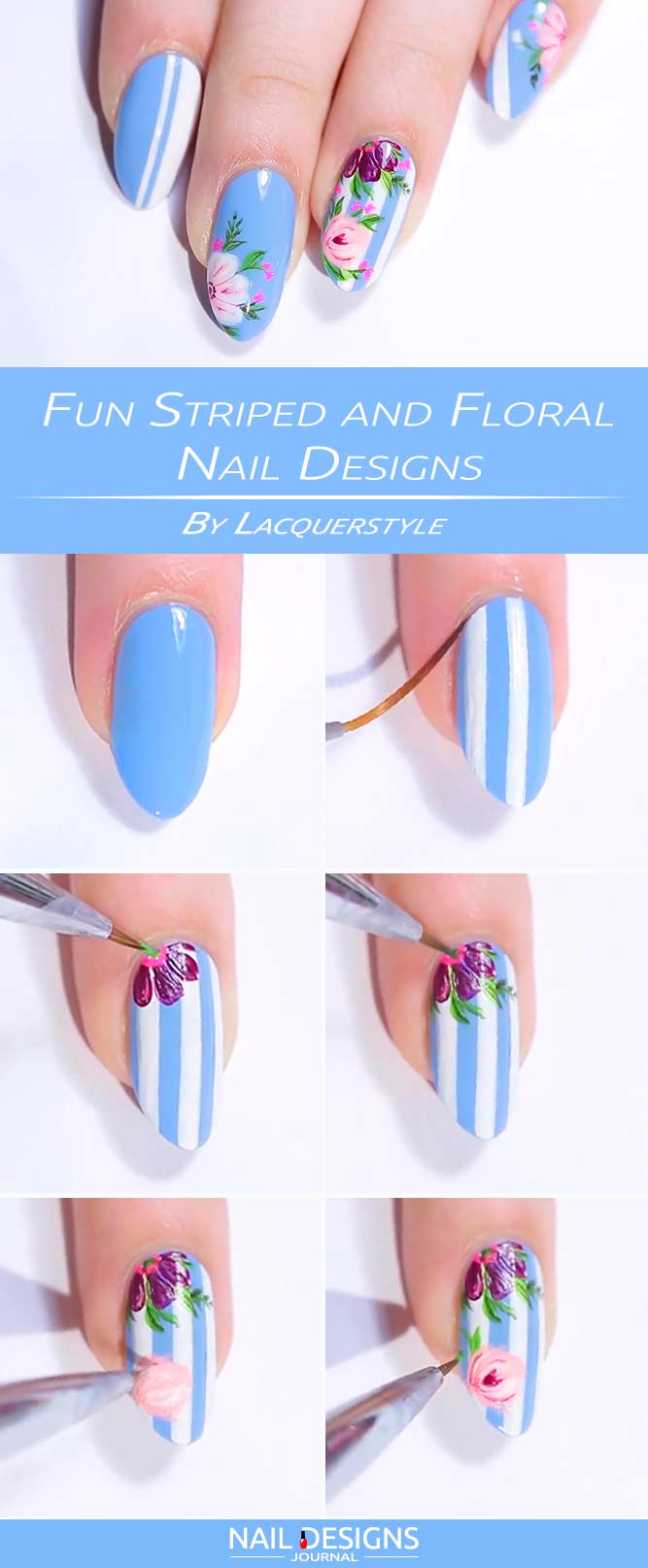 Source:
Lacquerstyle via Youtube
Fun Galaxy Nail Designs
For your galaxy nails, apply a base coat first. What comes next is the black base color. When the black is completely dry, apply some white nail polish on top with the help of the sponge, make sure you manage to smear it a little. Now add some blue and purple colors to the white and repeat the smearing procedure. You are almost there, what is left is to add some tiny white stars and finish your design with the glittery top coat. Done!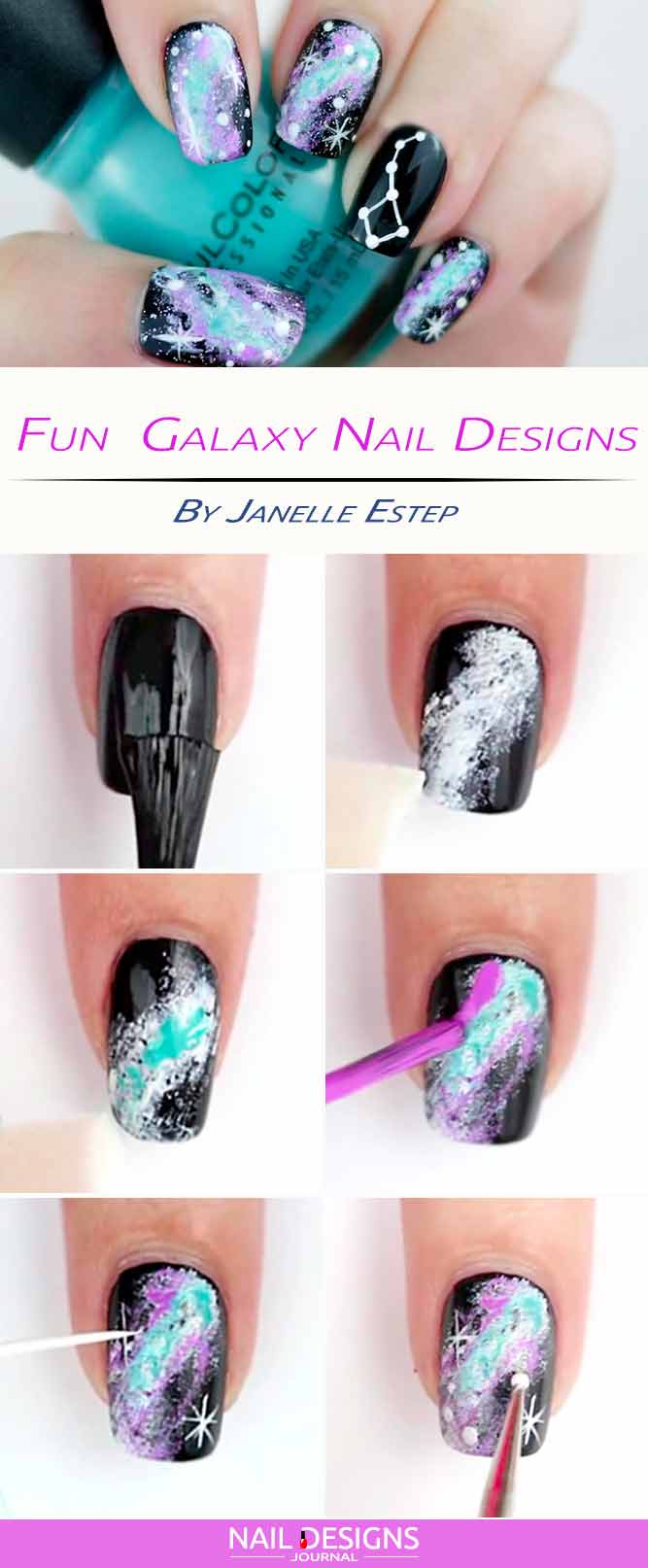 Source:
Janelle Estep via Youtube
Fun Floral Nail Designs
For this floral design, you need to start with the base coat, of course. And then cover your middle and ring finger with a nude base and all the others with the black one. With the help of a small brush and white nail polish, paint some cute flowers, the shape and pattern depends on your desires. To finish it, add some black outlines to your flowers and you are ready to go out and gather the amazed glances!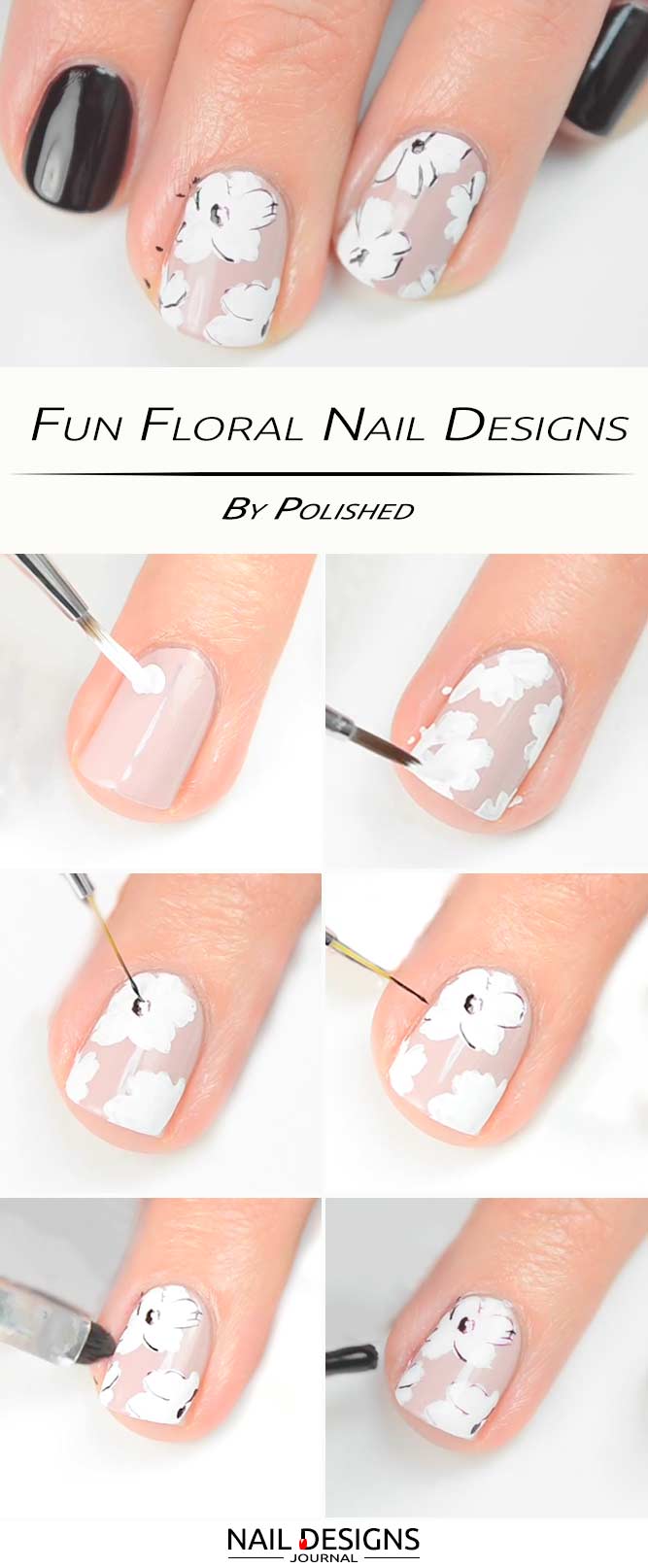 Source:
Polished via Youtube
Fun Nail Designs With Panda
For this cute panda designs for nails, start with applying the white nail polish to the bottom of your nail. With the help of a dotting tool, create panda's eyes and ears, as well as the nose. After the black nail polish is dry, finish painting the panda's eyes with white. Apply the top coat to secure the design. For the bamboo design, you should cover your nail with a black base and use a bamboo-designed stencil. Covering the stencil pressed to the nail with green will create the desired bamboo effect.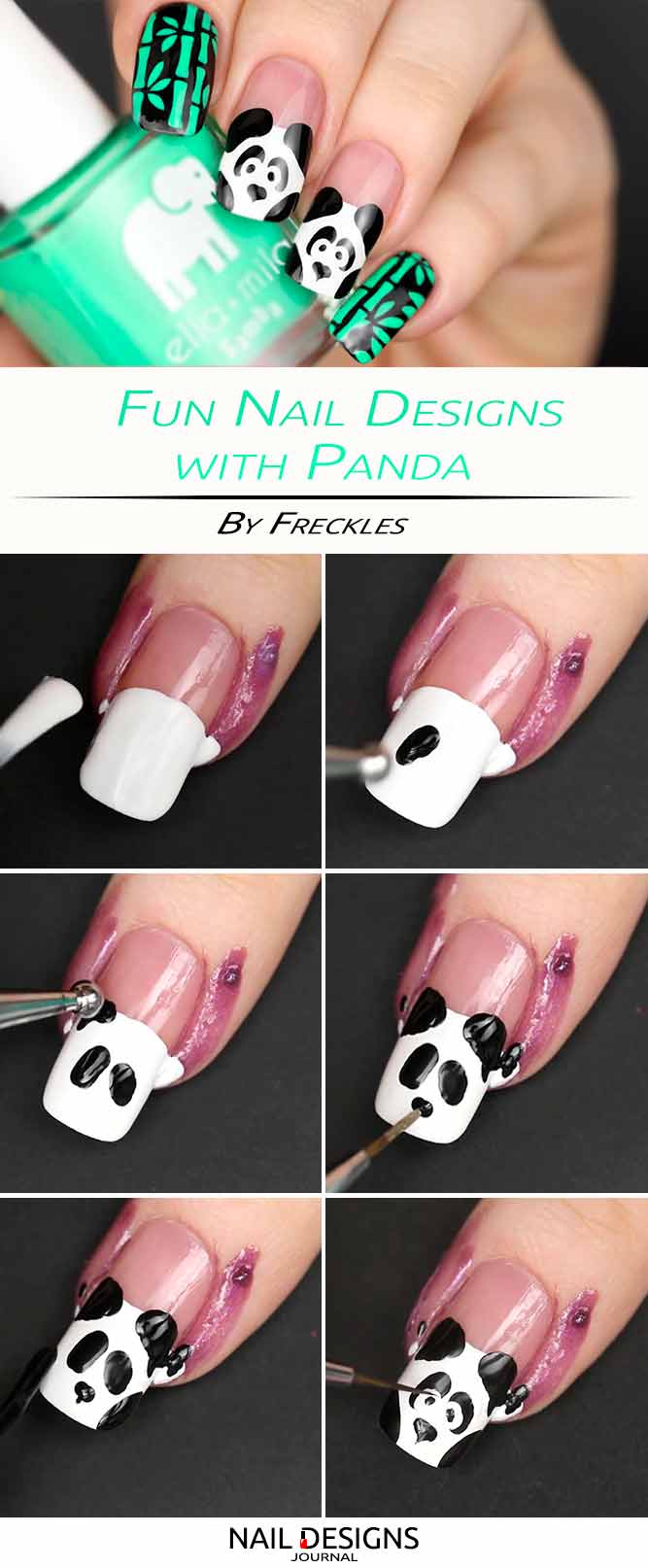 Source:
Nailsbyfreckles via Youtube
Fun Nail Designs With Holo
This Holo design is pretty easy despite the stunning effect. Of course, you should start with the base coat, then cover your nails with this silver diamond nail polish and let it dry. Use the straight tape to create the horizontal white lines over your diamond top. With the help of a stiletto stencil, create a black anchor-like design and finish with the top coat. Voila!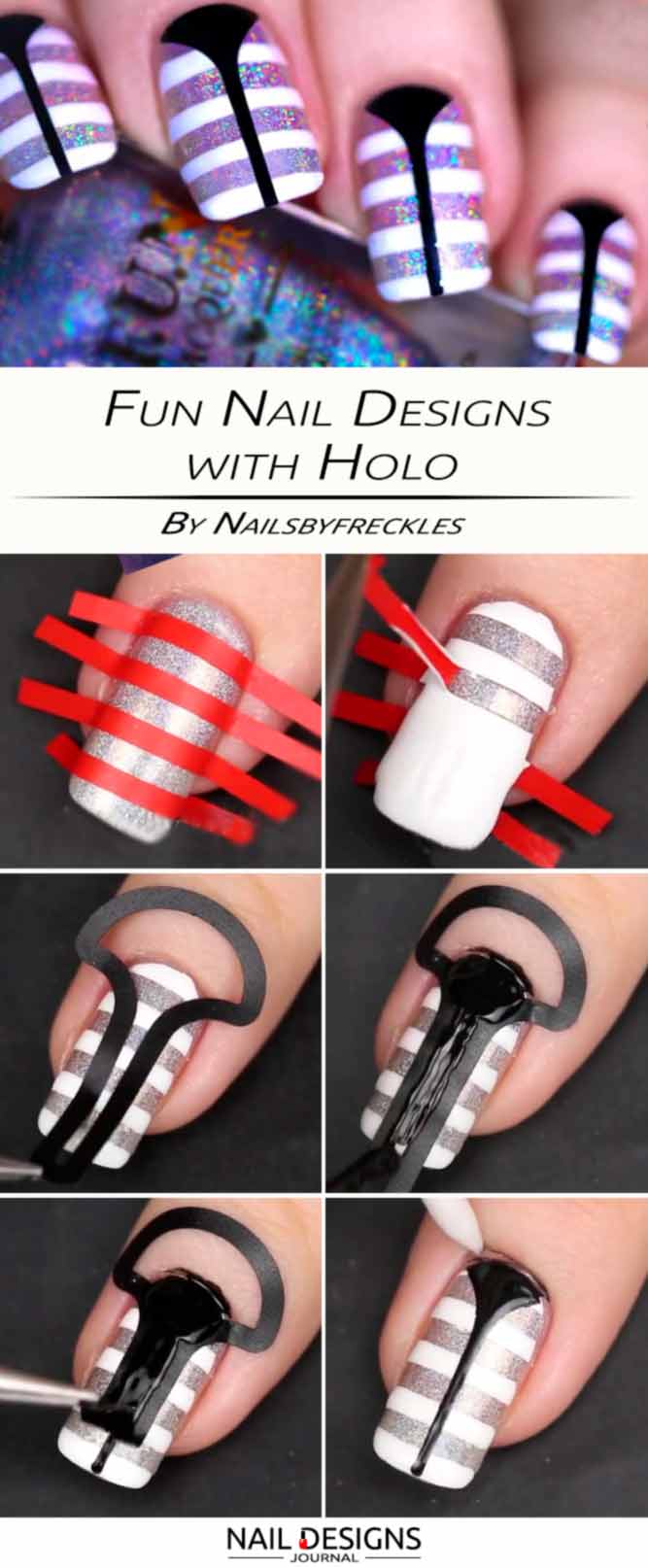 Source:
Nailsbyfreckles via Instagram
Gradient And Chevron Nail Tips
At first, apply a base coat. Then cover your nails with a gray sparkly polish. Apply liquid latex around your nails to protect them. Press a chevron sticker on each nail and create a gradient using a sponge. Remove chevron sticker and liquid latex. Apply top coat. That's all!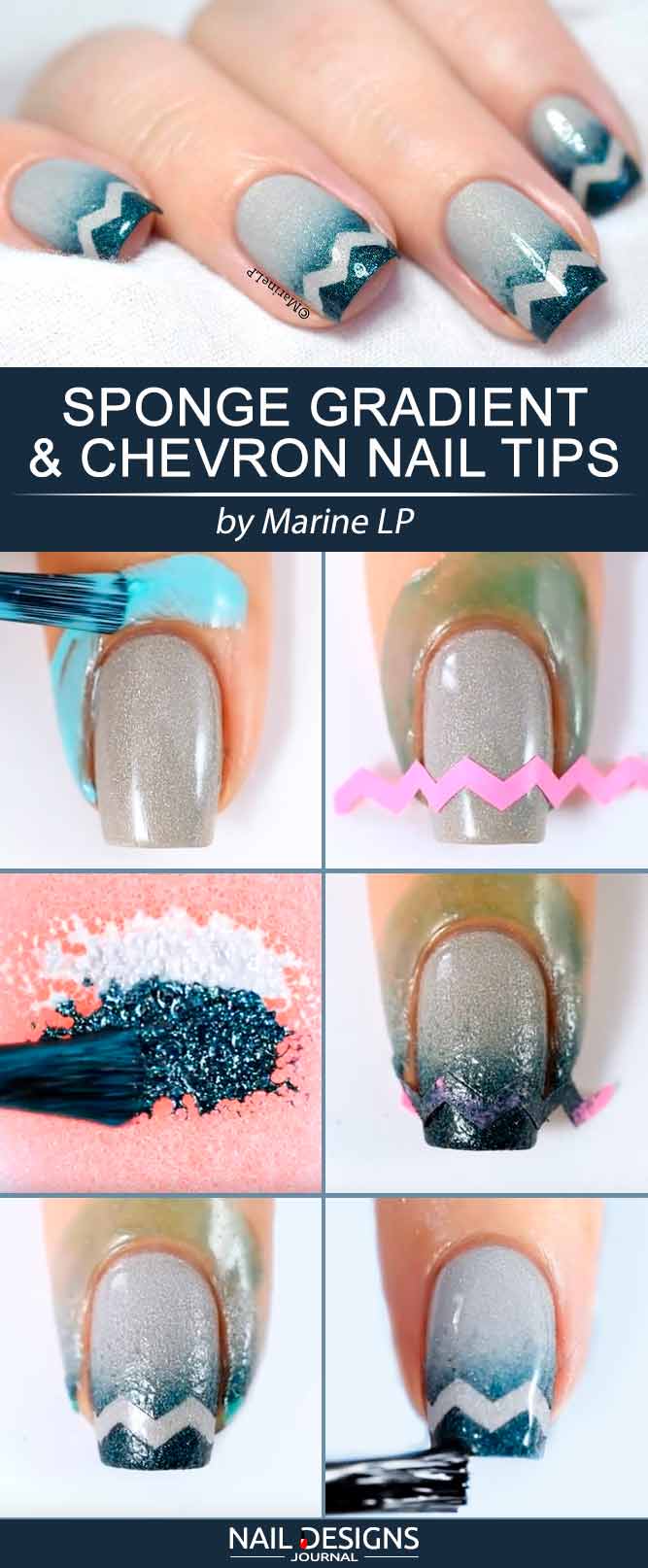 Source:
Marine LP via Youtube
Colorful Nail Art Using Stamping
For this cute design cover your nails with a white base coat. Apply liquid latex around the nail. For a gradient imprint mix different shades of nail polish on your stamping plate. Press the stamp to your nails. To finish this design, remove liquid latex and apply top coat. Done!

Source:
Marine LP via Youtube
Main photo by Kgrdnr