Easy Halloween nails are not only the last resort option. They can be pretty fun and unusual, as well. All you need to do is find the suitable idea and be patient enough to copy it. As usually, we gathered here the trendiest and the best ideas to make your life easier. And for more convenience, we even described how to replicate these designs step by step. Do not be afraid of letting your creative spirit out, at least once a year.
Classic Black and Orange Hues for Halloween Nail Ideas
To re-create these Halloween nail ideas, you will need to start with covering your nails with a white base coat. Now create two circles of black and bright orange on the makeup sponge. Let the orange be in the middle. Dab it onto your nail and continue the effect with painting a black tree on the orange background. Cover your nails with the top coat and its done! You can repeat the black and orange background and add whichever painting you prefer, be it a little spooky ghost or a scary pumpkin.

Source:
Picture My Nails via Youtube
Easy Halloween Nails Art
Have you ever thought that cute Halloween nails can be so easily done at home? Blood themes are mostly exploited when it comes to Halloween. So, why not bring it into the nail art right? Start off with the base coat and go for the beige coat straight away. With a small dotting tool, add up few bright red dots that are going to transform into a messy blood stream later on. With a small painting brush, start connecting the dots so that the dripping blood design appears. What is left to do is to cover your nails with a glossy top coat. In case you wonder, you can always mix and match your designs, as there are lots of other designs as easy and as fun to try out as this one.

Source:
Kelli Marissa via Youtube
Frankenstein Nails Designs
Do you wish to learn an easy Halloween nails design to replicate? Frankenstein nail art is super simple! All you need to do is cover your nails with the yellow base. With the help of a chevron sticker, create a black mane for your monster. Now add two eyes with the help of a dotting tool. Add two black eyebrows and a black stitched mouth. Cover with the top coat, and you are ready for the Halloween party. In case that is not enough for you, spice things up with a few stitched nail designs.

Source:
Nailsbyfreckles via Instagram
Jack Skellington Design for Halloween Party
When it comes to Halloween, Jack Skellington cannot be simply left out. So, at least having his face depicted on your nails would be a great idea. Start with applying a white base to the fingernail where Jack's face will be. With the help of a thin brush and black nail polish, get started on the face, there is nothing complex about it. Add up some stripes and glitter coat to your other nails, and the super design is ready. Do not forget about the top coat.

Source:
Nailed It NZ via Youtube
Simple but Cute Halloween Nails
What to do to make your nails look elegant but not to take up a lot of time and effort? Well, cover your nails with white and burgundy nail polish in any order you like it. On the makeup sponge, create a mixture of burgundy, red, pink, and orange to be later dabbed onto your nails. After the transition, add up a few tiny black crosses to the background. And after applying a top coat, your irresistible look is ready.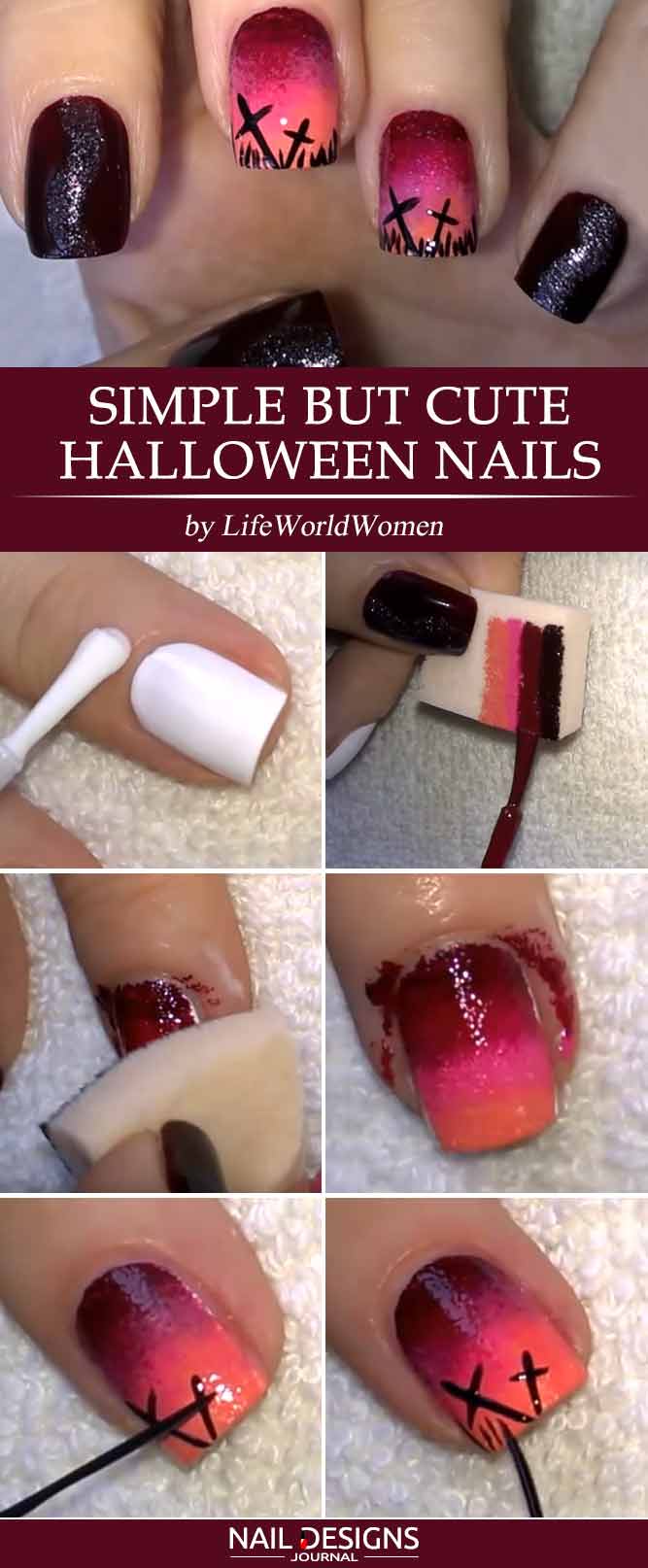 Source:
LifeWorldWomen via Youtube
Main photo by Nailsbyfreckles