The world of nail fashion is rapidly changing, and you are bound to follow up all its twists and new appearances. Of course, it is a lot easier if you have a helping hand at your disposal. That is why we are reaching it out to you so that you now are aware of what a damask nail art is! The thing is that damask nail designs are pretty new to the manicure world, but they are a 100% outstanding and unique. Have a look yourself!
Blue Metallic And Damask Pattern
Nail art designs that are popular these days are many, but metallic nails are still on the top that is for sure. That is why to kill two birds with one stone and to look fabulous we suggest you add some fantastic damask pattern to your blue metallic nails.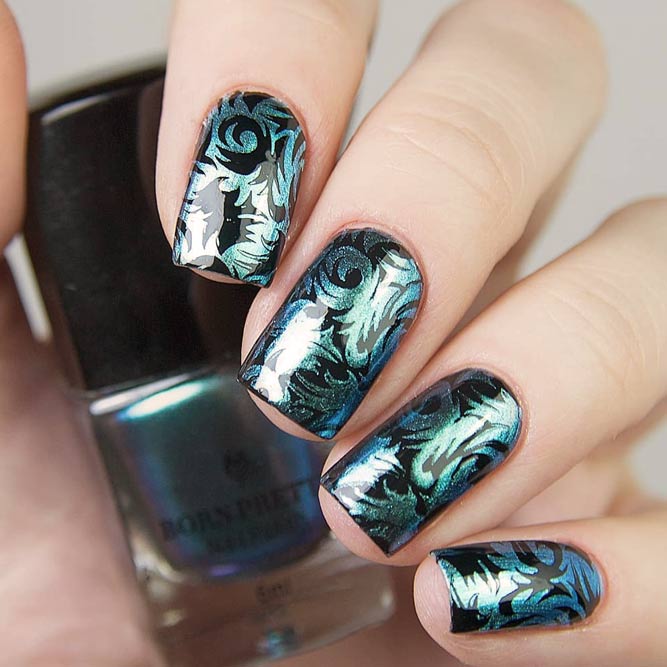 Source:
liliy_manicure via Instagram
Combination Of Nude And Dark Purple Shade With Damask Pattern
The truth is that damask nail design is most often about the contrast. That is why the combination of nude nail polish and dark purple damask pattern look so gorgeous together.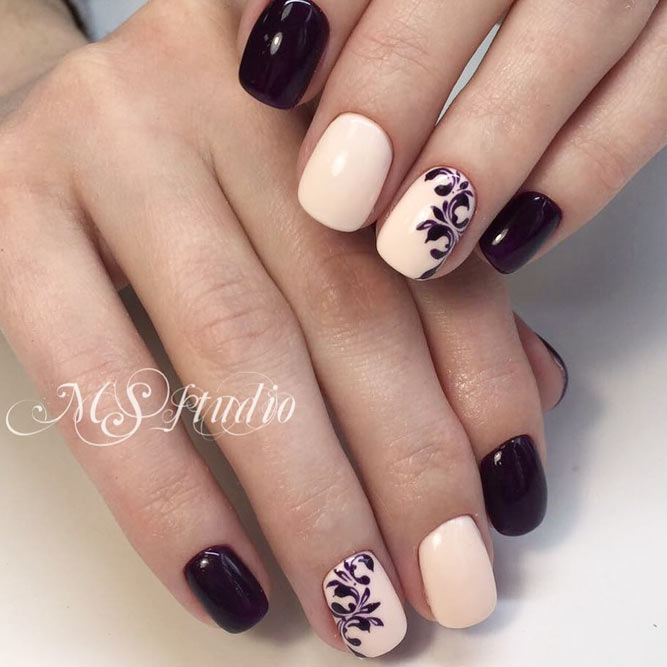 Source:
marina_serova_ via Instagram
Damask Nail Art On Holo Base
The holographic base coat is always so powerful on its own that no one ever tries to upgrade it with anything else. Although, pretty damask stamping adds that unique charm to the holo base and makes it a little less visible but a lot more elegant.
Source:
mrswhite8907 via Instagram
Dramatic Black & Red Ombre With Golden Pattern
Ombre nail art seems to keep on the top forever now, and there is no wonder why. One look at this double ombre will leave you speechless. The thing is that dramatic transition from red to black is skillfully adorned with damask nail pattern in black and gold ombre way. Gorgeous!
Source:
i_annylook via Instagram
Gorgeous Navy Blue And Silver Damask
There are shades that seem to be created for one another; the very same goes for specific patterns too. Just look how well blue and silver hues interact with each other not to mention that fascinating vibe that damask stamping pattern grants!
Source:
nadioula_ via Instagram
Stunning Mix Of Metallic Brown And Golden Damask Print
Metallic brown is one of those shades that looks irresistible on its own, but when you mix it with gold tones, it look merely mind-blowing. Of course, the fact that gold is the shade for damask stamping pattern makes it even more mouth-watering.
Source:
i_annylook via Instagram
Black Damask Nail Art On Gradient Base
Sometimes all you need is a gorgeous transition to add to your nails. However, when you are ready with the transition, it seems that something is still missing. In times like these opt for damask nail art, and you will undoubtedly achieve the goal.
Source:
cdbnails143 via Instagram
Marvelous Matte Manicure With Damask Accents
There are times when you wish your nails to look gorgeous but without taking it over the edge. That means that not an only coating but also the finish matters too. That is why brown cat eye finished with the matte coat is exactly what you need, not to mention a little damask pattern accent added.
Source:
marina_serova_ via Instagram
Red Damask Pattern On Pure White Base
White nails are always considered to be the representatives of elegance, but we know a secret that can take effect even further. Luxurious red damask stamping on the tip is what we have in mind.
Source:
nata3110nata via Instagram
Simple Nail Design: Golden Damask Decals
Among all the nail art products decals are the ones that make your life and manicure process a lot simpler not to mention less time-consuming. What is more, you can always create such a masterpiece as depicted with the help of decals.
Source:
i_annylook via Instagram
Royal Burgundy Shade In Combination With Damask Print
It turns out that in order for your manicure to look flawless it is enough to pay attention to the details. For example, the combo of trendy shades upgraded with damask design accent are precisely what you need!
Source:
marina_serova_ via Instagram
Sweet Pink Negative Space Mani With Damask Accent
Pale pink and negative space are the true representatives of neutral nail art. However, there is always some room for imagination, and we think using the negative space as the canvas for black damask nail art is a wise decision.
Source:
i_annylook via Instagram
Metallic Damask And Trendy Ombre Nail Design
The combination of black and teal hues is always rich in vibrancy, but that does not mean that you can't take it even farther. What we suggest you is the completion of the stunning ombre with the help of a metallic damask pattern.
Source:
cdbnails143 via Instagram
Fantastic Red Manicure With Damask Pattern
The classy shades combined together is always a winning situation, but there is something else! That something else is damask nail art, which makes this mani look breath-taking!
Source:
crooked_mani via Instagram
Nude Reverse French Mani With Damask Design
Reverse French manicure is classic, and it may be boring for some of you at the moment. That is when the exquisite damask patterns come in. One look at this nude nail art and you won't be able to say that it is anything but fabulous!
Source:
marina_serova_ via Instagram
Metallic Damask Elements On Laconic Black Nails
If you are looking for something daring but laconic at the same time, we may have something special for you. The mixture of black shades and metallic damask nail design is precisely what we have up our sleeve.
Source:
crush_on_polish via Instagram
Win-Win Mix Of Purple Damask And Delicate Lavender Shade
Purple hues are the significant trend these days that is why it seems that there is never too much of them. In case you think in the same direction then this lavender manicure adorned with the purple damask pattern will come to your taste!
Source:
marina_serova_ via Instagram
Silver & Black: Classy Manicure With Damask Print
Silver and black are the match made in heaven! That is why silver damask nail art on a black base is the angelic union you are bound to try out at least once!
Source:
i_annylook via Instagram
We hope these ideas come to your liking and you will share them with your friends! Do not forget to check for updates!
Main photo by I_annylook