Cat nails designs are the ones that you can`t miss trying. Why? Cute, creative and colorful, they will light up your mood every time you look down to your hands. We have a great collection of different ideas that will for sure suggest you something you will prefer in the end. Are you ready to get inspired? Then look through our post.
ADVERTISEMENT ‧ CONTINUE READING BELOW
An Exciting French Manicure With A Black Cat
For those ladies who prefer classy designs, we have the one that will for sure bring in something new into your routine. Get ready for Halloween with making your French manicure more creative. Add a black cat to the white base and make a green accent with the eyes on the ring finger. This will go do well with a glittery nail and a French manicure that you can also decorate with little paws.

Source: badgirlnails via Instagram
ADVERTISEMENT ‧ CONTINUE READING BELOW
A Smiling Cat For Taupe Colored Nails
What can be more good looking than a little kitty face and a paw drawn on the nails? Such small details will make your taupe colored manicure pop a bit more. Especially if you add little white dots to go with the cat nails designs.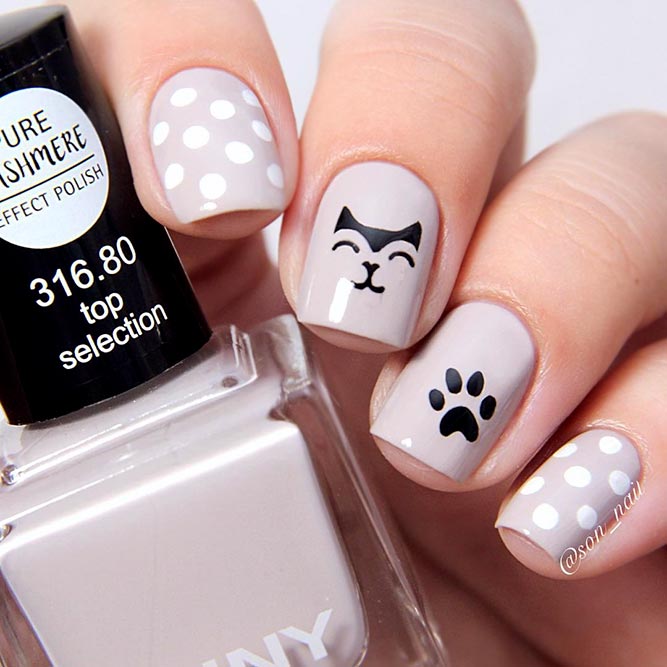 Source:
son_nail via Instagram
Nude Square Nails With A Cat Muzzle Design
Nude nails are still considered to be the trendiest, so why don`t we add a little hint to make them look more special? A cat muzzle design will be looking so great, especially if your nails are square. Definitely try this next time.

Source: jodispolish via Instagram
ADVERTISEMENT ‧ CONTINUE READING BELOW
A Pink, Black, And White Shades Combo
Combining shades is a great idea that can make your manicure more unique. We suggest you try a pink, black and white shades combo. Add little details in all these three shades referring to the cat theme, and we are sure that your nails will be looking bomb.

Source: nailsandtowel via Instagram
Glitter Nails With A Cat Accent
Some people glitter nails themselves are enough. However, we don`t think that adding a little cat design will be a mistake. Choose colors that will be going well together and make your nails look perfect.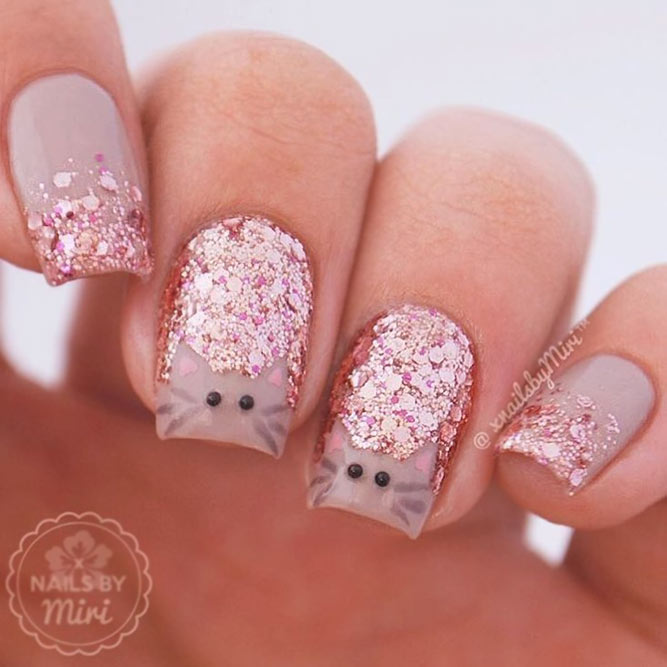 Source:
xnailsbymiri via Instagram
ADVERTISEMENT ‧ CONTINUE READING BELOW
Classic Black Nails With White Cat Accents
What can bring more fall atmosphere than dark nails? Especially if you get yourself into a Halloween mood adding a little kitty face and little paws onto some of the black painted nails. Not so catchy they will be a great sign of the upcoming autumn holiday.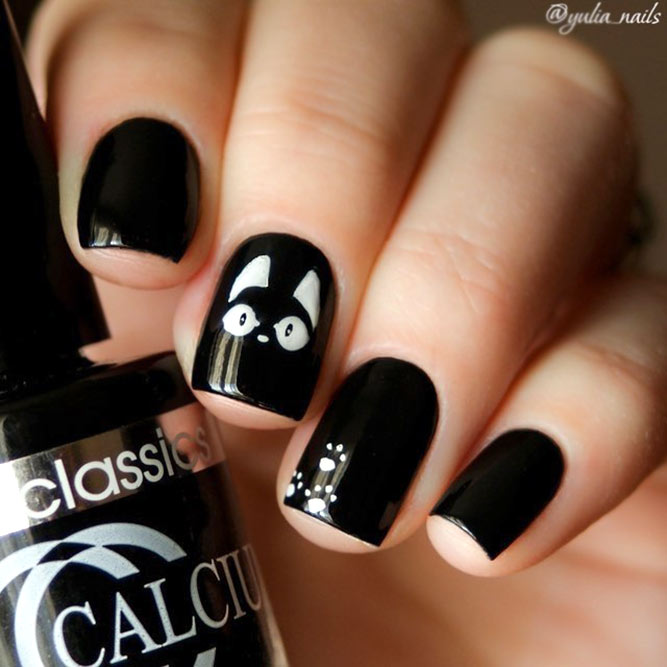 Source:
yulia_nails via Instagram
Almond Taupe Nails With A Cat Stamping Decor
An almond shape is so unique itself as not many women know how to rock it. Are you one of them? Then inspired by this idea! Put on a taupe color and stamp on little cat things that you associate with this little pet. Cuteness overload!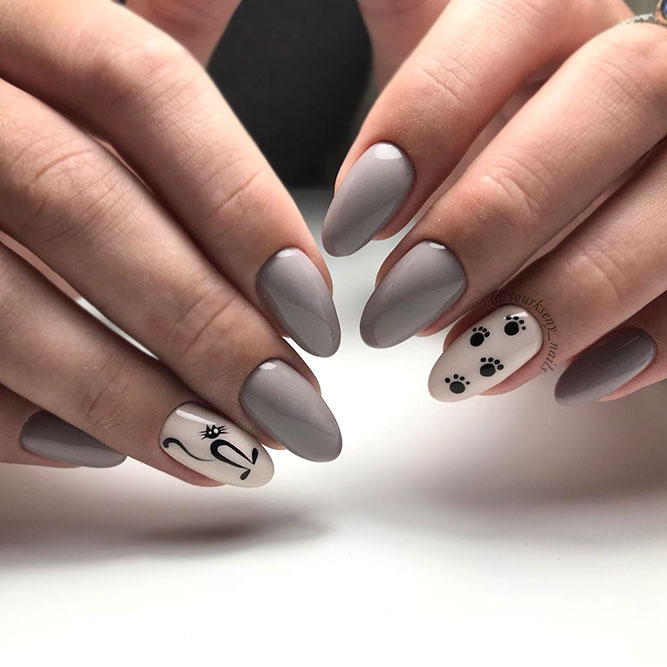 Source:
yourkseny_nails via Instagram
A Bright Orange Color With Black Cats
These nails for sure make you think of Halloween. Don`t they? An orange shade with black cats drawings is bringing the Halloween atmosphere. We love that and you?

Source: sylvialopic_nails via Instagram
ADVERTISEMENT ‧ CONTINUE READING BELOW
Beige Colored Nails With Geometrical And Cat Stickers Designs
Unique cat designs are here to prove you that manicure can be done in so many different ways. Do you prefer light colors on a daily basis but still would love to bring in some little designs? Then draw tiny geometrical details that will go so well with a cat sticker.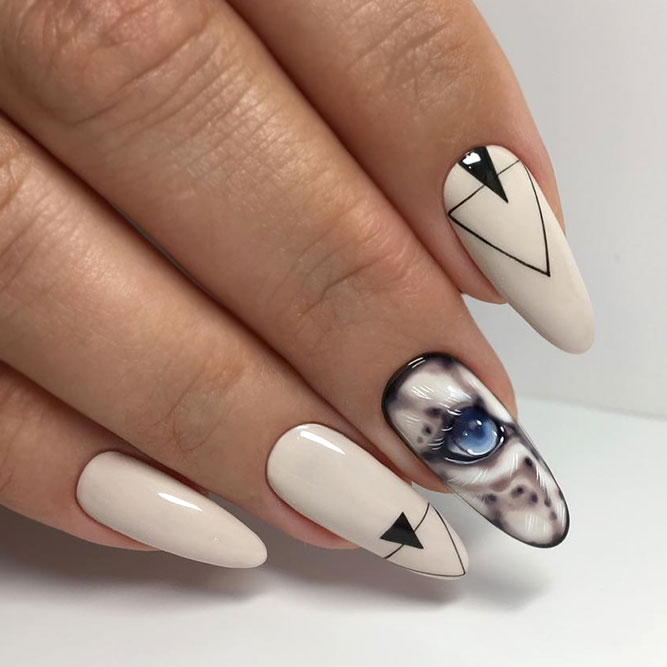 Source:
vse.nailart.project via Instagram
Beautiful Pusheen Design Nails
A famous little Pusheen cat has blown up the Internet making all of the followers love him. Why don`t you use him to bring some cuteness to your nails? Basic colored nails with little cat`s inspired designs will make your heart melt every time you notice them.

Source: hannah_nails_it via Instagram
Wonderful Hello Kitty Design Nails
Hello Kitty is the most famous cat in the world. Every person knows her so why don`t you choose this little cat for your nail design idea? Put on a bright pink color and add a cute kitty on top with some tiny lines to go with the white.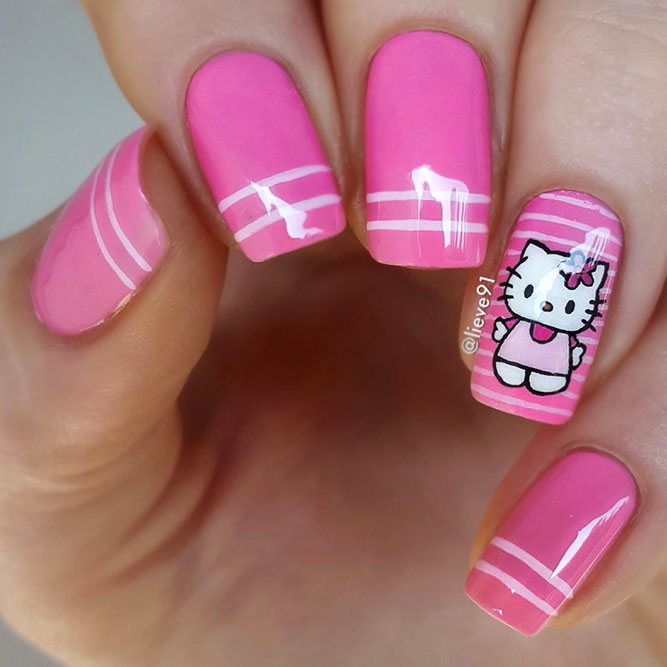 Source:
lieve91 via Instagram
ADVERTISEMENT ‧ CONTINUE READING BELOW
Halloween Nails With Cat Design
Trying on a cat nails design for Halloween is an excellent idea as it will bring in the right mood for a holiday making your manicure not so loud. Are you ready for some inspiration?
Pretty Polka Dots Nails With A Cat And Pumpkin Accent
An orange and white base that goes on top of each other with the help of polka dots. Isn`t that good looking already? Draw a little black kitten with pumpkin and this cute image for sure will remind you of a great holiday ahead.

Source: la_paillette_frondeuse via Instagram
An Extraordinary Cat Design Using Nail Vinyl Stickers
Glitter on dark nails will be so in the mood of fall that you won`t be able to resist trying them on. Add vinyl cat stickers to two of the fingers in the orange color, and you won`t be unsatisfied with the Halloween atmosphere brought in by them.

Source: cosmeticproof via Instagram
ADVERTISEMENT ‧ CONTINUE READING BELOW
Lilac Nails With A Cat Muzzle
Lilac is such a beautiful shade that you have to try it. Don`t forget to decorate it with a cat design for sure. Little black cats picking out, what can be cuter especially on such a trendy color?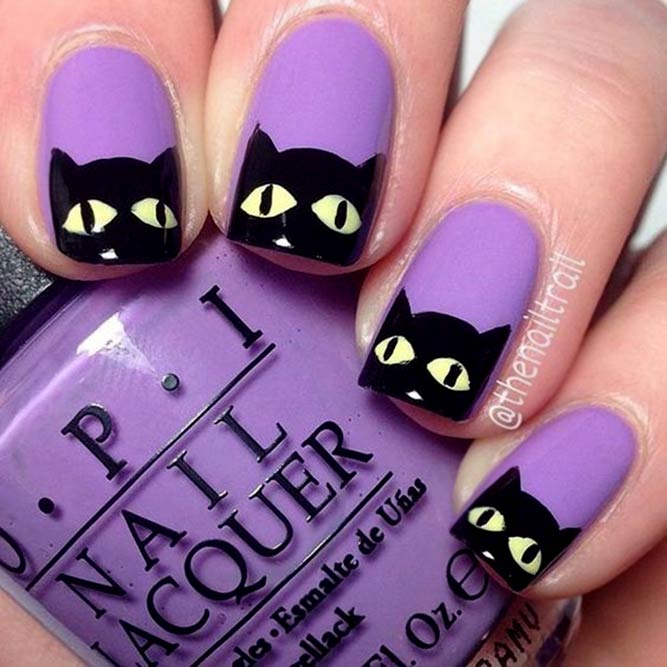 Source:
thenailtural via Instagram
A Lilac Colored Pedicure With A Black Cat Accent
Designs are not only for a manicure, but we can also use them for a pedicure too. Put on an attractive black cat accent onto the toe, and you will enjoy the look of your nails in the end.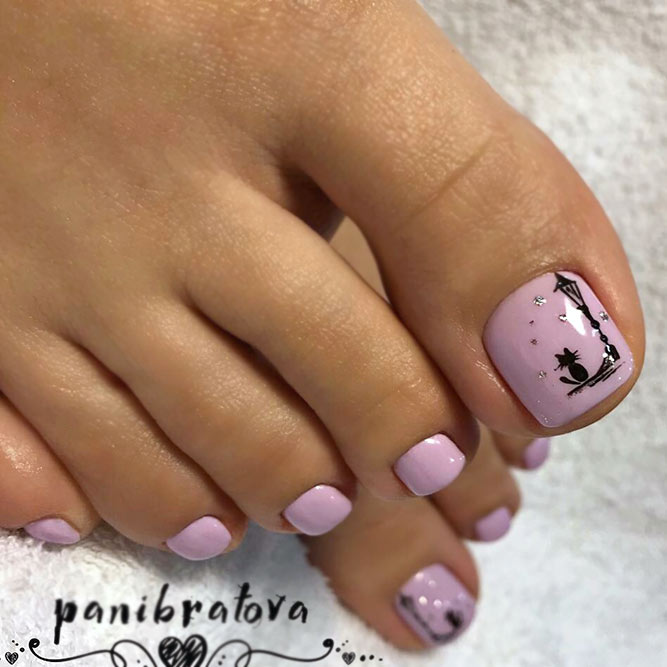 Source:
panibratova via Instagram
There are so many great cat nails ideas that you should definitely try. Get inspired with our suggestions and choose the one that will make your heart melt from joy.
Main photo by nastina_nail
ADVERTISEMENT ‧ CONTINUE READING BELOW