Fresh Zoya nail polish collection is out and we want to be among the first ones to tell you all about it. Zoya nail polish review is exactly what we are going to talk about right now. You will get to know all about the newest Zoya shades and luckily you will find a fresh fav shade among all the described ones or even a few of them, so get ready! Also a number of trendy designs involving the new shades will be suggested to your attention as well!
Morning Latte Jack Zoya Nail Polish
Nude shades are the most required these days since they are not only pretty convenient but also trendy. That is why this Zoya Jack light beige nail polish may easily become your ultimate favorite shade in case you still do not have one. What is more, if you are looking for nail polishes that are harmless to your nails – Zoya would be a good choice, no matter the shade.
Source:
zoyanailpolish via Instagram
Muted Amethyst Cream In Zoya Delia
Pastel lilac shades are on the top these days that is why Zoya Delia is a great shade to invest into. This cool tone is so gentle and sweet that even purple hues do not interfere. Besides the formula is so nice that you are going to need not more than two coats of it and that is just perfect!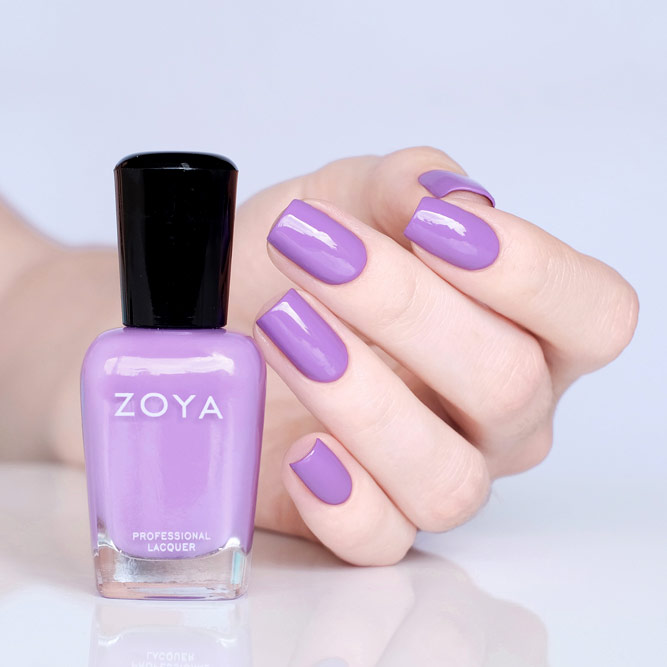 Source:
sofitheone via Instagram
Bold Pink Zoya Ellie Nail Polish
Summer is the time to add some brightness to your look, and this fresh Zoya shade can be what you need precisely. In case you wonder where to buy Zoya nail polish – Amazon would be a nice place.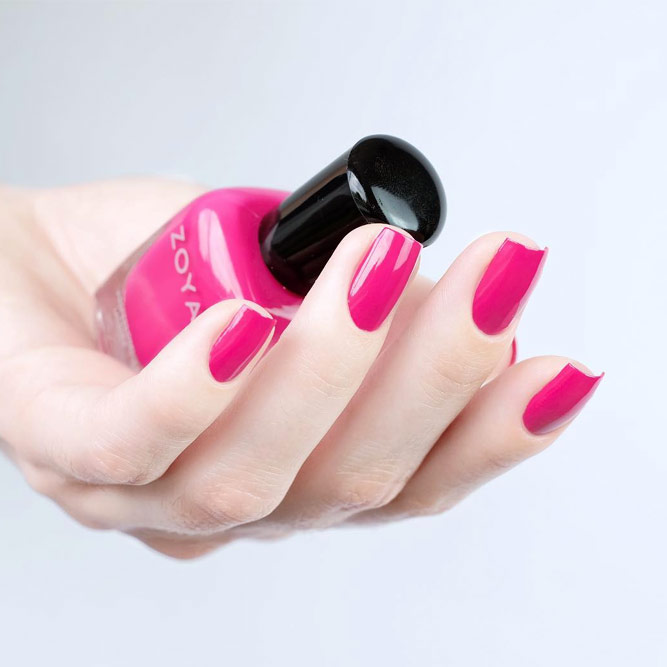 Source:
sofitheone via Instagram
Flamingo Pink Cream Zoya In Sandy
This summer collection is full of pinkish Zoya nail polish colors. That is why when Ellie is too bright for you flamingo Sandy may be just what you have been looking for!
Source:
__erya__ via Instagram
Bubble Pink Missy Zoya Nail Polish
Missy would be the lightest pink shade of this summer's collection, but that does not make it any less special, quite on the contrary. This cotton candy pink shade is so perfect that can be added to the look that was originally planned as official.
Source:
zoyanailpolish via Instagram
Lovely Coral Cream Zoya in Minnie
In case you are a fan of shades that are more coral than pink – we have a great suggestion in mind, well, Zoya has. Minnie is that gentle salmon shade that no one would be able to resist, besides Zoya nail polish ingredients are completely harmless to your nails, and that is something worth considering when choosing a new nail polish.
Source:
vellinails via Instagram
Zoya Nail Polish In Clementine
Another perfect salmony Zoya shade would be Clementine. This shade will be perfect for those of you who are in love with shimmer no matter what it comes with. The shimmer is not that obvious until you have a closer look though once seen you will never unsee this beauty!
Source:
__erya__ via Instagram
Red Cream Zoya Karen
It may be difficult at times to come up with the perfect shade of red for some women. However, if you are looking for a shade that will be both bright, fun and elegant, then Karen is there for you!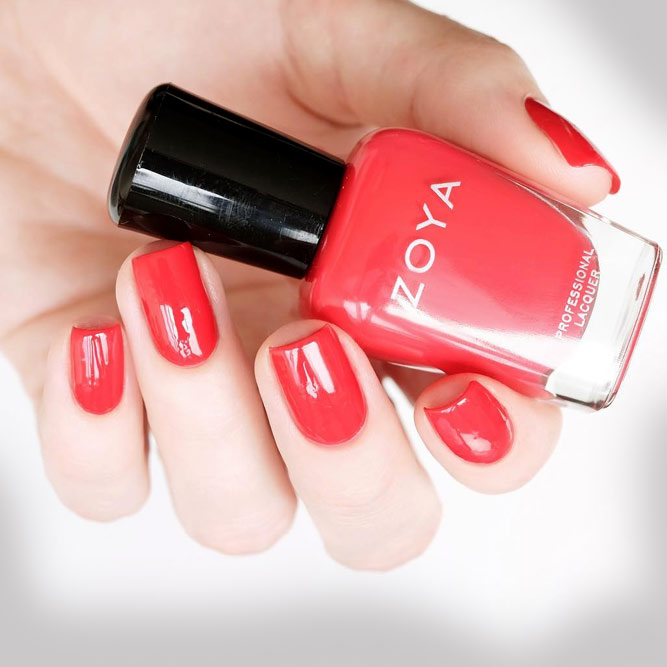 Source:
sofitheone via Instagram
Bright Coral Red Crème Virginia
It is true that not everyone is the equal fan of bright red hues but there is always a way out, and it happens so that Zoya presented a creative red shade exactly for such picky customers like you. Muted and creamy Virginia will add that special charm and style to your manicure, so take a pick!
Source:
breedlovehoops via Instagram
Nail Polish Zoya in Marigold
The perfection has been found! The beautiful combo of red and gold sparkles just in one is simply breath-taking. Of course, such beauty should have a corresponding name and Marigold is the best description ever!
Source:
__erya__ via Instagram
Gorgeous Zoya Saldana Nail Polish
When you combine all kinds of glitter in one, there is no 100% guarantee that the outcome will be something unique. However, Saldana Zoya nail polish is the fantastic representative of what happens when you know what you are doing. The combination of different-sized glitter together with the mixture of shade turns out to be a perfect unicorn nail polish there is!
Source:
zoyanailpolish via Instagram
Unreal Zoya Nail Polish In Nahla
As it turns out there is no such a thing as too much gold. Nahla nail polish is the best representative of the idea that a real queen needs to be wrapped in gold!
Source:
__erya__ via Instagram
Best Nail Designs For Your Perfect Look With Zoya Nail Polish 2018 Collection
When you are fully aware of all the newest shades presented by Zoya, it is time to learn about the intricate nail art ideas that you can easily come up using these shades.
Flower Zoya Nail Polish Design
Since this is a summer collection it is only obvious to start with a perfectly floral nail design which you can easily achieve with the coral Minnie shade.
Source:
vellinails via Instagram
Tropical Stamping Zoya Nail Polish
We are used to the idea that all the tropical nail design have to involve either fruity shades or sunsets or even both. It is time you learn something new, and this multiple red stamping nail art idea is what you should at least try out! You can create this tempting nail art design with the help of Karen, Virginia, and Minnie.
Source:
yulia_nails via Instagram
Zoya Nail Polish And Summer Bright Design
Even bright summery designs require some gentleness at times. You can easily acquire the look if you combine Virginia, Jack, and Clementine together with white lace pattern over.
Source:
vellinails via Instagram
Zoya Nail Polish With Elegant Heart Design
It is true that to create a masterpiece sometimes you do not need that much of an effort. Just spice up the Ellie pink base with cure heart-shaped pattern, and it is ready. As simple as that!
Source:
dyshanaryzhy via Instagram
Simple Shiny Accent Nail Design
Very often the real beauty comes in simplicity. The combination of magnificent Delia and Saldana shade accent are here to prove the point!
Source:
dyshanaryzhy via Instagram
Natural Nude Zoya Polish Nail Design
Nude-shaded mani should in no case be boring. You can always take your neutral manicure to the next level if you know what to use to your advantage. For example, the combination of Jack nude nail polish and black leafy stamping is a great choice!
Source:
my_forever_nails via Instagram
Sweet Pink Nail Design With Negative Space
There are times when you do not want anything to be left out, but at the same time, you do not want to take your manicure over the edge. That is when the combo of negative space, glittery studs, and baby pink Missy come more than handy.
Source:
alinasnailplace via Instagram
Geometric Black Stripes Nail Design
Geometric patterns are pretty required. However, it is essential to know what to combine the striped patterns with. The mixture of Virginia and Minnie shades suit the goal perfectly.
Source:
beautyaddictedd via Instagram
Time doesn't stay still, come back for a fresh update any time you decide that you have tried it all!
Main photo by Beautyaddictedd