When it comes to season nails art ideas, you come to understanding that, trendy shades and patterns vary from season to season. If, during summer it is all about flowers and bright shades, when it comes to winter – snowflakes and wintery themes combined with darker hues take the place. It may seem a little confusing until you have a look at what we have prepared for you. All the best seasonal nail designs are gathered here and you are more than welcome to have a look!
Season Nails Decorated With Fallen Leaves
Fall is a special season, and you have to greet it correspondingly. The thing is that the best attribute to add to your autumn manicure would be the fallen leaves. Just have a look at these stylish ideas, it seems that there is no shade that a proper leafy pattern wouldn't suit!
Noble Black Manicure With Autumn Accent
For many of you, black manicure may be a little too much, and we wouldn't blame you. Yet, if you know what to match a noble black color with you may succeed with a pretty and stylish manicure. For example, fallen leaves accent with suit the notion season nails art ideas just perfectly!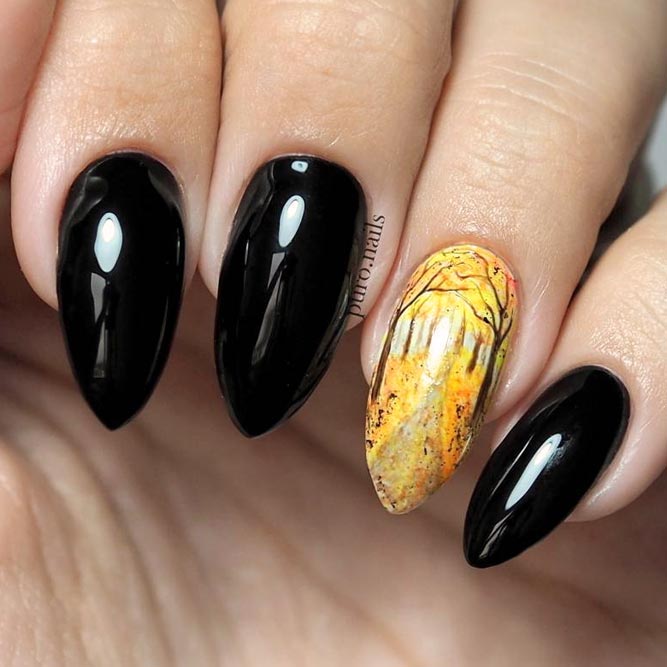 Source:
puro.nails via Instagram
Calm Green Base With Bright Accent
Many women try to stay away from green hues since they consider them to be too bright. However, calm green bases exist, and when combined with a stylish bright accent they can look anything but simple or daring, rather elegant and feminine.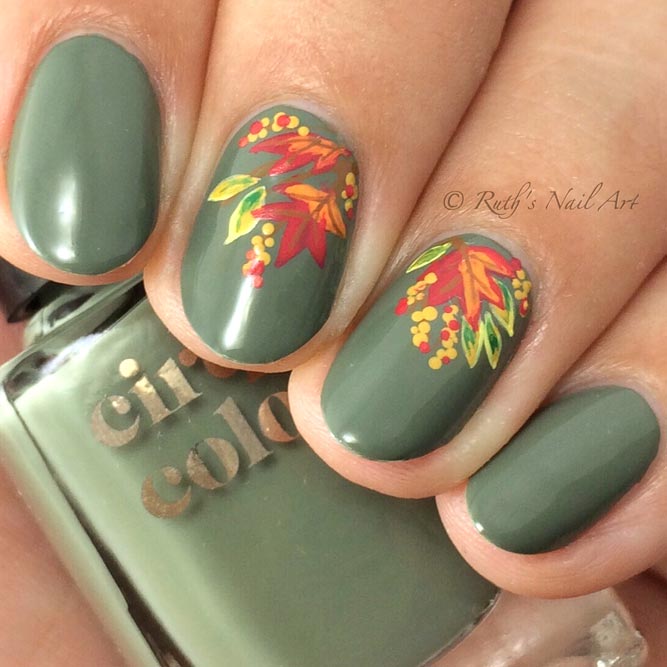 Source:
ruthsnailart via Instagram
Taupe Nails With Dark Glitter And Fallen Leaves
Taupe shades are extremely versatile that is for sure. Whether you look for a bold or neutral manicure, you can always opt for taupe hues. This particular nail art idea is neither too bright nor too neutral. It seems just great to greet the season with!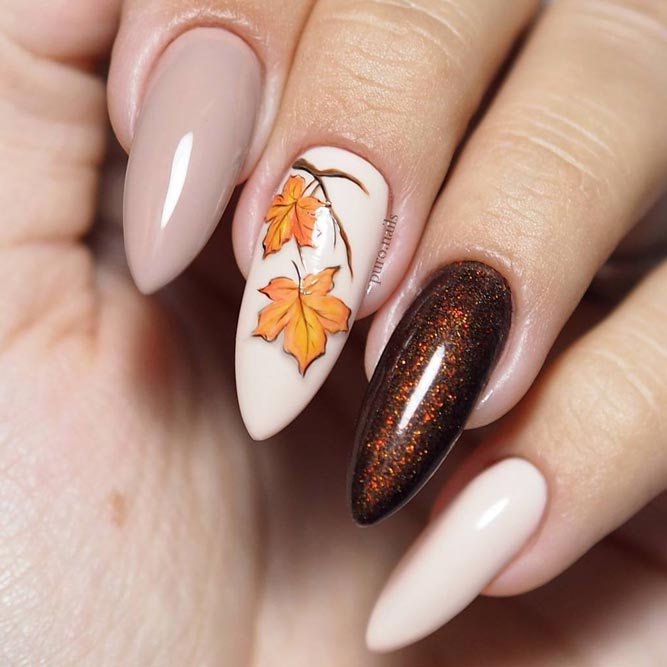 Source:
puro.nails via Instagram
Matte Black Nails With Golden Leaves Accent
Matte black may seem a little too bold for some of you until you learn how to upgrade it and to take it to the completely new level. The best way to do so would be to add some few sparkle gold leaves to the season nails art ideas manicure. In such a way will surely kill two birds with one stone!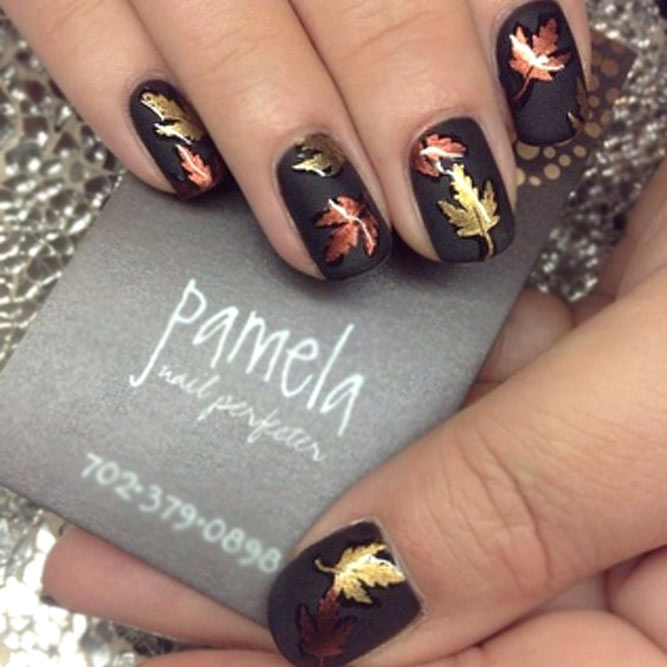 Source:
studio108atlast via Instagram
Beautiful Matte And Glossy Nails With Fallen Leaves
The combination of different top coats in one manicure is a nice way to spice up the regular manicure. Besides, you can take the matter even further and add some fallen leaves design to your nails as well.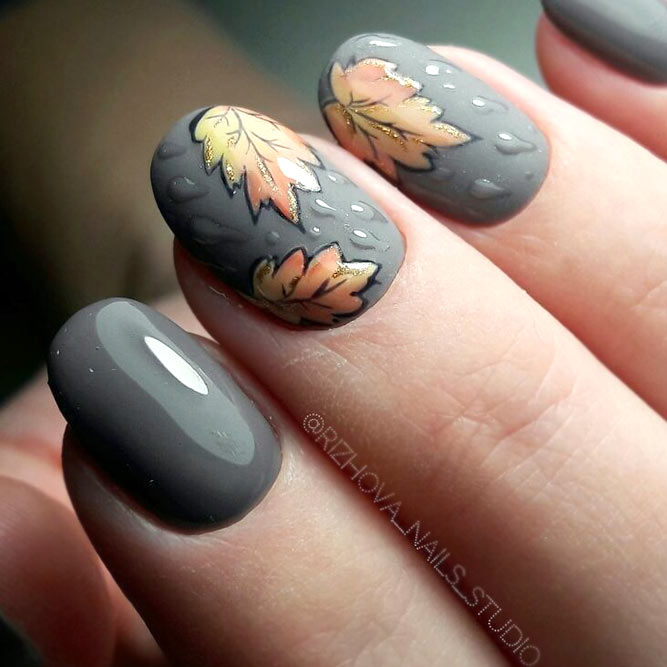 Source:
rizhova_nails_studio via Instagram
Glitter Season Nails
Glitter is something that almost all the ladies around the globe are in love with. That is why it is time you learn how to introduce glitter into your season nails art ideas when the fall hits!
Warm Brown Nails With Glitter Ombre
Brown hues scream autumn, that is the fact. However, you can always make your brown nails look a little more stylish and merrier, all you need to do is to add some sparkle to your season nails art ideas manicure!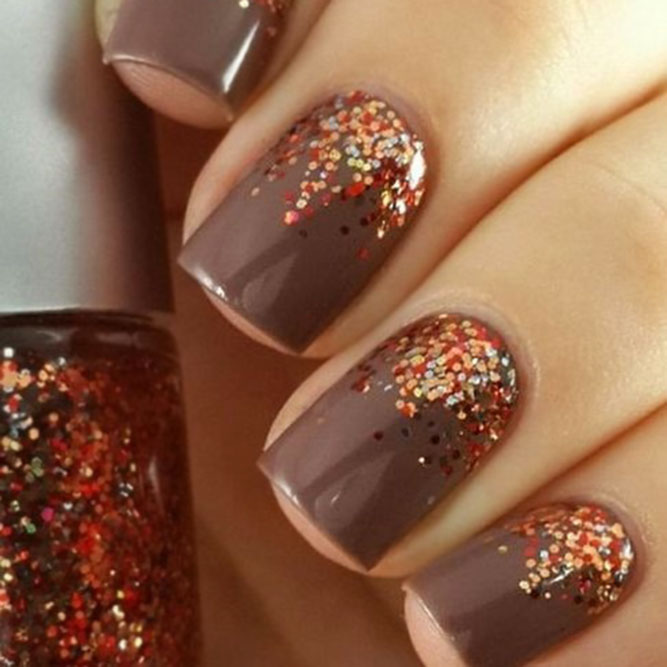 Source:
_amazing_nails67 via Instagram
Taupe Color Nails With Gold Glitter
The mixture of taupe hues and gold glitter is always a winning one. What is more, you can always add a fancy hand-painted accent to your nails!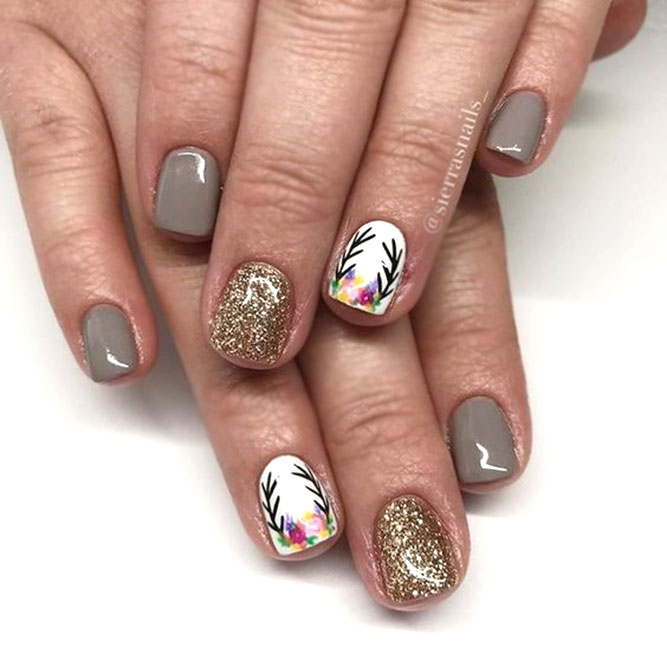 Source:
sierrasnails_ via Instagram
Classic Combination Of Basic Colors
Those of you who are not that fond of color experimentations when it comes to your nails will surely appreciate this fabulous nail art idea. The thing is that only basic neutral shades are involved but the addition of glitter s that one thing that makes this manicure look special.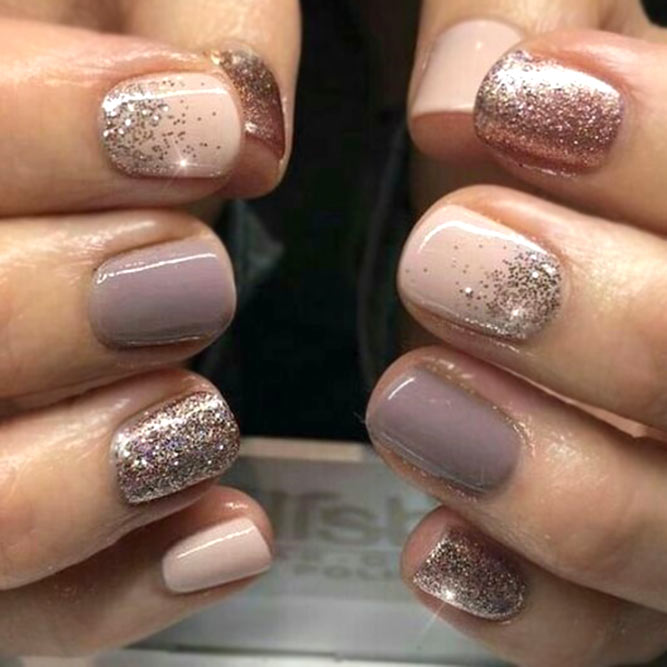 Source:
terrieaton via Instagram
Bold Color Combination With Bright Glitter Accent
Autumn hues can also be bright and daring all you need to learn is how to combine them correctly. The combo of burgundy nail polish with nude base and is indeed the killer one and the addition of gold glitter finishes off the look just perfectly!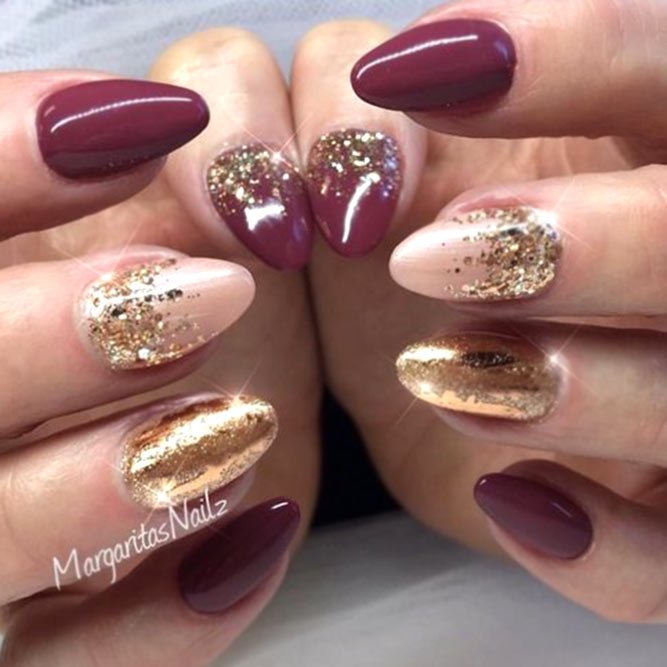 Source:
margaritasnailz via Instagram
Two Tone Nails
Minimalism is quite popular these days that is why if you do not want to experiment with too many hues, pick the two basic tones and add some glitter to create a tasteful seasonal manicure.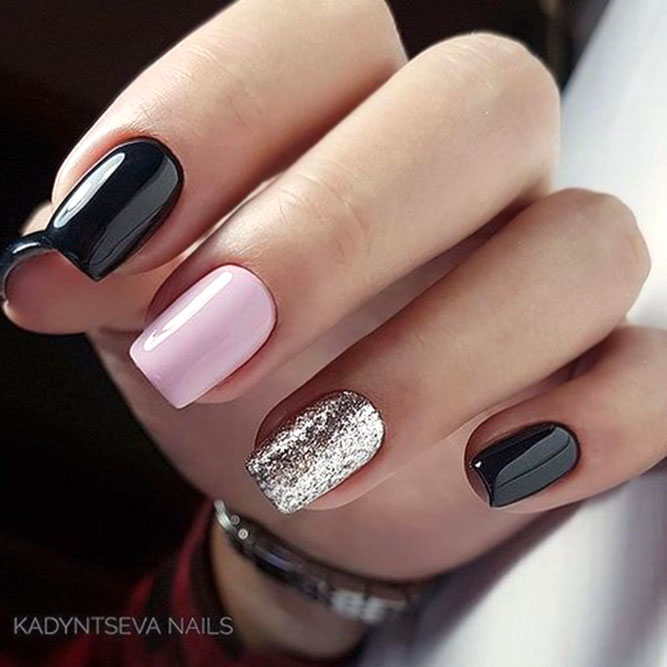 Source:
kadyntseva_nails via Instagram
Dark Wine Color Nails
Dark wine colors are suitable for the creation of a fall mood like nothing else. Besides, the addition of sparkly glitter design and accent nail take the nail art to the whole new level.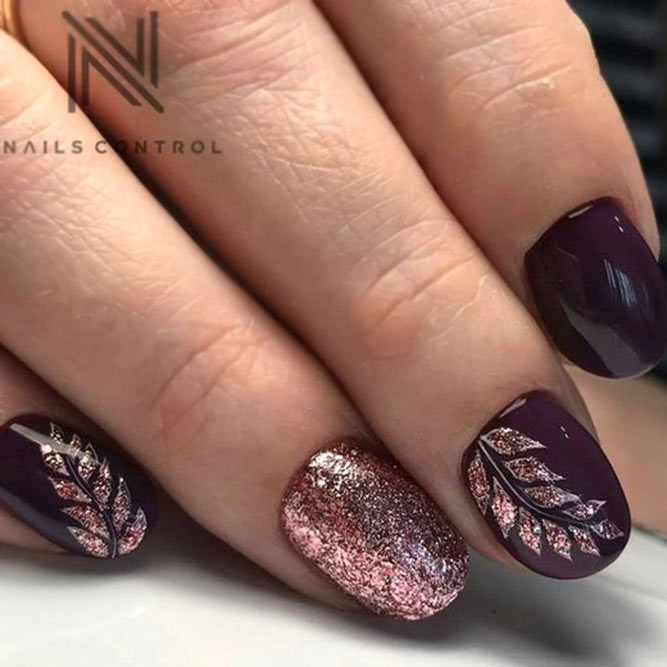 Source:
nails_control32 via Instagram
Classic Red Color Nails With Gold Accent
Some things remain classy no matter what, and the combination of red and gold is undoubtedly the one. However, in this case instead of sheer gold hues, the glitter is used, and it is safe to say that it makes this manicure look just divine!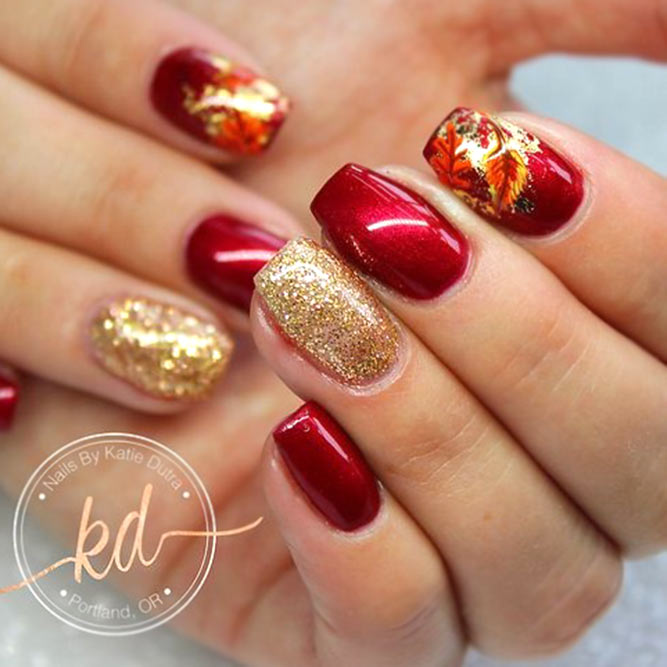 Source:
nailsbykatiedutra via Instagram
Taper Color Nails With Gold Foil
Nude manicure is something that many women value these days. But, the truth is that sheer nude tones may become a little too dull over the time. That is when you introduce the gold transfer foil accent into your regular mani!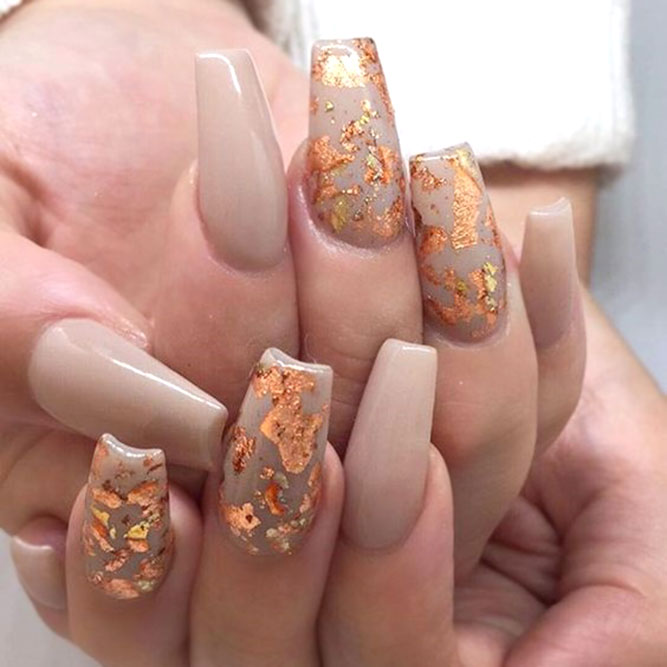 Source:
tiny.luxury via Instagram
Bold Black And Red Ombre Nails
In case you do not like to step away from the classic but wish to upgrade your regular manicure a little, we may have an excellent idea in mind. What you need to do is to opt for a bold red to black ombre and then take it to the utterly new level of daring with the help of glossy finish!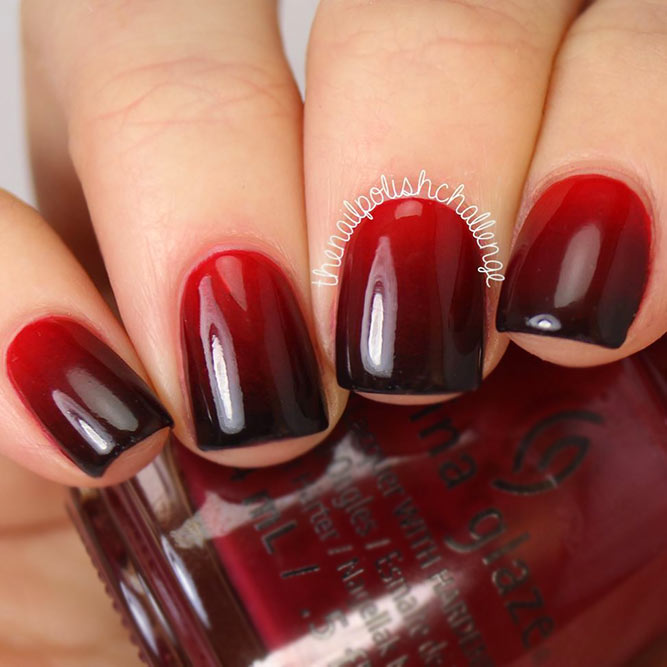 Source:
kellimarissa via Instagram
Dark Shaded Nails With Geometric Accent
Burgundy and grey shades work well together, but if you want to add some stylish accent to your manicure, we may have an idea up our sleeve. The thing is that geometric patterns are on the edge of popularity these days and upgrading your dark shaded manicure with it is more than a great idea.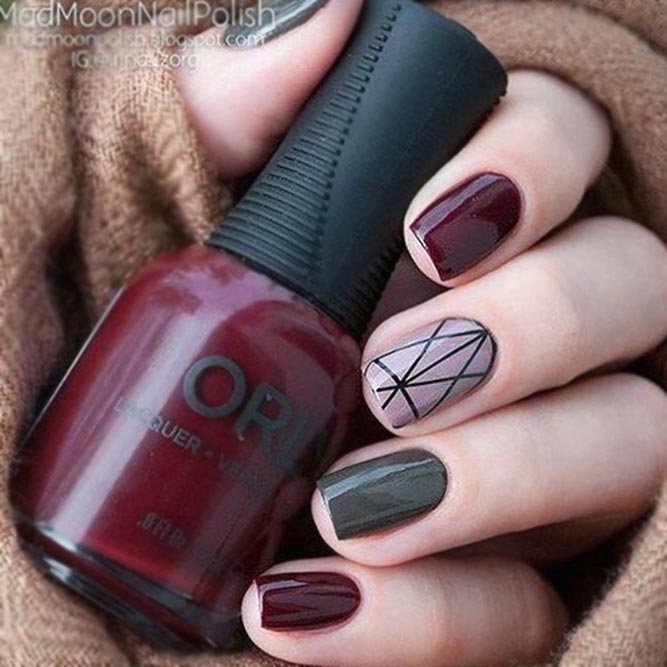 Source:
orly via Instagram
Shrink Films For Dark Nails
The easiest way to create a unique manicure on your own would be with the set of shrink films. Add deep red hues to the mani – and the masterpiece is ready.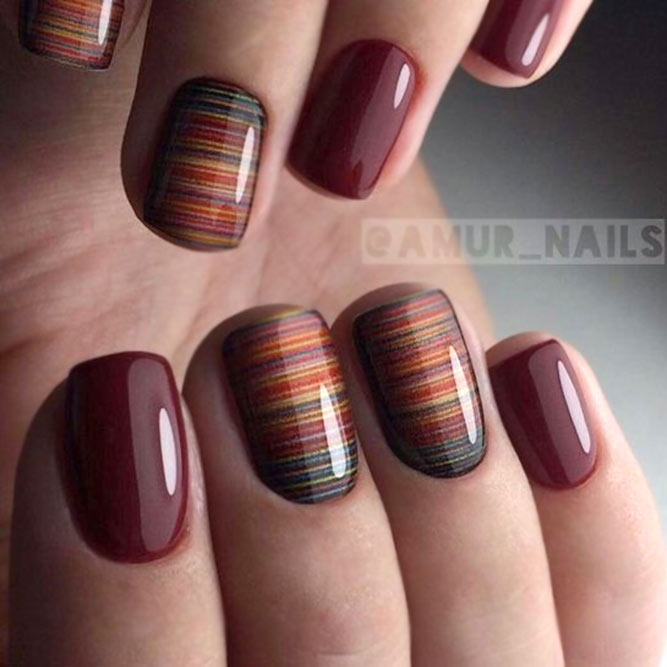 Source:
amur_nails via Instagram
Nude Nails With Unobtrusive Accent To Suit Any Season
Nude nails are trendy, and there is no wonder why since neural manicure can fir any season. In case you are in search of some worthy nude nail art ideas – we have something in store for you!
Exquisite Sparkly Accent To Suit Any Season
Nude nails are not dull or boring, quite on the contrary. Nude shades play really well with shining gold decor, and shine is something that each girl need regardless of the season. Look at this manicure: nude pink and gold mix is more than classy; it is charming and elegant.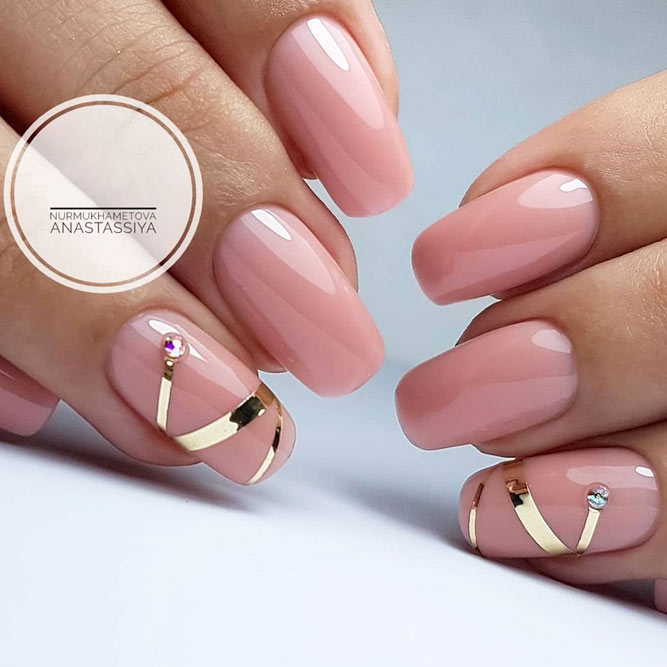 Source:
nurmukhametova_anastassiya_ via Instagram
Delicate Marbled Accent For Sweet Nude Nails
Marble stone patterns are quite a popular these days. That is why we suggest you take your regular nude manicure to the different level with such a cute and stylish accent.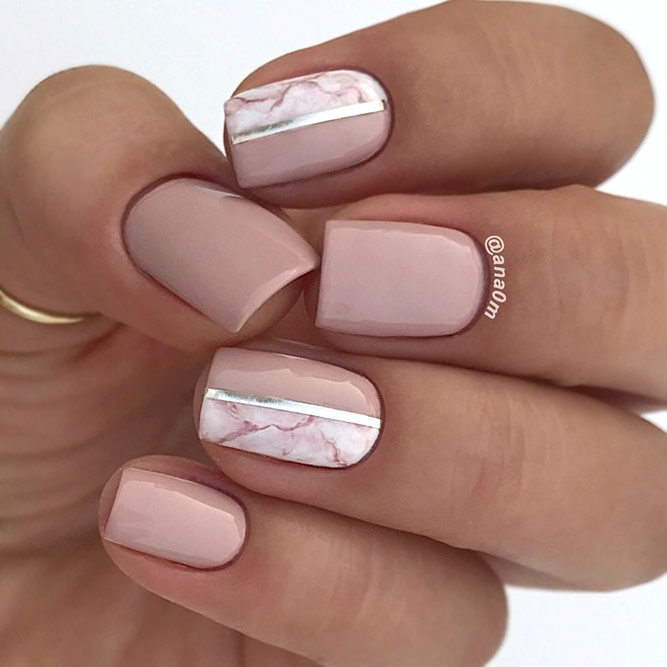 Source:
ana0m via Instagram
Line Nail Art For Ivory Nails
When you are out of time or not feeling like you are able to replicate some intricate nail art – there is always a way out. The thing is that adding a thin vertical line to your manicure will save the day, see for yourself!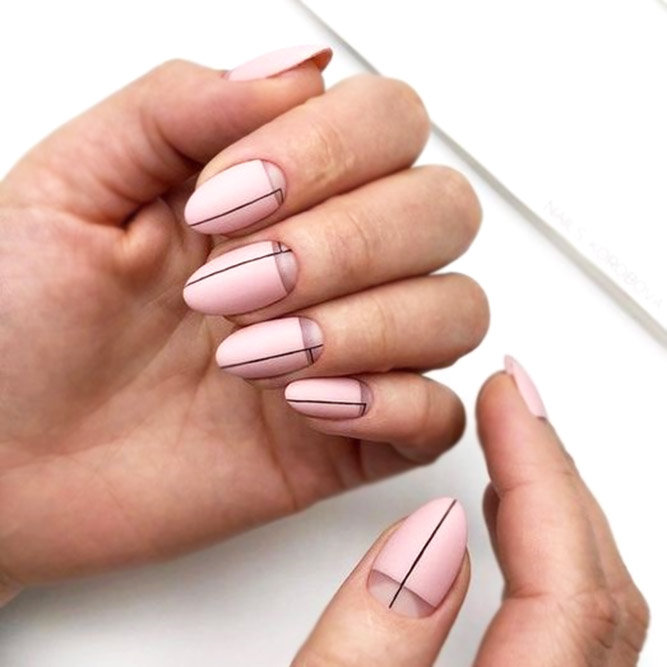 Source:
nails_korobova via Instagram
Nude Nails With Exquisite Glitter Accent
Nude nails are classic but even classy manicure needs an upgrade, and we have one in mind. Glitter accent nail and a tiny glitter pattern added to your neutral nails will make great season nails art ideas no matter the season outside!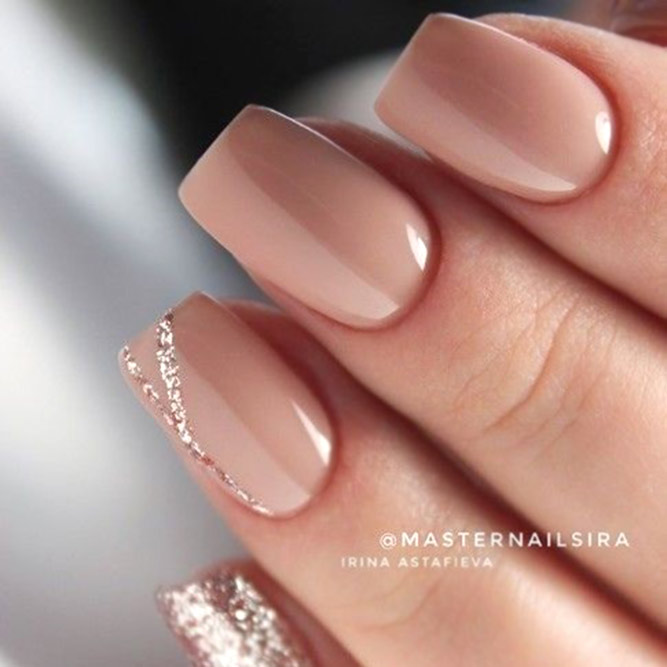 Source:
masternailsira via Instagram
Natural Nails With Exquisite Black Leafy Pattern
If you are aiming at the most natural look for your nails, we have an idea in mind. All you need to do is to coat your nude nails with matte and then add simple but pretty, leafy pattern to the matte base. Perfection is simple!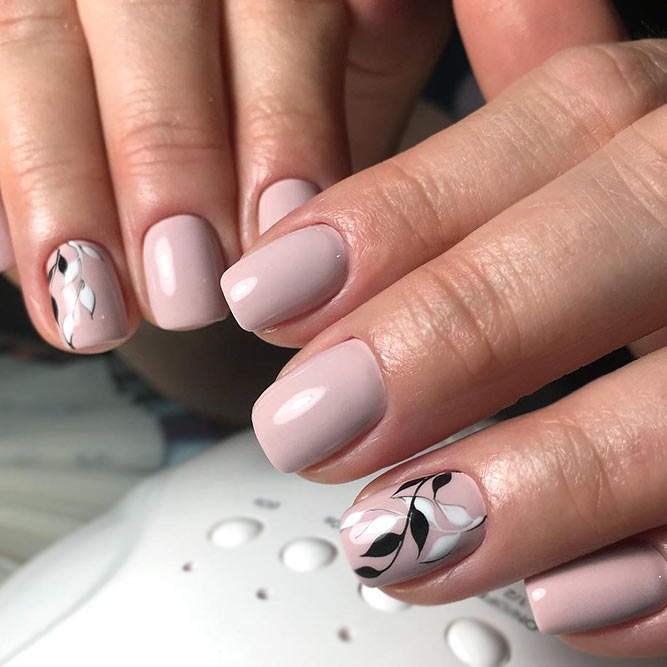 Source:
rior_nails via Instagram
Charming And Festive Winter Designs
Winter is the season of holidays that is why you should look festive to the tips of your toes. Your winter manicure is an essential element of your look that is why you better take these ideas into consideration! If sparkles and cute snowflakes are not your cup of tea, you can always adorn your nail with simple but elegant plaited designs! Take your pick!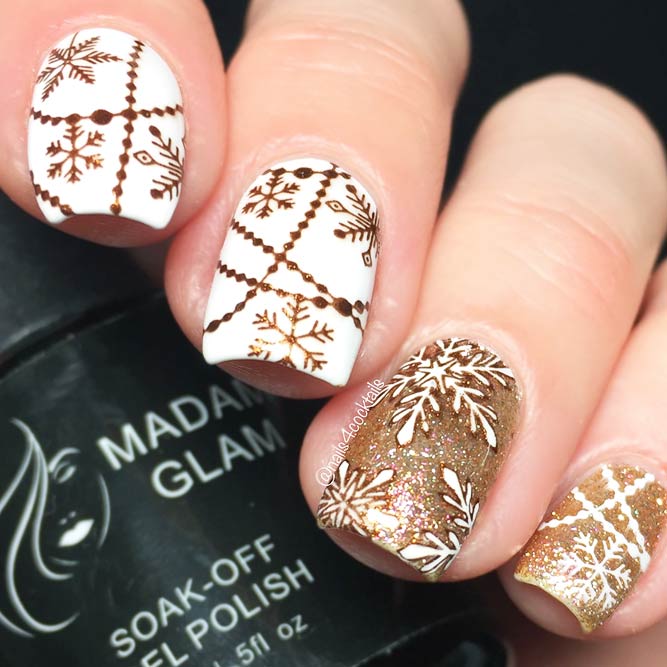 Source:
nails4cocktails via Instagram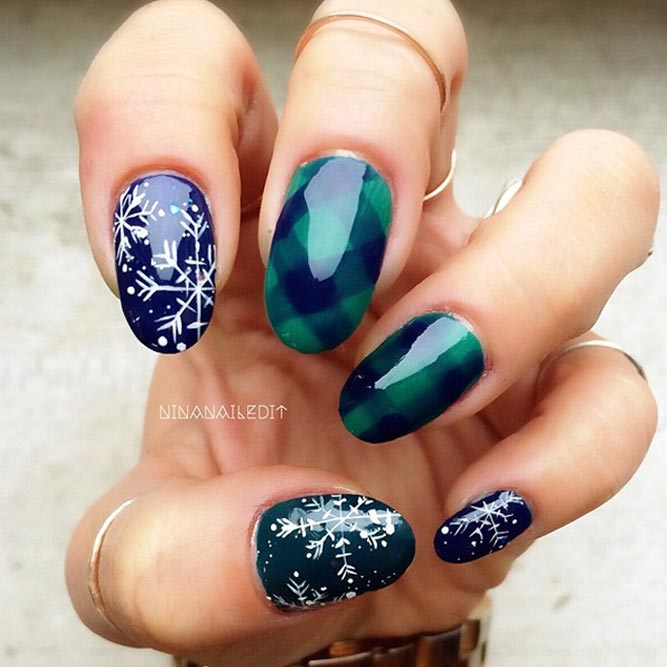 Source:
ninanailedit via Instagram
Source:
tatyana_bugry via Instagram
Сute Pastel Nails With Spring Flowers
With spring right here around the corner, it is essential to get yourself fully prepared. In case you are still wondering what type of mani is going to be on the top when the season hits – we have an answer for you. Opt for all possible pastel shades that come to your taste and adorn them with spring flowers! That is it!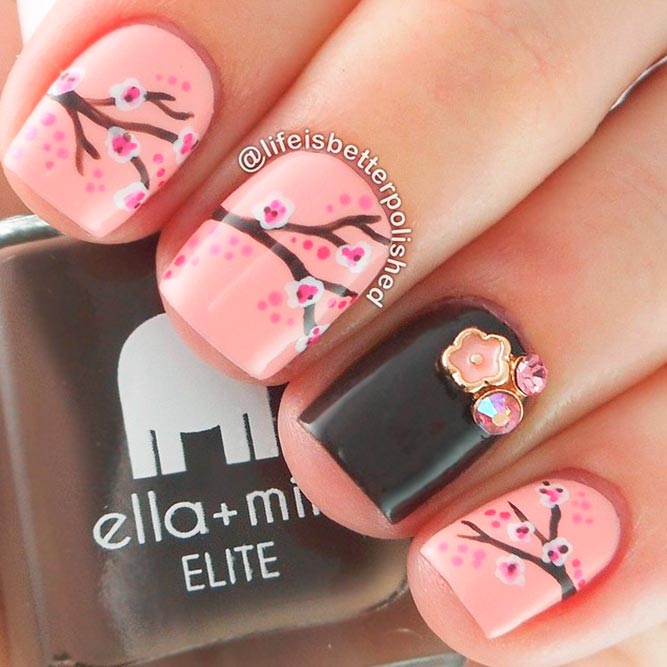 Source:
karissabianco via Instagram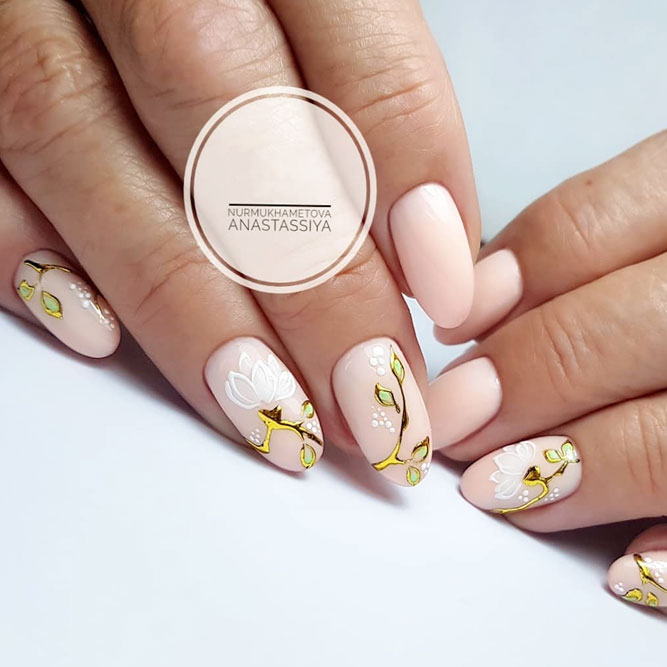 Source:
nurmukhametova_anastassiya_ via Instagram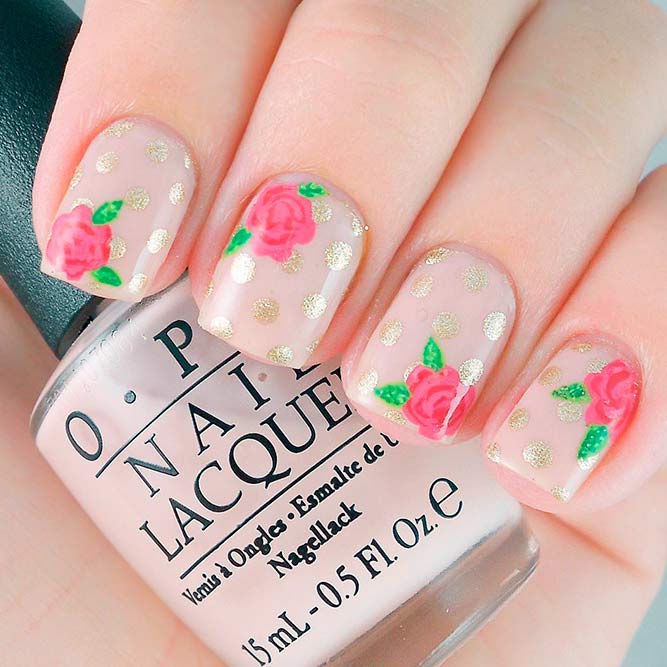 Source:
karissabianco via Instagram
Summer Nails With Charming Floral Patterns
Summer nails are all about flowers and bright colors. Be it a cute pink floral summer nail design or bright abstract nail art – it is all possible and even required by the sunny and warm season. Do not be afraid of experimentation!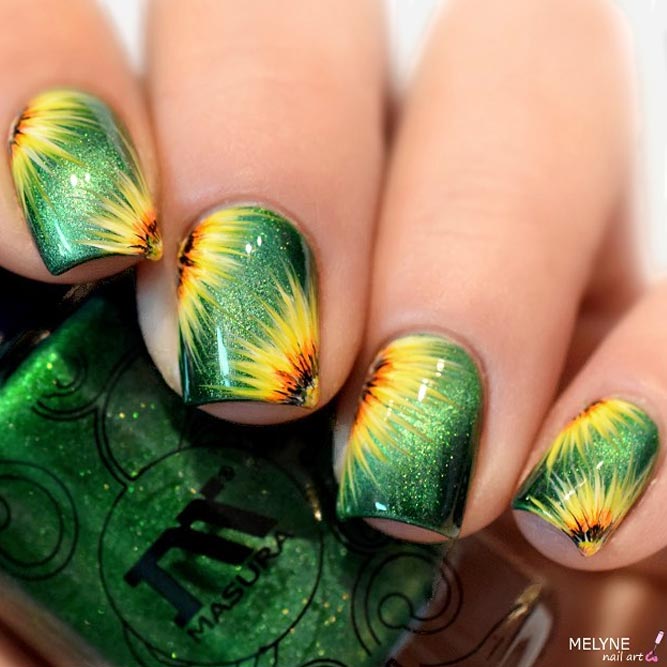 Source:
melynenailart via Instagram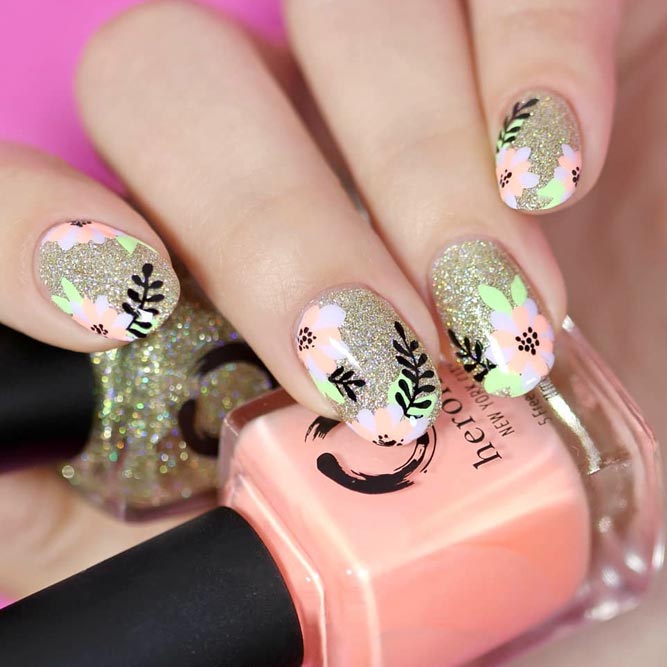 Source:
glitterfingersss via Instagram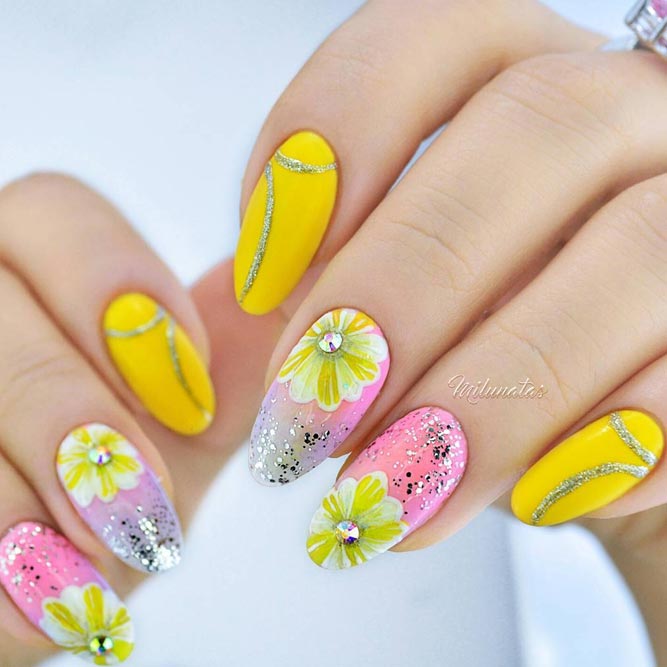 Source:
milunatas via Instagram
In case you like these nail designs, do not forget to share them and come back anytime you need a fresh and stylish idea for your next mani.
Main photo by Glitterfingersss